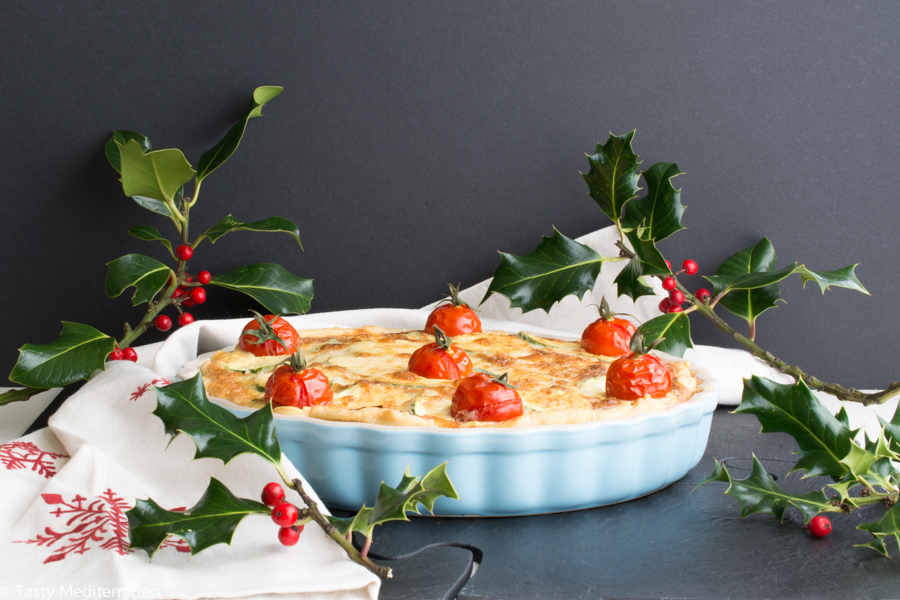 I know some of you are already thinking about the Christmas dinner menu and that you do not want to go for the traditional recipes but to do something different and healthier this time. You are at the right place to get inspired by healthy and tasty Mediterranean recipes.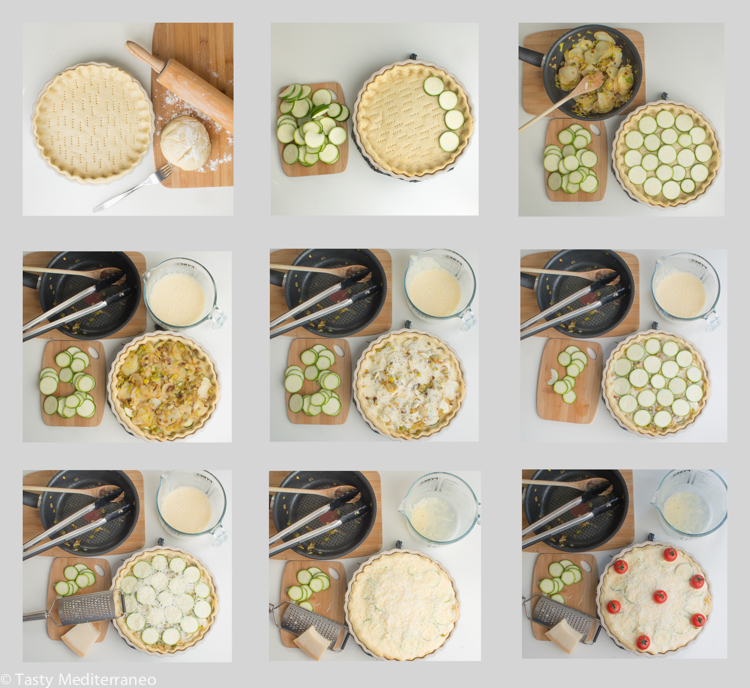 During the festive season many people feel very bloated, heavy and even heartburn after the big feasts.
If you are in charge of preparing the family dinner this year, you have the opportunity to prepare something lighter yet delicious. Today's recipe, a zucchini, leek and potato quiche, could be a nice main dish together with a green salad as part of your Christmas menu. Your starter could be one of my nutritious soups, for example: "Creamy white beans and vegetables soup", "Roasted pumpkin and orange soup", "Red lentils soup" or "Spinach soup with Parmesan". And my suggestion of dessert would be either the "Apple roses in EVOO dough" or the "Individual strawberry, pine nuts and olive oil cakes".
But if you are not in charge of the cooking and you cannot influence the cook to prepare the healthy food you would like to enjoy, here you have a few tips to combat heartburn:
– Drink a glass of water a few minutes before you start eating
– Do your best to eat small portions
– Eat as slowly as you can and chew well the food
– After your dinner take at least 2 or 3 hours before going to bed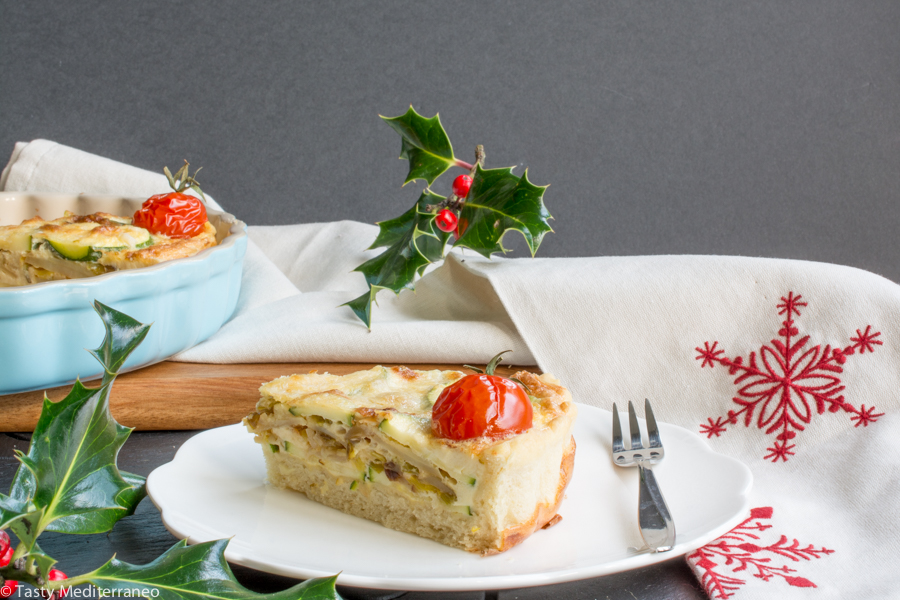 I hope you are lucky enough to enjoy a delicious and healthy meal with your loved ones and to feel perfectly well after. And if you cannot go for the healthy options at least I hope that the few tips I gave you may help you keep the heartburn away!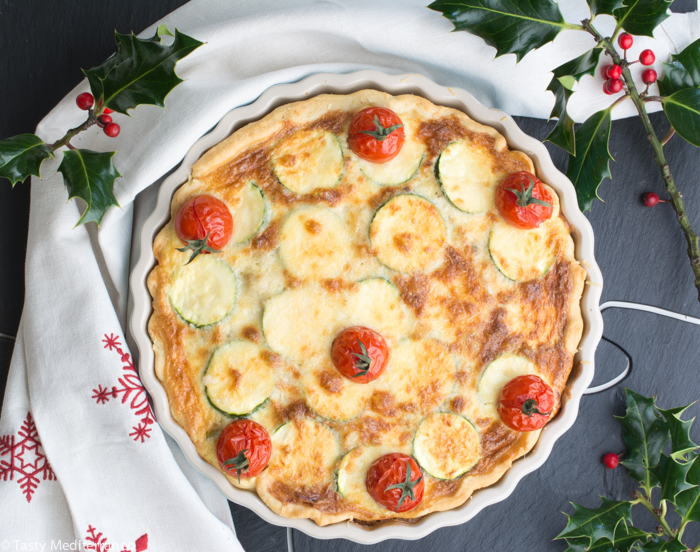 If you try this healthy and delicious vegetarian quiche, please let me know, leave a comment and rate it. I would love to know what you come up with. Enjoy the festive season!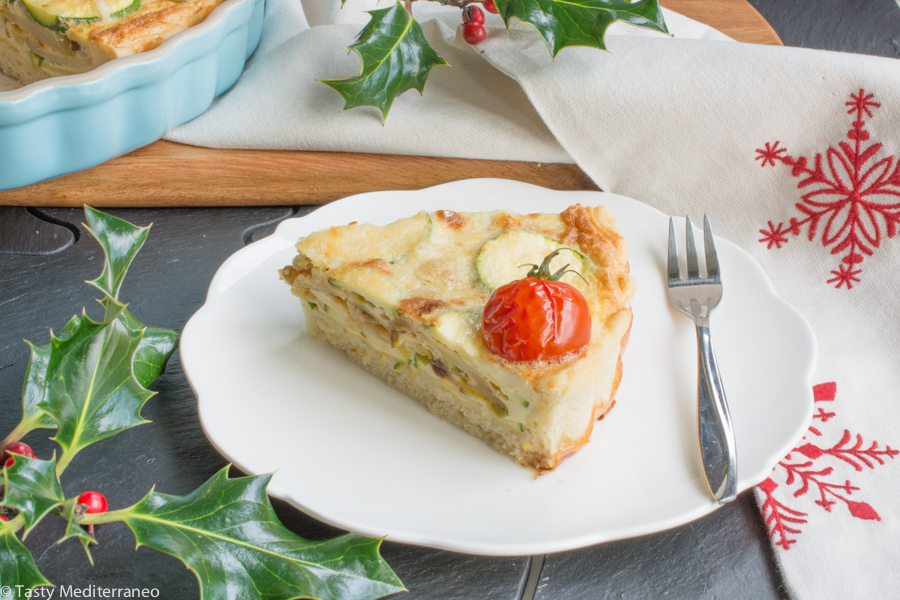 Zucchini, leek & potato quiche
Author:
Margarita @ Tasty Mediterraneo
Cuisine:
Mediterranean Diet
Ingredients
150g (1¾ cups) Plain flour
40ml (1/4 cup) Extra virgin olive oil
75ml (1/3 cup) Warm water
1 Teaspoons yeast powder
½ Teaspoon sea salt
For the quiche filling:
1 Leek, sliced
3 Medium potatoes, peeled and thinly sliced
1 Tablespoon extra virgin olive oil
1 Zucchini, thinly sliced
50g (1/2 cup) Freshly grated Parmesan cheese
7 Cherry tomatoes
125ml (1/2 cup) soya alternative to single cream
3 eggs
Sea salt
Instructions
Follow the instructions as explained in my multipurpose olive oil dough recipe.
Preheat the oven to 175 degrees C (350 degrees F).
Lightly grease with a drop of olive oil a pie pan. Once you have flattened out the multipurpose olive oil dough, press it into the pie pan and pierce the bottom with holes with the help of a fork.
Bake in the middle of the oven for 10 minutes at 175 degrees C (350 degrees F) and remove from the heat.
For the quiche filling:
Have all the vegetables well washed and prepared as indicated in the ingredients description.
In a large frying pan heat the olive oil over moderate heat, add the leeks and sauté for 2 minutes until lightly golden. Add then the thinly sliced potatoes and a pinch of salt and sauté over medium heat for about 10 minutes or until soft but not brown. Remove from the heat.
In a large bowl beat the eggs and add the soya cream and a pinch of salt. Mix it all well until just combined.
Add a layer of the zucchini over the already baked pie crust. Add the sauté leeks and potatoes and pour over it half of the beaten eggs and soya cream mix. Add another layer of zucchini and half of the freshly grated Parmesan cheese. Pour over it the rest of the beaten eggs and soya cream plus the rest of the Parmesan cheese. (Check out the step-by-step pictures)
Decorate with the cherry tomatoes and bake in the middle of the oven for 20 minutes at 175 degrees C (350 degrees F).
Remove from the heat and serve hot accompanied with some green salad.
Notes
At home we love the quiche made with my olive oil dough crust, but obviously you can go for the traditional shortcrust pastry if you prefer it.