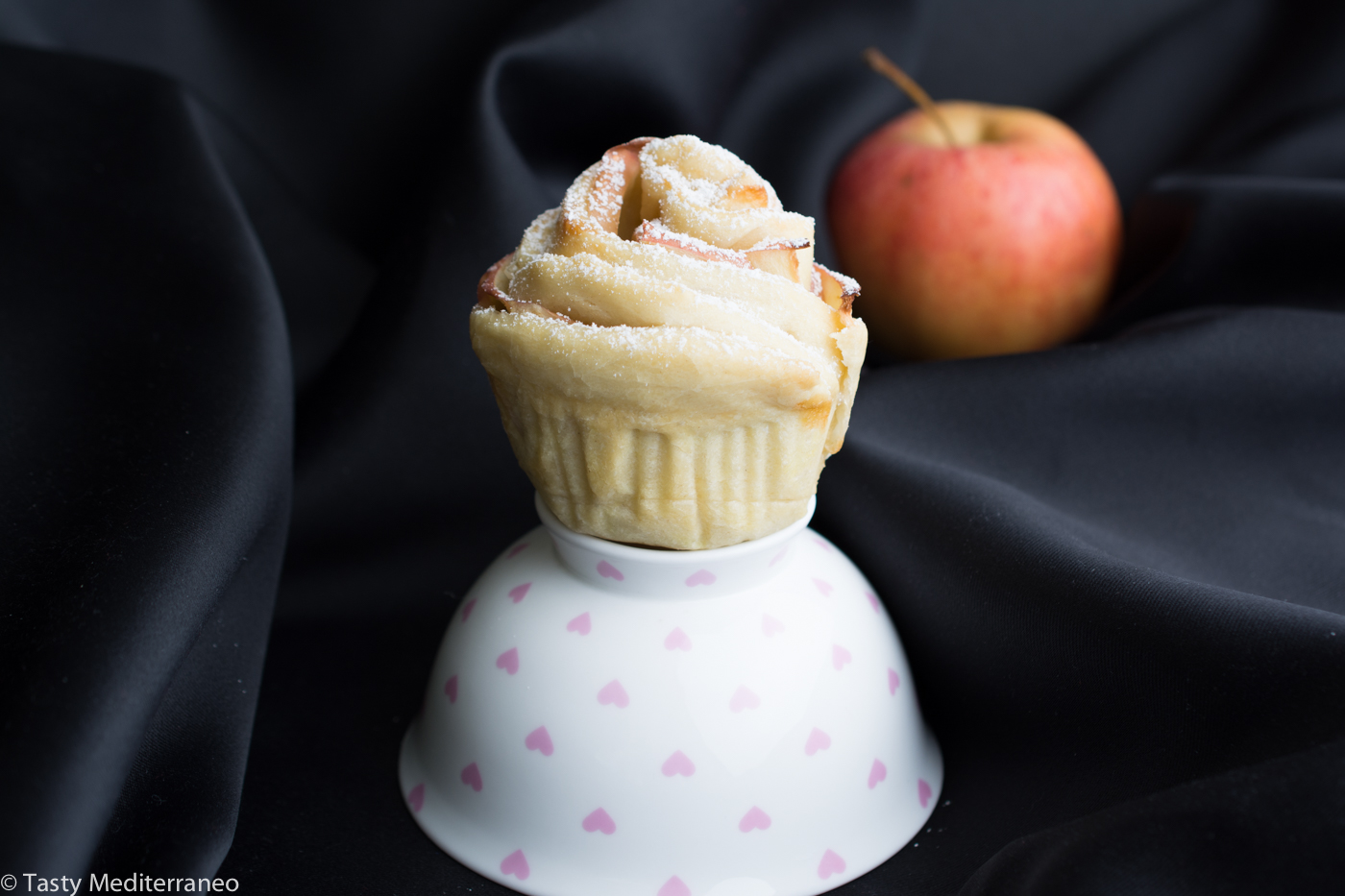 I have never counted calories in food, and I never will. But what I have always done, and will continue to do, is to pay attention to the balance of nutrients of the food I am going to eat and to its energetic effects, freshness, texture, taste, seasonality… as well as to the effects that certain foods may have on my body.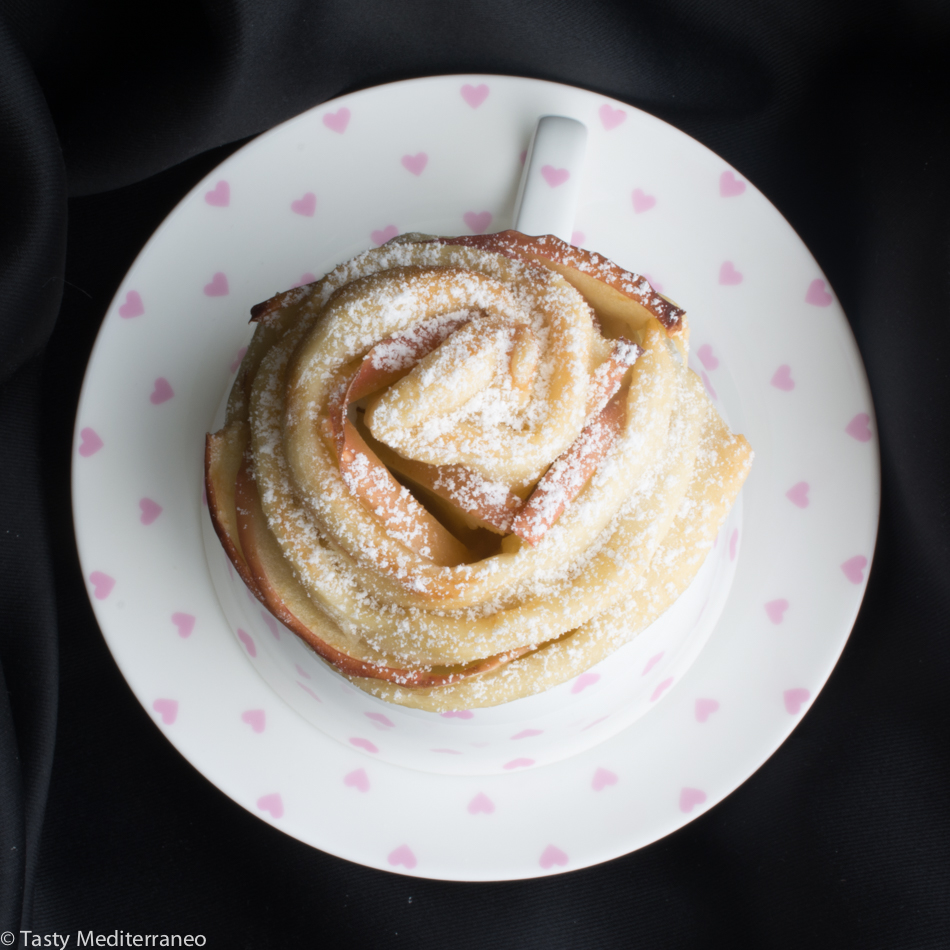 I strongly believe that if you are following a balance diet such as the Mediterranean diet and you practice some kind of sport, you have no need to make your life complicated counting calories. All you need is to enjoy your healthy meal and your life.
What about you? Do you usually count calories?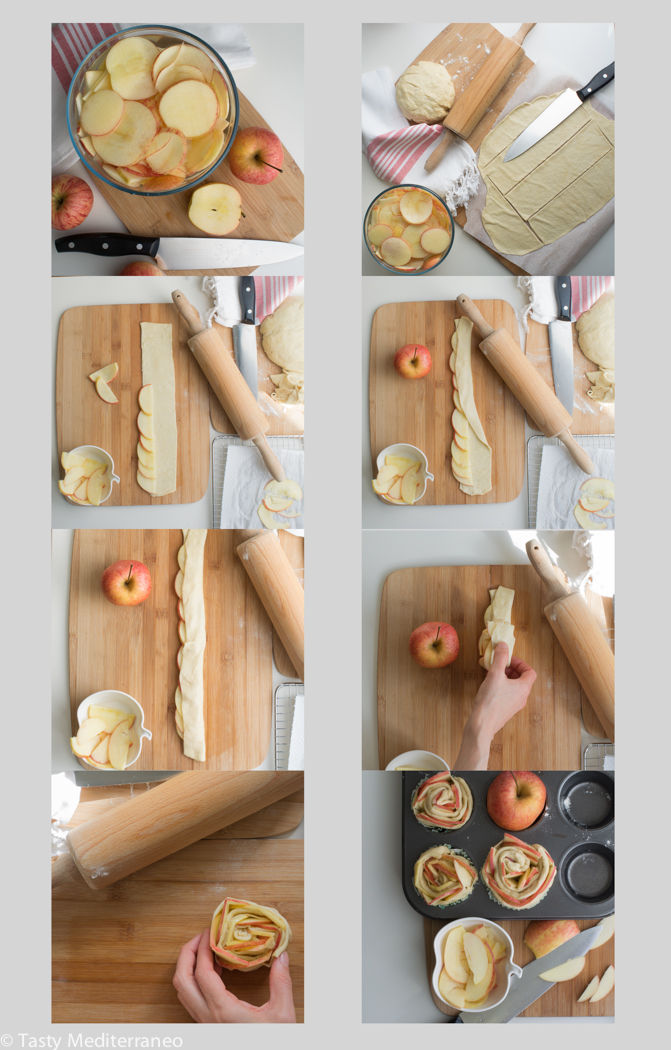 Today's recipe is my family's classic apple tart, although I gave it a twist in shape and prepared it as individual rose shaped cakes. The dough I use for these apple roses is my multipurpose olive oil dough. Do you remember my multipurpose olive oil dough recipe?
If you are a usual follower of my blog I am sure you remember it pretty well as it is the dough you have already used for many of my recipes: "Spinach Fatayers", "Za'atar Man'ouche", "Olive Oil & Chia Grissini", "Pizza Margherita di Bufala", "Coca de Trampó", "Spanish empanadas"… And now you will also use it for this delicious rose shaped dessert!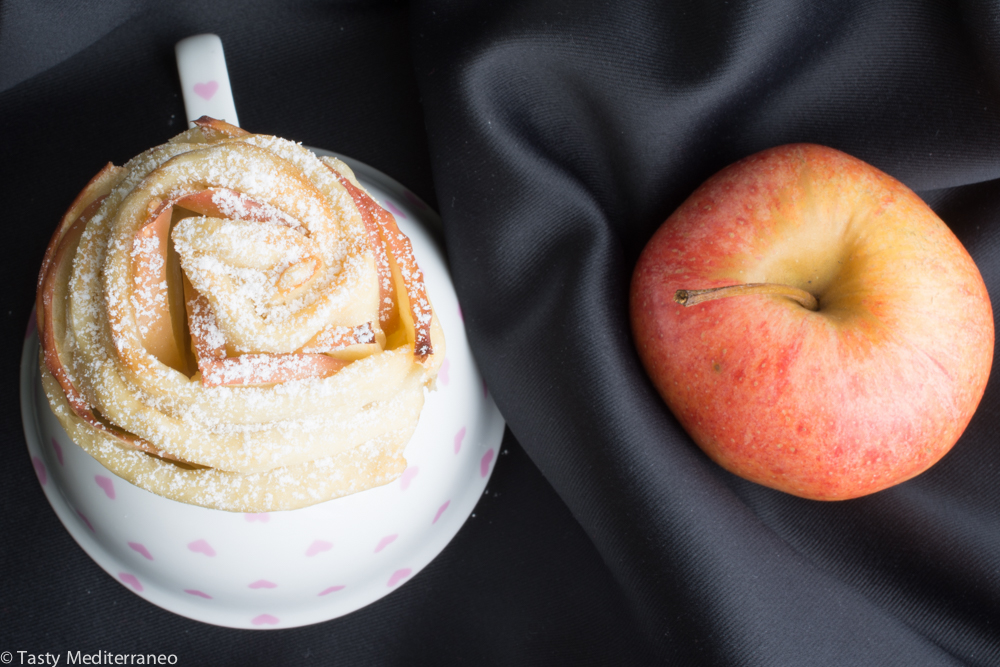 If you try this healthy and delicious Mediterranean diet dessert recipe, please let me know, leave a comment and rate it. I would love to know what you come up with. Enjoy!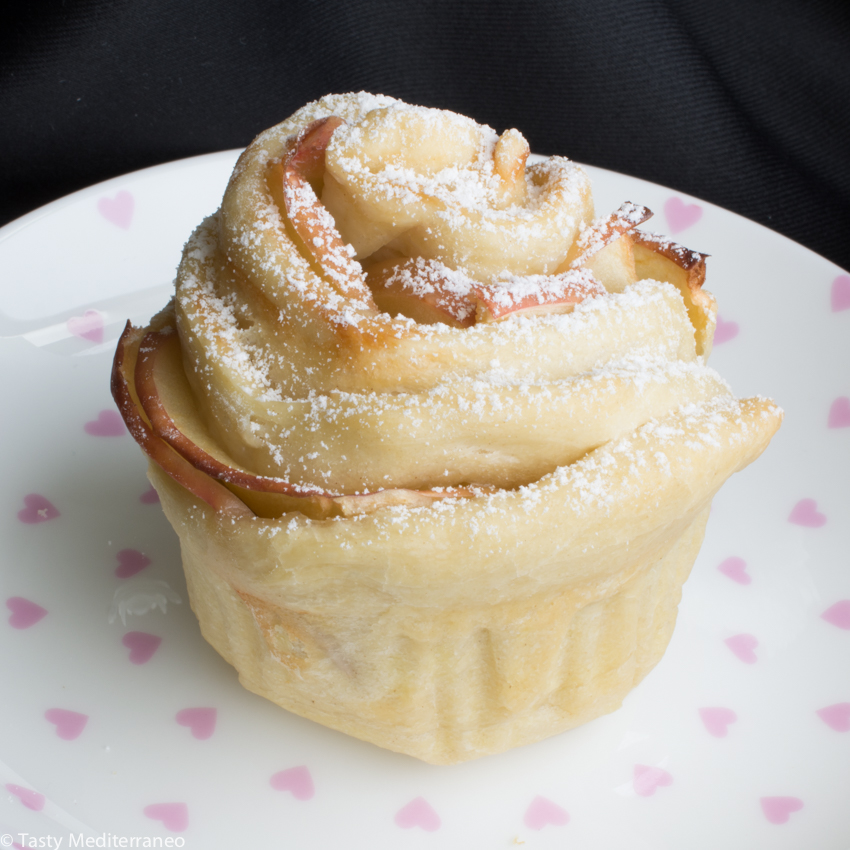 Apple roses in EVOO dough
Author:
Margarita @ Tasty Mediterraneo
Cuisine:
Mediterranean Diet
Ingredients
300g (2 ½ cups) Plain flour
75ml (2.7 fl oz) Extra virgin olive oil
150ml (5.4 fl oz) Warm water
2 Teaspoons yeast powder
For the apple roses:
5 red apples, cut in half and thinly sliced
1 teaspoon salt or 1 tablespoon lemon juice (to soak the apple slices in water for preventing them to turn brown)
Honey (or Agave syrup for a vegan option)
1 Tablespoon powder sugar (optional)
Instructions
Follow the instructions as explained in my Multipurpose Olive Oil Dough recipe. But skip the salt.
Once you have flattened out the dough, trying to give it a rectangular shape, with the help of a sharp knife cut the dough into strips (With the dough in this recipe you can make approximately 10 strips)
For the apple roses
Preheat the oven to 175 degrees C (350 degrees F).
Lightly grease a non-stick muffin tray with olive oil (or if you prefer line it with muffin paper cases) and set aside.
Wash well the apples. Leave the peel on. Cut them in half, core them and slice them thinly. To avoid the cut apple to turn brown either put the apple slices in a large bowl filled with water and a teaspoon salt, or in a large bowl filled with water and a tablespoon of freshly squeezed lemon juice. I usually opt for the salted water. To be able to easily bend the apple slices without breaking them you can boil them in the salted water in a pan on the stove for 2 minutes. Then drain, rinse well and place them on paper towel.
Place the apple slices end to end down on each strip of dough, fold up the bottom part of the dough and carefully roll up each strip to form the roses (check my step by step pictures). And place them in the muffin tray. Add on top of each apple rose some drops of honey (or Agave syrup for a vegan option).
Bake in the middle of the oven for 20-25 min or until golden at 175 degrees C (350 degrees F).
Remove from the oven and leave to cool on a cooling rack.
Before serving you can add a small dusting of powdered sugar.
Notes
I only add a few drops of agave syrup for each apple rose and a small dusting of powdered sugar at the end. This is because I consider red apples to be already sweet and the touch of agave syrup is enough for me. It is also a way to keep them light and healthy. But if you have a sweet tooth you could add some unrefined sugar on top of the roses before baking them.
Also they are very tasty if you add some cinnamon before rolling the dough strips.