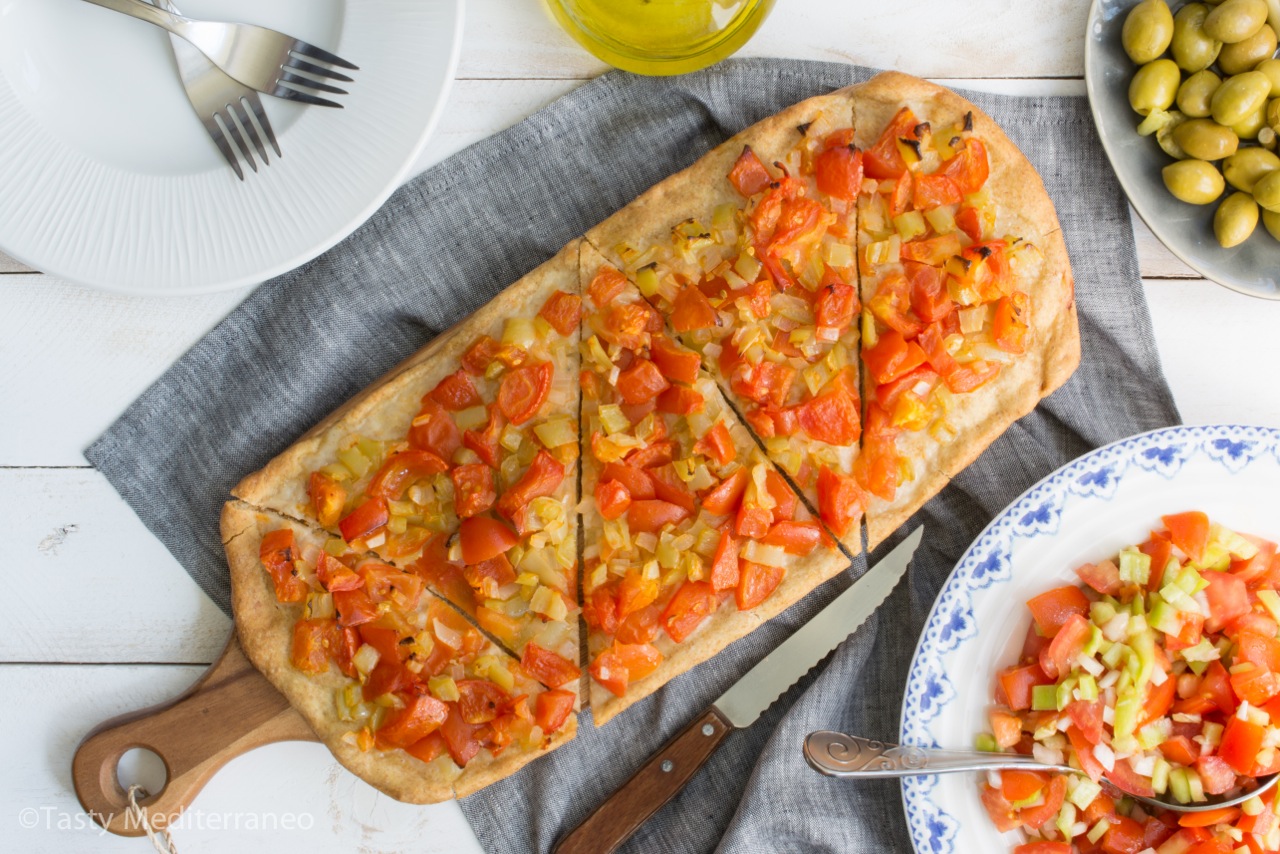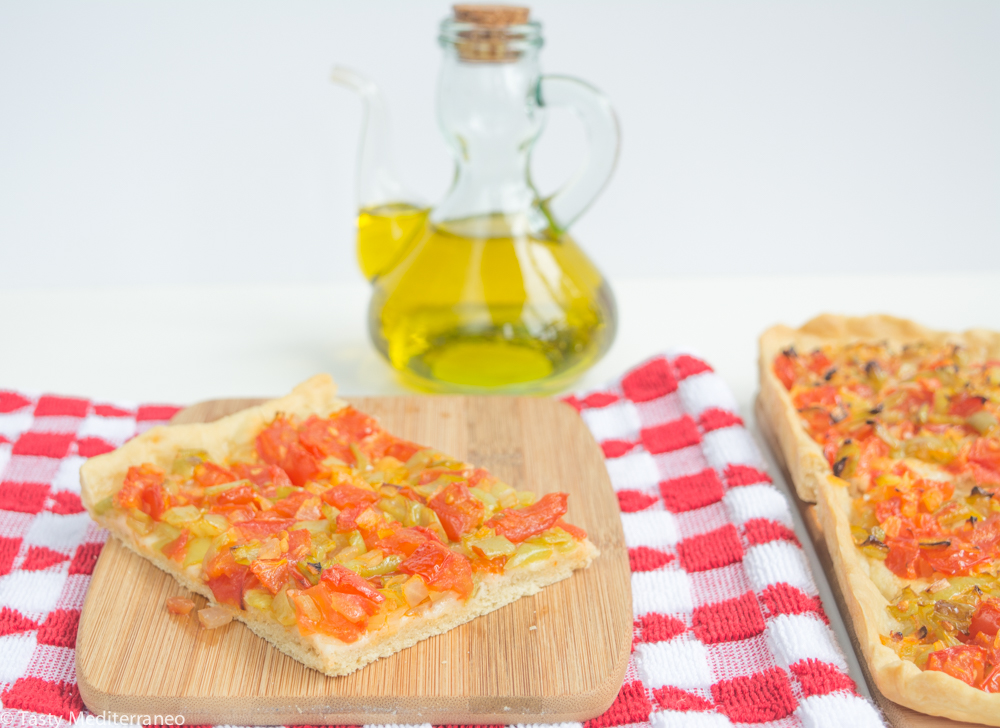 A few days ago I shared with you a healthy Mediterranean salad recipe from Majorca Island called Trampó.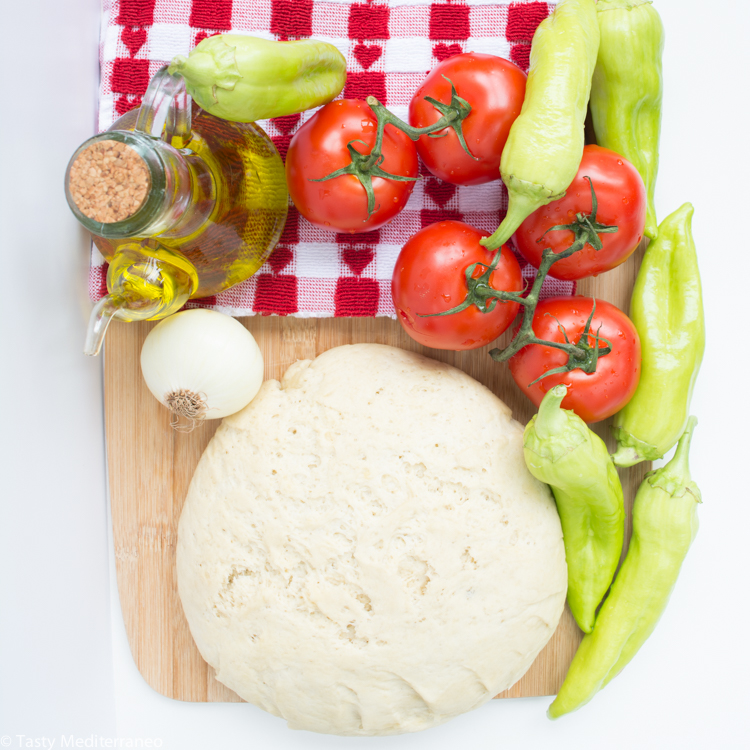 Yes, that light and tasty vegan salad made with finely diced fresh raw vegetables and extra virgin olive oil plus a pinch of salt as the only dressing.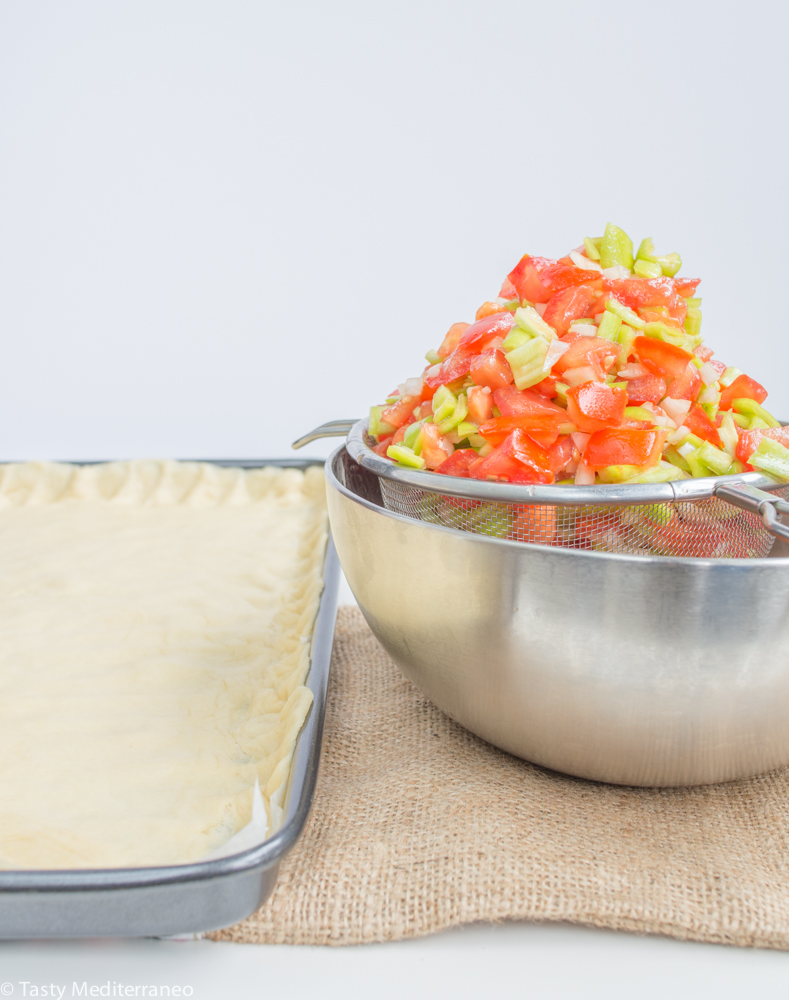 And, as promised, today I am sharing with you another classic summer dish from the capital of the Balearic Islands, and that dish is the Coca de trampó.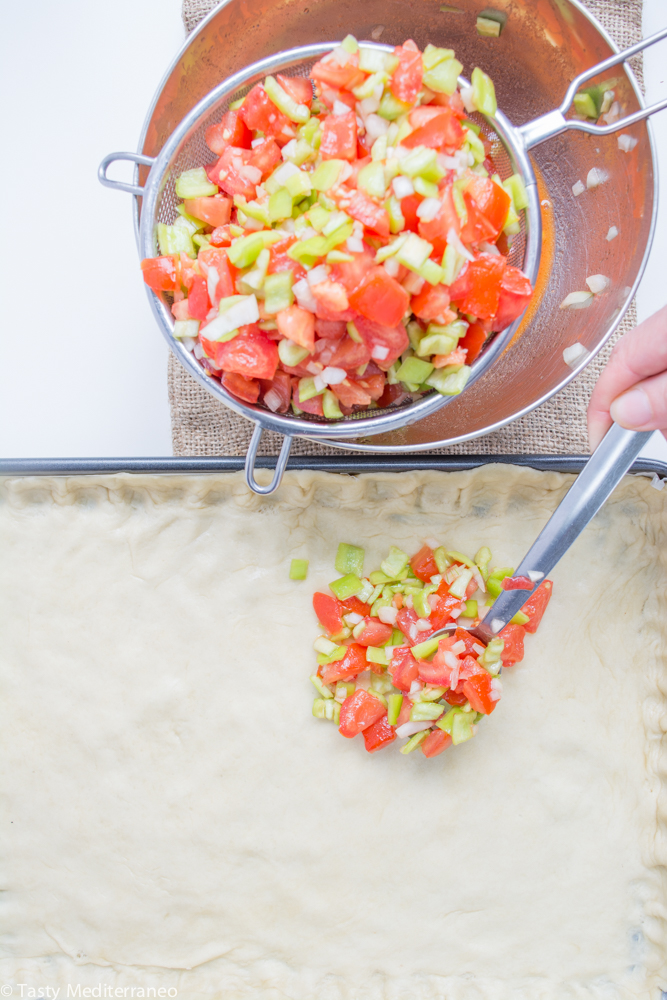 The Coca de trampó is a delicious and flavorful vegetarian Mediterranean flatbread recipe very easy to prepare and ideal to enjoy at any time of the day: as part of your lunch or dinner, as a tasty brunch, as tapas…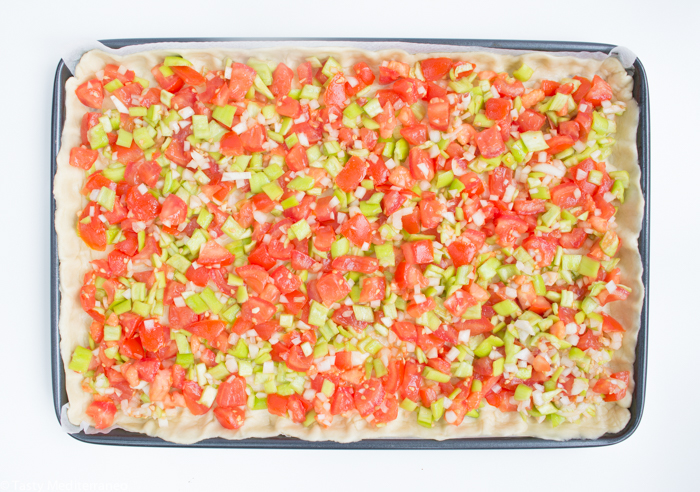 To prepare it you just need to use my multipurpose olive oil dough recipe and my Trampó salad recipe (well drained) as the topping.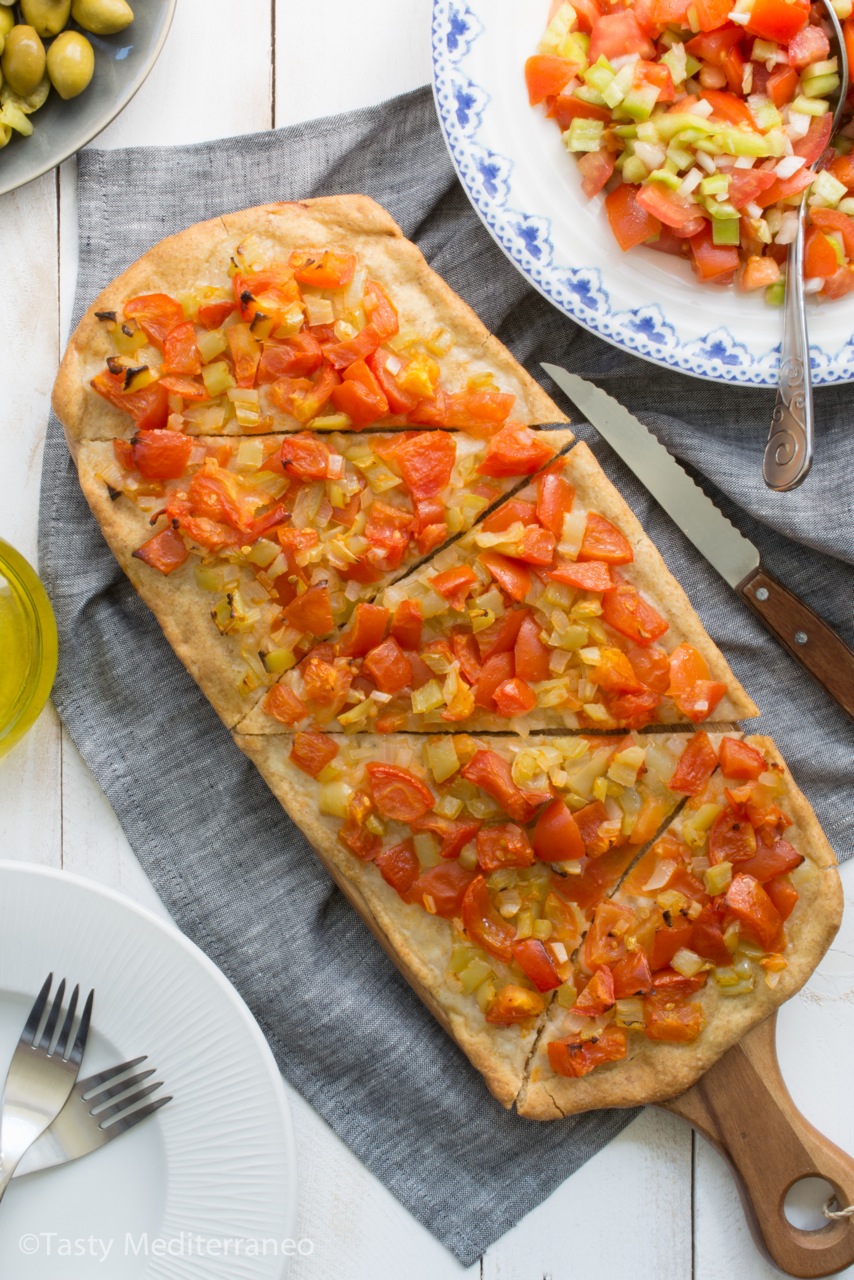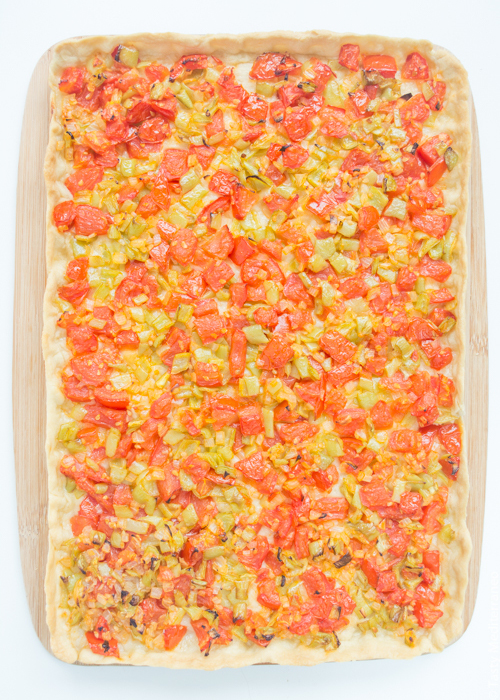 If you try this healthy and simple Majorcan flatbread recipe, please let me know, leave a comment and rate it. I would love to know what you come up with! Enjoy!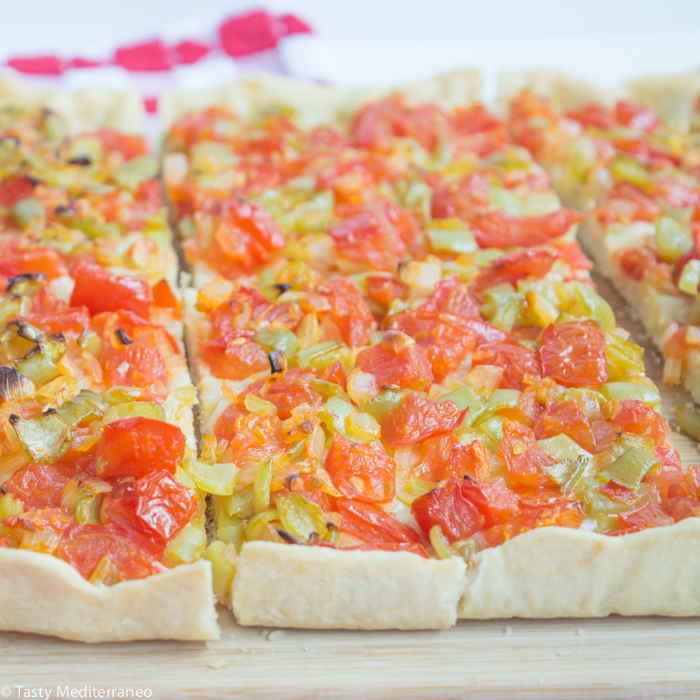 Coca de trampó (Majorcan flatbread with vegetables)
Author:
Margarita @ Tasty Mediterraneo
Cuisine:
Mediterranean Diet
Ingredients
300g (2 ½ cups) plain flour
75ml (2.7 fl oz) extra virgin olive oil
150ml (5.4 fl oz) warm water
2 teaspoons yeast powder
1 teaspoon sea salt
5 Tomatoes, diced
6 Small green peppers, cored and diced
1 onion, peeled and finely chopped
4 tablespoons extra virgin olive oil
1 teaspoon salt (or salt to taste)
Instructions
To prepare the dough follow the instructions as explained in the multipurpose olive oil dough recipe.
Cover a large baking dish with nonstick baking paper. Once you have flattened out the dough, place it over the baking paper and continue extending it with your hands to reach every corner of the baking dish.
To prepare the trampó follow the instructions as explained in the Trampó (Majorcan salad) recipe.
With the help of a fine sieve squeeze out all the liquid of the trampó, making sure it is well drained.
For the final preparation:
Preheat the oven to 175 degrees C (350 degrees F).
Spread the previously drained trampó evenly over the dough.
Bake the coca at 175 degrees C (350 degrees F) in the low rack of your oven for 10 minutes - to allow the dough to be well done at the bottom - and then move the baking dish to the middle rack of the oven and continue baking for 15 more minutes or until you see that the vegetables are soft and lightly toasted and the coca crust is crunchy.
Remove from the oven and allow it to cool to room temperature. Cut it into rectangular portions and serve.
Notes
When you move the coca from the bottom to the middle of the oven you can add a few drops of extra virgin olive oil on top for an even tastier result.