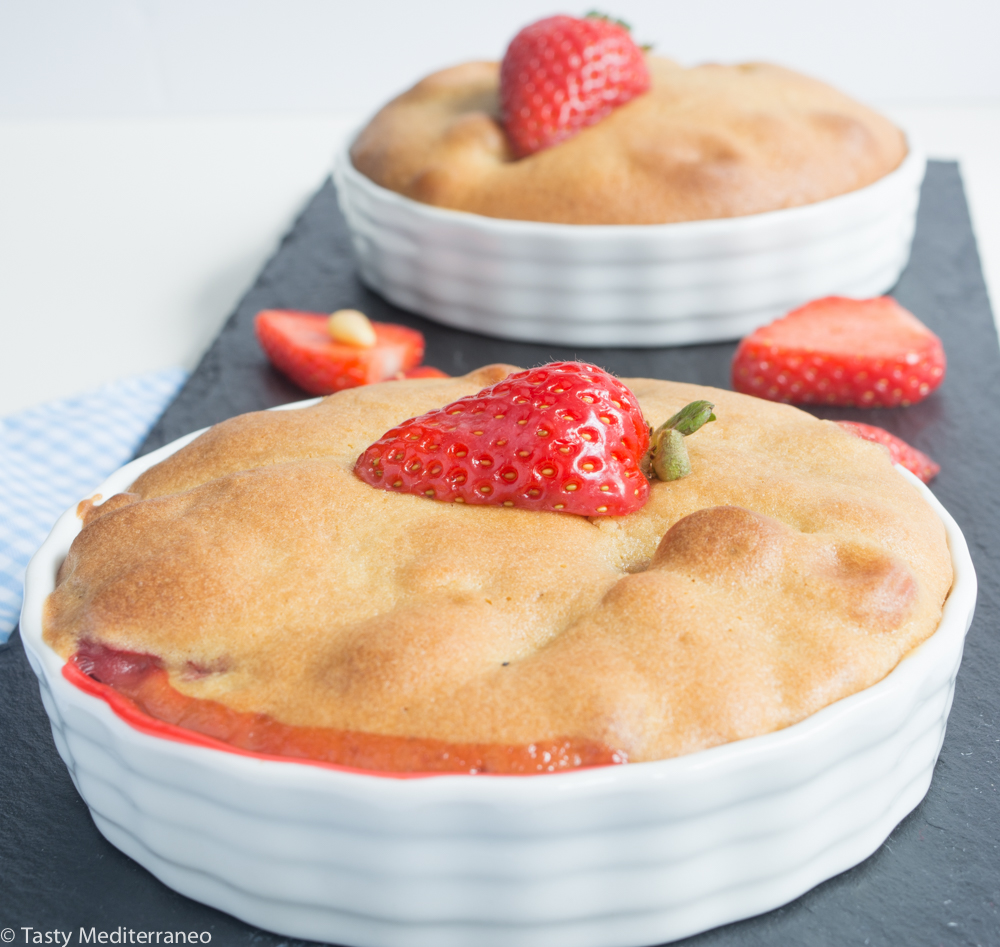 My relatives in the countryside always make their own jams. They have plenty of fruit trees in their gardens and one of their best ways to use the extra fruits of the season, before they go bad, is to transform these delicious fruits into even better jams that they enjoy throughout the year.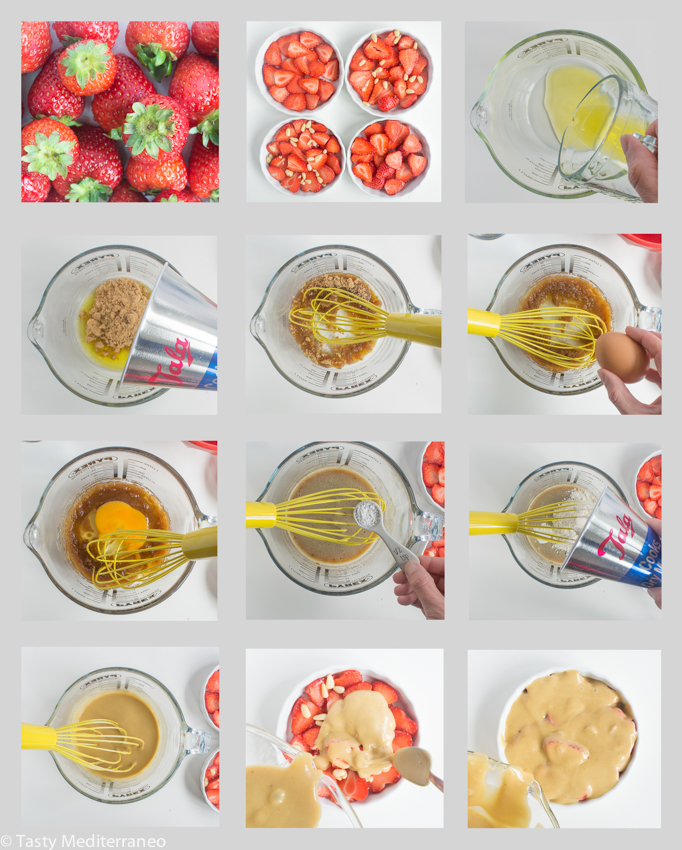 Living in the city, I do not have a garden, I cannot pick up the extra fruits of the season but I can buy some of my favourites fruits and still make a tasty homemade jam!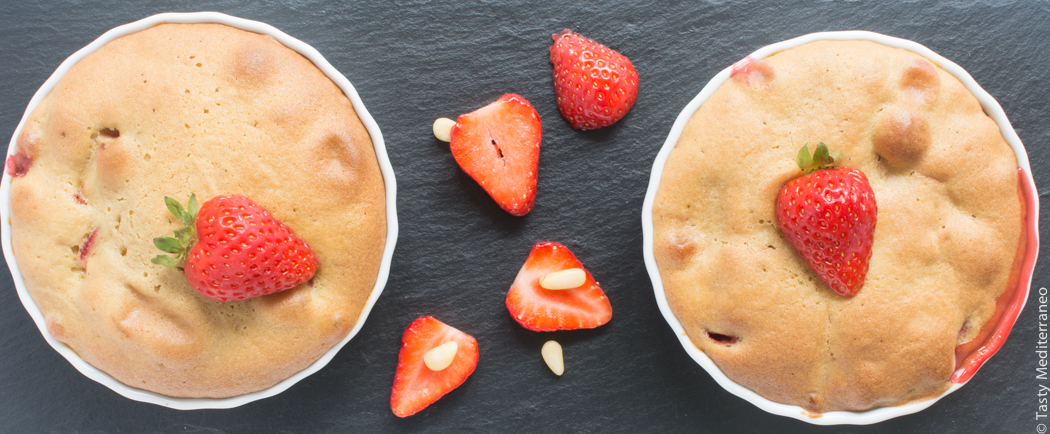 So, with the purpose of making strawberry jam at home, the other day I bought quite a good amount of local strawberries. But, as we had guests over, I changed my plans of making jam and instead I found a different way to share those tasty strawberries that I had in the fridge with our guests. And so I used them to prepare: some healthy smoothies and these beautiful individual strawberry, pine nuts and olive oil cakes.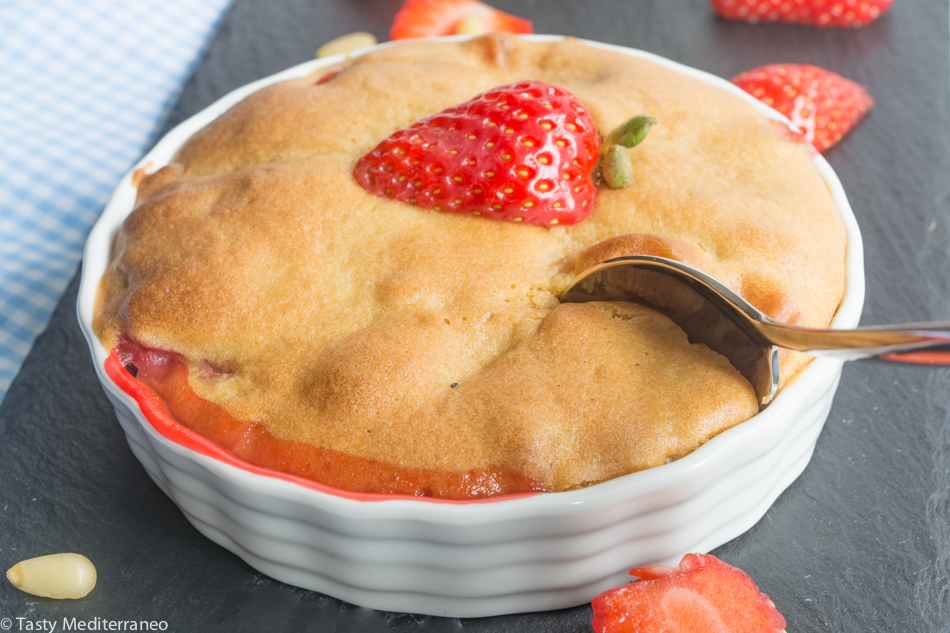 These strawberry, pine nuts and olive oil cakes make a perfect dessert, they are fruity, tasty, healthy, Mediterranean and what is best: they actually come together in less than 30 minutes!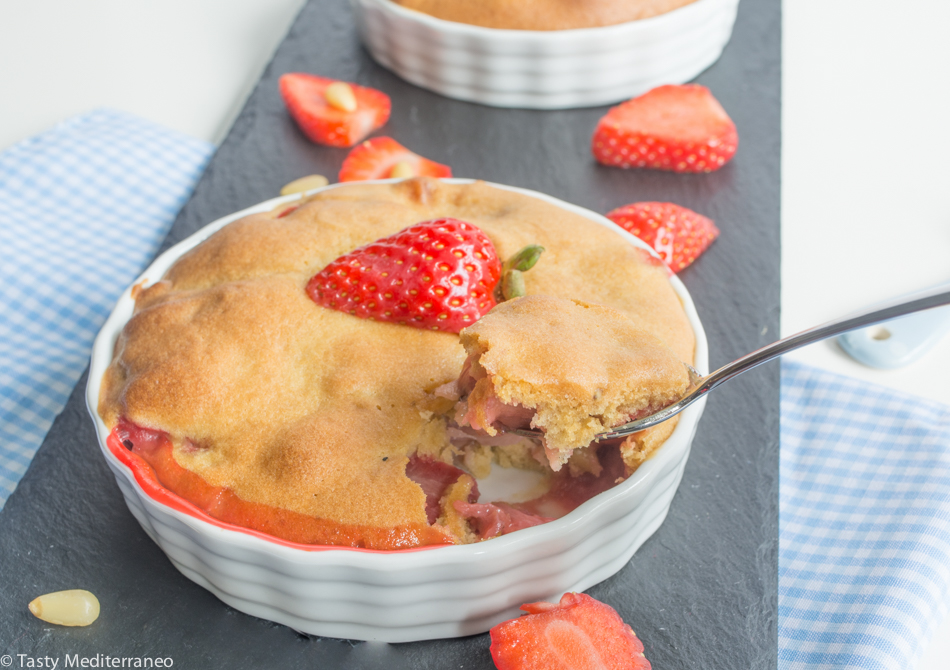 For those of you who are already dreaming about my homemade jam recipe, don't worry it will come soon to my blog! In the meantime, enjoy the recipe of these yummy strawberry, pine nuts and olive oil cakes.
If you try this recipe, please let me know, leave a comment and rate it. I would love to know what you come up with.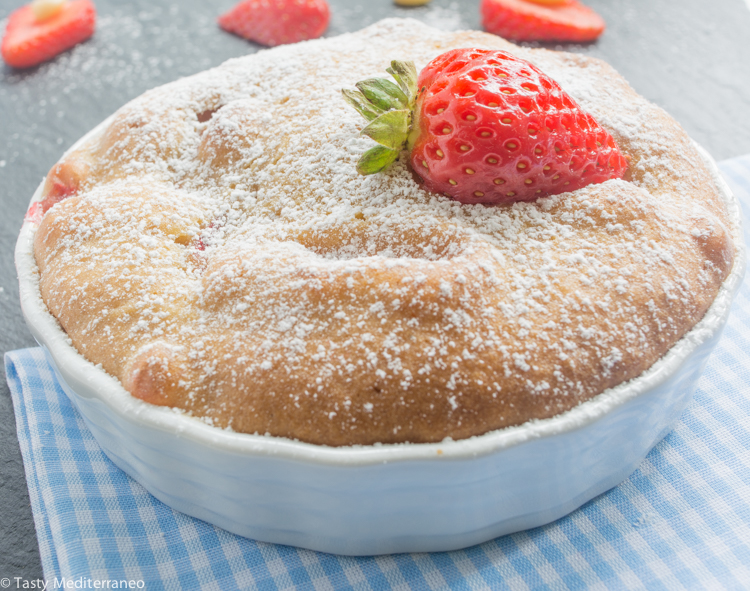 Individual strawberry, pine nuts & olive oil cakes
Author:
Margarita @ Tasty Mediterraneo
Cuisine:
Mediterranean diet
Serves:
4 individual cakes
Ingredients
250g (2 cups) strawberries
100ml (3.4 fl oz) extra virgin olive oil
100g (½ cup) unrefined cane sugar
2 free range eggs
1 teaspoon baking powder
100g (3/4 cup) plain flour
4 teaspoons pine nuts
Instructions
Wash well the strawberries under cold water and remove the green stem from the top of the strawberries. Cut them in thin slices.
Lightly grease 4 individual baking dishes or ramekins with olive oil and place the strawberries slices and the pine nuts evenly over each of them.
Preheat the oven to 175 degrees C (350 degrees F).
In a large bowl mix the extra virgin olive oil with the unrefined sugar until combined. Add then the eggs and beat them well. Add the teaspoon of baking powder and the flour and mix it all well for a couple of minutes until all the ingredients are well combined.
Fill the individual baking dishes with the mix and bake in the oven at 175 degrees C (350 degrees F) for 15 minutes.
Remove from the oven and allow them to cool at room temperature.
Notes
You can add a dusting of powdered sugar at the end.