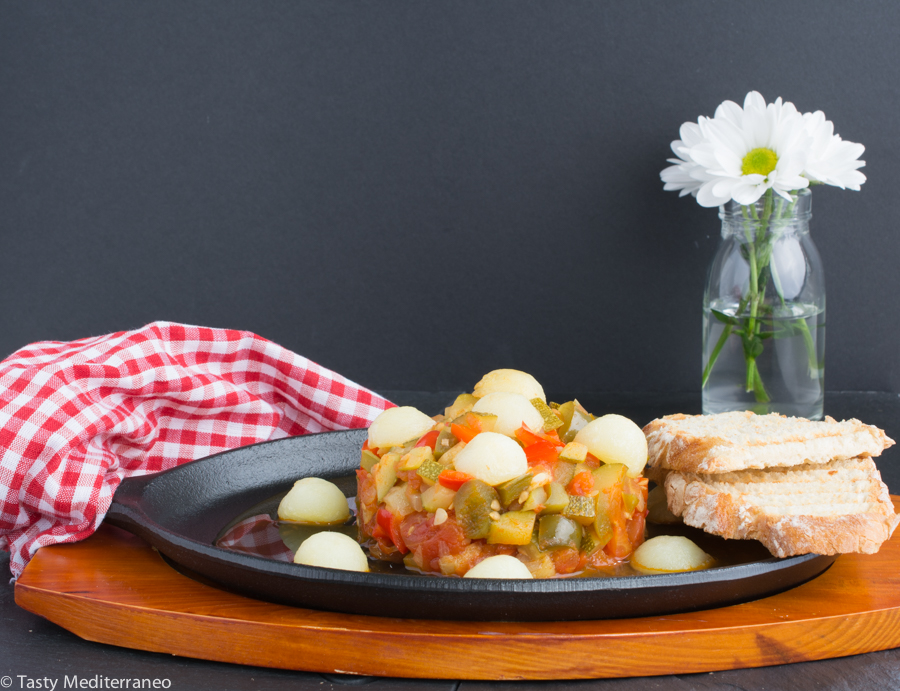 Today I share with you a traditional Spanish recipe that we love at home: Pisto Manchego.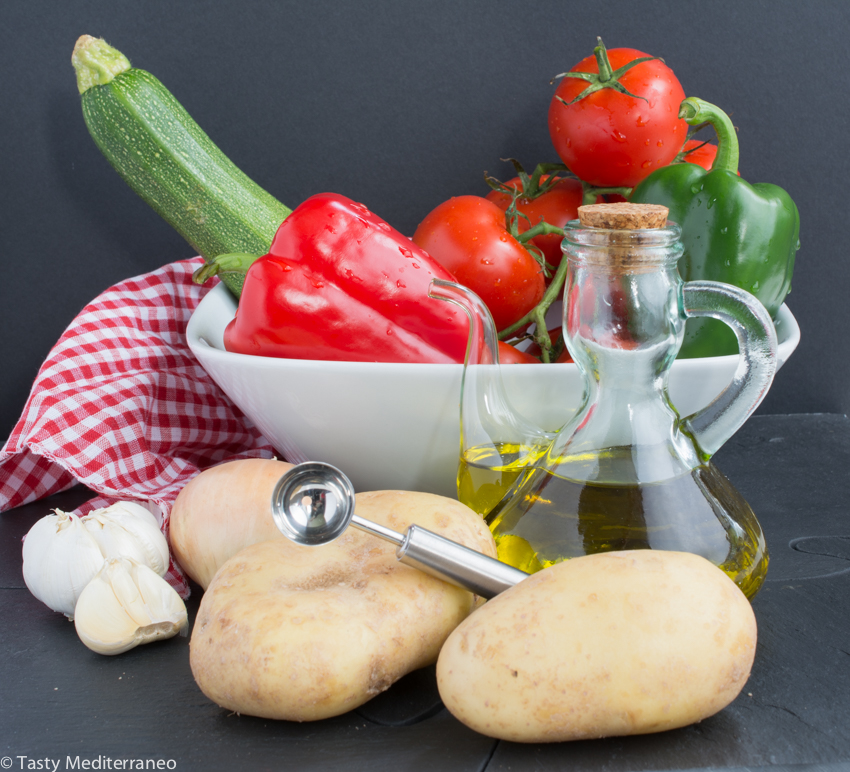 For those of you who are not familiar with this dish, I will tell you that this is a typical vegan dish original from Castilla La Mancha (Spain). Yes, the region where the delicious Spanish Manchego cheese comes from and also the region that gives name to one of the most famous gentleman from the Spanish literature: Don Quixote of La Mancha (by Miguel de Cervantes).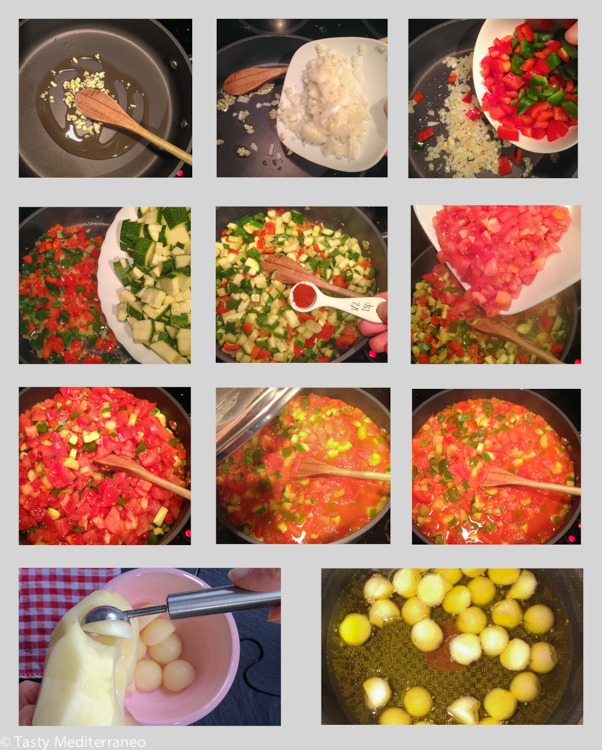 The pisto Manchego is a stew made of tomatoes, garlic, onions, red and green peppers, zucchini (some people add also eggplant) and, obviously, an ingredient that you can never miss in the Mediterranean diet: the extra virgin olive oil.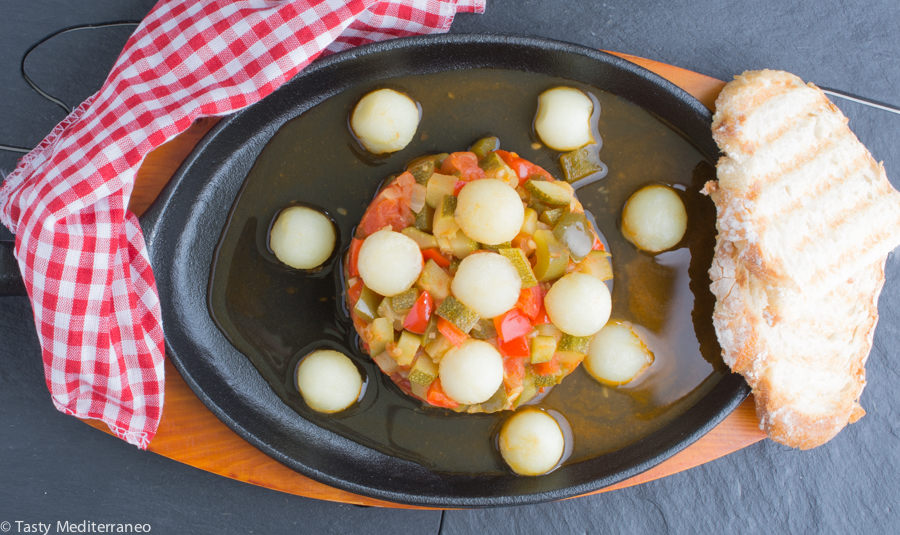 At home we like to serve it warm usually accompanied by poached potatoes and sometimes with a fried egg, but always with country bread.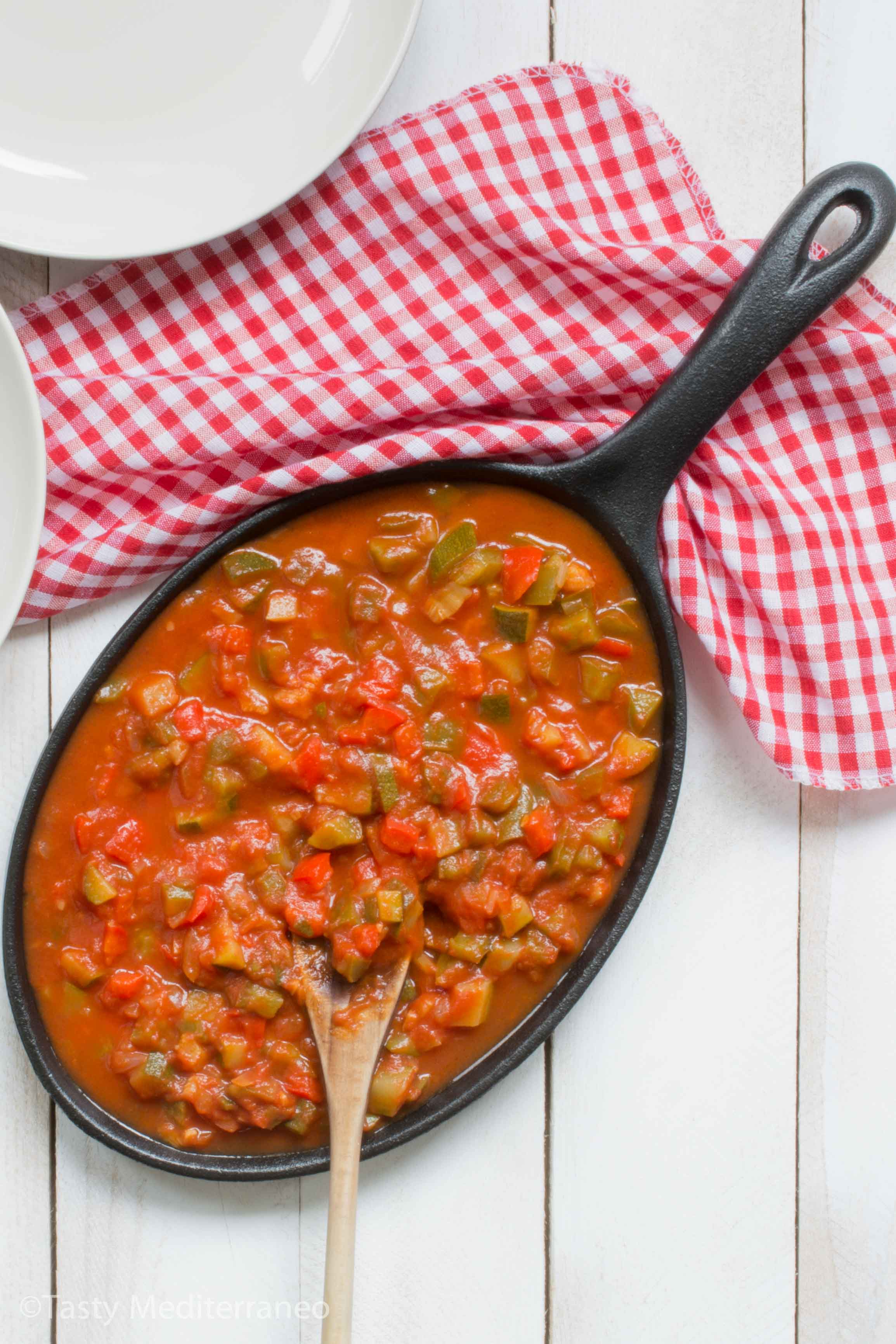 It is perfect for brunch, lunch or dinner and it also makes a perfect Tapa when served in small portions.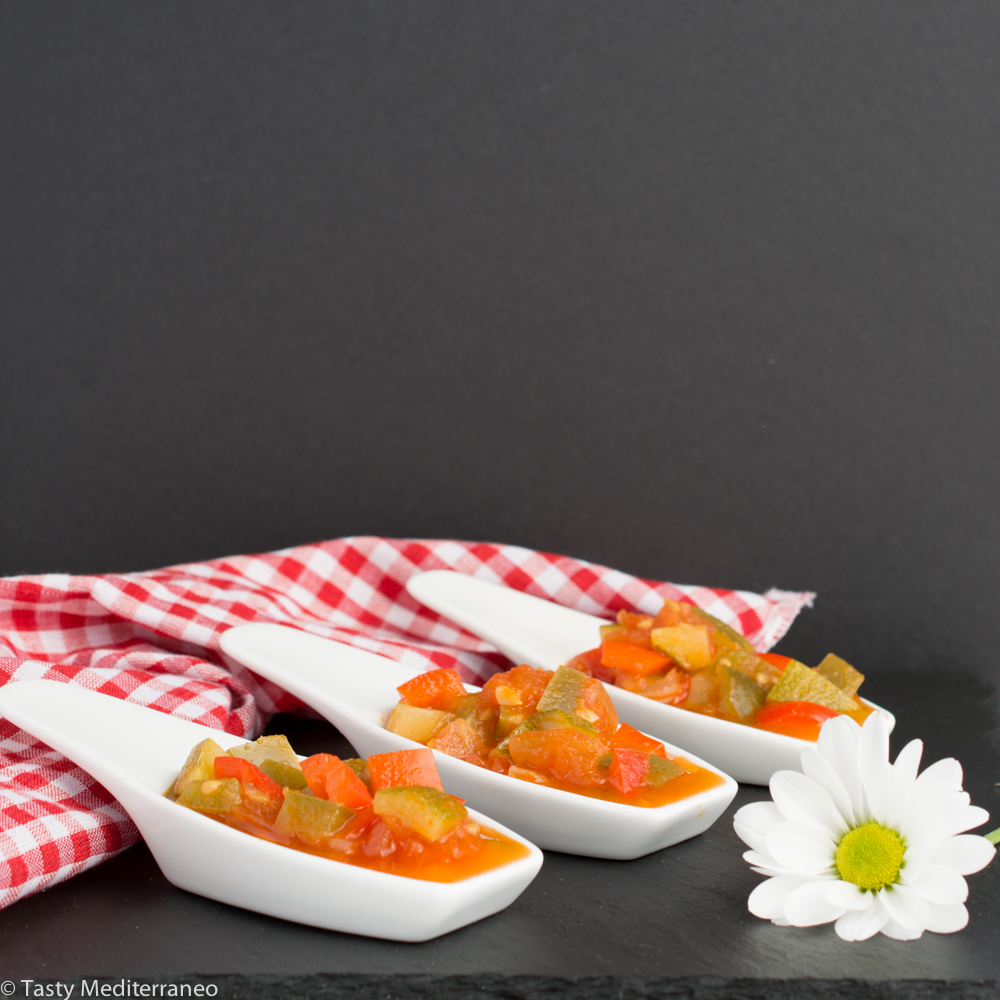 Every time I cook pisto, I like to prepare a quantity bigger than what we are going to eat on the day. Not only it is very good the day after but also it makes a perfect filling for empanadas or empanadillas, another delicious recipe that I will be sharing with you very soon!
If you try this healthy and delicious Mediterranean recipe, please let me know, leave a comment and rate it. I would love to know what you come up with.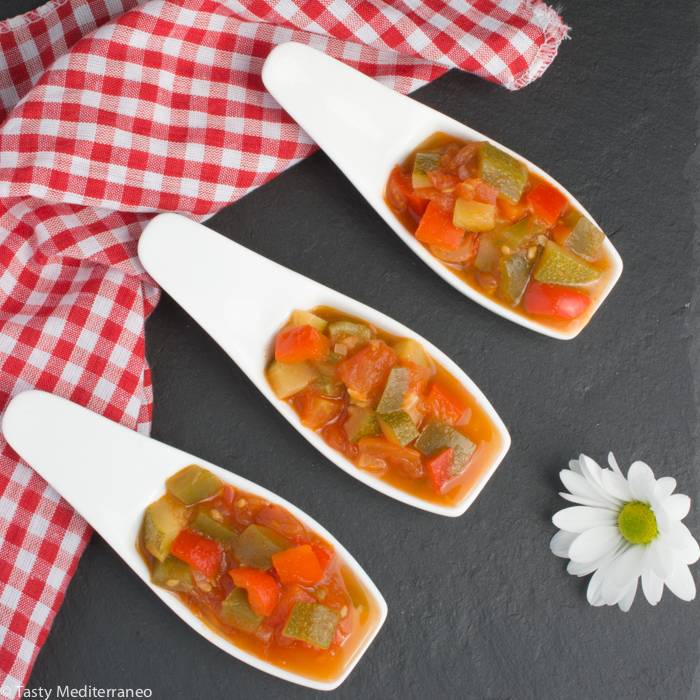 Pisto Manchego with potatoes
Author:
Margarita @ Tasty Mediterraneo
Cuisine:
Mediterranean diet
Ingredients
2 Tablespoons extra virgin olive oil
2 Cloves garlic peeled and finely minced
1 Medium onion peeled and finely chopped
1 Red bell pepper, cored and diced
1 Green bell pepper, cored and diced
1 Zucchini, diced
½ Teaspoon Pimentón de la Vera (Spanish Paprika)
6 Medium tomatoes peeled and diced
2 potatoes, peeled and diced
1 Teaspoon sea salt (or salt to taste)
Instructions
Have all the vegetables well washed and prepared as indicated in the ingredients description.
In a frying pan with lid, heat olive oil (2 spoons), add the garlic and stir-fry for 1 minute until lightly golden. Add then the onion, red and green bell peppers and a pinch of salt and stir-fry over medium heat for around 5 minutes until soft but not brown. Add the zucchini and stir for one more minute.
Reduce heat to low. Add the ½ teaspoon Pimentón de la Vera (Spanish Paprika) and the tomatoes and a teaspoon salt and stir. Leave to cook, covered with a lid, at a medium-low heat for approximately 15 minutes stirring from time to time. And remove from the heat.
While the pisto is cooking, place the potatoes in a large sauté pan and cover them in olive oil. Heat over medium-low heat for about 5 minutes, stirring occasionally. Continue cooking for 5 more minutes or until the potatoes are poached, that is, soft but not crispy.
Remove the potatoes from the heat and drain off as much oil as possible. (Set aside that oil as you can reuse it for frying potatoes and/or preparing a Spanish omelette).
Serve the pisto warm accompanied by the potatoes and some slices of country bread.