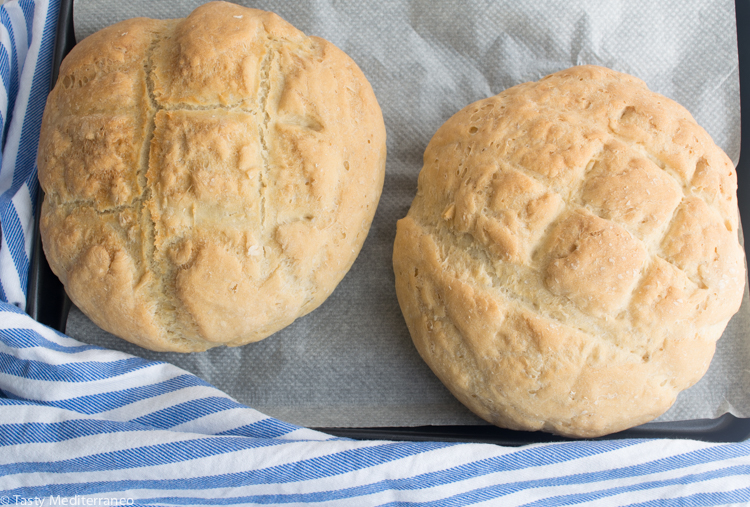 I have spent a wonderful week in Majorca (Spain) with my family. The sun, the beach, the healthy organic food, the smile of my little nephew… a perfect summer time with my loved ones!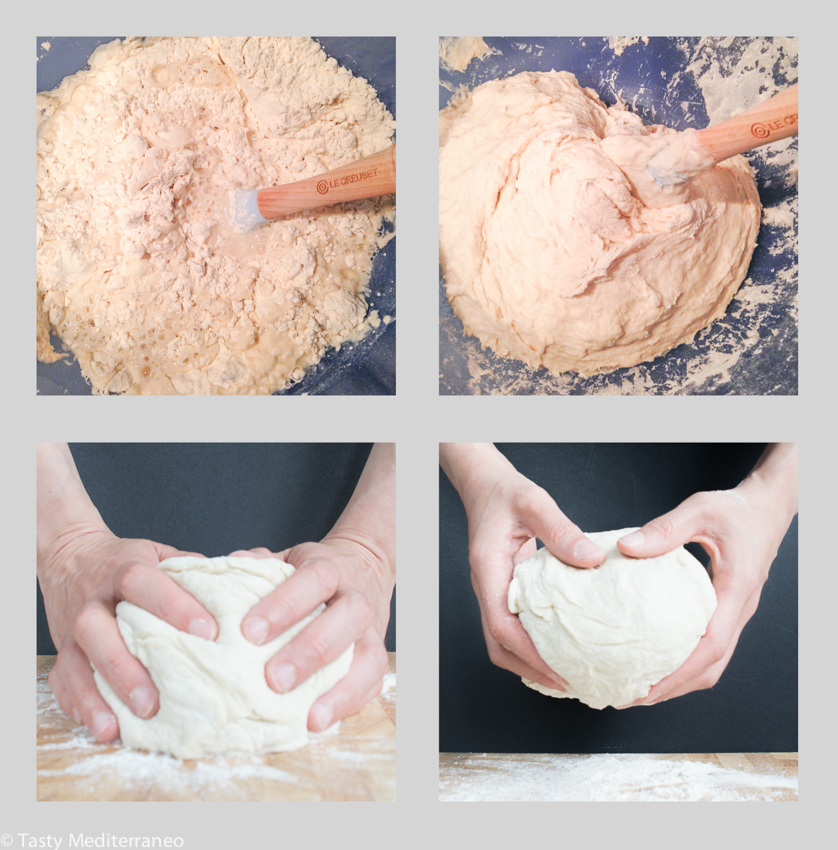 We even had a family cooking time making bread with the children. It was really fun to see my little nephew (2 years old) and my little cousin (8 years old) playing with the flour. As you can imagine there was flour everywhere! But it was so much fun!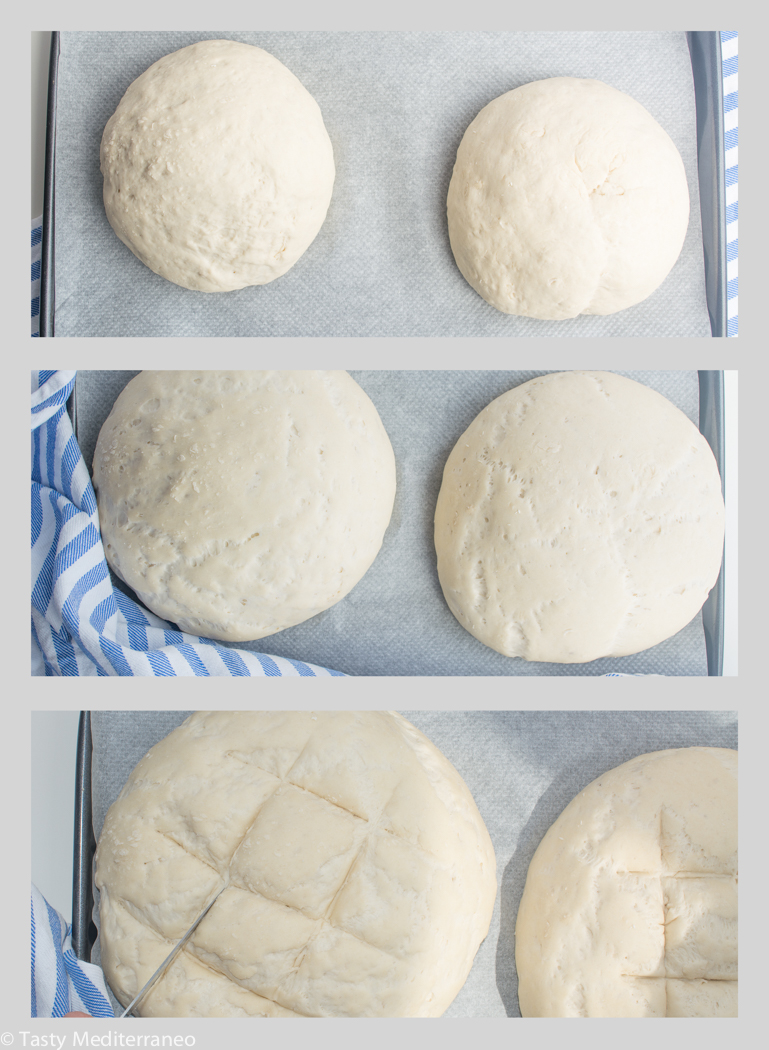 The country white bread recipe that I am sharing with you today is a very simple family recipe. My grandma used to bake this bread and my aunts keep on with the tradition. One of my aunts still bakes it in a wood-fired stone oven, the good old way, and it is so yummy!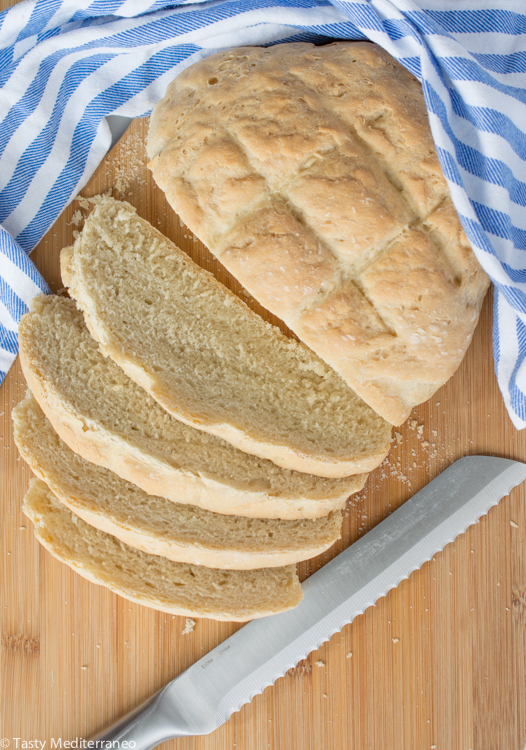 This delicious homemade country bread is tender inside and crusty outside.
A perfect bread for "tapas", such as: Spanish style toast with tomato (Pan con tomate); Scrambled eggs, potatoes & Piquillo peppers on toast; Spanish omelette pintxo, … or to simply enjoy it toasted and with a few drops of extra virgin olive oil on top, as a healthy and tasty Mediterranean breakfast!
If you try this simple bread recipe, please let me know, leave a comment and rate it. I would love to know what you come up with. Enjoy!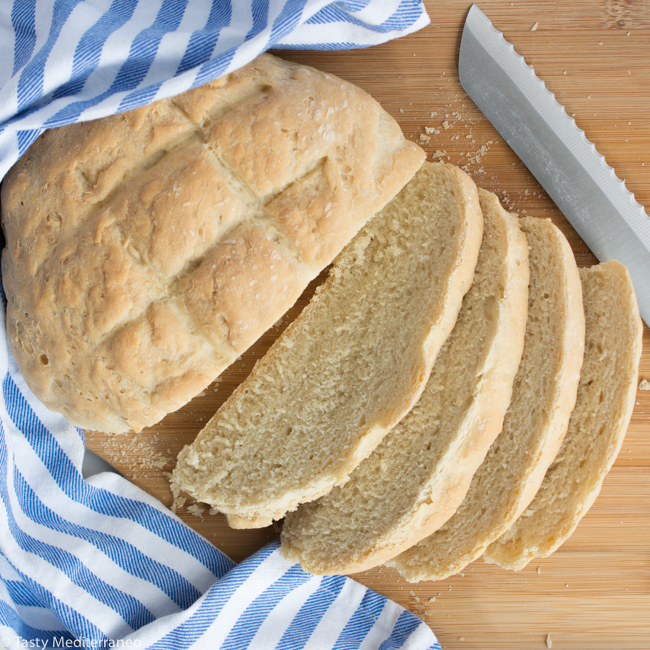 Country white bread
Author:
Margarita @ Tasty Mediterraneo
Cuisine:
Mediterranean Diet
Serves:
For 2 bread loaves
Ingredients
500g (4 cups) organic plain flour
400ml (1 ¾ cups) warm water
2 teaspoons yeast powder
1 teaspoon sea salt
Instructions
In a big bowl combine the flour, the salt and the yeast powder. Make a well in the middle and pour into it the warm water. With a silicon spatula bring the flour in from the sides and mix it well with the liquid. Keep mixing until it all starts to come together, and then remove the dough from the bowl and place it in a clean flour-dusted surface. Keep on mixing with your clean hands and knead it until you have a smooth, not sticky, dough. The consistency of the dough may vary depending on the flour you use, if the dough was a bit runny, you can add a bit of extra flour until you get a not sticky dough.
Cover the dough with a cloth and place in a warm place of the house for 15 minutes or until the dough has doubled its volume.
Divide the dough in 2, shape each into a ball with your hands. Cover a large baking dish with nonstick baking paper. Place the 2 dough balls over it and cover them with a cloth for 5 more minutes.
Preheat the oven to 200 degrees C (400 degrees F).
With the help of a sharp knife make a few cuts across the bread in one direction and then cut again at right angles.
Bake in the middle of the oven for 25-30 minutes or until browned.
Notes
I only add 1 teaspoon salt to keep it low in sodium, but if you prefer a more tasty bread you could add 1 tablespoon instead.

The preparation time of 25 minutes involves only 5 minutes hands on work, the other 20 minutes are for the rise