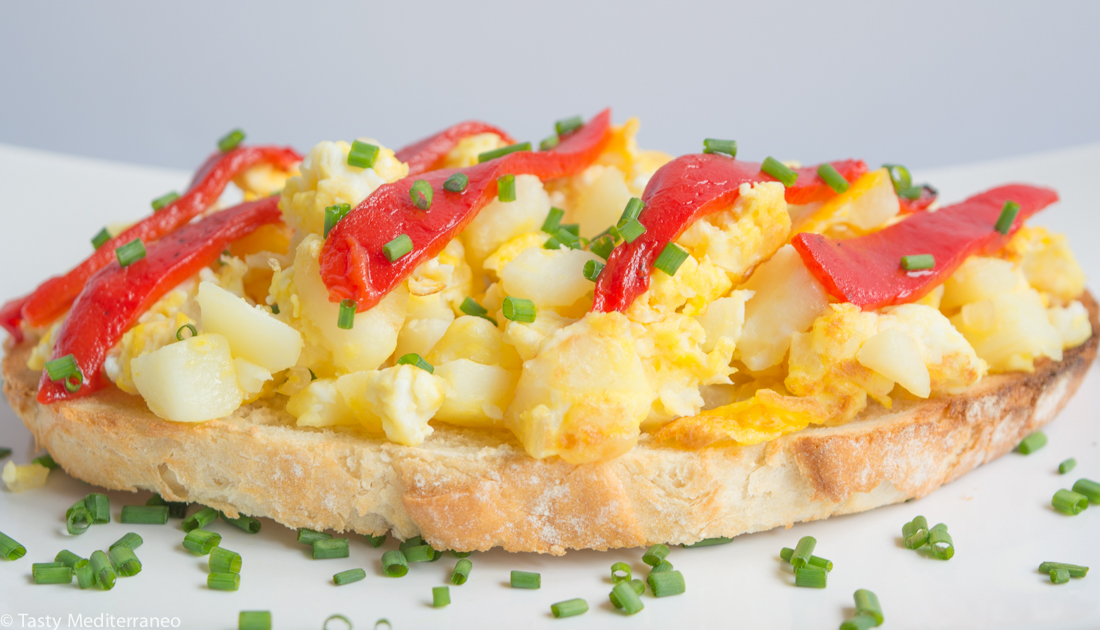 What do you like most about Sundays?
For me Sundays are without any doubt the most relaxed day of the week. No alarm clock in the morning, a delicious smoothie to start the day, a tasty brunch with family or friends, a nice walk by the sea … Do you already picture yourself in Sunday mode? I do!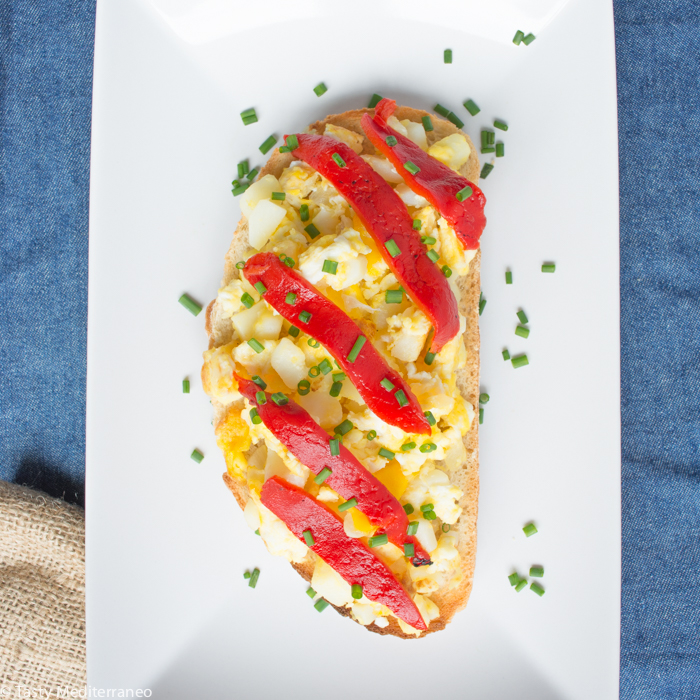 And for this reason I am sharing with you today one of our Sunday brunch favorite recipes: Scrambled eggs with potatoes, onions and delicious Spanish Piquillo peppers on a slice of crunchy toasted country bread, it all topped with freshly chopped chives. Ummm, simply irresistible!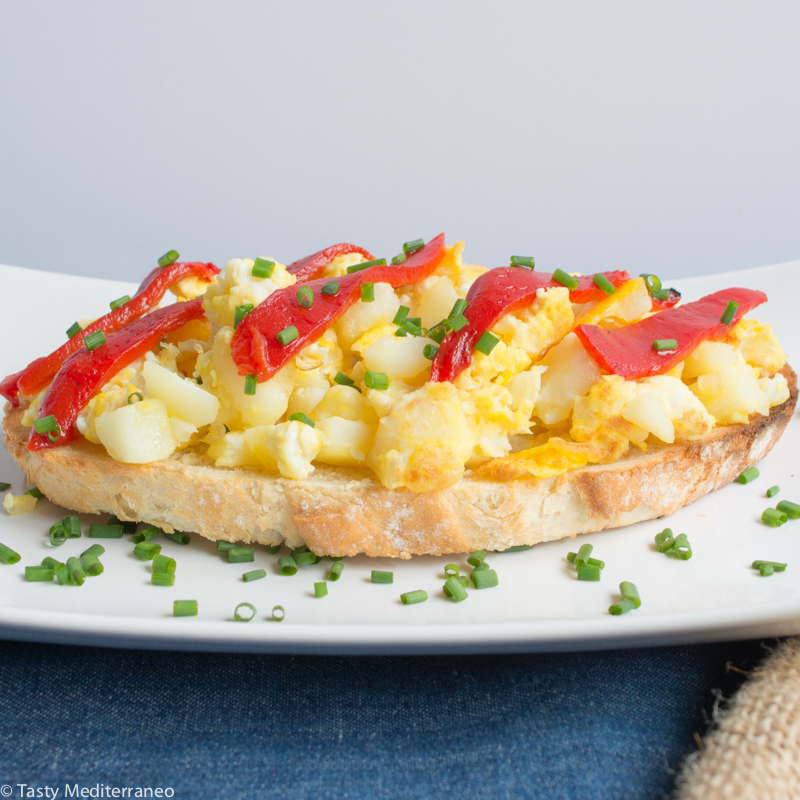 This eggs toast makes also another perfect Spanish tapa when served in smaller portions of bread.
If you try this simple and healthy brunch / tapa recipe, please let me know, leave a comment and rate it. I would love to know what you come up with. Enjoy!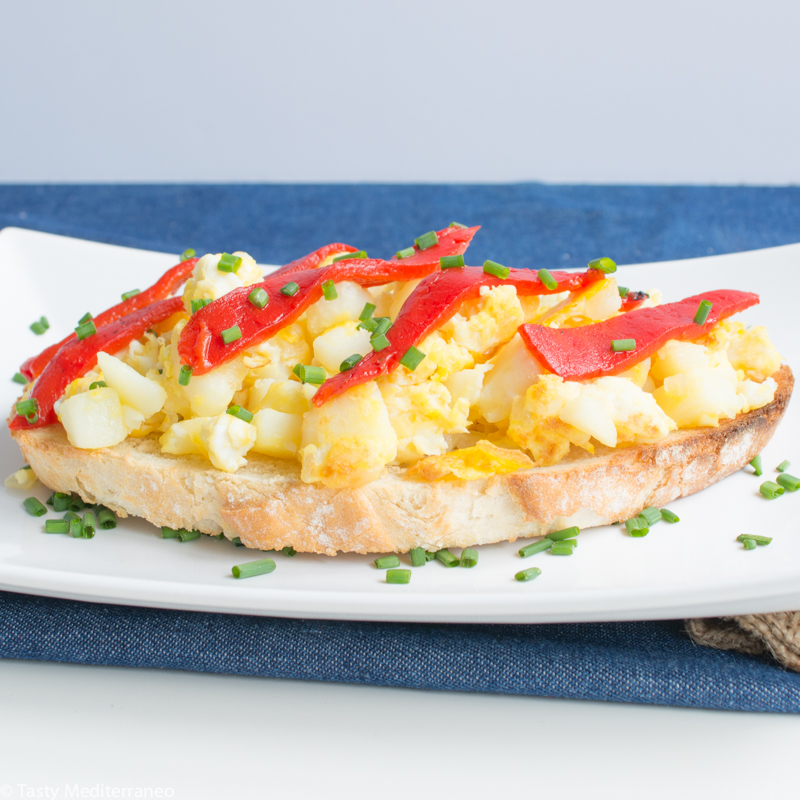 Scrambled eggs, potatoes & Piquillo peppers on toast
Author:
Margarita @ Tasty Mediterraneo
Cuisine:
Mediterranean diet
Ingredients
8 Slices of bread
2 Tablespoons extra virgin olive oil
6 Free range eggs
3 Large potatoes, peeled and diced
1 Onion (or shallot), peeled and finely chopped
3 Spanish Piquillo peppers (Spanish variety of red peppers), cut in strips
1 Small bunch of chives, chopped
Salt
Instructions
Have the vegetables well washed and prepared as indicated in the ingredients description.
Place the potatoes, peeled and diced in a saucepan with cold water and a tablespoon of salt, bring to a boil and simmer for about 10-15 minutes until tender, but not overcooked. Drain the excess of water.
In a non-stick frying pan heat the olive oil (2 tablespoons), add the finely chopped onion and a pinch of salt and stir-fry for a couple of minutes until lightly golden. Add then the drained potatoes and stir-fry at a medium heat for a couple of extra minutes.
Toast the bread slices (in a toaster, on a grill or in the oven, as you prefer) until golden.
Crack the eggs into a bowl, add a pinch of salt and with the help of a fork beat them together well. Incorporate the eggs to the frying pan with the onion and potatoes mix and stir gently at low heat. Keep stirring gently until the eggs are only slightly underdone, and then remove from the heat. Allow them to rest on the hot frying pan for a few seconds so that the heat of the pan cooks them to perfection.
Spread the scrambled eggs mix over the bread slices; add a few Piquillo peppers strips, sprinkle with the chopped chives and serve while hot.
Notes
If you cannot easily find Piquillo peppers where you live, you could use roasted red bell peppers instead.