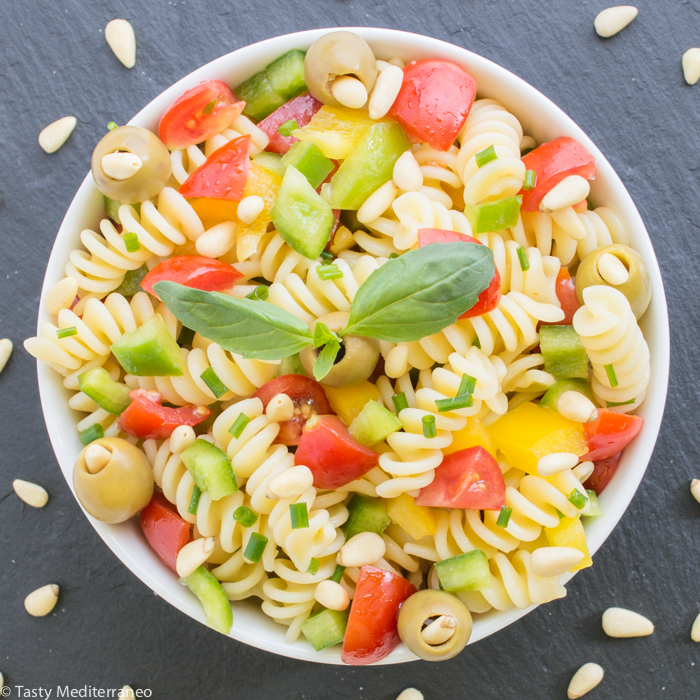 On a hot sunny day when you don't feel like spending too much time in the kitchen, a healthy and refreshing salad will help you withstand the high summer temperatures.
I love this delicious healthy Mediterranean pasta salad mainly for three reasons: first it is a very easy recipe; second, the only time you need to prepare it is the time it takes to boil the pasta; third, you can prepare it the night before and keep it in the fridge to enjoy for lunch or dinner the next day.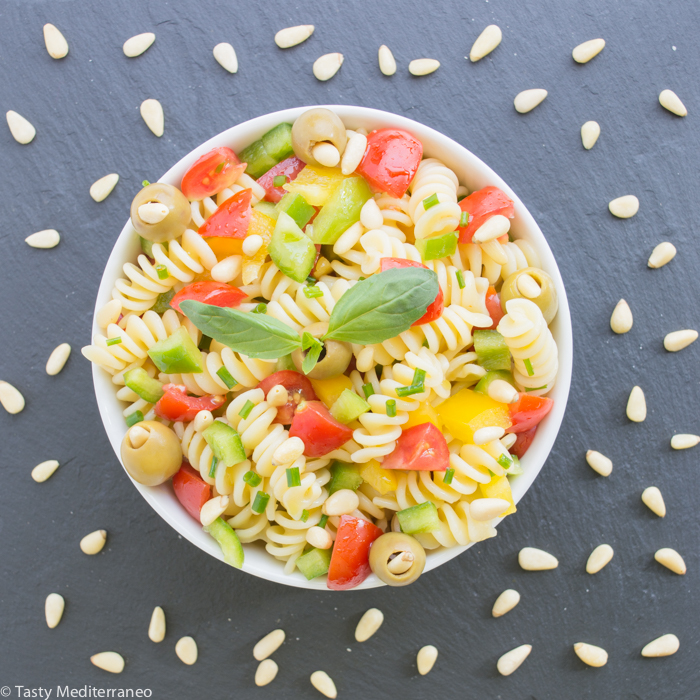 You could use as a dressing for this salad my low fat dip / dressing sauce, or some of my fresh basil pesto sauce, but to be honest the way I like it most is with just a few drops of extra virgin olive oil and a pinch of salt. The simplest Mediterranean way!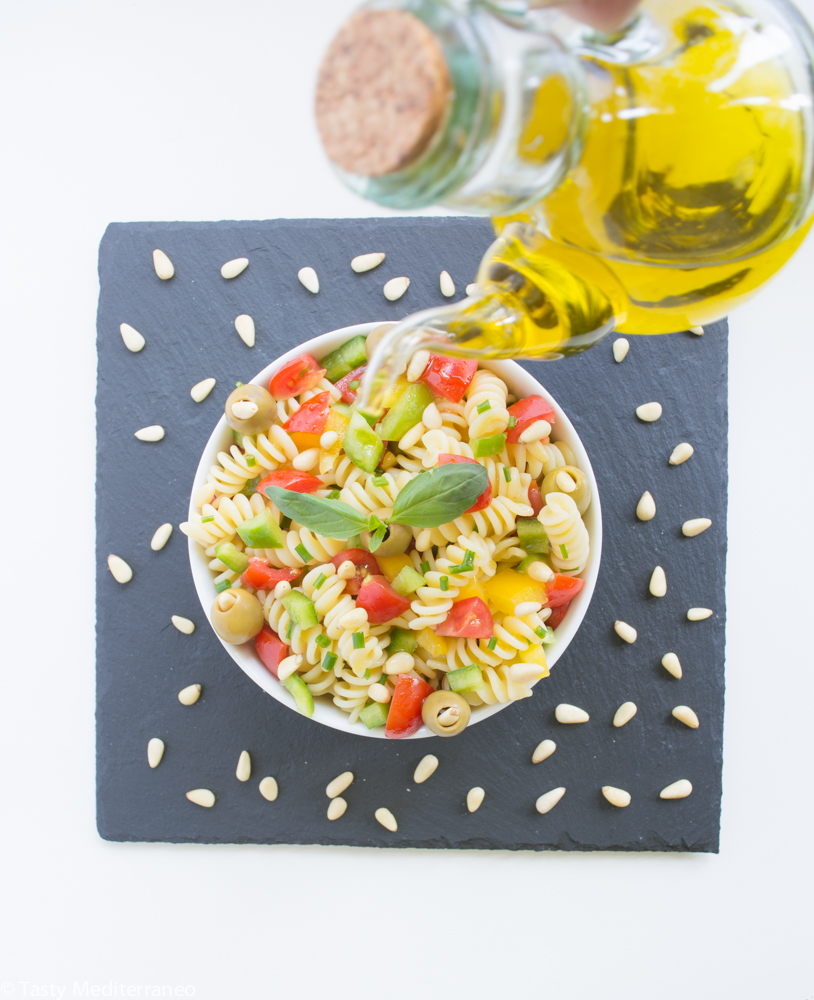 This healthy pasta salad is perfect for a picnic, for a summer barbecue, for a work lunch box, or just to enjoy it fresh at home on a hot summer day.  Another tasty Mediterranean pasta recipe that you will certainly love!
If you try this simple, healthy and tasty Mediterranean pasta salad recipe, please let me know, leave a comment and rate it. I would love to know what you come up with. Enjoy!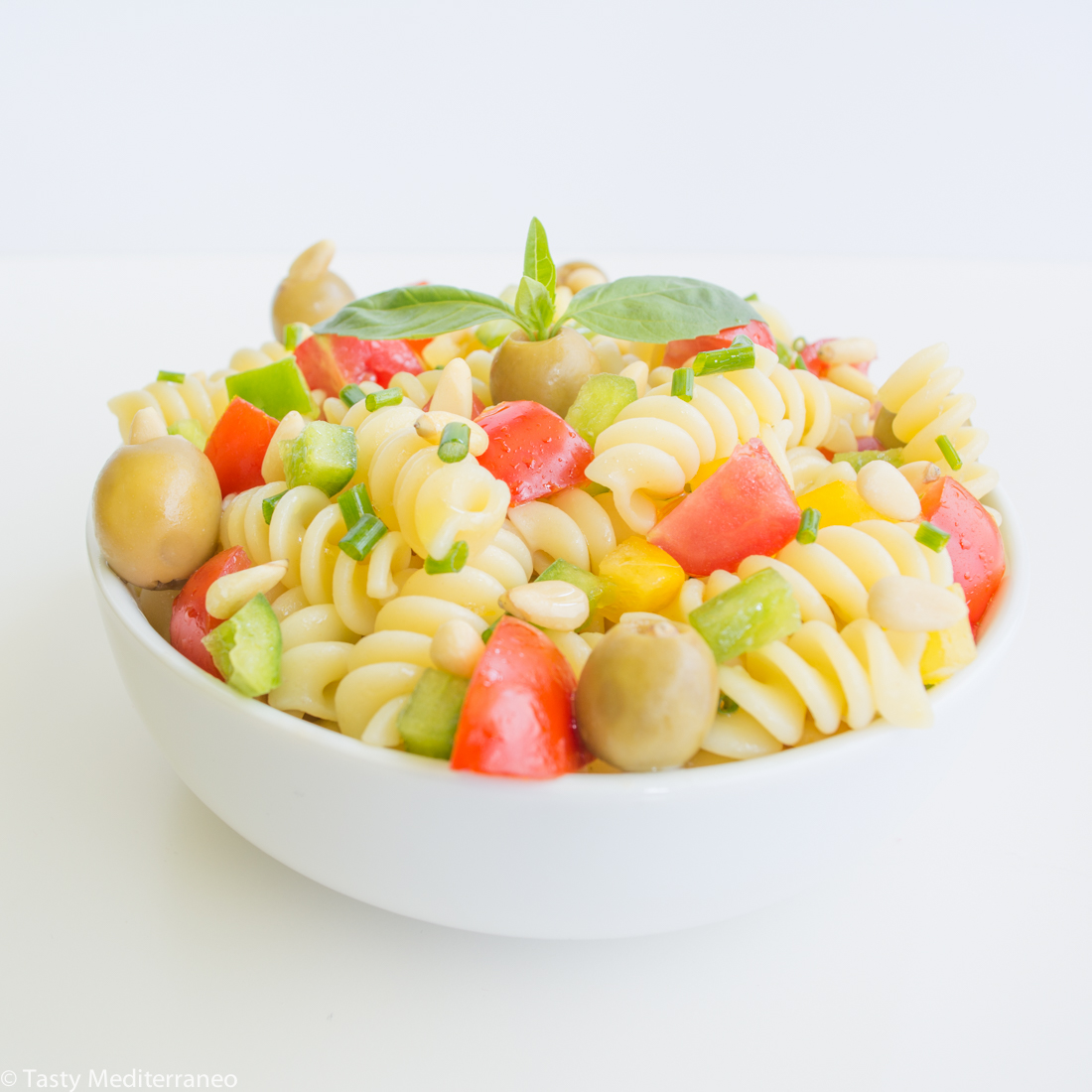 Mediterranean pasta salad
Author:
Margarita @ Tasty Mediterraneo
Cuisine:
Mediterranean diet
Ingredients
3 Tablespoons extra virgin olive oil
400g (4 cups) Organic Fusilli
1 Red bell pepper cored and diced
1 Yellow bell pepper cored and diced
225g (1 ½ cup) Cherry tomatoes, cut each in 4 pieces
15g (1bunch = ½ cup) Chives, chopped
2 Tablespoons pine nuts
100g (1/2 cup) Stoneless Manzanilla green olives
A few fresh basil leaves to decorate
Salt
Instructions
Have all the vegetables well washed and prepared as indicated in the ingredients description.
Boil water in a large saucepan and add one tablespoon salt. Add the Fusilli pasta and stir. Follow the cooking instructions on the package to make sure you cook the pasta "al dente". Stir the pasta from time to time and when the cooking time indicated in the package is over, remove from the heat. Run under cold water until the pasta has cooled and then drain.
In a large bowl add the pasta, the diced peppers, the cherry tomatoes cut in pieces, the chopped chives, the green olives, the pine nuts, the 3 tablespoons of olive oil and salt to taste. Mix it all well, add some fresh basil leaves and serve or keep in the fridge up to a couple of days.