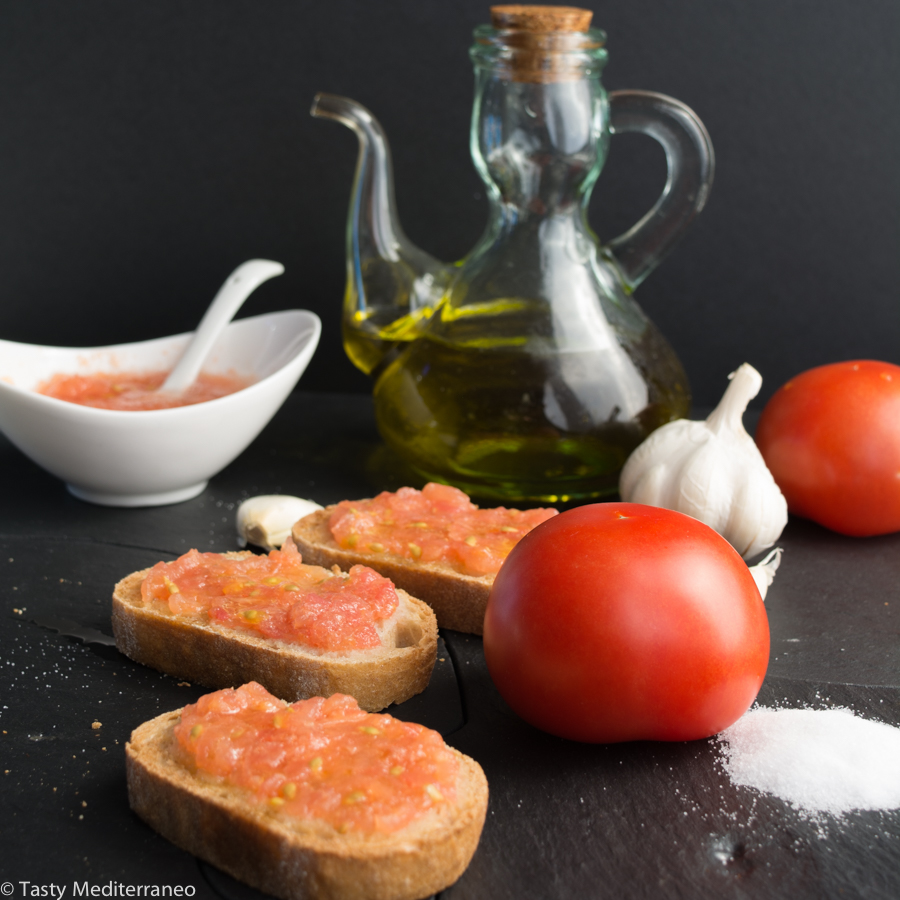 A question I would always get from my friends when they are planning a trip to Spain is: what should we eat?
And to be honest it is not easy to answer this question because: there is plenty of choice! The Spanish cuisine is very rich and every region has its own typical dish and meal routine. So my advice would be for them to enjoy the food of the region they are visiting.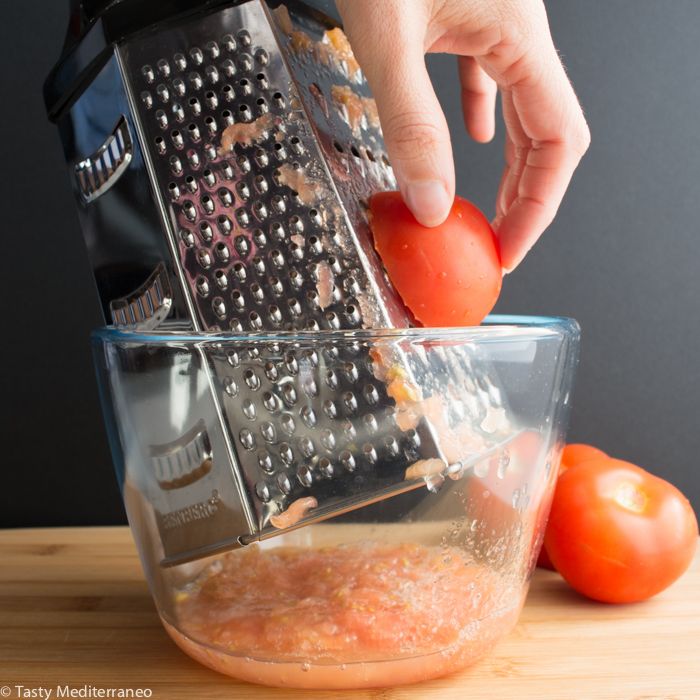 And as soon as they are back from their holidays, and they tell me how much they enjoyed food and sun in Spain, the next thing they would ask me is: can you please let us know how to prepare a delicious paella? And how about a Spanish omelette? And a healthy and chilled gazpacho? And …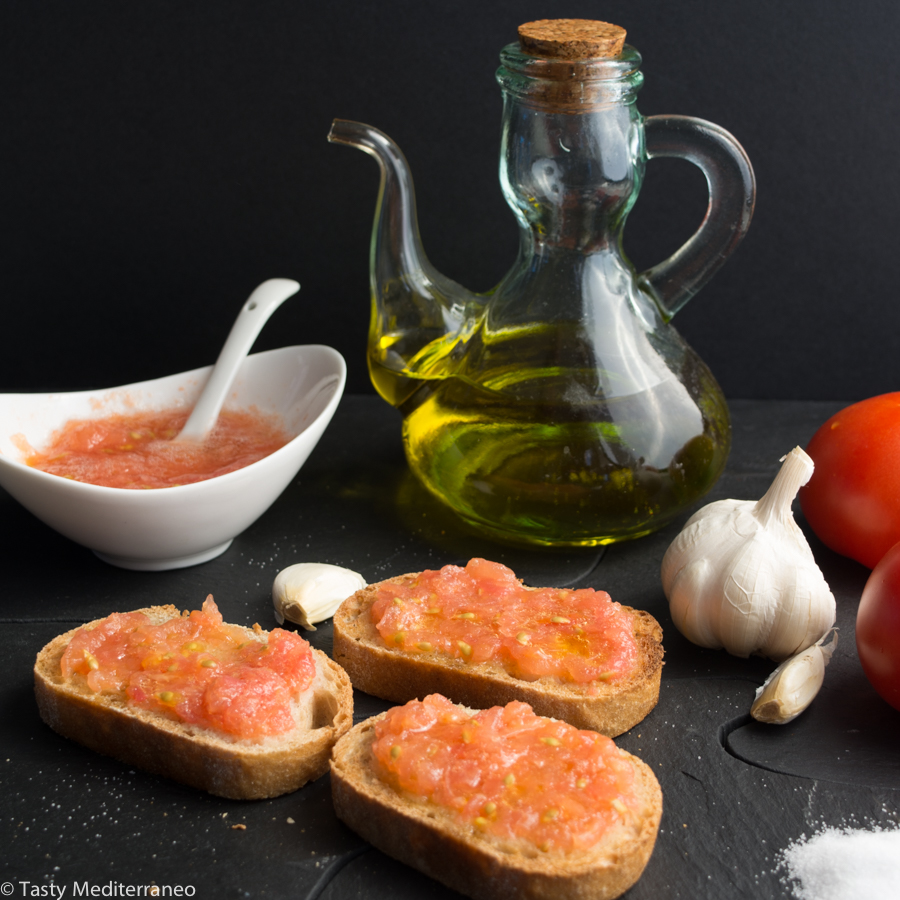 I feel so happy to know that they loved so much my country's gastronomy! And I feel even happier since I created Tasty Mediterraneo which allows me to share with them, and with you all, many of the traditional and healthy recipes from my beloved Mediterranean country.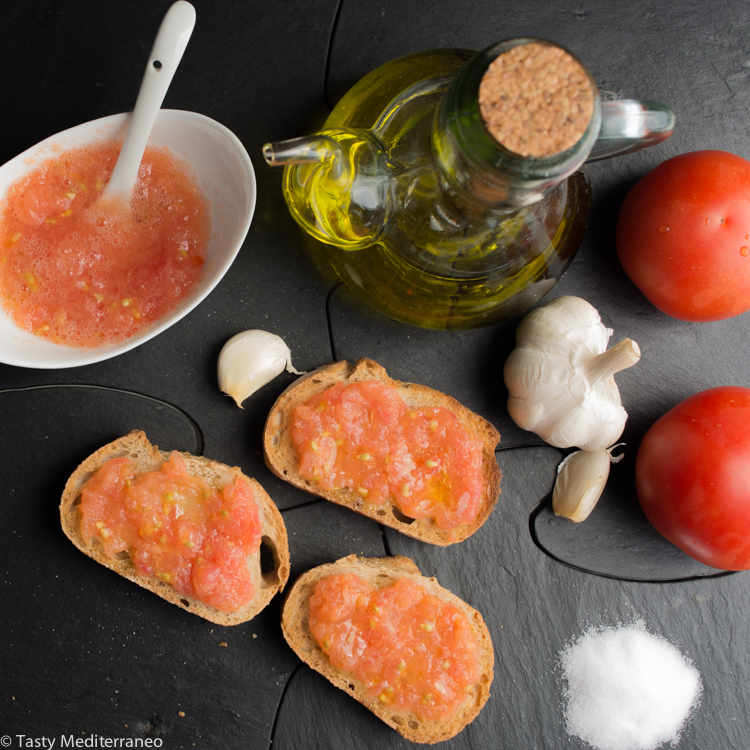 The recipe I have prepared for you today is very simple: a Spanish style toast with tomato, also known as: "pan tumaca", "pa amb tomàquet", "pa amb oli". It is a classic breakfast and tapa almost everywhere in Spain, but mainly in some regions of the Mediterranean coast of Spain like: Catalonia, Valencia, the Balearic Islands…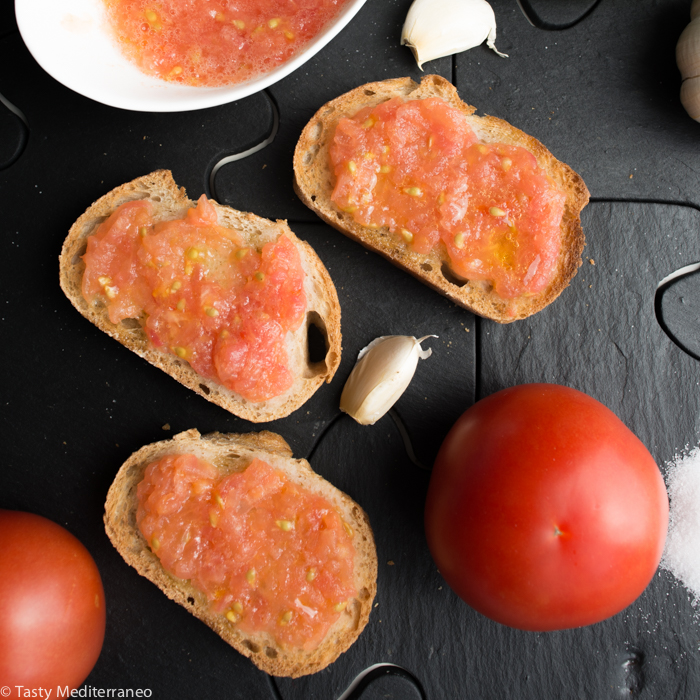 You only need 5 ingredients and 5 minutes. Really, there are no excuses for not trying it! I am sure you will love it!
If you try this healthy and simple Mediterranean recipe, please let me know, leave a comment and rate it. I would love to know what you come up with!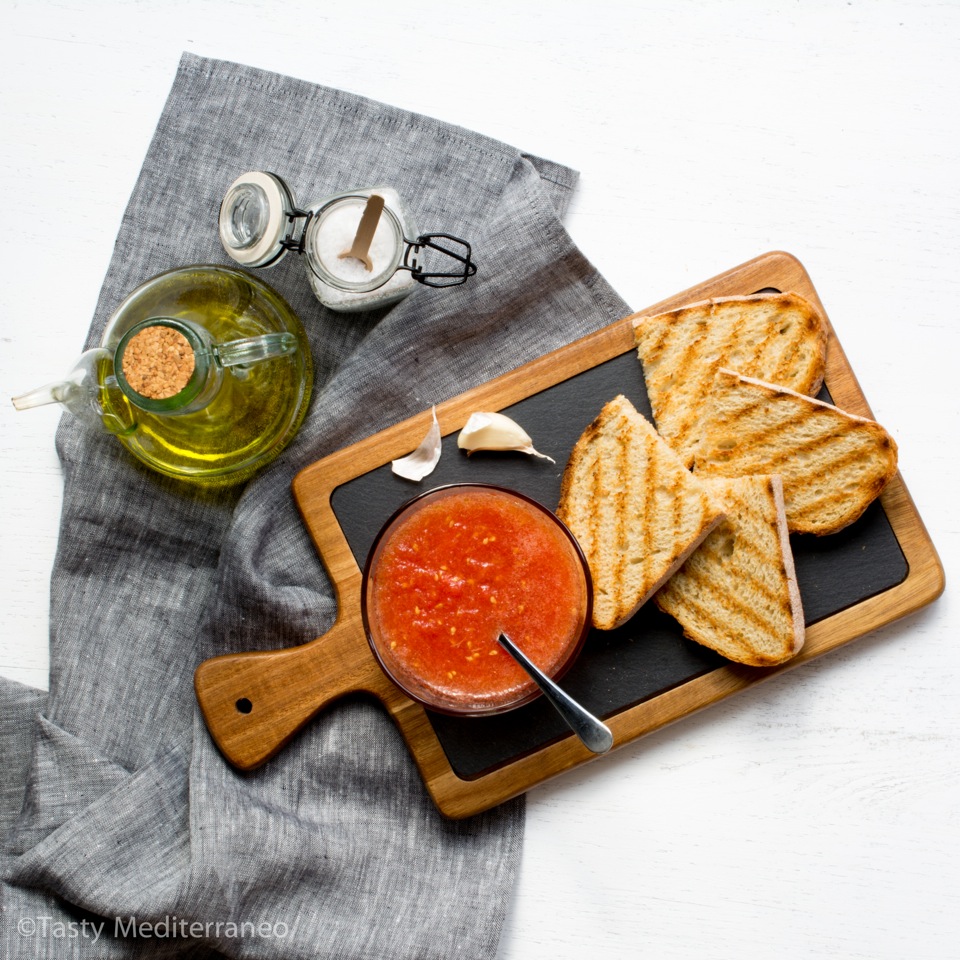 Spanish style toast with tomato (Pan con tomate)
Author:
Margarita @ Tasty Mediterraneo
Cuisine:
Mediterranean diet
Ingredients
8 slices of bread
3 tomatoes
1 garlic clove, peeled and cut in half
4 teaspoons extra virgin olive oil
Salt
Instructions
Wash well the tomatoes. Cut them in half and grate them while being careful of not cutting yourself on the box grater.
Toast the bread slices (in a toaster, on a grill or in the oven, as you prefer) until golden.
Prepare the garlic as indicated in the ingredients description. Rub it on the toasted bread.
Spread the grated tomatoes over the bread; add a small pinch of salt and ½ teaspoon of extra virgin olive oil on each bread slice.
Notes
In the Balearic Islands it is common to rub the tomato on the bread instead of previously grating the tomato. There is a delicious specific kind of tomatoes for this purpose called: "tomate de ramallet".

This recipe makes a perfect Mediterranean breakfast served with a freshly squeezed orange juice.

You can add some aged cheese (Manchego, Comté, Parmesan,…) as a topping for your "Pan con tomate" for a perfect "tapa" or sandwich.