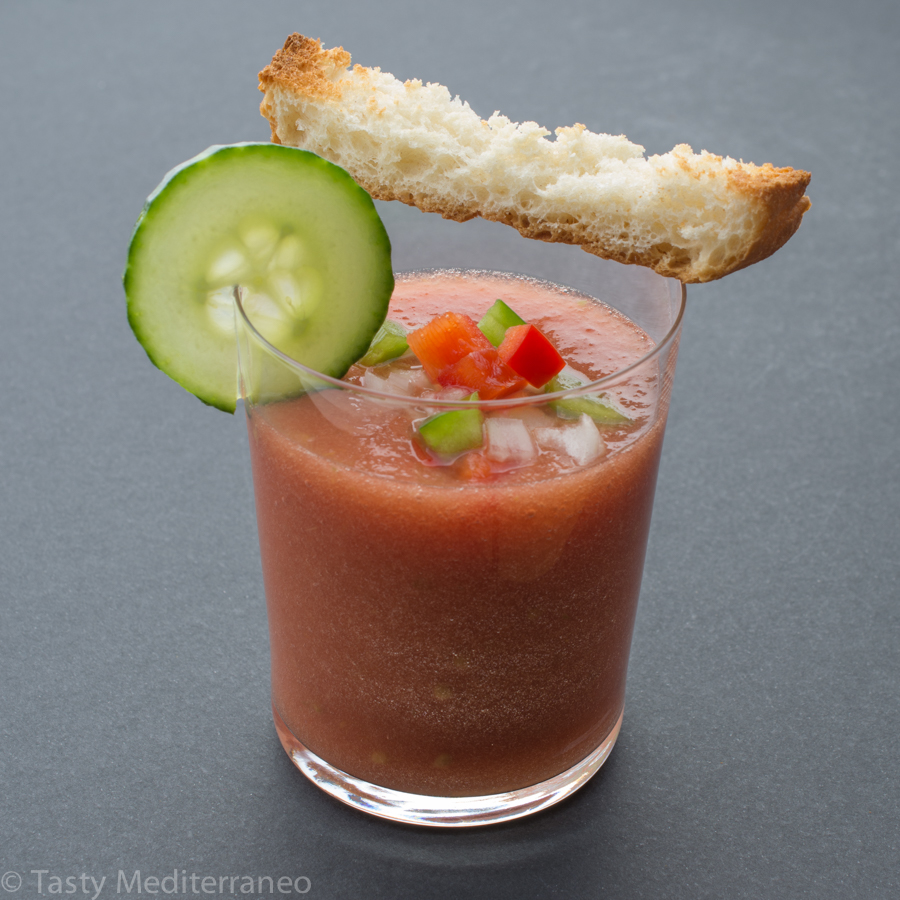 Temperatures can get really high during summer in Spain. Not to talk about Andalusia in the South of Spain. There, it is very common to reach temperatures over 40 °C (104 °F).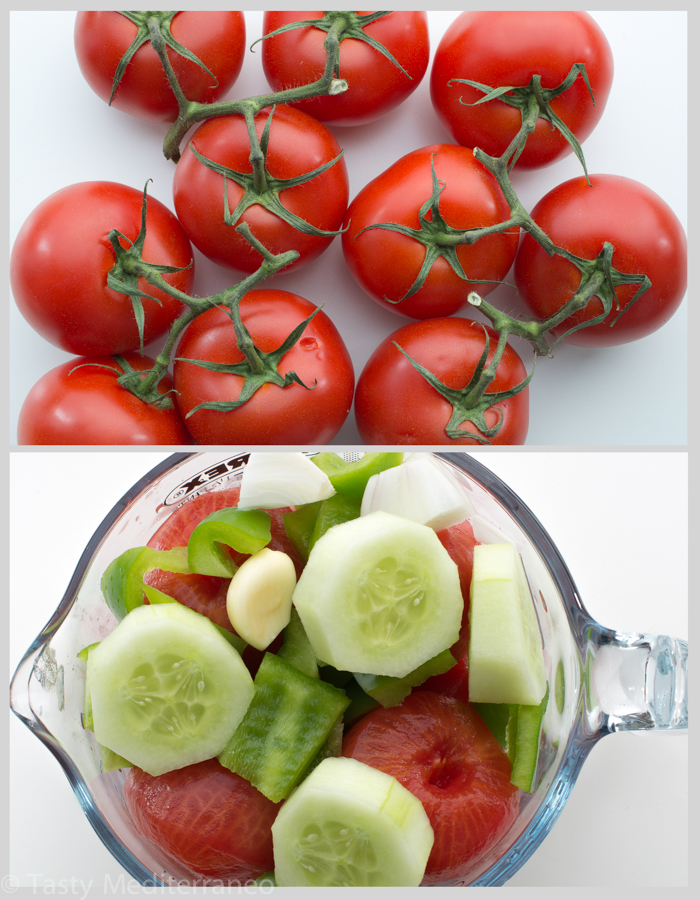 It is because of these high temperatures that you would avoid, as much as possible, baking or cooking in the summer time. And for this reason this savoury cold tomato soup, plenty of Vitamin C and antioxidants, is a classic in the south of Spain: no need to cook it, just blend its raw ingredients!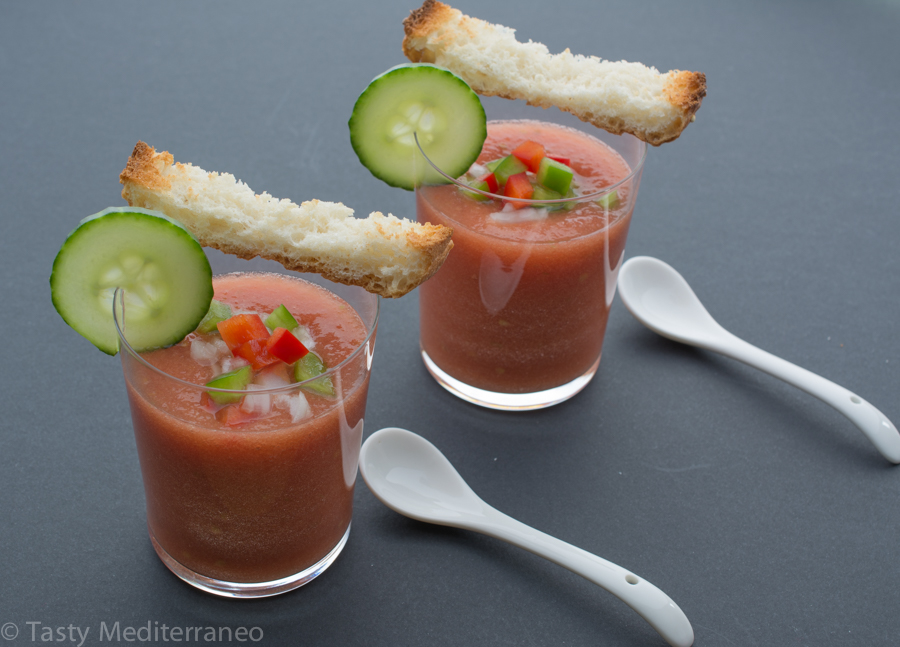 My mom was born in Jaen (Andalusia), the World Capital of the Olive Oil.  And as most of the Andalusian people, during summer she would always prepare fresh Gazpacho.
I remember very well the happy face of my dad when, after coming back home on a very hot day, he would open the fridge and help himself to a glass of chilled Gazpacho. He simply loved it!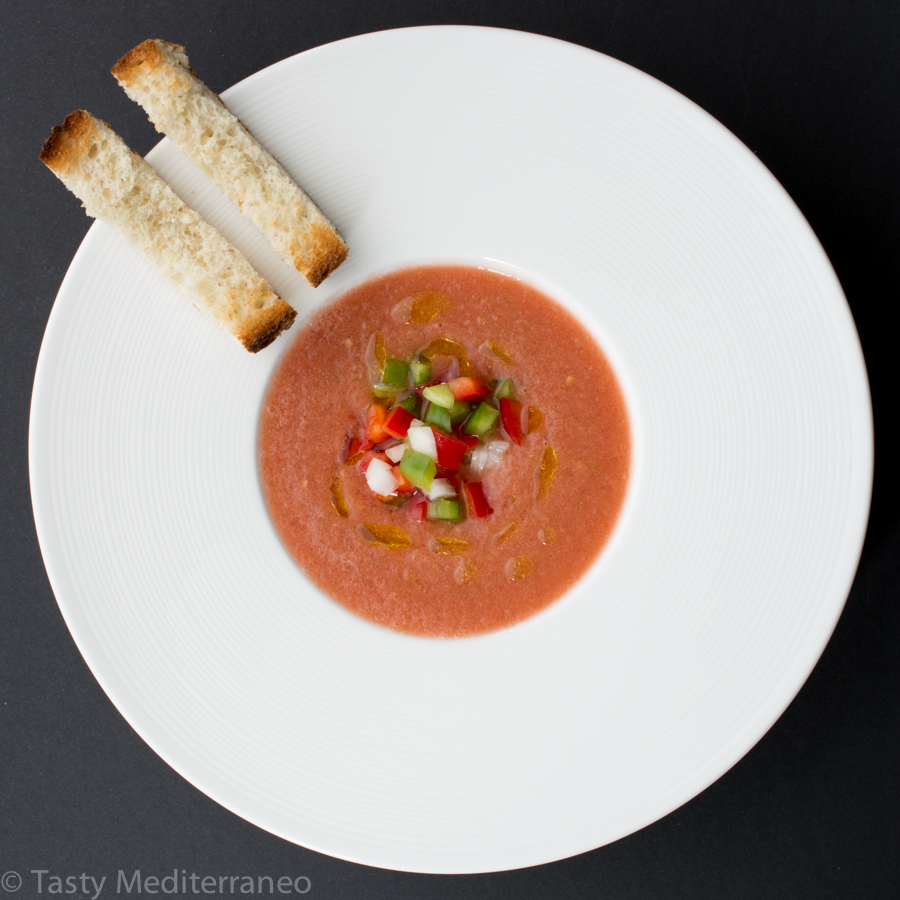 If you try this simple, healthy and nutritious Gazpacho recipe, please let me know, leave a comment and rate it. I hope you love it as much as we do!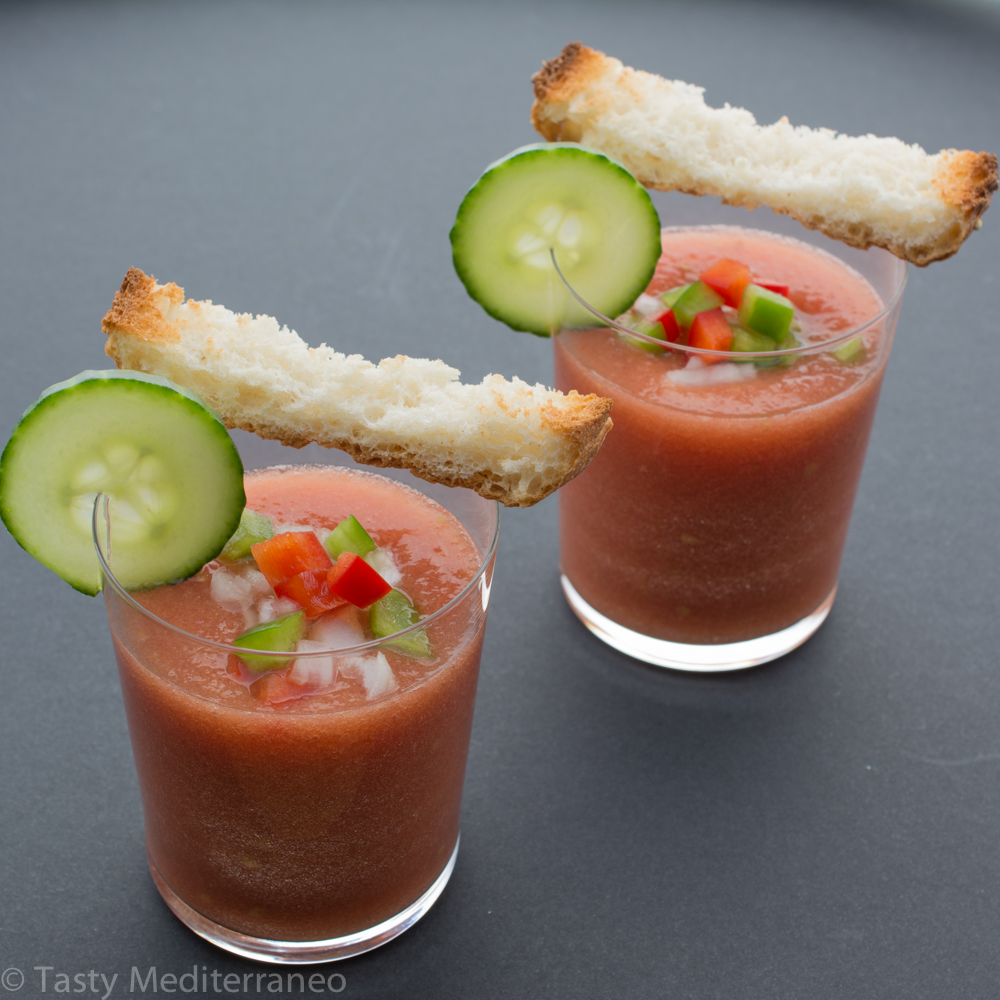 Andalusian Gazpacho – Chilled tomato soup
Author:
Margarita @ Tasty Mediterraneo
Ingredients
1kg (2lb) ripe tomatoes, peeled and chopped
1 tablespoon extra virgin olive oil
1 garlic clove, peeled
1 small cucumber, peeled and chopped
¼ onion, peeled and chopped
1 Italian Green Pepper, cored, seeded and chopped (A small green bell pepper will do if you cannot easily find this variety of pepper)
½ tablespoon Salt, or more to taste
Instructions
Have all the vegetables well washed and all the ingredients prepared as indicated in the ingredients description.
Put all the ingredients into a food processor or blender and process until you get a very smooth purée. Depending on how juicy the tomatoes are you may want to add some cold water at the end and mix again.
Chill in the refrigerator for a few hours. Salt to taste, mix and serve in glasses or in soup bowls.
Enjoy directly or garnish with some toasted bread as well as some diced onion, green and red bell peppers.
Notes
If you want a fairly thin Gazpacho, you could use a coarse sieve and push the purée through.

The original Gazpacho Andaluz recipe would also add 1 slice of bread and 1 spoon white wine vinegar or sherry vinegar in the mixture. Personally I like Gazpacho with a light taste, so I won't usually add them.

Do not be surprised if your Gazpacho does not look too red. It may depend on the tomatoes quality (I usually use on the vine tomatoes), but in any case it will never be too red. That shows it is natural and made in the Spanish traditional way using fresh tomatoes. You would never use canned tomatoes to prepare an authentic Gazpacho Andaluz.