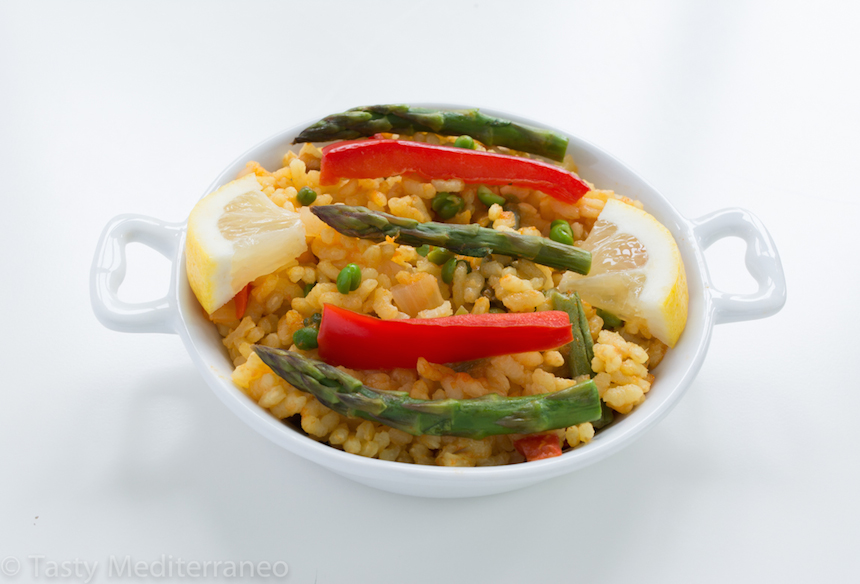 The Paella is a classic Spanish dish. It is original from Valencia and it is maybe one of the most internationally known dishes from the Spanish gastronomy.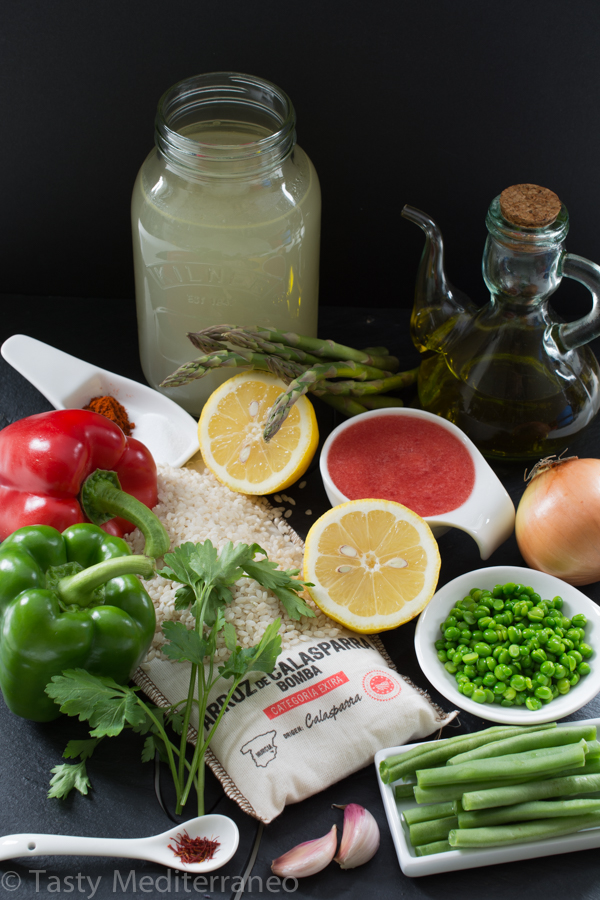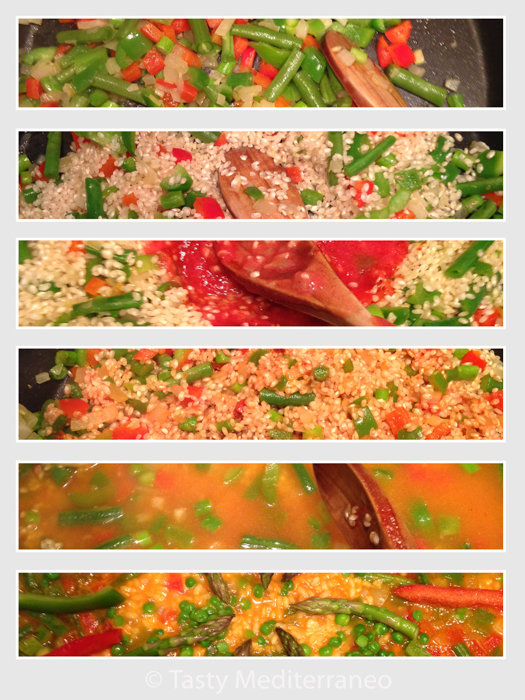 Although it is common to distinguish between "Paella Valenciana" (made with chicken, rabbit and some vegetables like green beans) and "Seafood Paella" (made with different kind of seafood and vegetables), I have to say that Paella is actually a popular dish that each family would prepare with the ingredients that they would have available in their pantry at the time.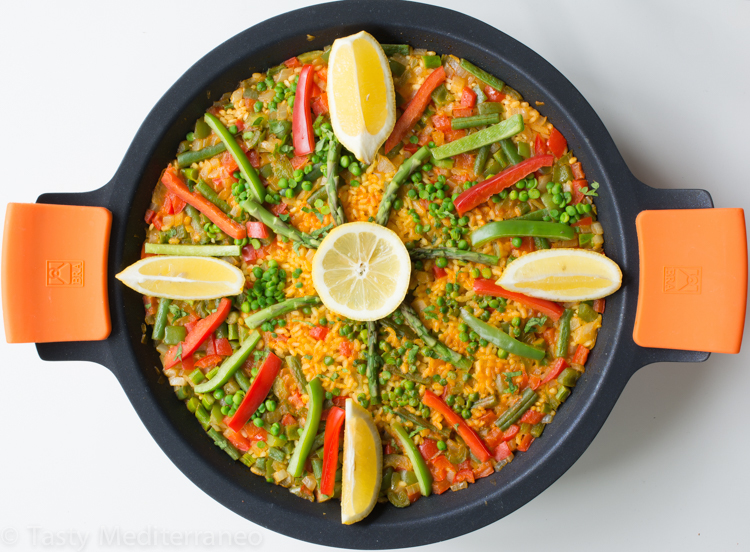 I will share with you my own version of a delicious Vegetarian Paella. Let me know if you enjoy it as much as my family and I do.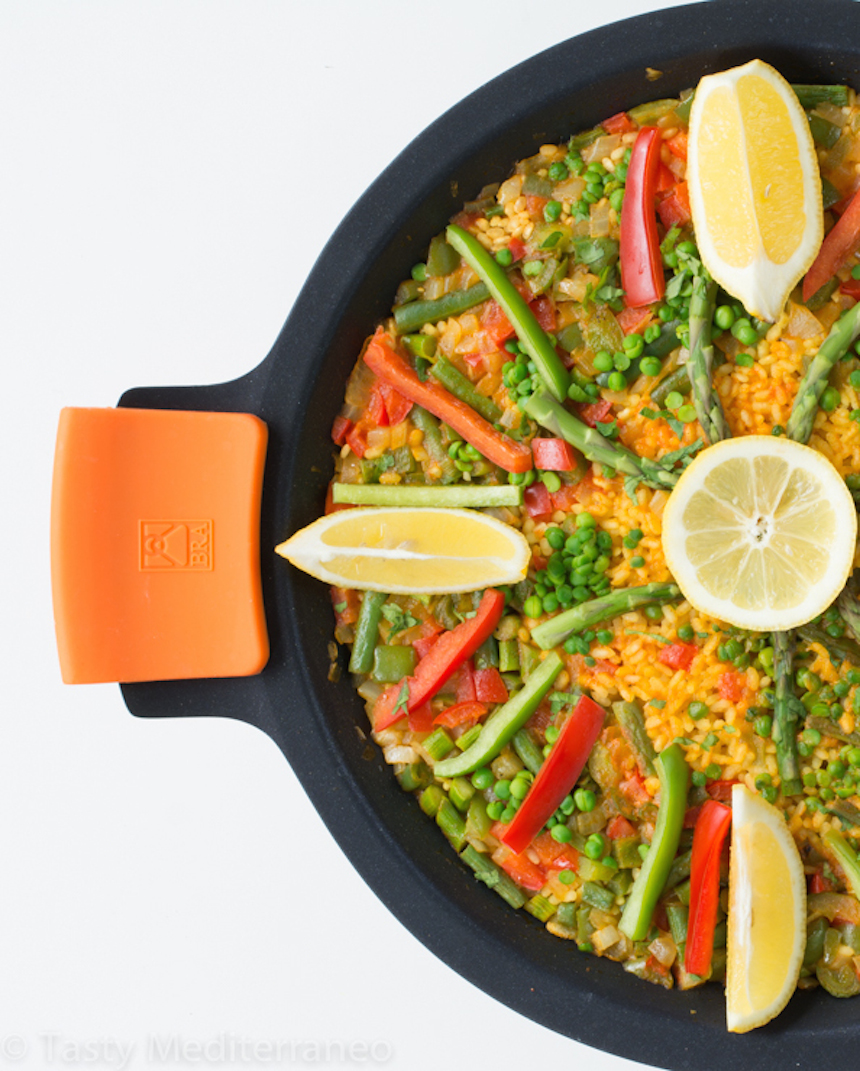 Vegetarian Paella
Author:
Margarita @ Tasty Mediterraneo
Ingredients
1 ½ tablespoon extra virgin olive oil
2 cloves garlic peeled and finely minced
1 medium onion peeled and finely chopped
1 red bell pepper cored and diced (leave aside 4 pepper strips)
1 green bell pepper cored and diced (leave aside 4 pepper strips)
Sea salt
50g (1/4 cup) green beans chopped
2 tomatoes peeled, seeded and crushed
1teaspoon mild smoked paprika (ideally Pimentón de la Vera)
360g (1 ¾ cups) Bomba rice (Arborio rice will do if you cannot find this variety of Valencia rice)
½ teaspoon saffron threads (crushed in the mortar with a pinch of salt) dissolved in
1 l (4 cups) low-sodium vegetable stock, hot
Freshly ground black pepper
50g (1/4 cup) shelled peas
50g (1/3 cup) green thin asparagus heads
1 teaspoon finely chopped parsley
2 medium lemons cut in wedges
Instructions
Have all the vegetables well washed and prepared as indicated in the ingredients description.
Bring the vegetable broth to a boil in a small saucepan. Add to it the saffron threads previously crushed in the mortar with a pinch of salt. Keep it at low heat as we need it to be hot when we add it to the rice.
Heat the olive oil in a paella pan (a large deep frying pan will do too) over medium heat, add the garlic and sauté for around 1 minute until golden. Add then the onion, red and green bell peppers. Add 1 teaspoon salt and stir and cook for around 3 minutes until soft but not brown. Add the green beans and stir for one more minute.
Reduce heat to low. Add the rice and stir well for a couple of minutes to ensure that each grain of rice is well coated with oil. Add the tomatoes and the smoked paprika on top, stir and pour the hot vegetable broth making sure the rice is completely covered. Continue stirring and leave to cook at a medium-low heat. Season with freshly ground black pepper and when it boils lightly taste the broth and add a pinch of salt if needed. From the moment the broth is simmering do not stir the rice and cook it uncovered for around 12 minutes. During this time shake the paella pan occasionally, but do not stir.
Pour in the rest of broth along with the shelled peas, the asparagus heads and the red and green bell pepper strips. Allow it to simmer gently until the liquid has been absorbed and the rice is cooked, about 5 minutes.
Remove from the heat, sprinkle with the parsley, add the lemon wedges and let it stand covered with a tea towel for 5 minutes before serving. Some of the rice will be slightly toasted on the bottom of the paella pan; that is actually a delicious part of the paella that we call in Spain the "socarrat"