Spanish style toast with tomato (Pan con tomate)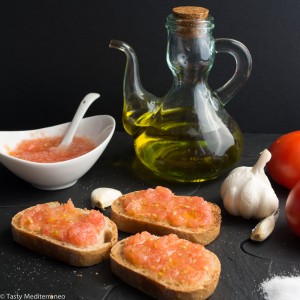 Author:
Margarita @ Tasty Mediterraneo
Cuisine:
Mediterranean diet
8 slices of bread
3 tomatoes
1 garlic clove, peeled and cut in half
4 teaspoons extra virgin olive oil
Salt
Wash well the tomatoes. Cut them in half and grate them while being careful of not cutting yourself on the box grater.
Toast the bread slices (in a toaster, on a grill or in the oven, as you prefer) until golden.
Prepare the garlic as indicated in the ingredients description. Rub it on the toasted bread.
Spread the grated tomatoes over the bread; add a small pinch of salt and ½ teaspoon of extra virgin olive oil on each bread slice.
In the Balearic Islands it is common to rub the tomato on the bread instead of previously grating the tomato. There is a delicious specific kind of tomatoes for this purpose called: "tomate de ramallet".

This recipe makes a perfect Mediterranean breakfast served with a freshly squeezed orange juice.

You can add some aged cheese (Manchego, Comté, Parmesan,…) as a topping for your "Pan con tomate" for a perfect "tapa" or sandwich.
Recipe by
Tasty Mediterraneo
at https://www.tastymediterraneo.com/spanish-style-toast-with-tomato-pan-con-tomate/