Individual strawberry, pine nuts & olive oil cakes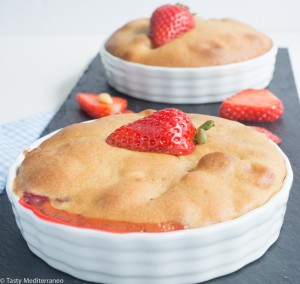 Author:
Margarita @ Tasty Mediterraneo
Cuisine:
Mediterranean diet
Serves:
4 individual cakes
250g (2 cups) strawberries
100ml (3.4 fl oz) extra virgin olive oil
100g (½ cup) unrefined cane sugar
2 free range eggs
1 teaspoon baking powder
100g (3/4 cup) plain flour
4 teaspoons pine nuts
Wash well the strawberries under cold water and remove the green stem from the top of the strawberries. Cut them in thin slices.
Lightly grease 4 individual baking dishes or ramekins with olive oil and place the strawberries slices and the pine nuts evenly over each of them.
Preheat the oven to 175 degrees C (350 degrees F).
In a large bowl mix the extra virgin olive oil with the unrefined sugar until combined. Add then the eggs and beat them well. Add the teaspoon of baking powder and the flour and mix it all well for a couple of minutes until all the ingredients are well combined.
Fill the individual baking dishes with the mix and bake in the oven at 175 degrees C (350 degrees F) for 15 minutes.
Remove from the oven and allow them to cool at room temperature.
You can add a dusting of powdered sugar at the end.
Recipe by
Tasty Mediterraneo
at https://www.tastymediterraneo.com/individual-strawberry-pine-nuts-olive-oil-cakes/