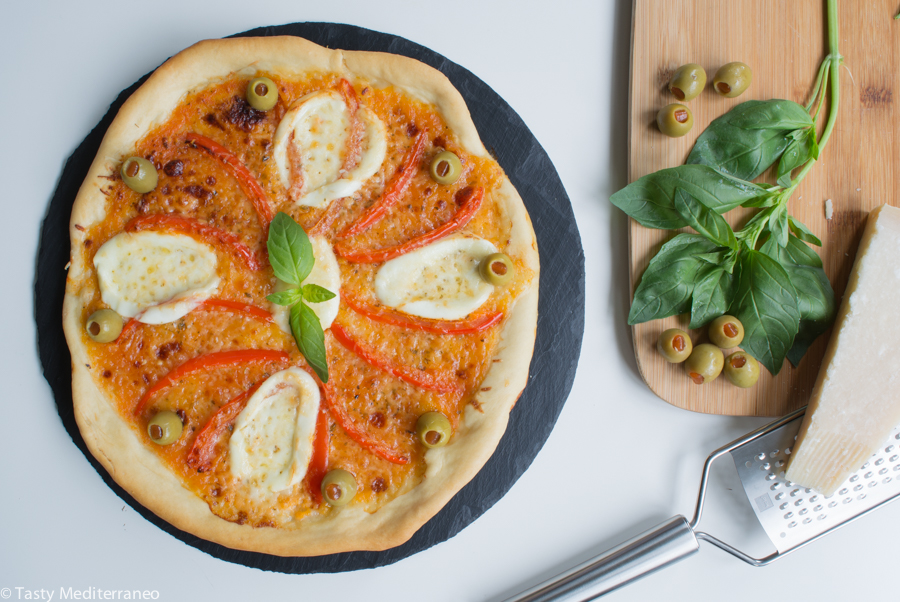 If somebody asks me about a dish that we like to enjoy at home, once a week no matter the season, my answer will be: a healthy homemade pizza.
You don't believe that a pizza can be healthy? Homemade pizza, made with fresh and healthy ingredients, eaten in reasonable portions can for sure be part of a healthy Mediterranean diet.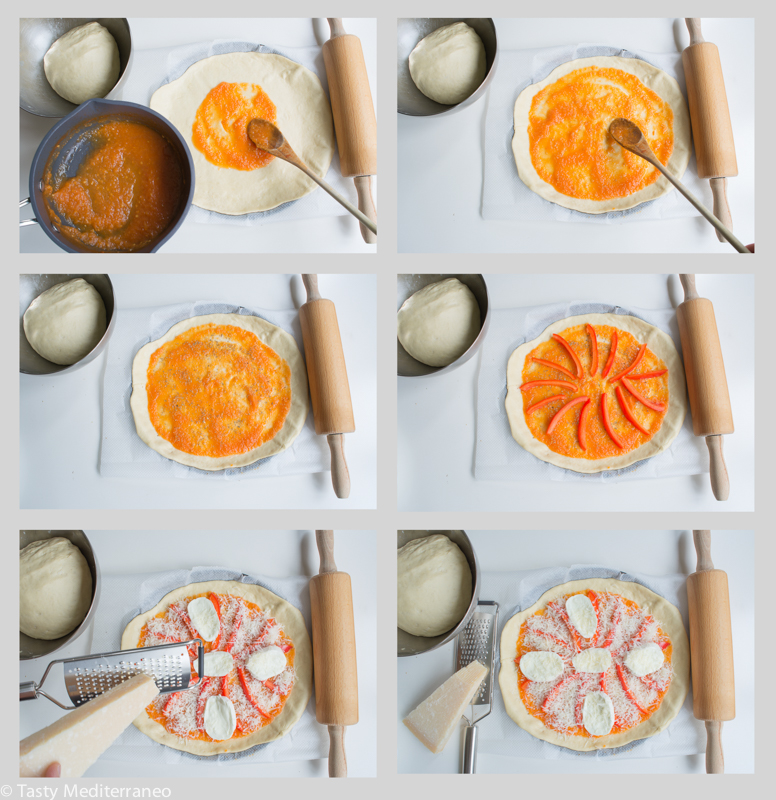 What do you like most about pizza? Is it its crust? Is it its sauce? Maybe for you it is all about the toppings? For me the parts of a pizza that matters most are the dough or crust and the tomato sauce that you spread on top of it. If you succeed with those two, and you add to it fresh Buffalo Mozzarella, your pizza will be a delicious treat. That is the main secret of a Margherita pizza!  It's simple yet flavourful, no need of too many extra toppings!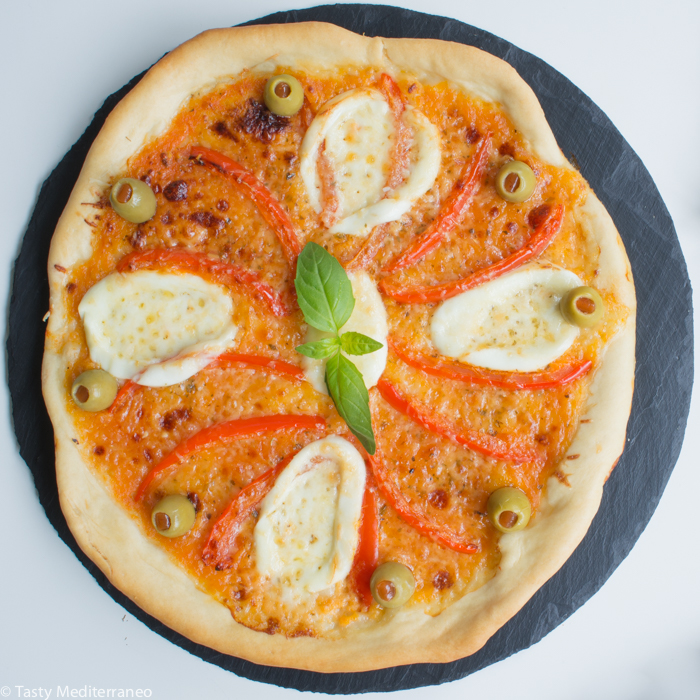 The dough and the fresh tomato sauce that I use to prepare my homemade pizzas are both made from scratch.
I will use for my pizzas the same Multipurpose Olive Oil Dough recipe that I use to prepare the Za'atar Man'ouche, the Spinach Fatayers, the Olive Oil & Chia grissini… yes, that is why I call it multipurpose dough!
As per the tomato sauce, I will spread on top of the crust the result of my recipe of Fresh Tomato & Basil sauce.
Add to that some fresh Buffalo Mozzarella plus some red pepper strips and pepper stuffed olives and you have the best and healthiest pizza ever!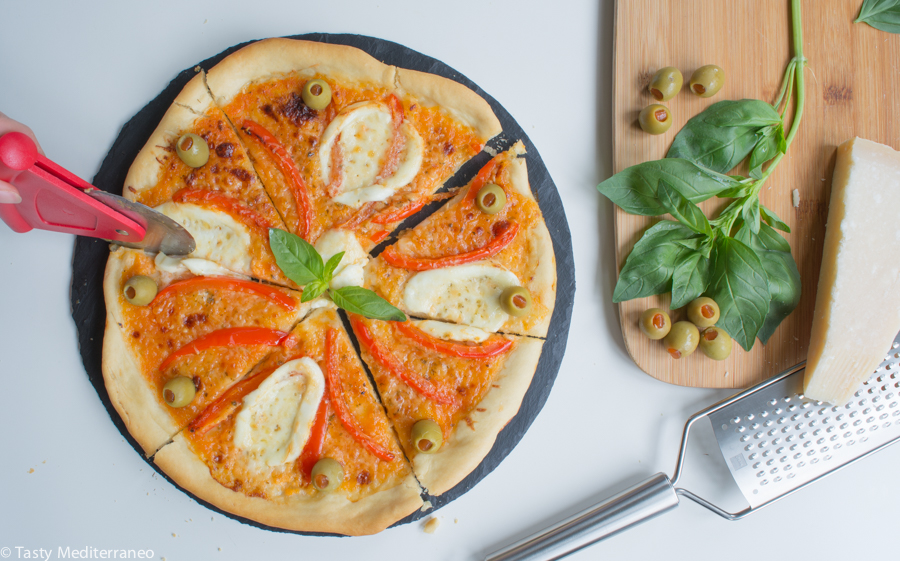 Adding freshly grated Parmesan cheese to the Pizza Margherita with Mozzarella di Bufala is not an Italian thing but a personal choice. I know my Italian friends would only add mozzarella cheese to their pizzas but, my husband loves Parmesan cheese and sometimes, apart from the mozzarella cheese, I sprinkle a little bit of it to my homemade pizzas. But only a little as otherwise it would add too much salt and cover the flavour of the other ingredients.
And, by the way, you can prepare this freshly homemade pizza from scratch faster than some take out guys can deliver one to your place! And it will be much healthier for sure!
If you try this healthy and nutritious Mediterranean pizza recipe, please let me know, leave a comment and rate it. I would love to know what you come up with!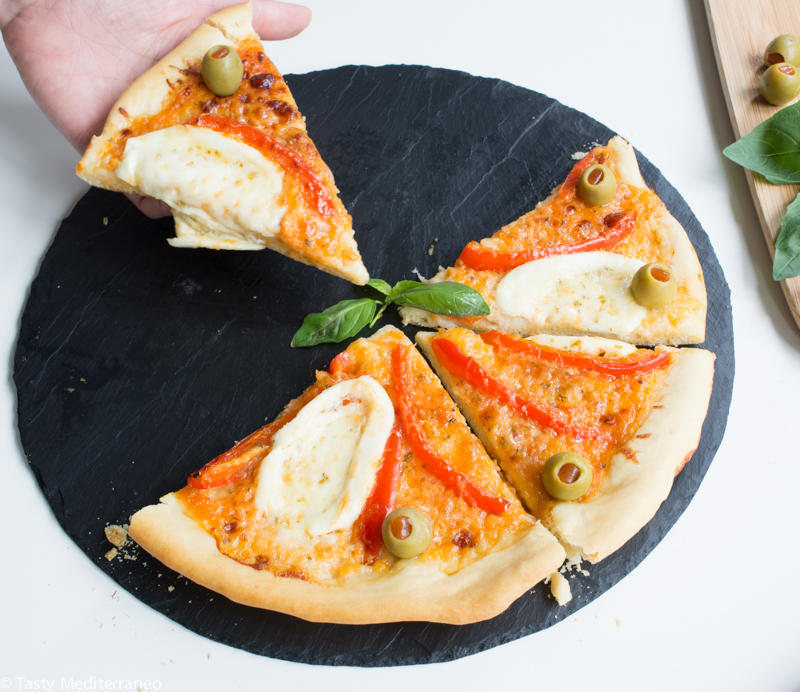 Pizza Margherita di Bufala topped with red peppers and olives
Author:
Margarita @ Tasty Mediterraneo
Ingredients
300g (2 ½ cups) plain flour
75ml (2.7 fl oz) extra virgin olive oil
150ml (5.4 fl oz) warm water
2 teaspoons yeast powder
1 teaspoon sea salt
For the pizza topping:
10 Tablespoons Fresh Tomato & Basil sauce
1 Teaspoon dried oregano
1 Red bell pepper, cored and cut in thin strips
2 Fresh Buffalo Mozzarella cheese, cut in slices
50g (1/2 cup) Freshly grated Parmesan cheese
50g (1/3 cup) Pepper stuffed olives
15g (1/2 cup) fresh basil leaves, plucked off stems
Instructions
The pizza dough is made following the same recipe as the multipurpose olive oil dough recipe published at Tasty Mediterraneo: In a big bowl combine the flour, the salt and the yeast powder. Make a well in the middle and pour into it the olive oil and the warm water. With a silicon spatula bring the flour in from the sides and mix it well with the liquid. Keep mixing until it all starts to come together, and then keep on mixing with your clean hands and knead it until you have a smooth, not sticky, dough.
Cover the bowl with a cloth and place in a warm place of the house for at least 20 minutes until the dough has doubled its volume.
Remove the dough from the bowl and place it in a clean flour-dusted surface.
Divide the dough in 2 parts, knead it a bit with your hands and, with the help of a rolling pin (lightly dusted in flour), extend the 2 pizza bases gradually flattening them out.
For the pizza topping:
With the help of a spoon, spread the Fresh Tomato & Basil sauce on top of each of the 2 pizza bases (5 tablespoons of sauce per pizza base) to within a small distance of the edges. Sprinkle each of the pizza bases with ½ teaspoon dried oregano.
Add the pepper strips, the slices of mozzarella and the freshly grated Parmesan cheese.
For the final preparation:
Preheat the oven to 200 degrees C (400 degrees F)
Bake in the oven for 15-20 min at 200 degrees C (400 degrees F) until golden brown and crispy.
Remove from the oven, add the olives and some fresh basil leaves and serve hot.