Pizza Margherita di Bufala topped with red peppers and olives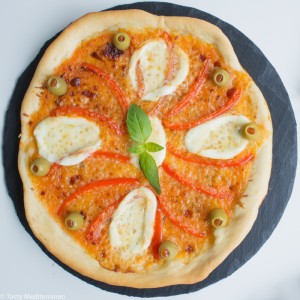 Author:
Margarita @ Tasty Mediterraneo
300g (2 ½ cups) plain flour
75ml (2.7 fl oz) extra virgin olive oil
150ml (5.4 fl oz) warm water
2 teaspoons yeast powder
1 teaspoon sea salt
10 Tablespoons Fresh Tomato & Basil sauce
1 Teaspoon dried oregano
1 Red bell pepper, cored and cut in thin strips
2 Fresh Buffalo Mozzarella cheese, cut in slices
50g (1/2 cup) Freshly grated Parmesan cheese
50g (1/3 cup) Pepper stuffed olives
15g (1/2 cup) fresh basil leaves, plucked off stems
The pizza dough is made following the same recipe as the multipurpose olive oil dough recipe published at Tasty Mediterraneo: In a big bowl combine the flour, the salt and the yeast powder. Make a well in the middle and pour into it the olive oil and the warm water. With a silicon spatula bring the flour in from the sides and mix it well with the liquid. Keep mixing until it all starts to come together, and then keep on mixing with your clean hands and knead it until you have a smooth, not sticky, dough.
Cover the bowl with a cloth and place in a warm place of the house for at least 20 minutes until the dough has doubled its volume.
Remove the dough from the bowl and place it in a clean flour-dusted surface.
Divide the dough in 2 parts, knead it a bit with your hands and, with the help of a rolling pin (lightly dusted in flour), extend the 2 pizza bases gradually flattening them out.
With the help of a spoon, spread the Fresh Tomato & Basil sauce on top of each of the 2 pizza bases (5 tablespoons of sauce per pizza base) to within a small distance of the edges. Sprinkle each of the pizza bases with ½ teaspoon dried oregano.
Add the pepper strips, the slices of mozzarella and the freshly grated Parmesan cheese.
Preheat the oven to 200 degrees C (400 degrees F)
Bake in the oven for 15-20 min at 200 degrees C (400 degrees F) until golden brown and crispy.
Remove from the oven, add the olives and some fresh basil leaves and serve hot.
Recipe by
Tasty Mediterraneo
at https://www.tastymediterraneo.com/pizza-margherita-di-bufala-topped-with-red-peppers-and-olives/