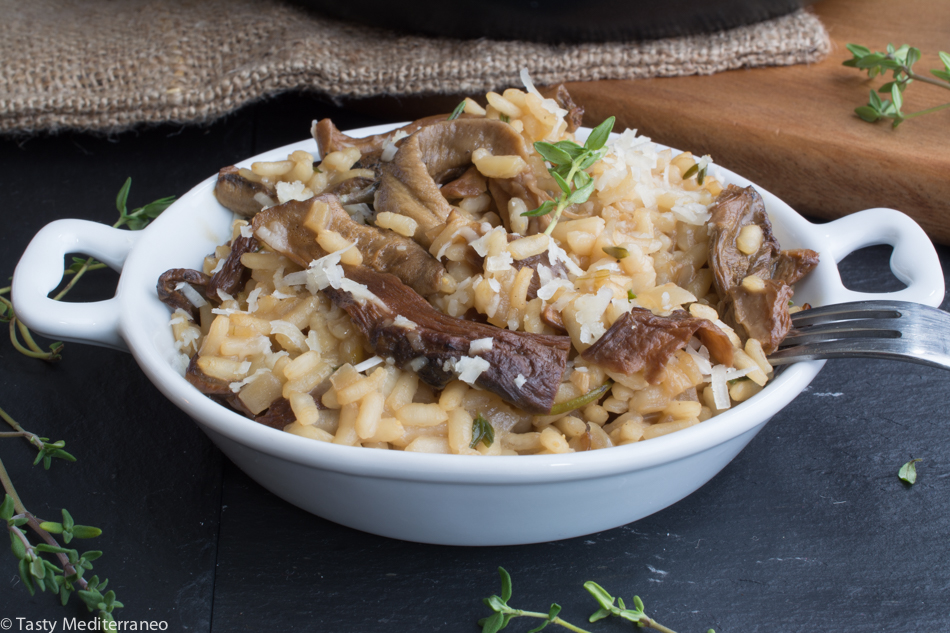 Who does not want to look good and feel good? I would say everybody does. Looking good and feeling good is not so complicated; it all starts by eating healthy. Eating healthy is a lifestyle choice. It is not something that we just do for a limited period of time with the purpose of losing some weight to get ready for a special occasion. It is something that should be part of our daily lives, a routine and a pleasure at the same time. The pleasure of enjoying tasty and delicious healthy food and the pleasure of knowing we are doing the best thing for our body and health.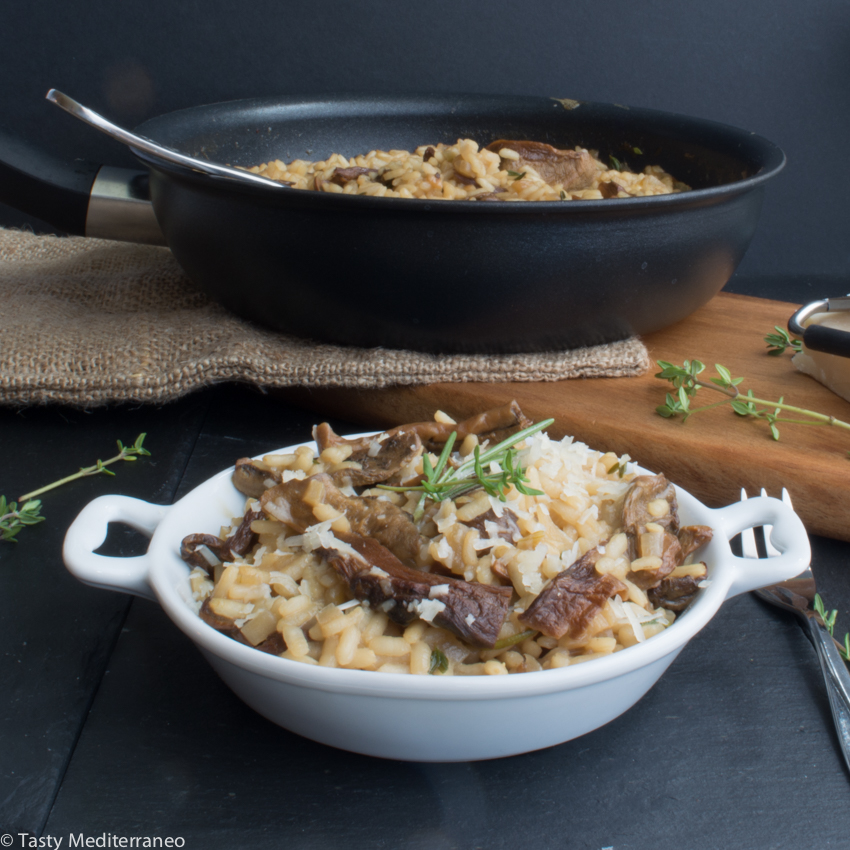 With my recipes I hope to give you an idea of how many different delicious vegetarian Mediterranean dishes, that are both tasty and healthy, you can add to your daily diet.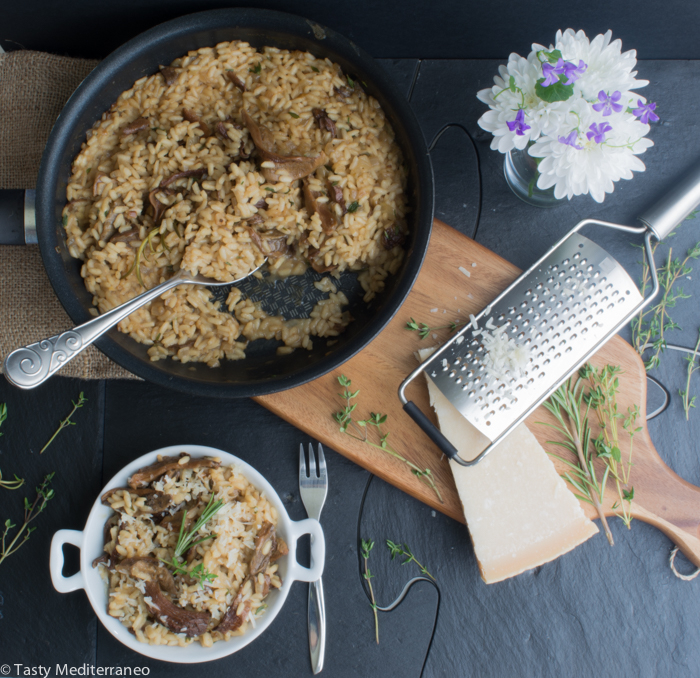 Add to that some kind of physical activity adapted to your needs, also key in keeping healthy, and make it your daily lifestyle. It will definitely help you look good and feel good!
Today's recipe is an Italian risotto, a tasty and healthy vegetarian recipe that I love!
If you try this porcini mushroom, thyme and rosemary risotto recipe, please let me know, leave a comment and rate it. I would love to know what you come up with. Enjoy!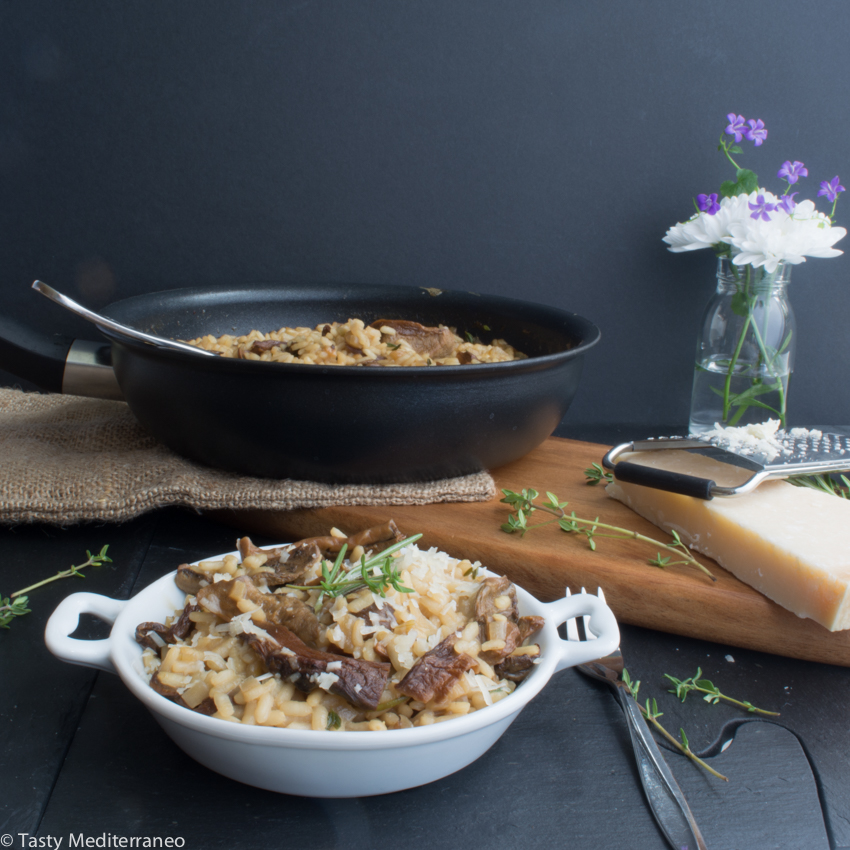 Porcini, thyme & rosemary risotto
Author:
Margarita @ Tasty Mediterraneo
Cuisine:
Mediterranean Diet
Ingredients
2 Tablespoons extra virgin olive oil
2 garlic cloves, peeled and finely chopped
1 Medium onion, peeled and finely chopped
1 Tablespoon (approx. 5g) Fresh thyme leaves
A small bunch of fresh rosemary
30g (1 ounce) Dried Porcini mushrooms
240g (1 ¾ cups) Arborio or Carnaroli rice
¾ l (3 cups) Low-sodium vegetable stock, hot
50g (1/2 cup) Freshly grated Parmesan cheese
Sea salt
Instructions
Have all the ingredients prepared as indicated in the ingredients description. And rehydrate the porcini mushrooms before use: cover them with boiled water and leave them to soak for 15 minutes. Once rehydrated, drain and pat dry to remove the excess of water.
Bring the vegetable broth to a boil in a small saucepan. Keep it at low heat, as we need it to be hot when we add it to the rice.
Heat the olive oil in a large deep frying pan over medium heat, add the garlic and sauté for around 1 minute until golden. Add then the onion and 1 teaspoon salt and stir and cook for around 3 minutes until soft but not brown. Add the rehydrated porcini mushrooms and stir for one more minute.
Reduce heat to low. Add the rice and stir well for a couple of minutes to ensure that each grain of rice is well coated with oil. Add then the fresh thyme leaves and a small bunch of fresh rosemary. Pour the hot vegetable broth making sure the rice is completely covered. Continue stirring and leave to cook at a medium-low heat and when it boils lightly taste the broth and add a pinch of salt if needed (not too much as we still have to add the Parmesan cheese that is salty). Stir the rice from time to time and cook it uncovered for around 12 minutes.
Pour in the rest of broth and add the freshly grated Parmesan cheese. Stir and allow it to simmer gently until the liquid has been absorbed and the rice is al-dente, about 5 minutes. Remove from the heat and serve hot.
Notes
You can add some more freshly grated Parmesan cheese on top right before serving.