Starting your day with a healthy breakfast is key to provide you with the nutrients and energy that you need for your activities during the morning. Whether you need energy and focus for your work or for your studies you should not skip breakfast.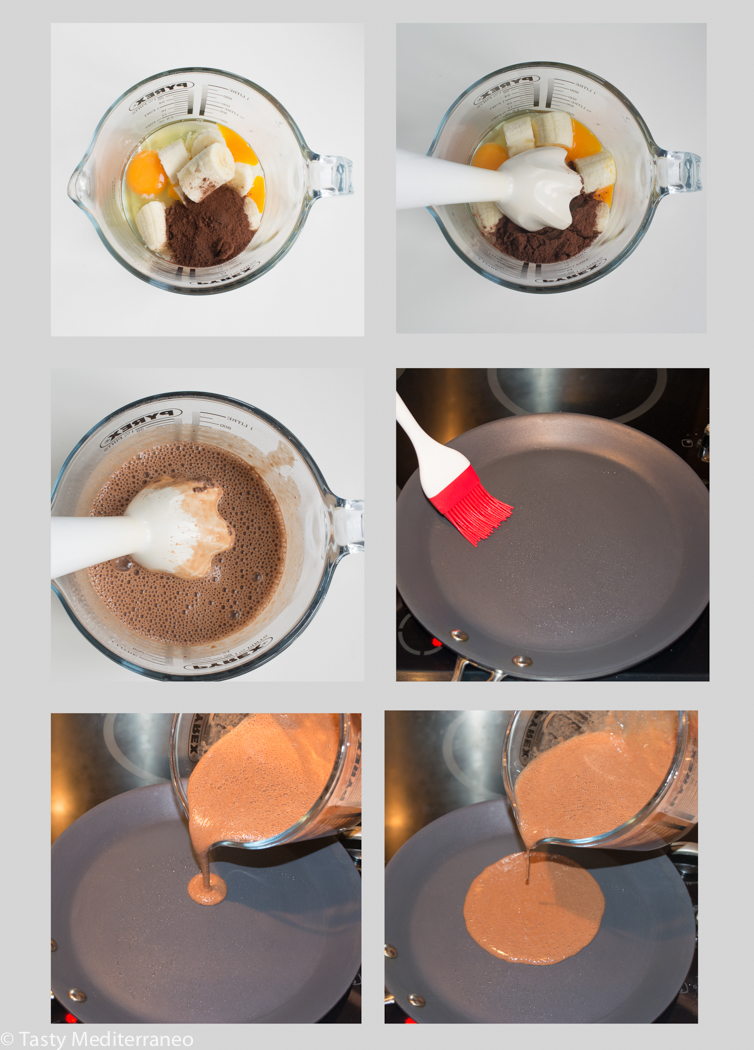 A healthy breakfast is necessary to raise the body's energy levels and to restore the blood glucose levels to normal after the overnight fast. Some people, with the desire to lose weight, tend to skip breakfast. But that is a terrible mistake. Actually those who skip breakfast usually tend to eat more at lunch or to snack all day.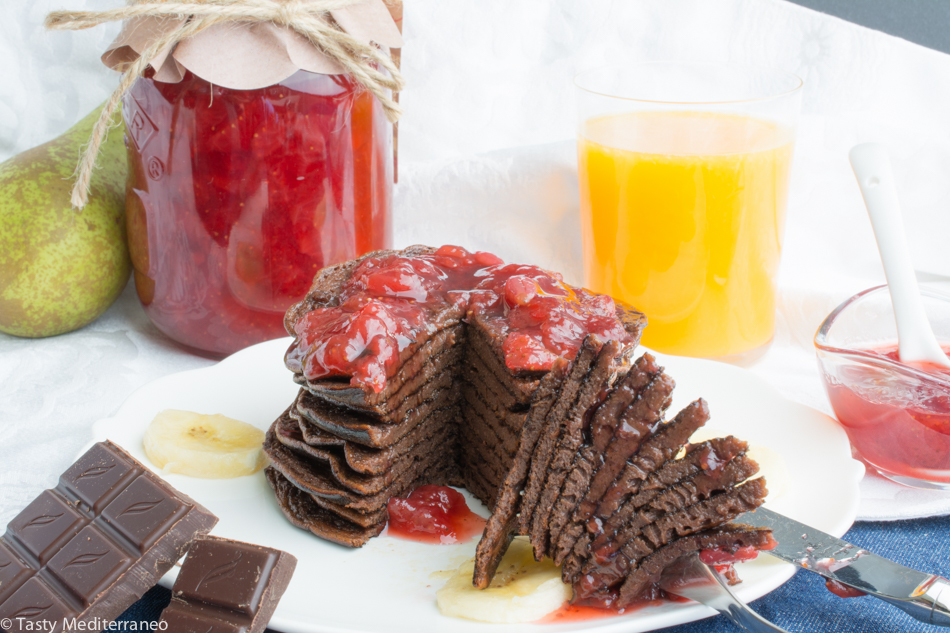 I have already shared with you several healthy recipes that are great for breakfast, and today I present to you another healthy breakfast idea: "Banana and chocolate pancakes". You only need 3 ingredients to prepare these delicious pancakes: eggs, banana and cocoa powder. This breakfast is a good source of proteins, potassium, iron, magnesium, fibre and vitamins. Add some homemade strawberry, vanilla and pine nuts jam and have a glass of freshly squeezed orange juice and you will get the right balance of all your nutritional needs that will keep you full and energized all morning.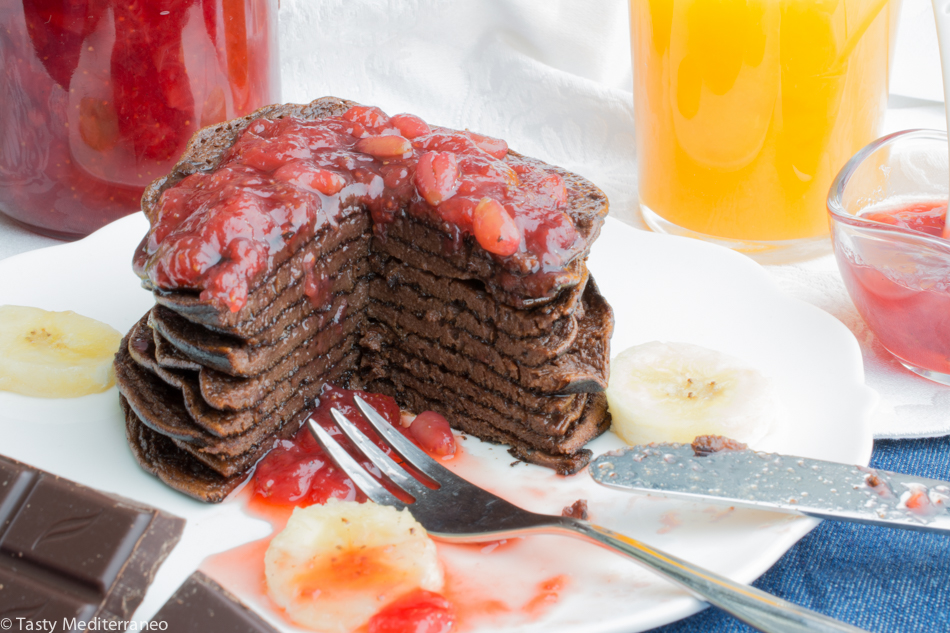 If you try this simple, healthy and nutritious pancakes recipe, please let me know, leave a comment and rate it. I would love to know what you come up with. Enjoy!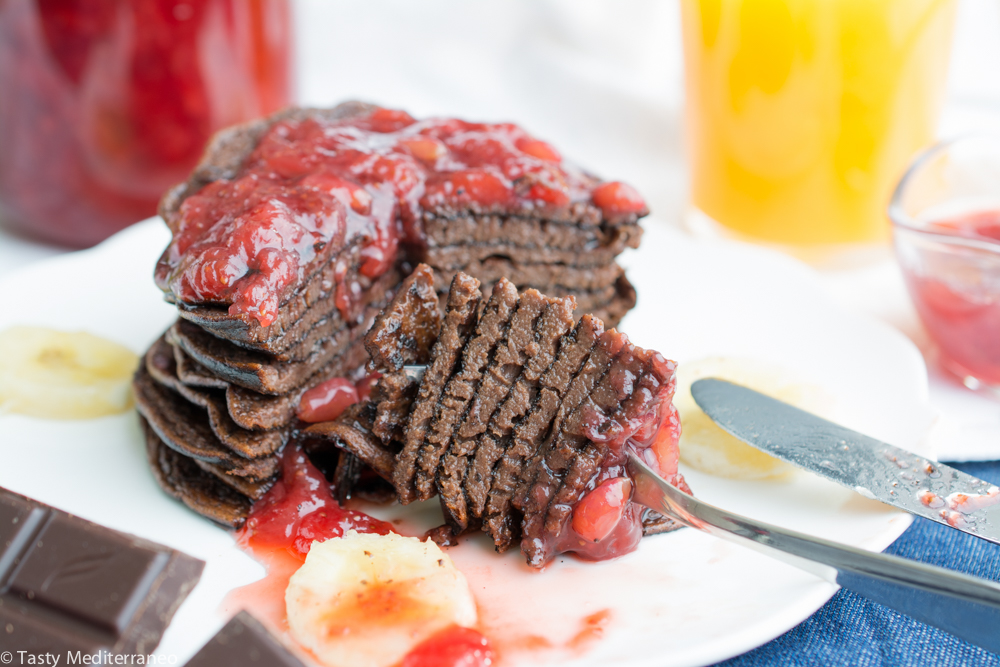 Banana & chocolate pancakes
Author:
Margarita @ Tasty Mediterraneo
Ingredients
2 Free-range eggs
1 Banana, peeled and cut into small pieces
2 Tablespoons organic cocoa powder
½ Teaspoon extra virgin olive oil
Instructions
Crack the eggs into a bowl, add the banana pieces and the cocoa powder. And with the help of a hand mixer blend all the ingredients together until you get a smooth batter.
Heat a few drops of extra virgin olive oil over moderate heat on a non-stick pancake pan and pour some batter into the pan. Leave to cook, undisturbed, for about 2 minutes until the pancake has turned golden underneath and you can easily lift it. Then it should be ready to turn. With the help of a silicon spatula, lift it and flip it over making sure that the pancake is lying flat against the base of the pan. Cook for about 30 seconds and turn out onto a plate.
Continue the same process with the rest of the batter. And serve them as you cook or all together.
My serving suggestion is to add some homemade strawberry, vanilla and pine nuts jam on top.