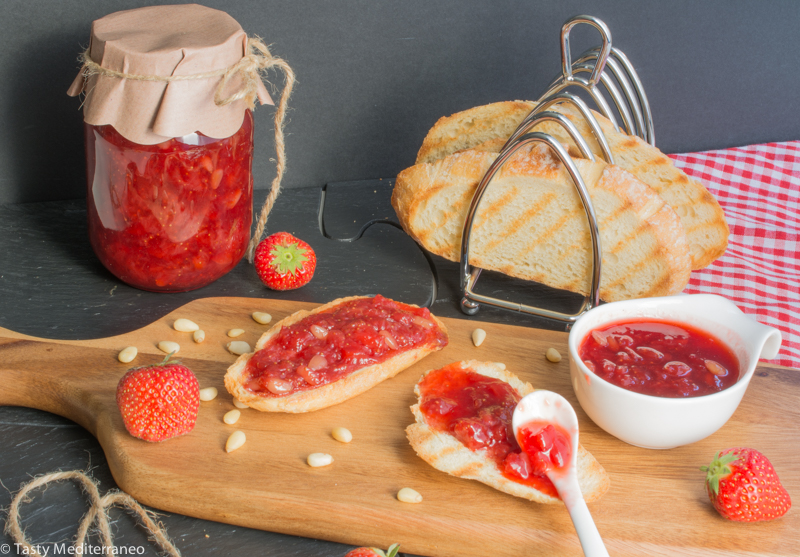 The strawberry season is over in many countries and here it will be over pretty soon, but I was lucky to still find some Irish strawberries in the local market and thus I have finally prepared my yummy strawberry, vanilla and pine nuts jam.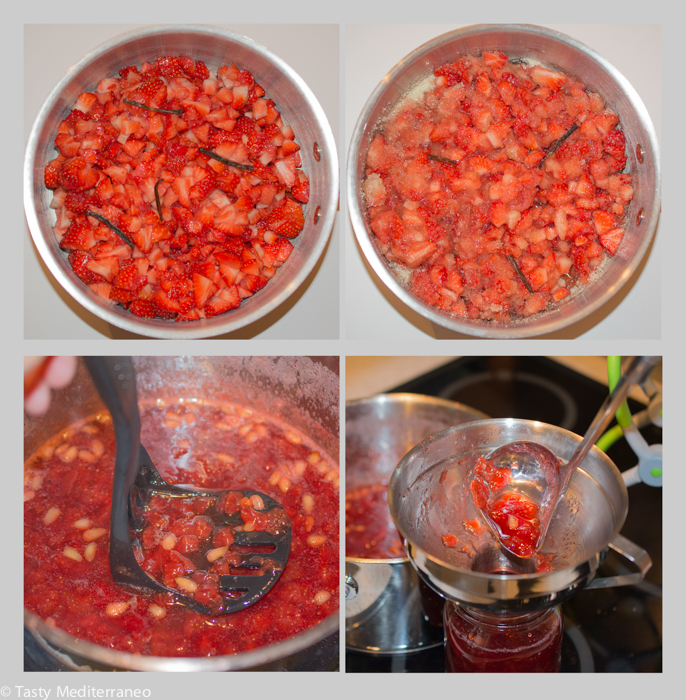 This is the recipe I promised I would share a few weeks ago, when I published my individual strawberry, pine nuts and olive oil cake recipe.
Once you try this homemade jam you will never go back to store-bought jam brands. Only fresh strawberries, unrefined sugar, a vanilla bean, some pine nuts and a hint of lemon are needed to make it.
Let's say YES to a real and yummy fresh fruit jam and let's say NO to all those unnecessary preservatives, refined sugars, pectin powders, gelatins, corn syrup and a handful of other undesirable ingredients that you often find hidden in many store bought jam brands.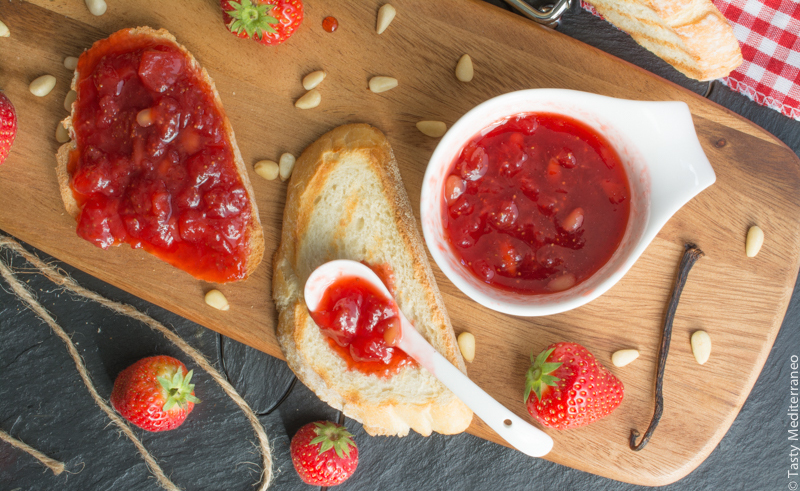 As this week is #NationalBreadWeek in Ireland, I would like to make a suggestion to enjoy a slice of my delicious homemade white country bread with this yummy homemade strawberry, vanilla and pine nuts jam. A winner's combination!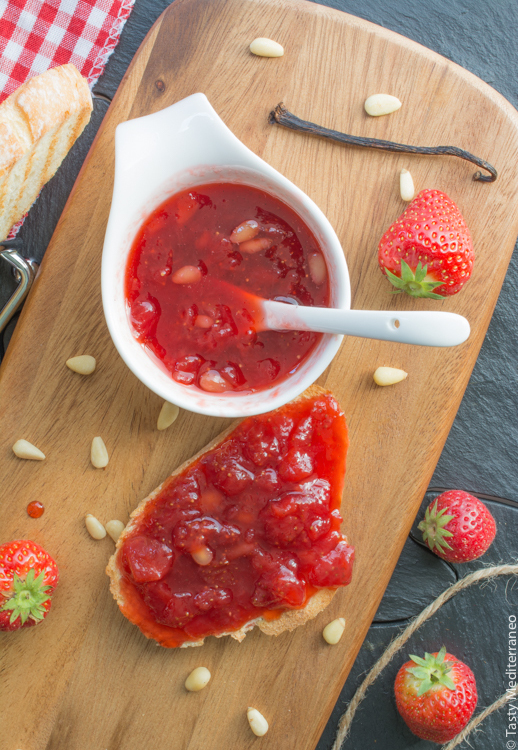 This jam will be your bread, porridge, biscuits, muffins and cakes new best friend! If you give it a try please let me know, leave a comment and rate it. I would love to know what you come up with. Enjoy!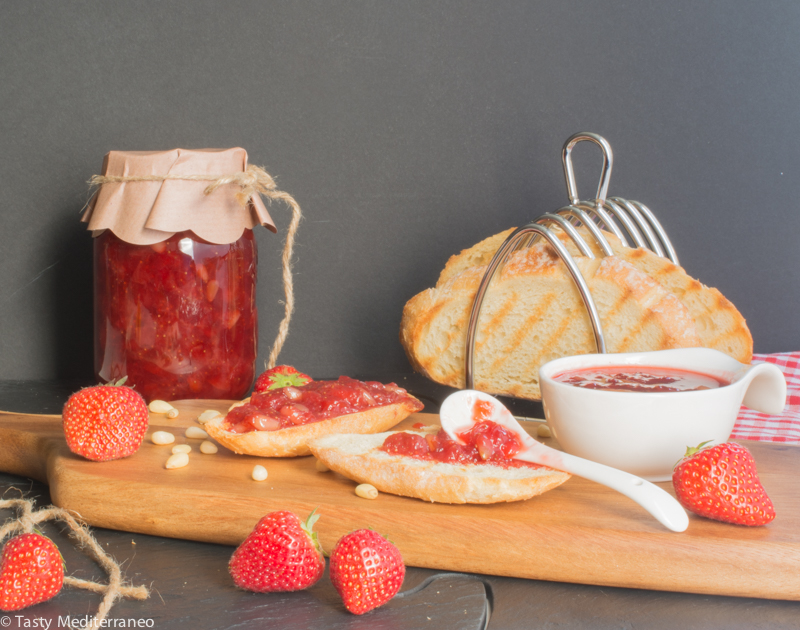 Strawberry, vanilla & pine nuts jam
Author:
Margarita @ Tasty Mediterraneo
Cuisine:
Mediterranean Diet
Ingredients
1kg (2lb. 4 oz) Fresh Strawberries
½ kg (2 ½ cups) unrefined granulated sugar
1 Vanilla bean
2 Tablespoons pine nuts
The freshly squeezed juice of 2 lemons (approx. 12 tablespoons)
Instructions
Wash well the strawberries under cold water. Rinse and remove the hull, with the help of a small sharp knife, and discard. Cut the strawberries into small pieces (or don't if you like to find the whole strawberries in your jam).
Combine the strawberries and the sugar in a large stainless steel saucepan (or in a bowl, I just do it in the saucepan to simplify). Add the vanilla bean cut in 4 pieces. Mix them well and leave overnight covered with the lid or with a tea towel.
The next day most of the sugar will be already dissolved. Add the lemon juice and cook over a low heat for 5 minutes to completely dissolve the sugar, stirring only now and then.
In the meantime, to sterilize the jars, heat the oven to 110°C (225°F) and place the jars in it (they should have previously been washed in hot water with soap, rinsed and left to dry). Leave the jars in the oven at this temperature for 15 to 20 minutes, the time the jam is boiling.
Turn up the heat of the saucepan and boil the jam for 15 minutes. Add then the pine nuts and stir. Remove the saucepan from the heat and carefully remove from the jam the 4 vanilla bean pieces.
Carefully remove from the oven the hot sterilized jars, pour the hot jam into them and seal.
Notes
I like the jam with a runny texture, but if you like it with a firmer texture, after boiling it a first time, simply allow it to cool and then turn up the heat of the saucepan and boil the jam again until you get the desired texture.

To make 1kg (2lb. 4 oz) of jam I would advise to use a preserving pan or a large stainless steel saucepan (with a thick and heavy base to prevent burning) of at least 3l, so that when the jam is brought to a rolling boil and it rises up it does not overfill the pan.

It is also nice to have special tongs to lift the jar when it is hot as well as a jar funnel for pouring the hot jam safely into the jars.

If you do not like the pine nuts, simply don't add them and just follow the rest of instructions to have a yummy homemade strawberry and vanilla jam.