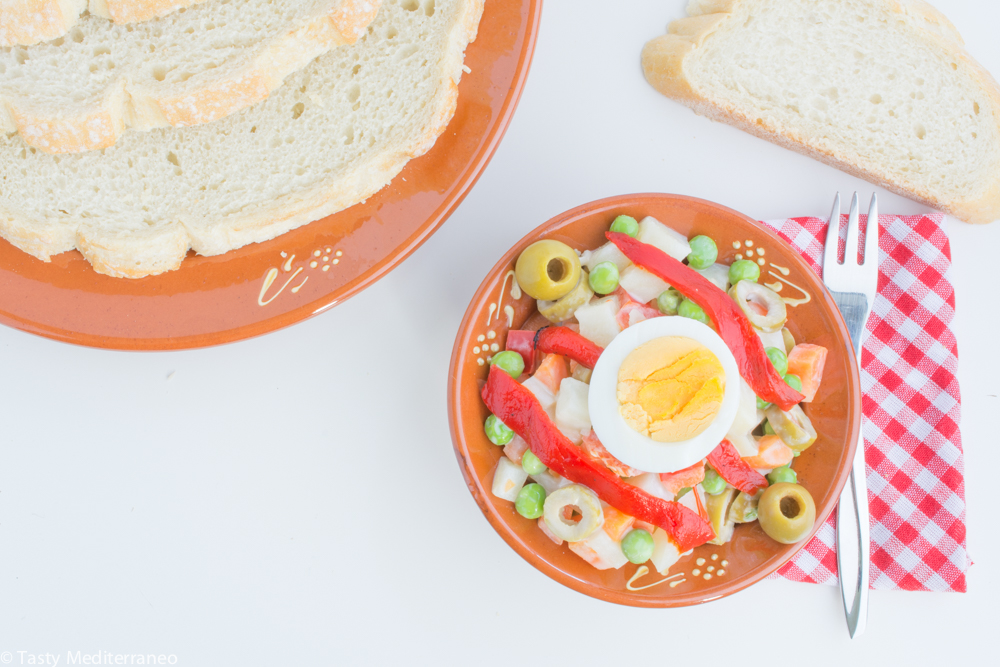 Last Friday was the #NationalPotatoDay in Ireland. My suggestions for that day were my Mediterranean Potato Salad recipe and my Spanish omelette recipe. Both recipes contain healthy delicious potatoes that are virtually fat free and a very good source of fibre, protein, potassium and vitamin C.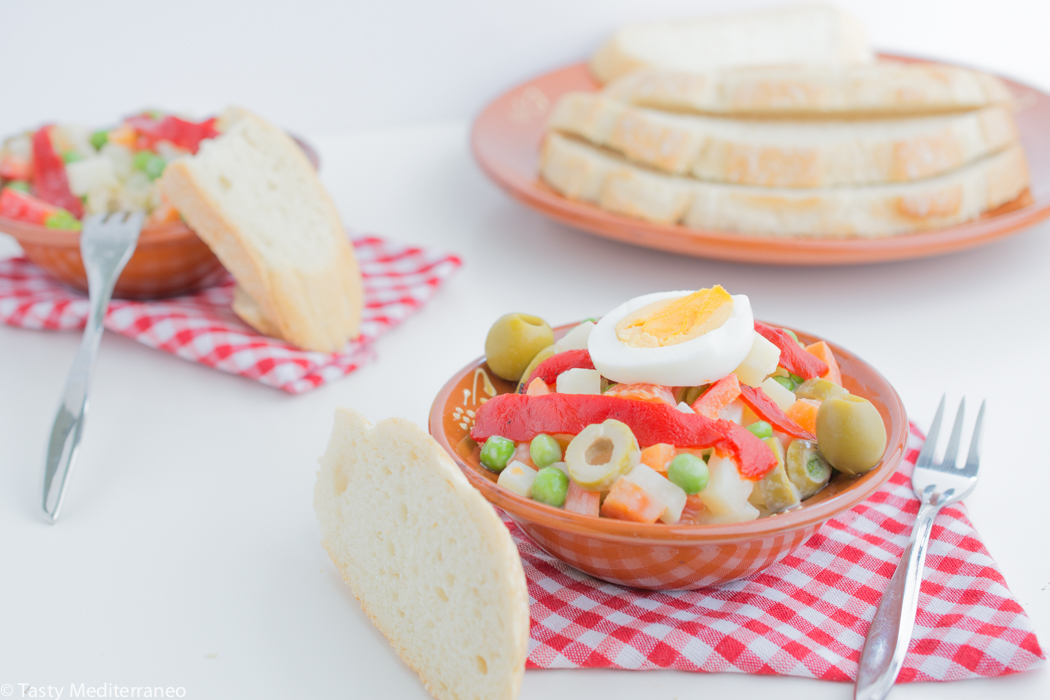 Today's recipe, my vegetarian Russian salad, also has potatoes as the main ingredient, and I consider it to be a Mediterranean Russian fusion, because even if this salad finds its origin in Russia, this dish is very typical in Spain where it is known as: "Ensaladilla rusa". It makes a great tapa that you can find at any tapas bar in my country. Obviously, in Spain we give it the Mediterranean touch by adding olive oil mayonnaise.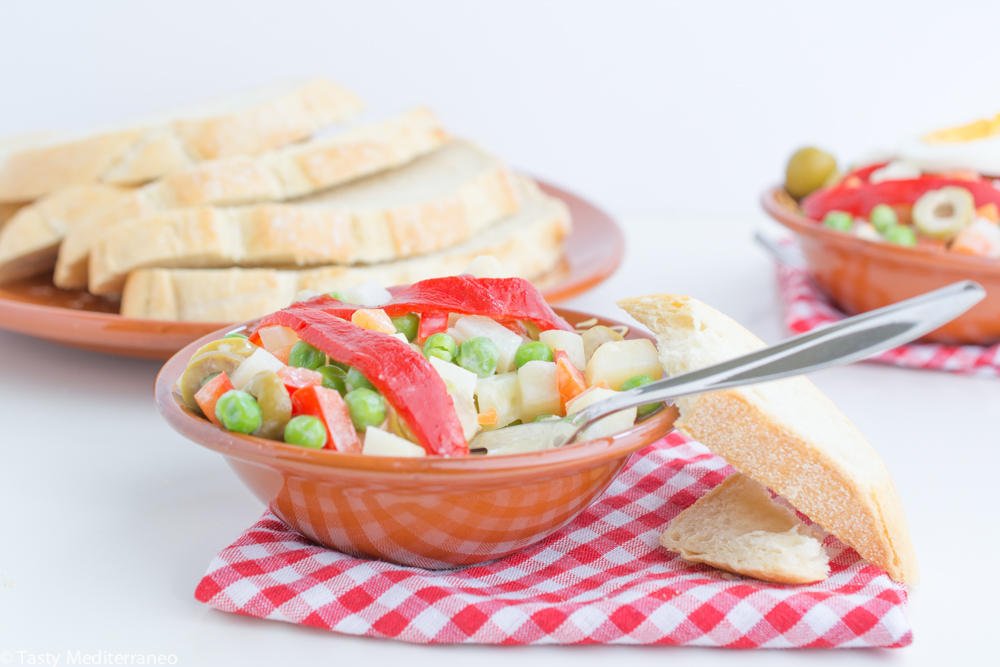 At home we love this light vegetarian Russian salad and I usually prepare it once per week either as a main or as a side dish.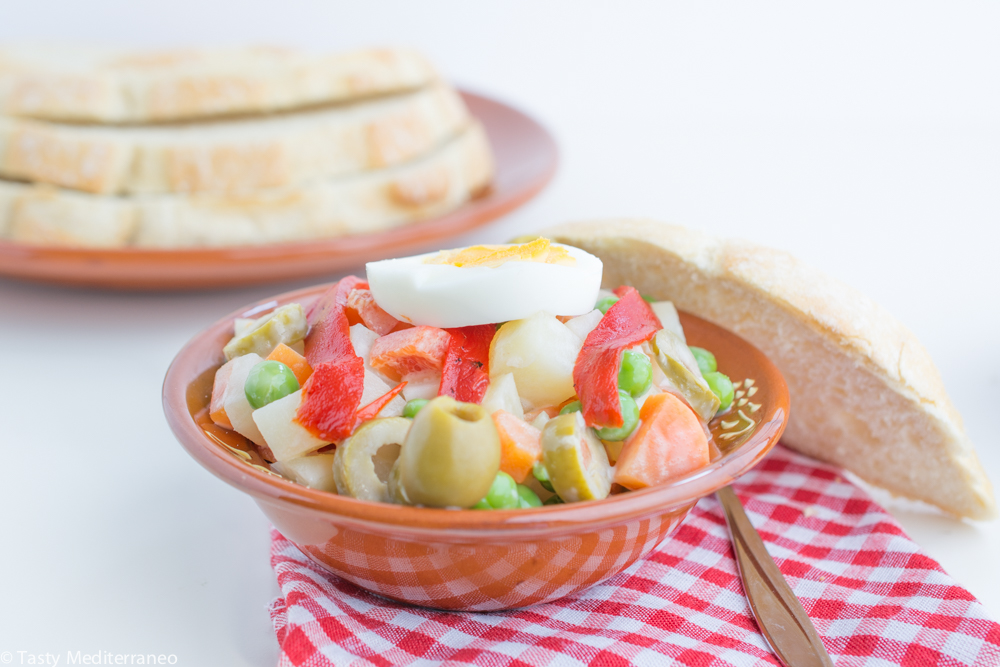 This is a very healthy vegetarian recipe that, in addition to potatoes, contains a wide variety of veggies and nutritious ingredients: carrots, peas, peppers, olives and eggs. My version of this salad is very light as I only add 3 tablespoons of homemade olive oil mayonnaise. I consider this amount to be enough to make this salad tasty and it is a perfect way to keep it light and healthy, but feel free to add more mayonnaise if you want to.
If you try this simple, healthy and nutritious vegetarian Russian salad recipe, please let me know, leave a comment and rate it. I would love to know what you come up with! Enjoy!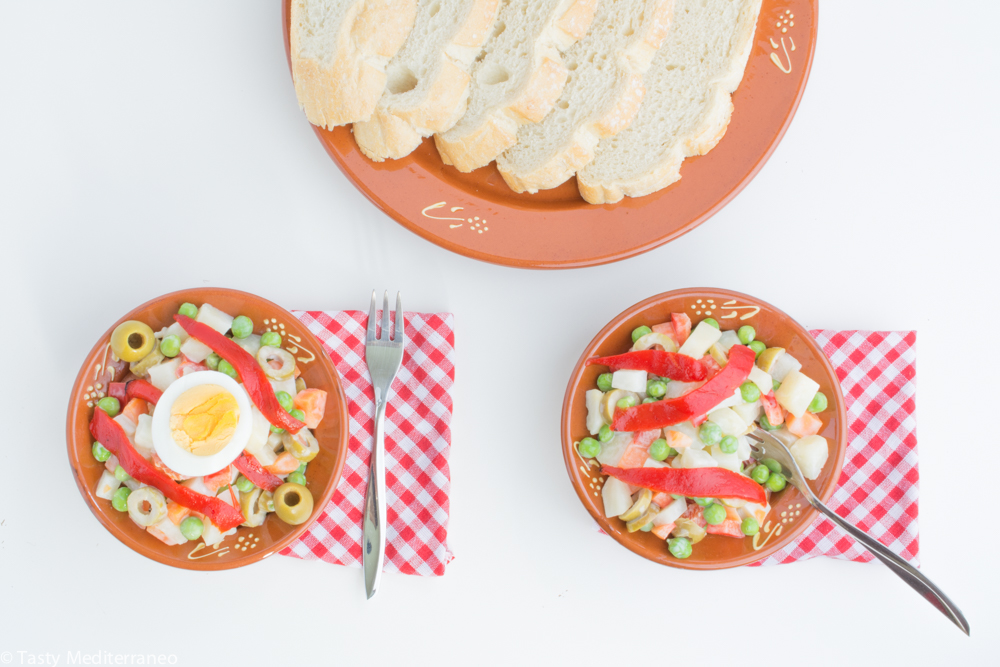 Vegetarian Russian salad
Author:
Margarita @ Tasty Mediterraneo
Cuisine:
Mediterranean Diet
Ingredients
5 Large potatoes, peeled and diced
4 Carrots, peeled and diced
300g (1 ½ cup) Shelled peas
1 Red bell pepper, cored and diced
100g (1/2 cup) Stoneless Manzanilla green olives, sliced
3 Tablespoons organic olive oil mayonnaise
2 Piquillo peppers, cut into thin stripes (optional)
4 Eggs
1 Teaspoon sea salt (or salt to taste)
Instructions
Have all the vegetables well washed and prepared as indicated in the ingredients description.
To boil the potatoes and the carrots, place them in a saucepan with cold water and a teaspoon salt and simmer for about 10-15 minutes until tender, but not overcooked. Only 3 minutes before removing from the heat add the shelled peas too and cook for 3 minutes. Remove from the heat and drain the excess of water.
While the potatoes and carrots are cooking, place the eggs in a saucepan with cold water and simmer for about 7 minutes. Once they are boiled peel them and slice them.
In a large bowl add the boiled potatoes, carrots and shelled peas together with the diced peppers, the green olives and the 3 tablespoons of homemade olive oil mayonnaise. Mix it all well, and serve warm or cold. Decorate with the boiled egg slices and some piquillo pepper stripes.
Notes
You can prepare it one day in advance and keep it in the fridge up to a couple of days.
It's ideal to serve it accompanied with some slices of
country bread
.