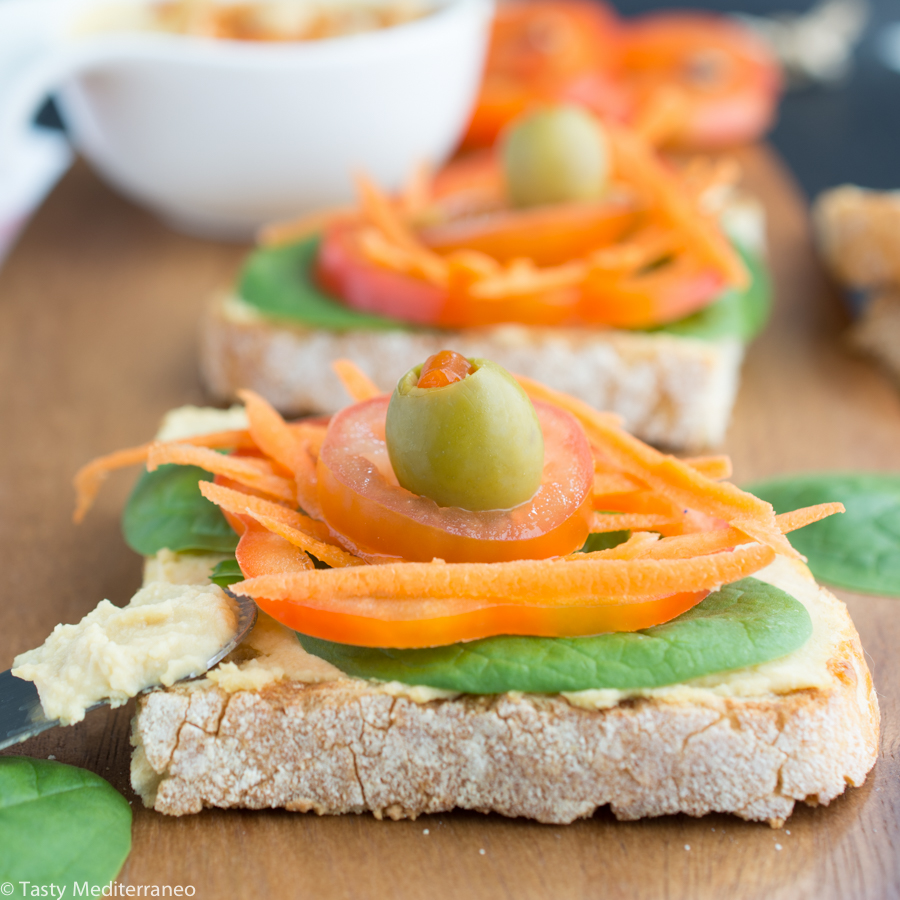 This week I am very happy because my mum came from Madrid to visit us and she brought plenty of yummy Spanish delicatessens!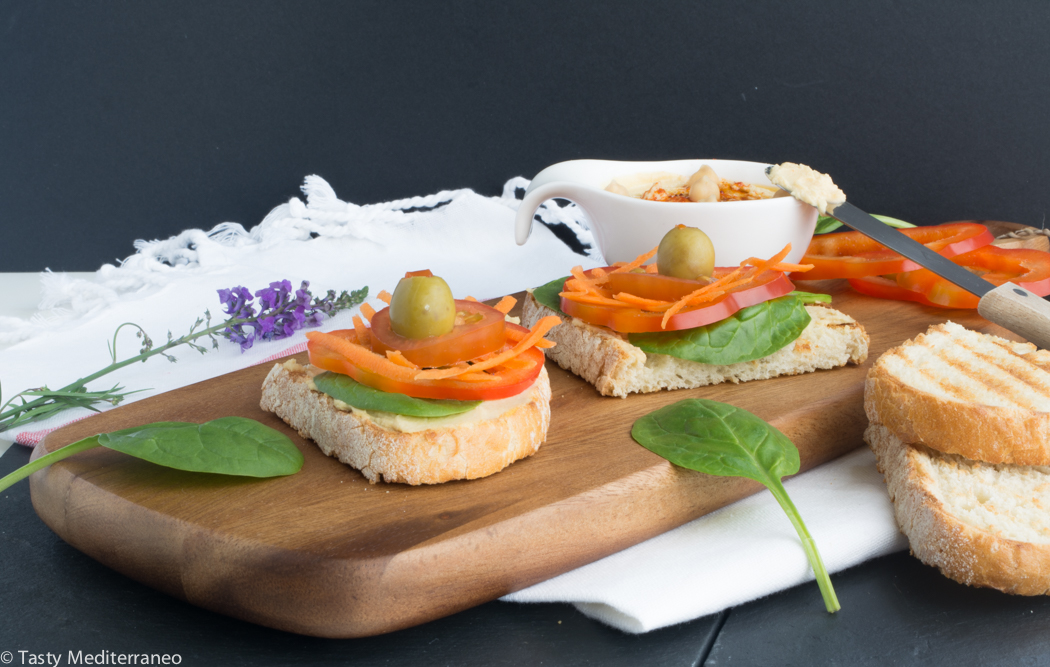 For us, every time we travel to Spain, France, Italy or Lebanon (our preferred Mediterranean countries) it is a common practice to bring our favourite local fine foods to enjoy at home. I know, many of you would rather buy any other nice little something from a trip, but for a foodie like myself there is nothing better than buying the best traditional foods of every place we visit!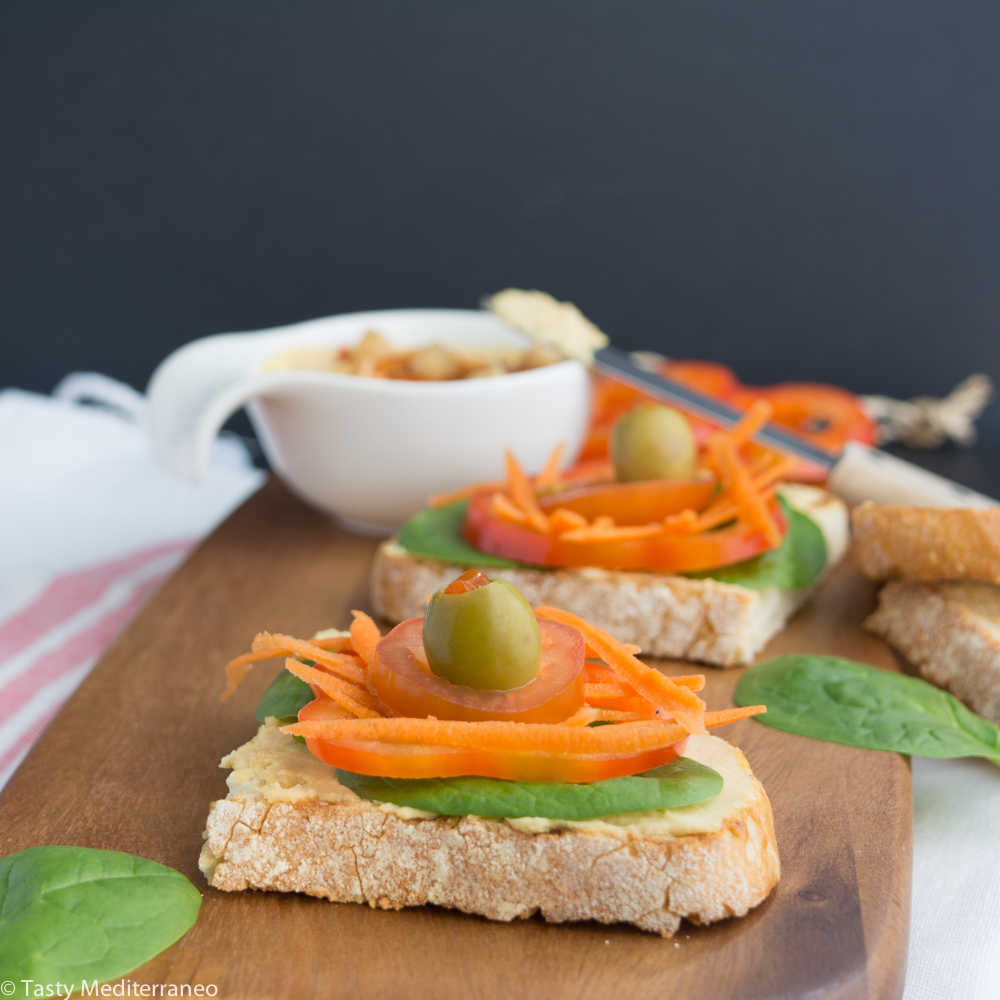 Between my Mediterranean cuisine and the excellent fine foods we bring home from our trips, whenever our friends are over for the weekend they feel transported to the Mediterranean while enjoying these flavourful foods. It's a great experience!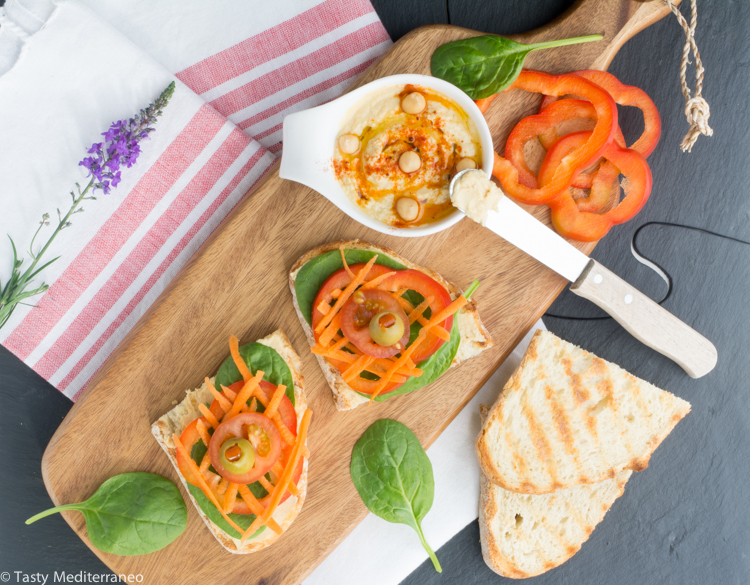 What about you? Are you a foodie too? If so, do you also like bringing home those little fine foods from a trip abroad?
I leave you thinking about it with this simple but super tasty recipe: Hummus, raw veggies & olives on toast.
If you try this healthy and delicious vegan Mediterranean diet recipe, please let me know, leave a comment and rate it. I would love to know what you come up with. Enjoy!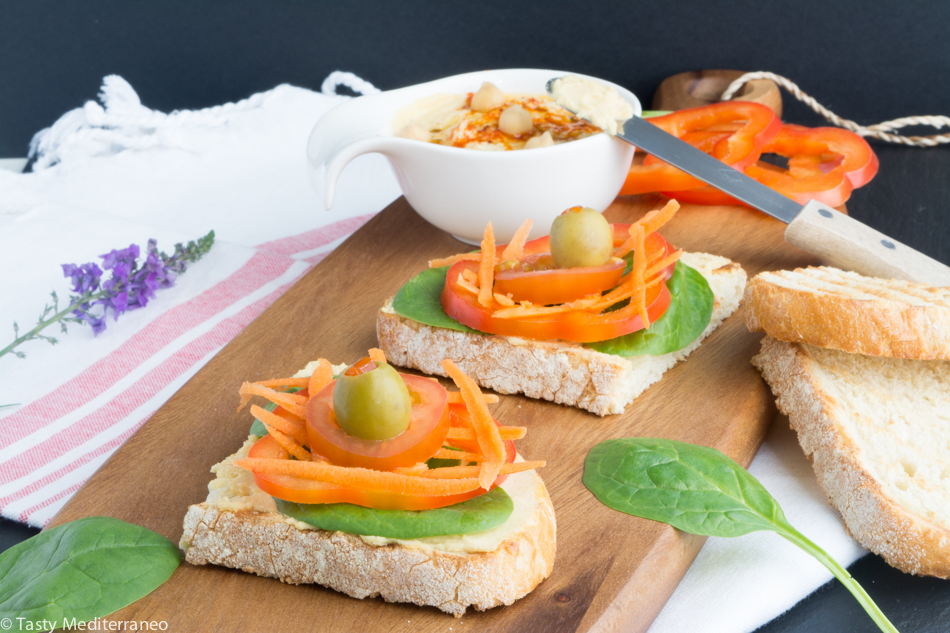 Hummus, raw veggies & olives on toast
Author:
Margarita @ Tasty Mediterraneo
Cuisine:
Mediterranean Diet
Ingredients
500g (2 ½ cup) Chickpeas, cooked
2 Garlic cloves, peeled and crushed
1 Teaspoon sea salt
⅓ Teaspoon cumin
3 Tablespoons tahini (sesame seed paste)
The juice of 2 lemons
3 Tablespoons extra virgin olive oil for the garnish
1 Teaspoon paprika
For the rest:
2 Red bell peppers, cored and sliced
225g (1cup) Fresh spinach leaves
2 Carrots, freshly grated
8 Cherry tomatoes cut in slices
50g (1/3 cup) pepper stuffed olives
8 Slices of country bread, each cut in half
Instructions
For the hummus:
Follow the instructions as explained in my hummus recipe
For the rest:
Have all the vegetables well washed and prepared as indicated in the ingredients description.
Toast the country bread slices (in a toaster, on a grill or in the oven, as you prefer) until golden.
Notes
You can add a few drops of extra virgin olive oil on top of each finished toast and some salt & freshly grounded pepper.