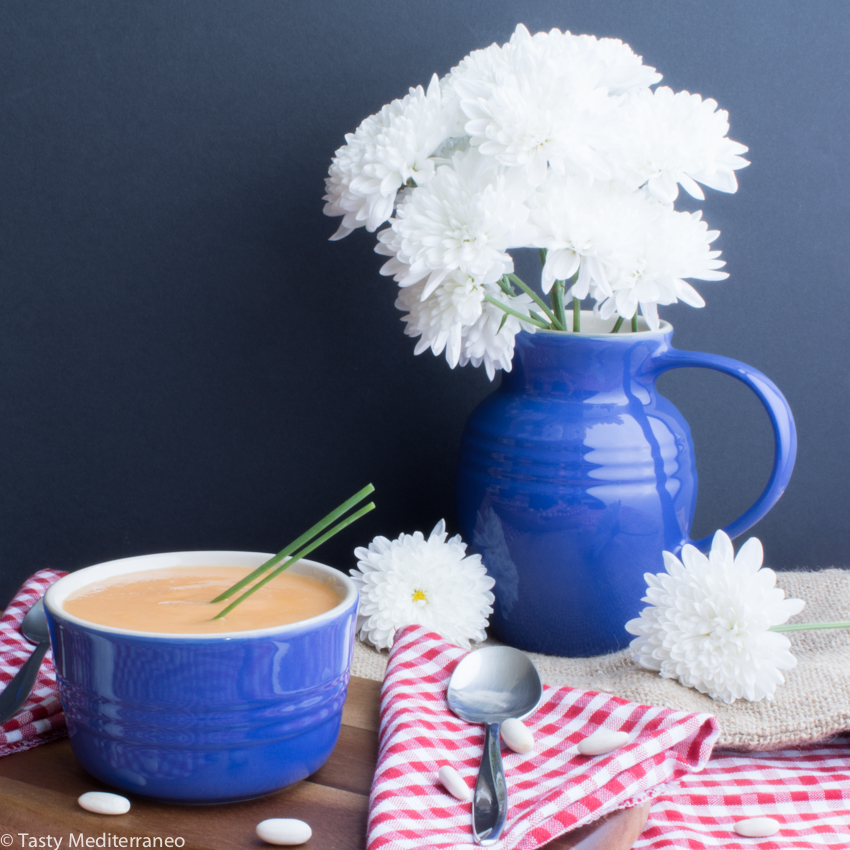 Legumes are a staple of the Mediterranean diet. They are good sources of protein, fibre, iron, B group vitamins and other nutrients that help prevent cancer and heart diseases.
As you already know, beans are a kind of legume and they are low in fat, contain no cholesterol and are a perfect addition to all sorts of dishes including soups and stews.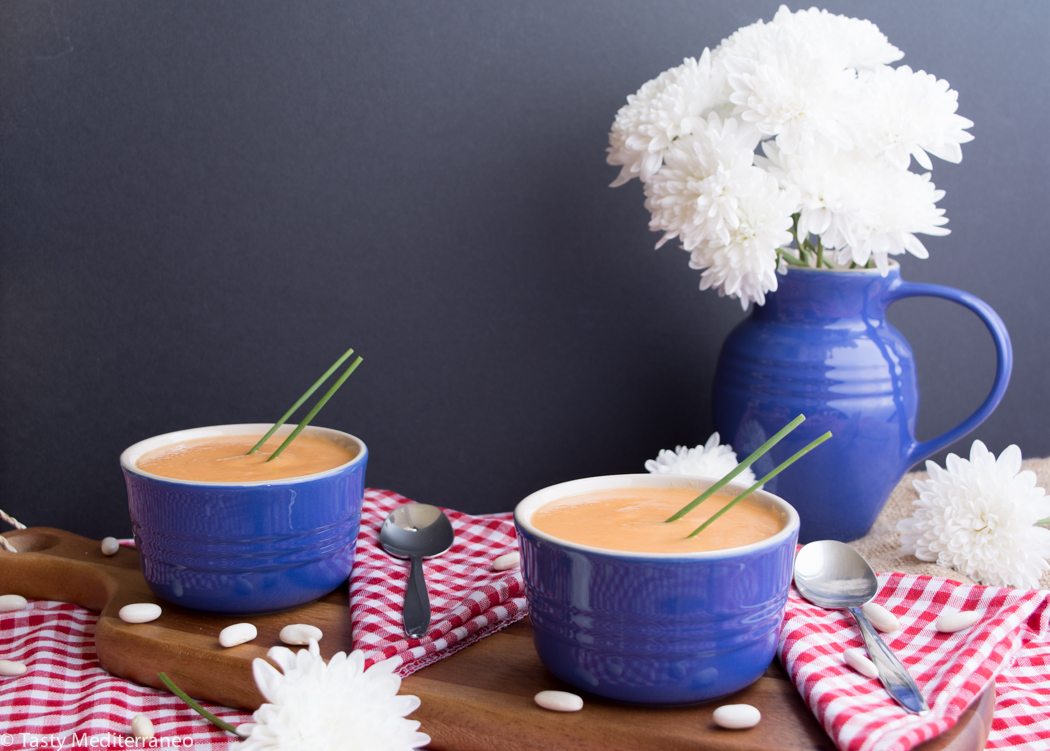 The creamy white beans and vegetables soup that I have prepared today is a delicious and healthy dish from the Mediterranean diet that we love at home. It is a cold-weather healthy soup full of nutrients & vitamins.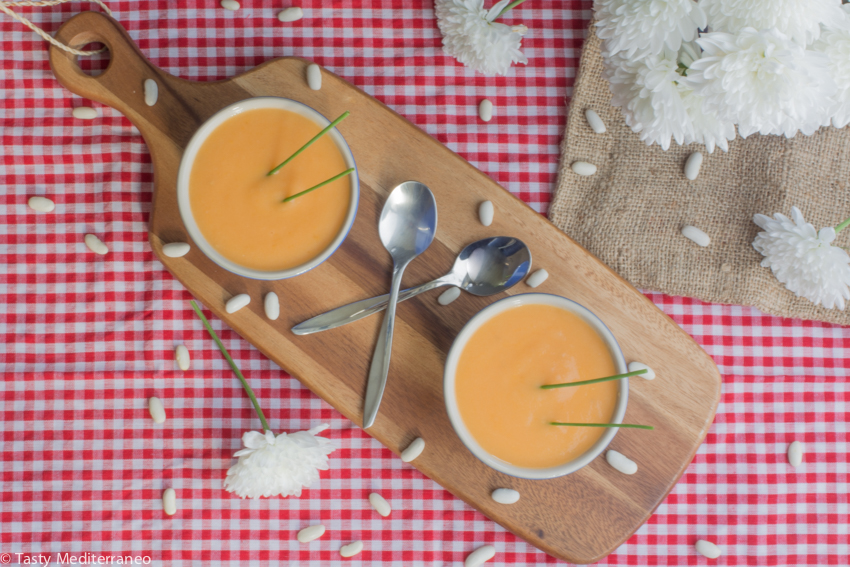 If you try this healthy and delicious vegan and gluten free Mediterranean diet recipe, please let me know, leave a comment and rate it. I would love to know what you come up with.
After the terrorist attacks in Beirut and Paris I can't help but finish this post expressing my sorrow for both the victims and their families. My thoughts and prayers are with them.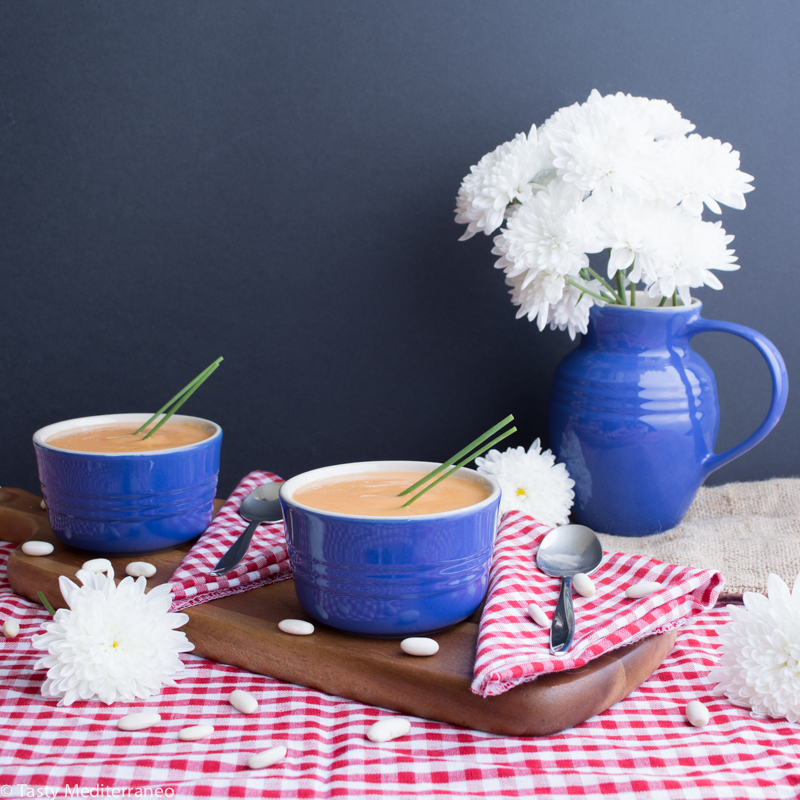 Creamy white beans and vegetables soup
Author:
Margarita @ Tasty Mediterraneo
Cuisine:
Mediterranean Diet
Ingredients
2 Tablespoons extra virgin olive oil
1 Onion, peeled and finely chopped
3 Carrots, peeled and diced
2 Medium potatoes, peeled and diced
250g (1 ¾ cups) Organic white beans in water
5 Ripe tomatoes, peeled and finely chopped
1l (4 cups) Water
Salt
Instructions
Have the white beans and all the vegetables well washed (in cold water) and prepared as indicated in the ingredients description.
Heat the olive oil in a large saucepan over moderate heat. Add the carrots, the onion and a pinch of salt and cook over a low heat, stirring frequently, for about 2 minutes until only lightly golden. Add then the potatoes and sauté over medium heat for around 3 minutes.
Reduce heat to low. Add the white beans and stir. Cover with cold water and leave to cook, covered with a lid, at a medium-low heat for approximately 20 minutes, stirring from time to time. Add then the finely chopped tomatoes and a teaspoon salt (or salt to taste), stir and leave to cook for 5 more minutes or until the beans are tender.
Remove from the heat and with the help of a hand mixer (ideally a powerful one of at least 450 watt) mix it all well until perfectly combined. Serve hot accompanied by some slices of toasted country bread.
Notes
If you are using dried white beans, to cook them: soak the dried beans in cold water for 12 hours (ideally leave them soaked overnight). Rinse them well and drain. Add them in step 3 as indicated in the instructions.