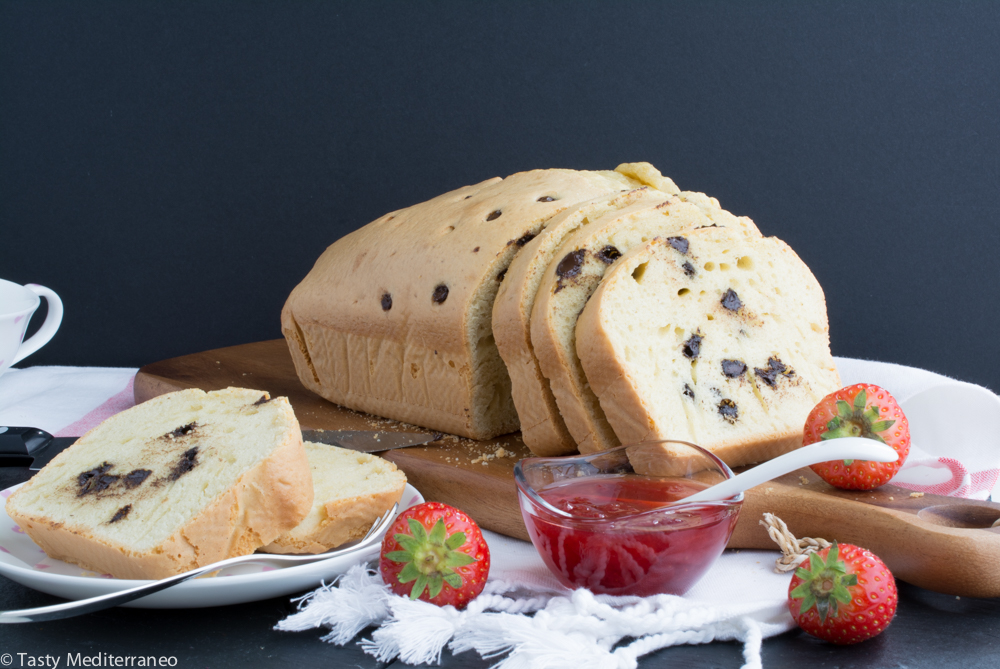 The Mediterranean cuisine uses olive oil as the main source of added fat. It's health benefits are well recognized. Olive oil is rich in beta-carotenes, Vitamin E and monounsaturated fats that help prevent cardiovascular diseases.
Not all olive oils are the same. You can find them in the market under three different categories: Olive Oil, Virgin Olive Oil and Extra Virgin Olive Oil.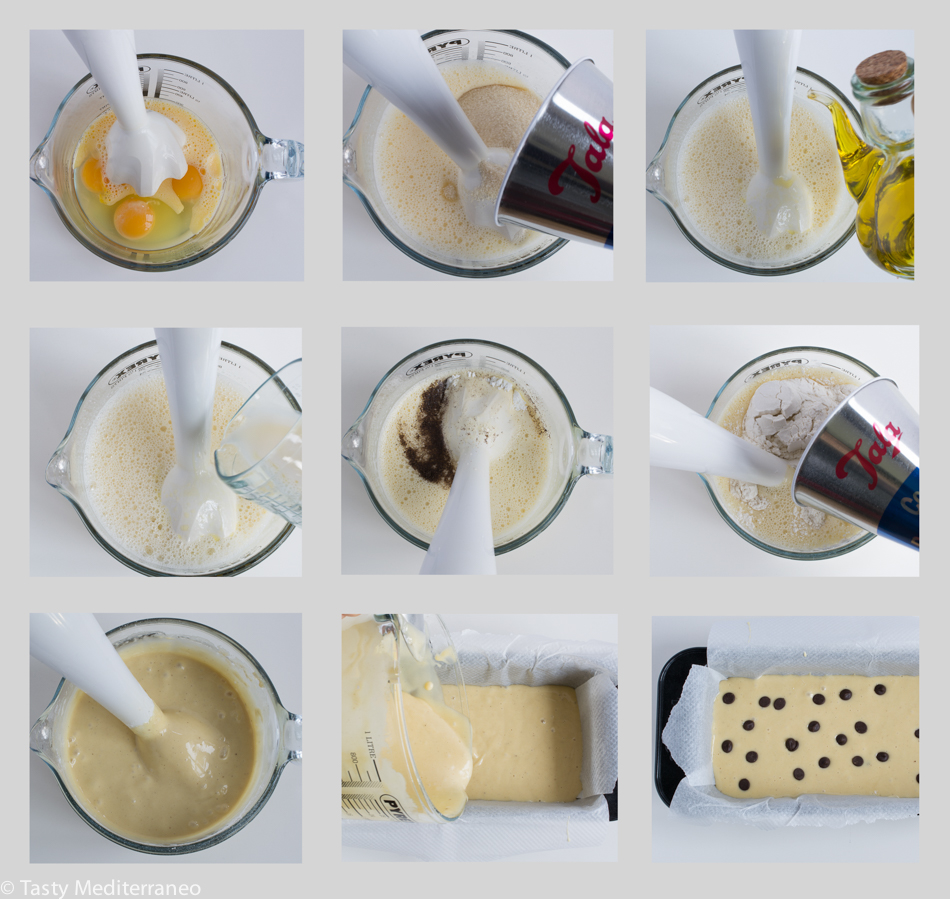 Olive Oil is refined oil, this means it has been industrially treated and thus it is not pure olive oil. Sometimes it has been extracted using chemicals and most of the time it has no olive flavour, aroma or colour. This is the olive oil that contains less vitamins and antioxidants, and so it adds none of the health benefits.
Virgin Olive Oil is 100% olive juice. It is simply made by crushing the olives by mechanical means and extracting their juice. There is no other process involved. Although the olives used to obtain this oil are ripe olives or lower quality than the ones used to produce extra virgin olive oil. We could say it is a low-grade extra virgin olive oil and thus it is lower in nutrients and health benefits.
Extra Virgin Olive Oil (EVOO) is the best of the olive oils. It is 100% olive juice. It is made using the same methods than the virgin olive oil. The difference is that the fresh quality EVOO uses the best olives, olives that are at the top of their quality. It has more nutrients than the virgin olive oil, and all the special antioxidants and anti-inflammatories properties that make the EVOO so healthy.
EVOO consumption has been found to be effective against cancer, diabetes, heart disease and even osteoporosis and Alzheimer.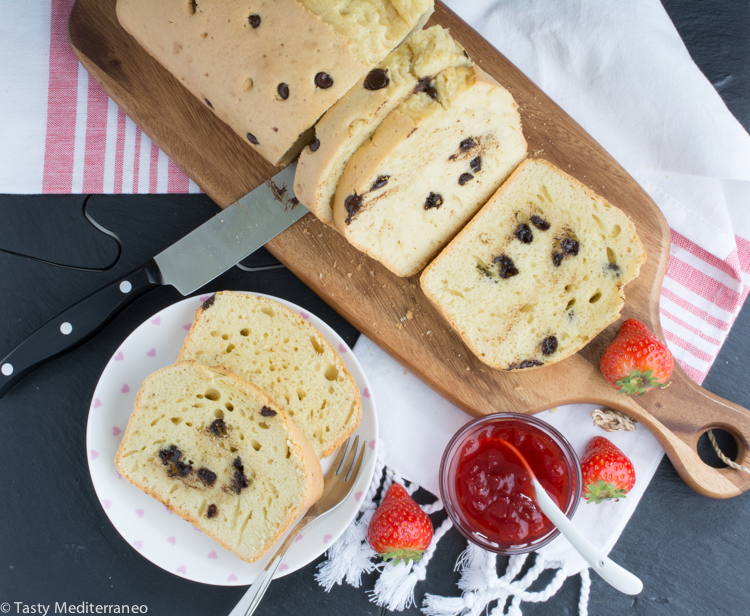 Spanish Extra Virgin Olive Oil (EVOO) is one of the best products of the Spanish gastronomy. Its aroma and taste are unique. Spanish Olive Oils are considered the best of the world and Jaen (Andalusia) is the World Capital of the Olive Oil.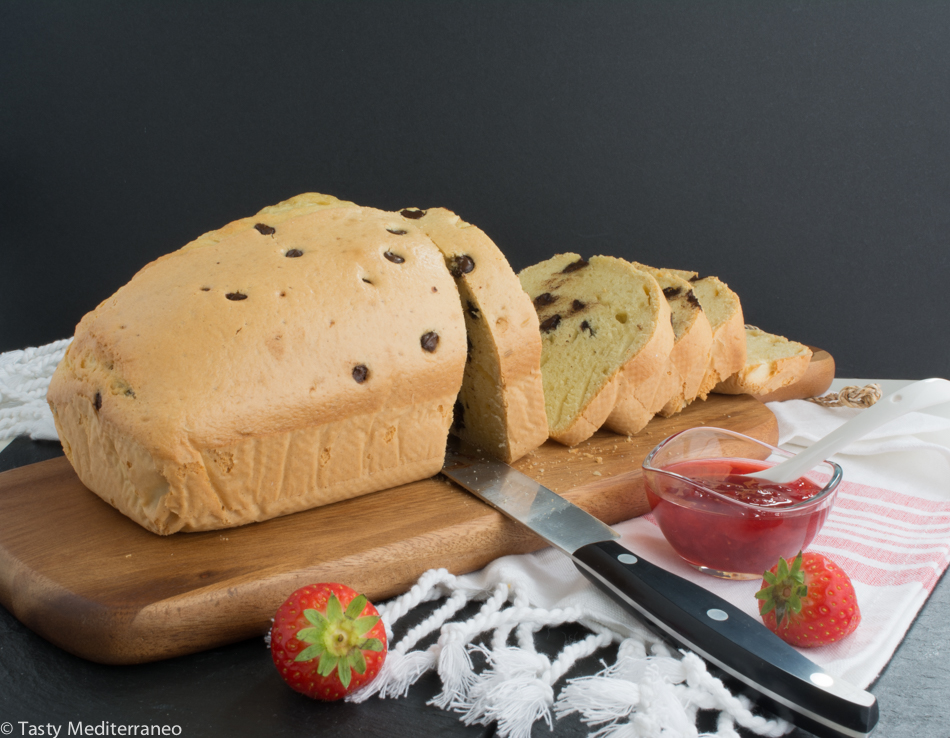 If you are a usual follower of my blog you already know that I only use EVOO for my recipes. And today I have prepared, using this marvelous ingredient of the Mediterranean cuisine, a delicious and healthy EVOO, vanilla & chocolate chips loaf. It is ready in only 35 minutes and it is a yummy and healthy treat not only for breakfast but also for any other any occasion.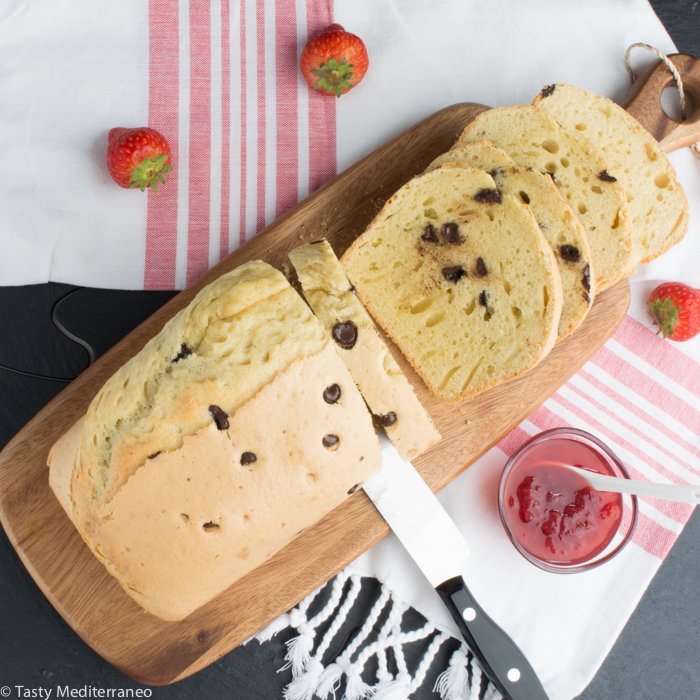 If you try this healthy and delicious Mediterranean diet recipe, please let me know, leave a comment and rate it. I would love to know what you come up with. Enjoy!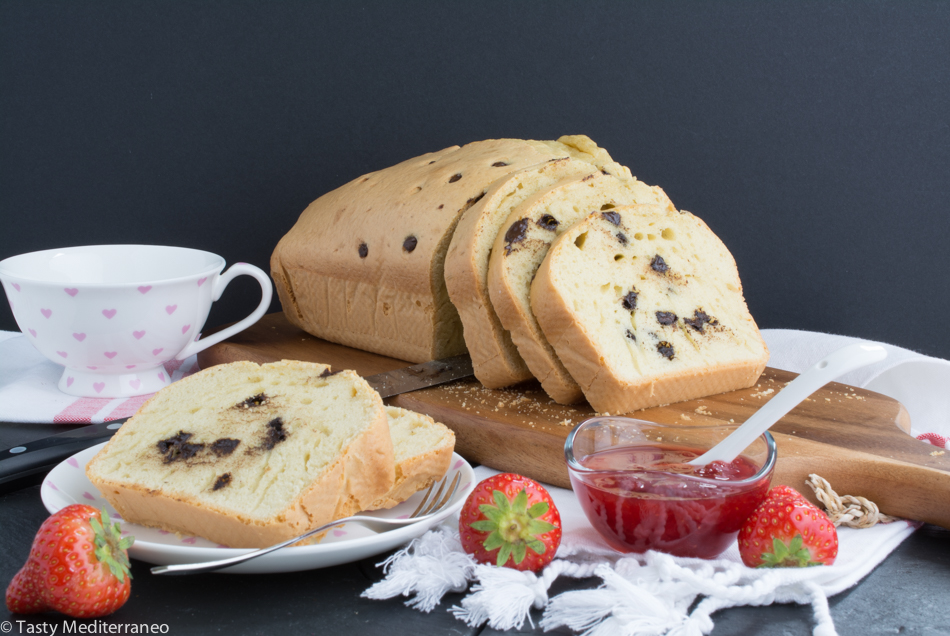 EVOO, vanilla & chocolate chips loaf
Author:
Margarita @ Tasty Mediterraneo
Cuisine:
Mediterranean Diet
Ingredients
4 Free range eggs
100g (½ cup) Unrefined cane sugar
100ml (3.4 fl oz) Extra virgin olive oil
50ml (1.7 fl oz) Almond milk
1 Teaspoon vanilla extract
175g (1⅓ cup) Organic plain flour
1 Tablespoon baking powder
5 Tablespoons dark chocolate chips
Instructions
Preheat the oven to 175 degrees C (350 degrees F).
Line a loaf tin with nonstick baking paper and set aside.
In a large bowl beat the eggs with a hand mixer. Add the sugar and continue mixing until dissolved. Then mix in the olive oil and the almond milk.
Add in the vanilla extract, the plain flour and the baking powder. And mix it all well until just combined. Add the dark chocolate chips and mix them with the batter with the help of a spoon.
Fill the loaf tin with the batter. Add on top of the loaf a few extra dark chocolate chips. And bake in the middle of the oven for 30 min at 175 degrees C (350 degrees F).
Remove from the oven and leave to cool on a cooling rack.