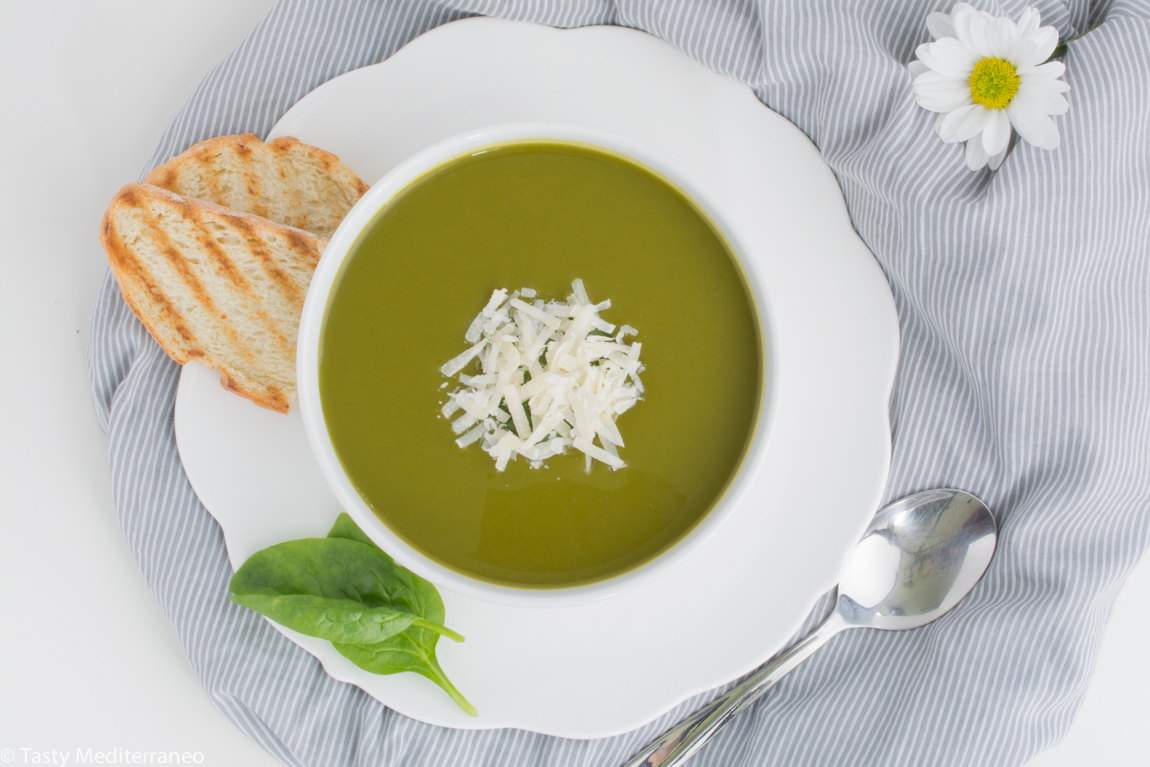 Autumn has officially started for many of us and thus today I would like to share with you a warming and nutritious spinach soup that will help you ease yourself into the new season.
This soup is a classic at home; it is perfect either for lunch or for dinner.
Even if I call it spinach soup, because of the strong green colour that the spinach provides, it also includes potatoes, carrots and leeks. This is an excellent combination of fresh vegetables full of vitamins, iron, potassium, magnesium and fibre.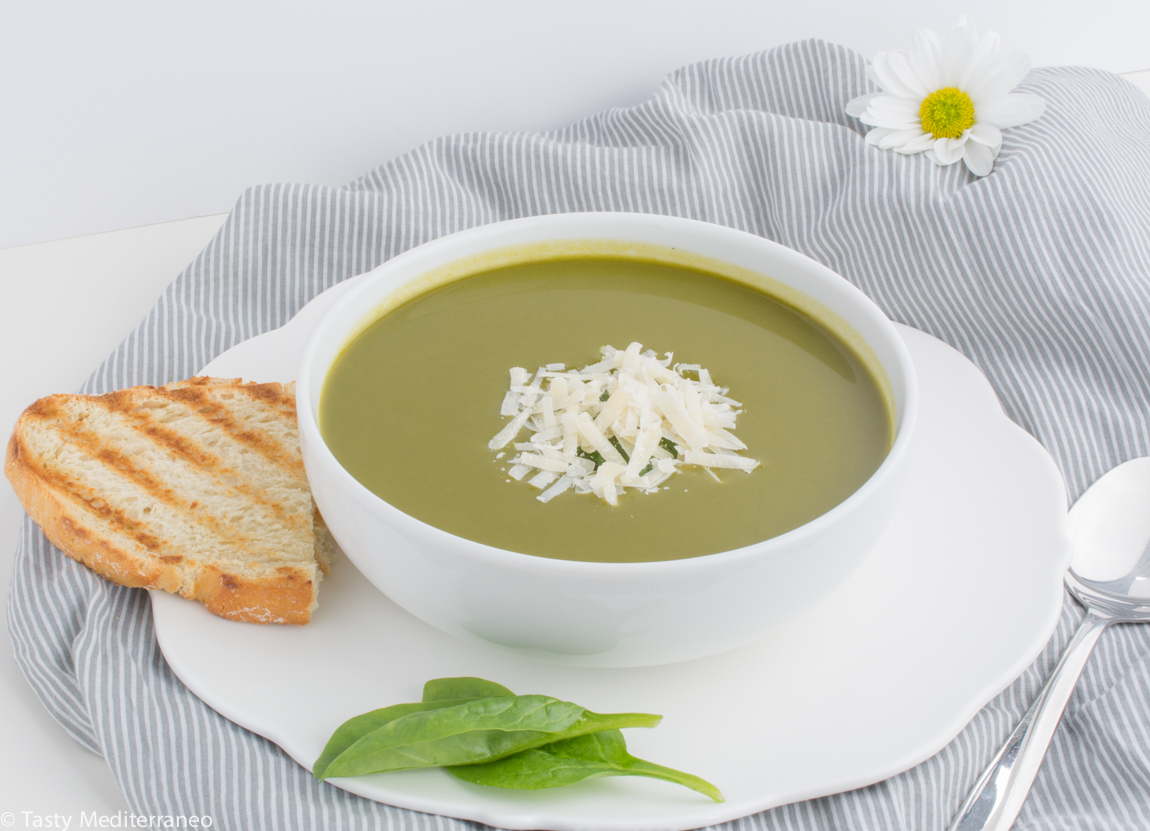 I usually like to enrich my soups with my vegetable stock recipe instead of using water as the basic liquid. But if you are short of time and do not have your vegetable stock ready, you could use only water and it will still make a hearty and delicious creamy soup.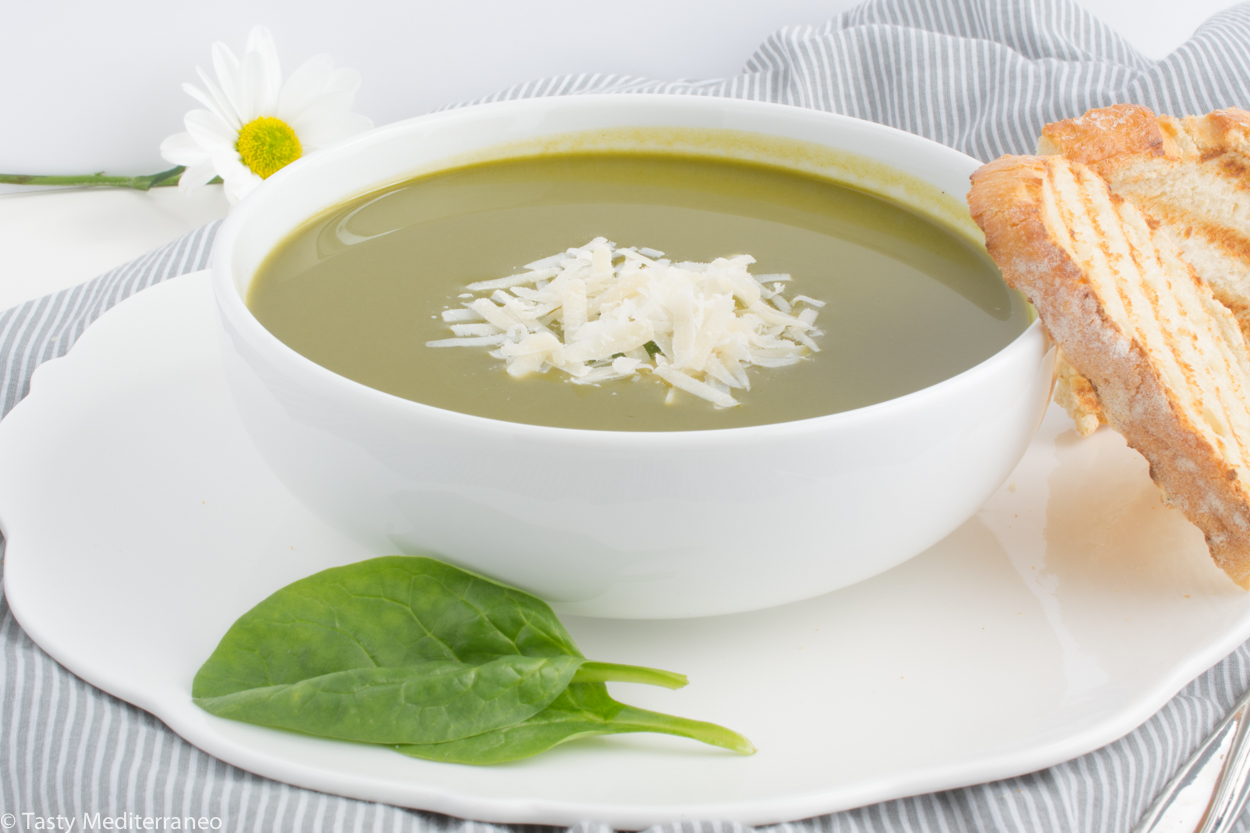 And what is best, this healthy, low calorie, vegan and gluten free Mediterranean diet recipe comes together in only 20 minutes. Garnish each serving with some Parmesan cheese (simply avoid the cheese for the vegan option) and accompany it with some slices of toasted country bread for the best comfort food ever!
If you try this healthy and flavourful Mediterranean diet recipe, please let me know, leave a comment and rate it. I would love to know what you come up with. Enjoy!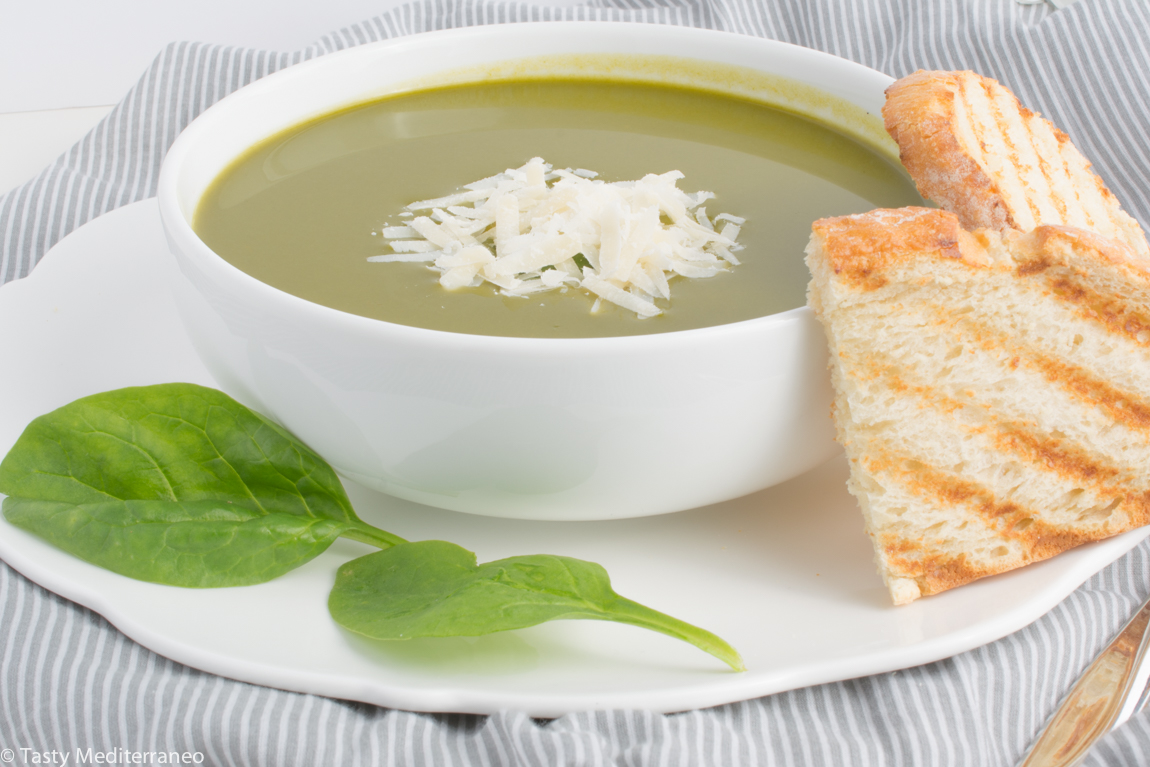 Spinach soup with Parmesan
Author:
Margarita @ Tasty Mediterraneo
Cuisine:
Mediterranean Diet
Ingredients
2 Tablespoons extra virgin olive oil
1 Leek, sliced
3 Medium carrots, peeled and sliced
2 Medium potatoes, peeled and sliced
500g (2 ¼ cups) Fresh spinach leaves
1 l (2 pints) vegetable stock (or water)
1 Teaspoon salt (or salt to taste)
4 Tablespoons freshly grated Parmesan cheese
Instructions
Have all the vegetables well washed and prepared as indicated in the ingredients description.
Heat the olive oil in a large saucepan. Add the leek and a pinch of salt and cook over a low heat, stirring frequently, for about 2 minutes.
Add the carrots and the potatoes and stir well all together for about 5 minutes until just beginning to colour. Add then the spinach.
Pour in the vegetable stock (or water), increase the heat to medium, and bring to a boil. Reduce the heat and simmer for 15 minutes. Add the salt.
Remove the saucepan from the heat and with the help of a hand mixer (ideally a powerful one of at least 450 watt) mix it all well until perfectly combined.
Serve and garnish each serving with Parmesan cheese. And optionally accompany it with some slices of toasted country bread.