Spinach soup with Parmesan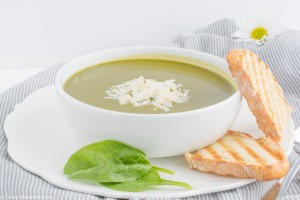 Author:
Margarita @ Tasty Mediterraneo
Cuisine:
Mediterranean Diet
2 Tablespoons extra virgin olive oil
1 Leek, sliced
3 Medium carrots, peeled and sliced
2 Medium potatoes, peeled and sliced
500g (2 ¼ cups) Fresh spinach leaves
1 l (2 pints) vegetable stock (or water)
1 Teaspoon salt (or salt to taste)
4 Tablespoons freshly grated Parmesan cheese
Have all the vegetables well washed and prepared as indicated in the ingredients description.
Heat the olive oil in a large saucepan. Add the leek and a pinch of salt and cook over a low heat, stirring frequently, for about 2 minutes.
Add the carrots and the potatoes and stir well all together for about 5 minutes until just beginning to colour. Add then the spinach.
Pour in the vegetable stock (or water), increase the heat to medium, and bring to a boil. Reduce the heat and simmer for 15 minutes. Add the salt.
Remove the saucepan from the heat and with the help of a hand mixer (ideally a powerful one of at least 450 watt) mix it all well until perfectly combined.
Serve and garnish each serving with Parmesan cheese. And optionally accompany it with some slices of toasted country bread.
Recipe by
Tasty Mediterraneo
at https://www.tastymediterraneo.com/spinach-soup-with-parmesan/