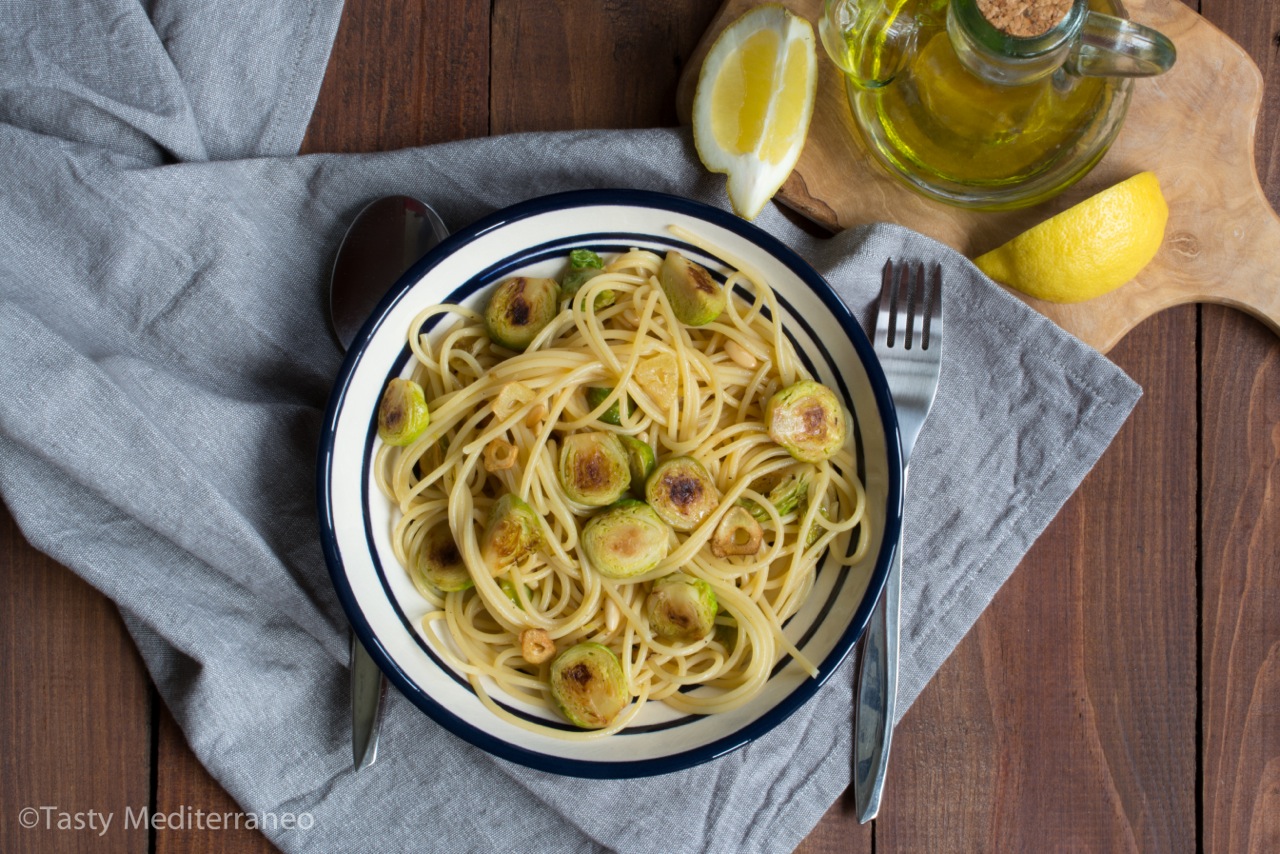 Are you familiar with the health benefits of Brussels sprouts?
Brussels sprouts belong to the Brassica vegetables family, also called cruciferous vegetables, the same family of cabbage, cauliflower, broccoli, kale and similar green leaf vegetables and they are well known for their disease fighting compounds.
Brussels sprouts are surprisingly high in protein for a green vegetable and they are rich in antioxidants, anti-inflammatories compounds, fibre, folate, vitamin A, vitamin C, vitamin K, vitamin B6, potassium and manganese.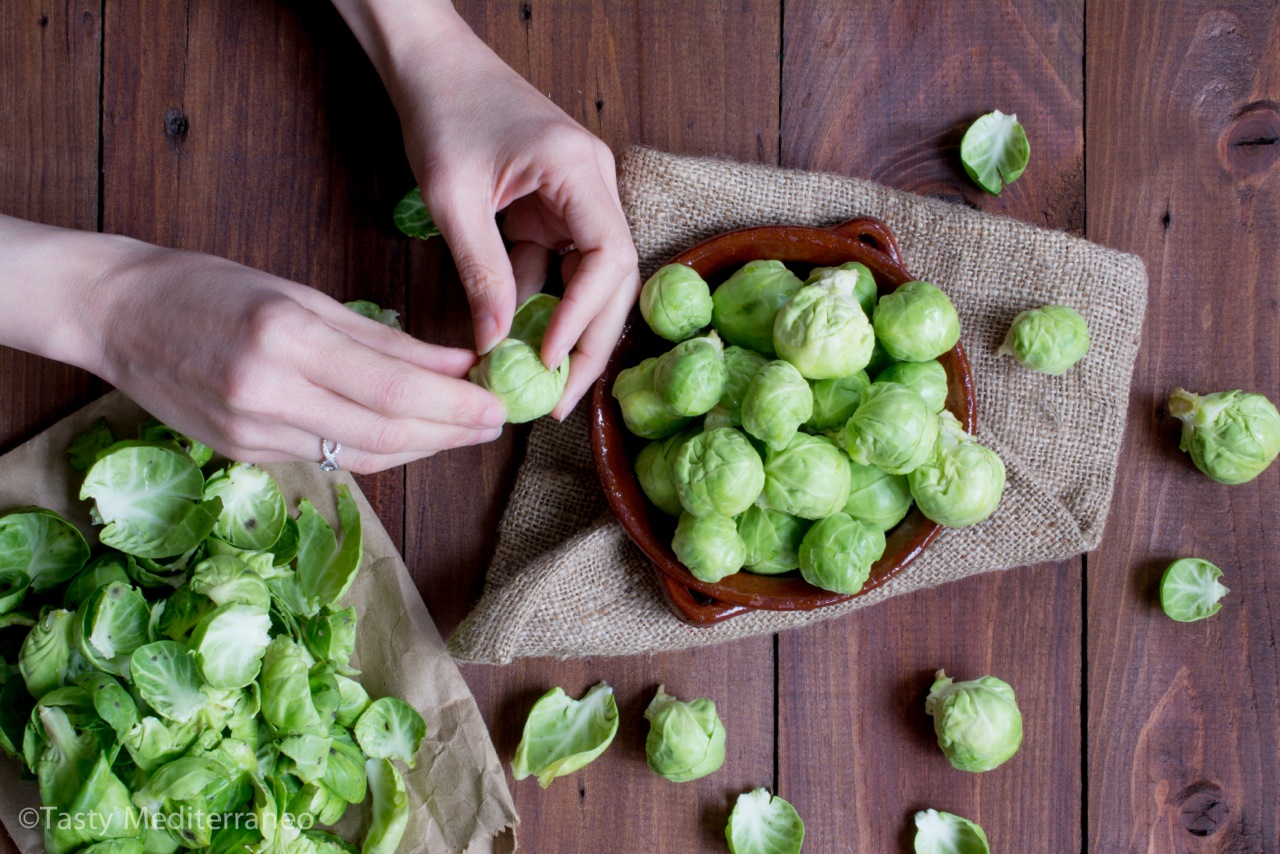 Given the fact that oxidative stress and chronic inflammation are risks factors for cancer, the antioxidant and anti-inflammatory richness of Brussels sprouts and other cruciferous vegetables in a healthy and balanced diet help to keep you at a lower risk for cancer and other chronic diseases.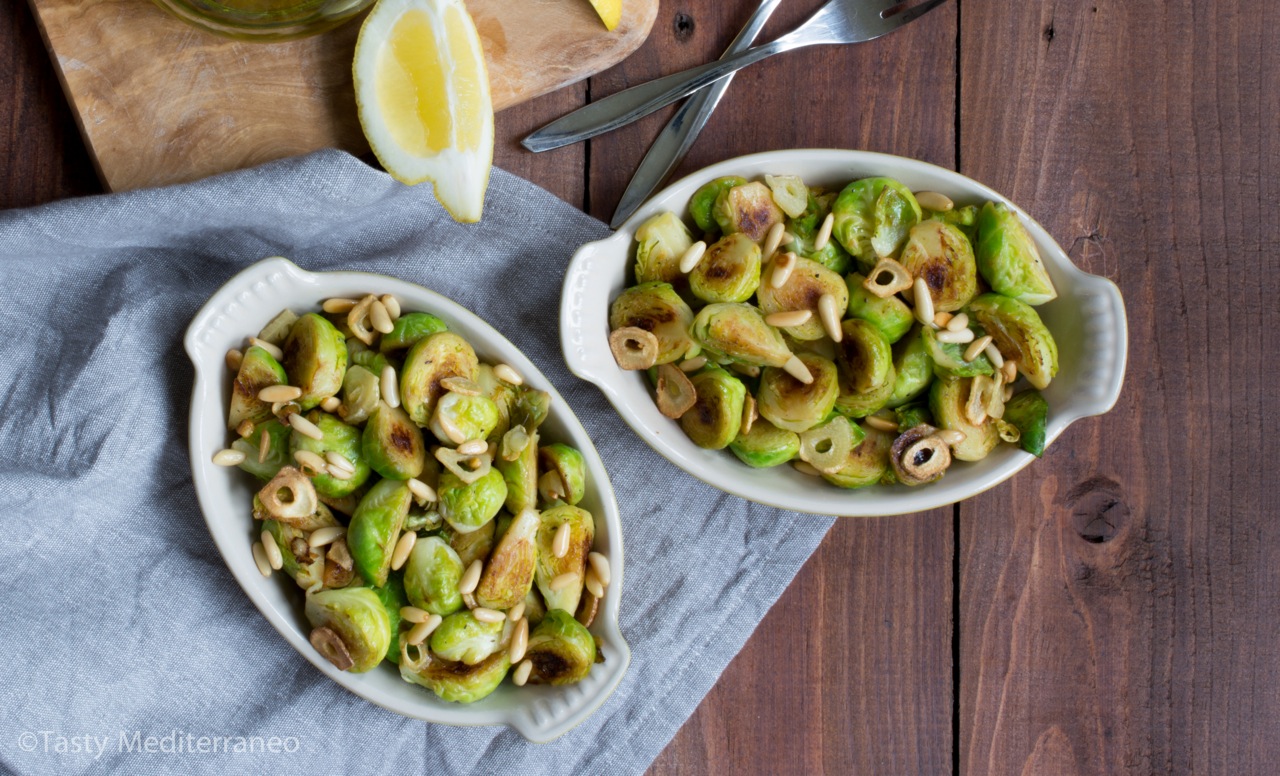 I have already shared a few recipes on the blog where I use Brassica vegetables: "Pointed cabbage & vegetable soup", "Red cabbage soup", "Lentil & kale soup", "Cauliflower & almond soup", "Mediterranean warm cabbage salad", "White bean & vegetable soup" … Check them out if you would like to try different recipes to benefit of the antioxidant and anti-inflammatory compounds of these nutritious vegetables.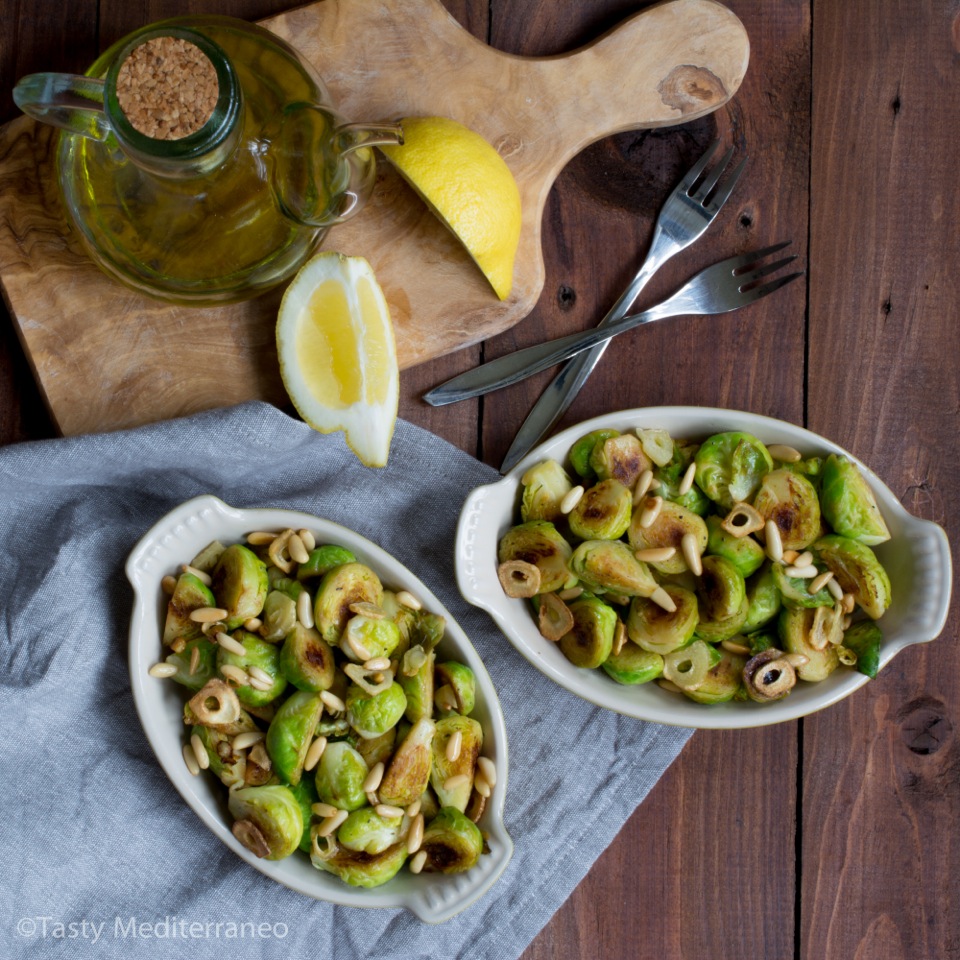 If you try this tasty and healthy vegan Mediterranean diet recipe of "Sautéed Brussels sprouts with garlic & pine nut pasta" please let me know, leave a comment and rate it. I would love to know what you come up with. Enjoy!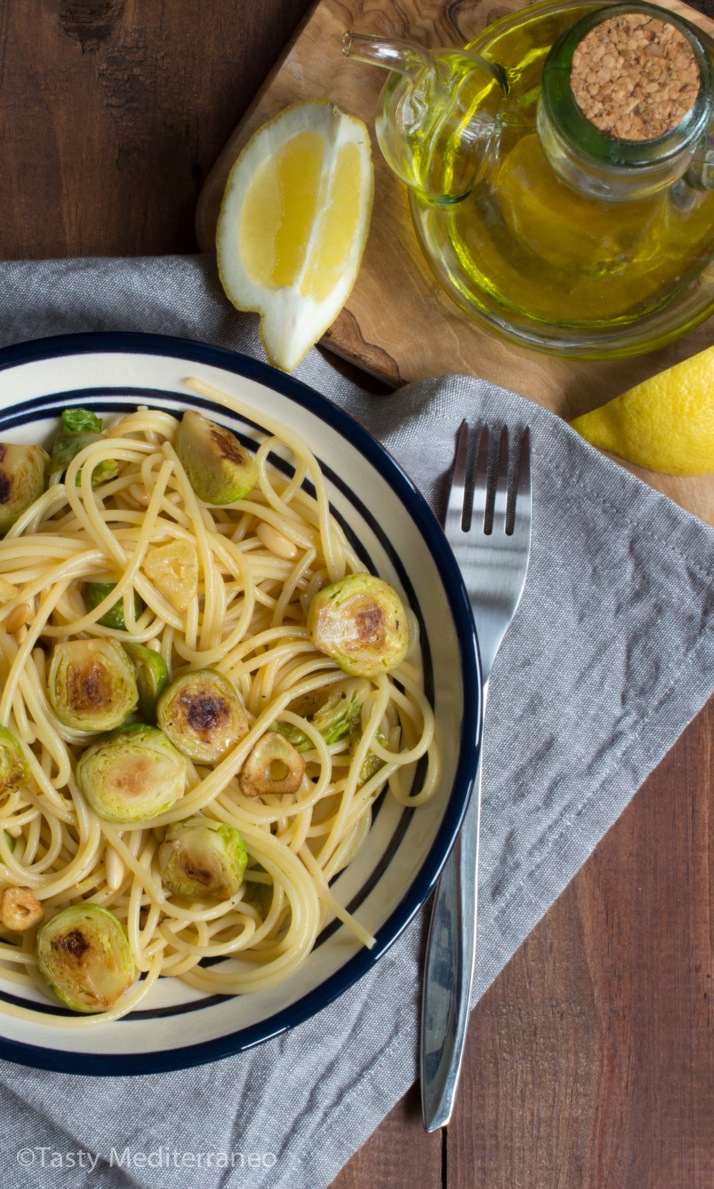 Sautéed Brussels sprouts with garlic & pine nut pasta
Author:
Margarita @ Tasty Mediterraneo
Cuisine:
Mediterranean Diet
Ingredients
200g (7 ounces) Wholemeal spaghetti
3 Tablespoons Extra Virgin Olive Oil (EVOO)
400g (4 cups) Brussels sprouts, sliced off the rough part of the stem & cut in half or into quarters
3 Garlic cloves, pealed and finely sliced
1 Tablespoon pine nuts
1 Lemon, freshly squeezed
1 Tablespoon sea salt (or salt to taste)
Freshly grounded black pepper
Instructions
Have all the vegetables well washed and prepared as indicated in the ingredients description. Sometimes the outside leaves of the Brussels sprouts are bruised, in that case remove those.
Boil water in a large saucepan and add one tablespoon salt. Add the spaghetti pasta and stir. Follow the cooking instructions on the package and taste your pasta while it is cooking to avoid overcooking it and to make sure you cook the pasta "al dente". Stir the pasta from time to time and when the cooking time indicated in the package is over and the pasta is al dente, remove from the heat and drain. (If you were not going to use the pasta immediately run under cold water until the pasta has cooled and then drain).
While the pasta is boiling, in a large frying pan heat one tablespoon of EVOO over moderate heat, add the pine nuts and the garlic and sauté for one minute until lightly golden. Remove the garlic and the pine nuts from the frying pan and leave aside. Add the Brussels sprouts to the frying pan and an extra tablespoon of EVOO and sauté for about 5 minutes over low heat, stirring from time to time. Add then the freshly squeezed lemon juice, salt to taste and a bit of freshly grounded black pepper and sauté and continue stirring for about 5 more minutes or until the Brussels sprouts are tender and lightly golden.
Finally add to the Brussels sprouts the drained spaghetti, the sautéed garlic and the pine nuts and 1 tablespoon of EVOO and stir all together over moderate heat for a couple of minutes.
Remove from the heat, and serve hot.
Notes
You could also serve the sautéed Brussels sprouts with garlic and pine nuts with its fresh lemon touch as a side dish.