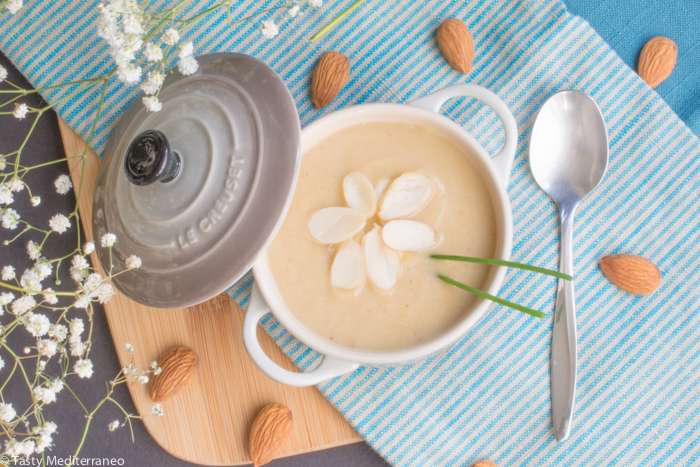 This week I had the opportunity to participate at the largest gathering of social media professionals in Ireland: The Social Media Summit. It was hold on the 1st and 2nd March at the Aviva Stadium, Dublin and the MC was the entrepreneur Daniel Ramamoorthy.
The fabulous Samantha Kelly (@Tweetinggoddess), co-founder at the Social Media Summit, did an amazing job bringing to Ireland top world class speakers who are thought leaders in their industry. Just to name a few of the people she brought to the Social Media Summit: Ted Rubin, Brian Fanzo, Melonie Dodaro, Steve Dotto, Ian Anderson Gray, Ian Cleary, Julia Bramble, Antonio Calero, Naomi Gilmour and many other amazing speakers that captivated the audience by sharing their tips on how to succeed with Social Media. Even the newest social media platforms were covered in the summit!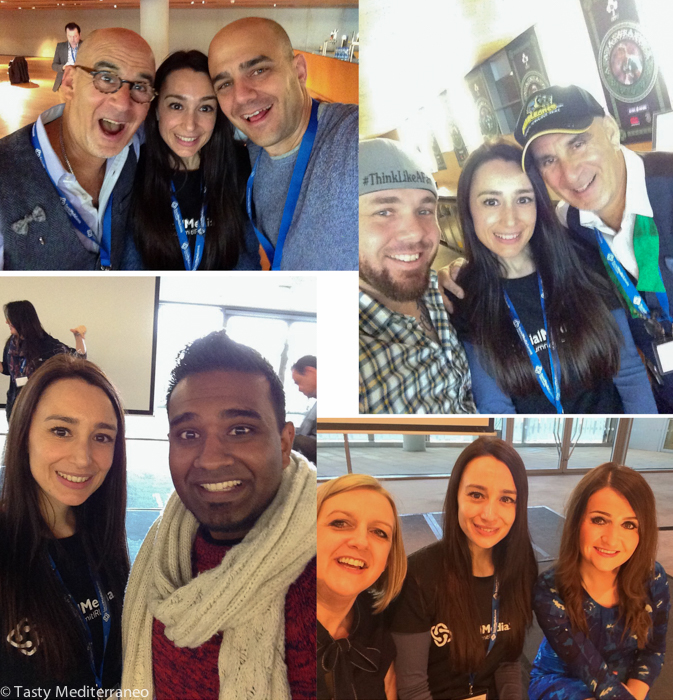 I was happy to be a member of the Social Media Summit team and to learn from such an amazing group of speakers plenty of tips that I hope to apply soon to my blog Tasty Mediterraneo social media platforms on Facebook, Instagram, Pinterest and Twitter. Merci Sam for this great event!
And back to my passion for healthy eating and my Tasty Mediterraneo recipes, I share with you today a delicious and nutritious Mediterranean recipe: a Cauliflower & almonds vegan and gluten free soup that is high in vitamins, fiber, minerals and an excellent source of natural antioxidants and anti-inflammatory compounds.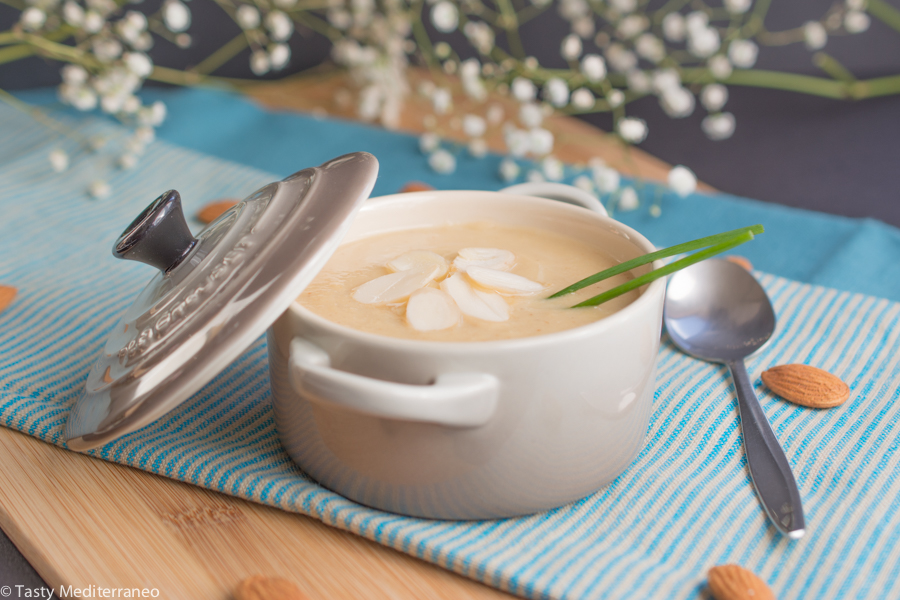 I believe that a balanced diet such as the Mediterranean diet, full of healthy and nutritious recipes like this cauliflower and almonds soup, is the key to live healthy longer and to put you at a lower risk for cancer and other chronic diseases.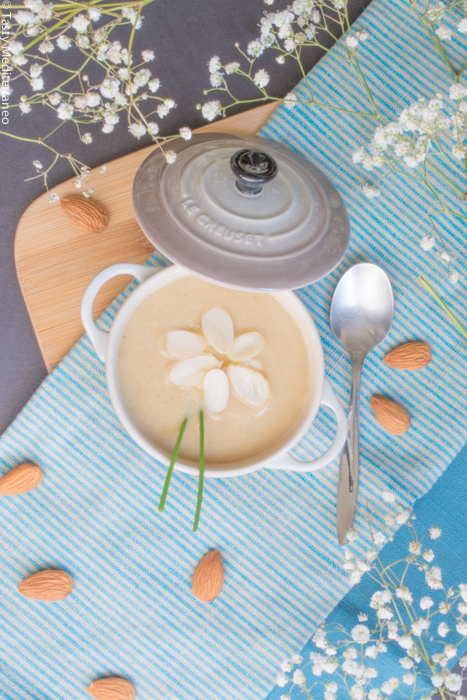 If you try this tasty and healthy vegan Mediterranean diet recipe, please let me know, leave a comment and rate it. I would love to know what you come up with. Enjoy!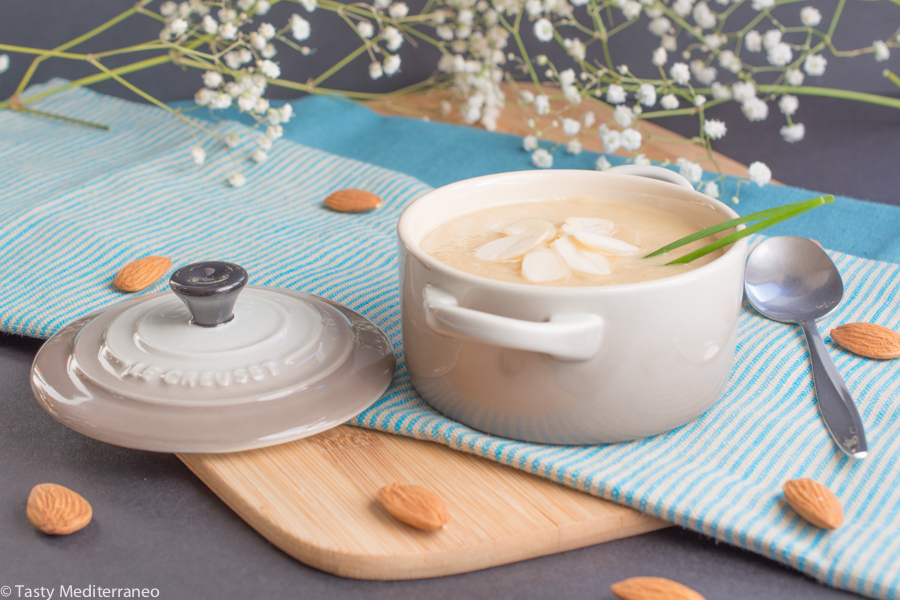 Cauliflower & almond soup + #SMSummitIRL
Author:
Margarita @ Tasty Mediterraneo
Cuisine:
Mediterranean Diet
Ingredients
2 Tablespoons Extra Virgin Olive Oil
2 Garlic cloves, peeled and thinly sliced
2 Leeks (white part only), peeled and finely chopped
1 Head cauliflower, chopped
2 Tablespoons raw almonds, grounded
1 ½ Litre (3 pints or 4 ½ cups) Vegetable stock
1 Tablespoon raw almonds, sliced (to decorate)
A small bunch of chives (to decorate)
Sea salt
Instructions
Have all the vegetables well washed and prepared as indicated in the ingredients description.
Heat the olive oil in a large saucepan over moderate heat. Add the garlic and sauté for about 1 minute until lightly golden. Add then the leaks and a pinch of salt and sauté for about 2 minutes until only lightly golden. Add then the chopped cauliflower, sauté for 2 minutes and cover with the vegetable stock. Cook for 20 minutes stirring from time to time. Add the grounded almonds and salt to taste and mix.
Remove the saucepan from the heat and with the help of a hand mixer (ideally a powerful one of at least 450 watt) mix it all well until perfectly combined.
Serve hot and add some sliced almonds and chives on top of each dish.