Cauliflower & almond soup + #SMSummitIRL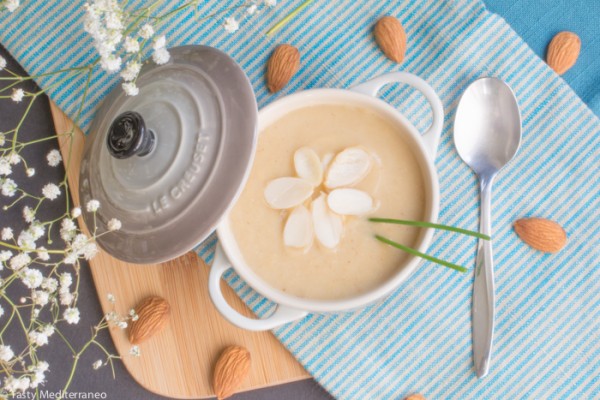 Author:
Margarita @ Tasty Mediterraneo
Cuisine:
Mediterranean Diet
2 Tablespoons Extra Virgin Olive Oil
2 Garlic cloves, peeled and thinly sliced
2 Leeks (white part only), peeled and finely chopped
1 Head cauliflower, chopped
2 Tablespoons raw almonds, grounded
1 ½ Litre (3 pints or 4 ½ cups) Vegetable stock
1 Tablespoon raw almonds, sliced (to decorate)
A small bunch of chives (to decorate)
Sea salt
Have all the vegetables well washed and prepared as indicated in the ingredients description.
Heat the olive oil in a large saucepan over moderate heat. Add the garlic and sauté for about 1 minute until lightly golden. Add then the leaks and a pinch of salt and sauté for about 2 minutes until only lightly golden. Add then the chopped cauliflower, sauté for 2 minutes and cover with the vegetable stock. Cook for 20 minutes stirring from time to time. Add the grounded almonds and salt to taste and mix.
Remove the saucepan from the heat and with the help of a hand mixer (ideally a powerful one of at least 450 watt) mix it all well until perfectly combined.
Serve hot and add some sliced almonds and chives on top of each dish.
Recipe by
Tasty Mediterraneo
at https://www.tastymediterraneo.com/cauliflower-almond-soup-smsummitirl/