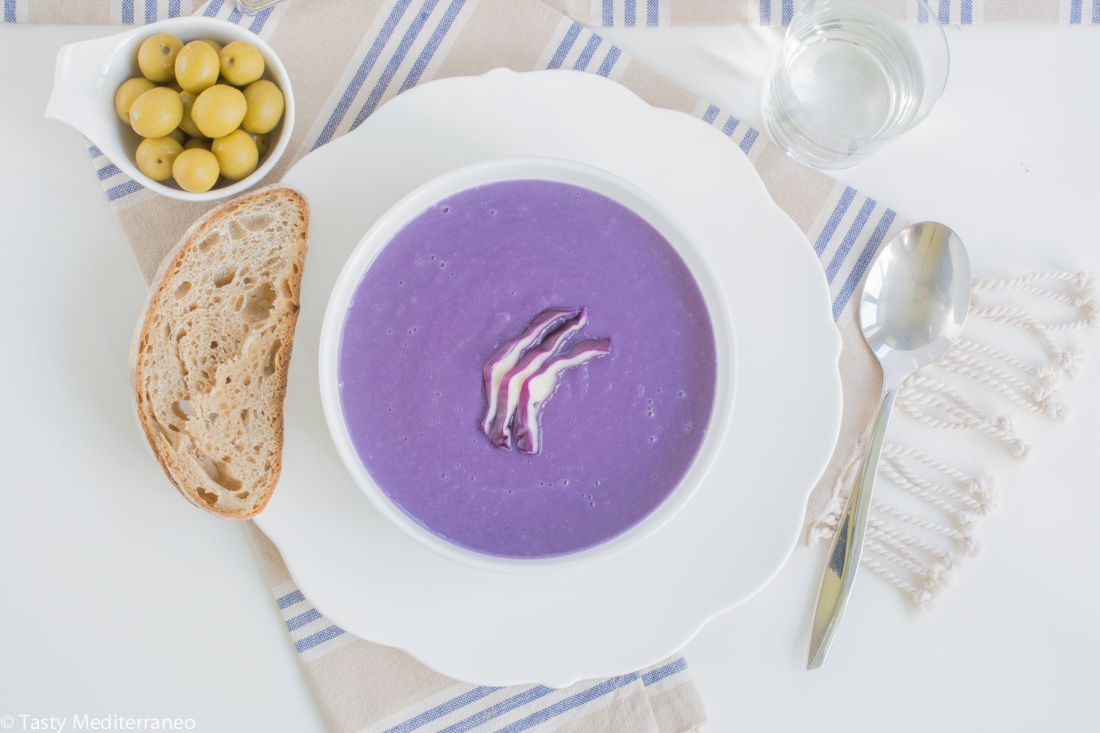 Have you already heard about the many nutritional benefits of cabbage?
Cabbage is rich in antioxidants, anti-inflammatories compounds, fibre, folates, vitamin A, vitamin C, vitamin K, vitamin B6, calcium, magnesium, manganese, …
Given the fact that oxidative stress and chronic inflammation are risks factors for cancer, the antioxidant and anti-inflammatory richness of cabbage in a healthy and balanced diet help to keep you at a lower risk for cancer and other chronic diseases.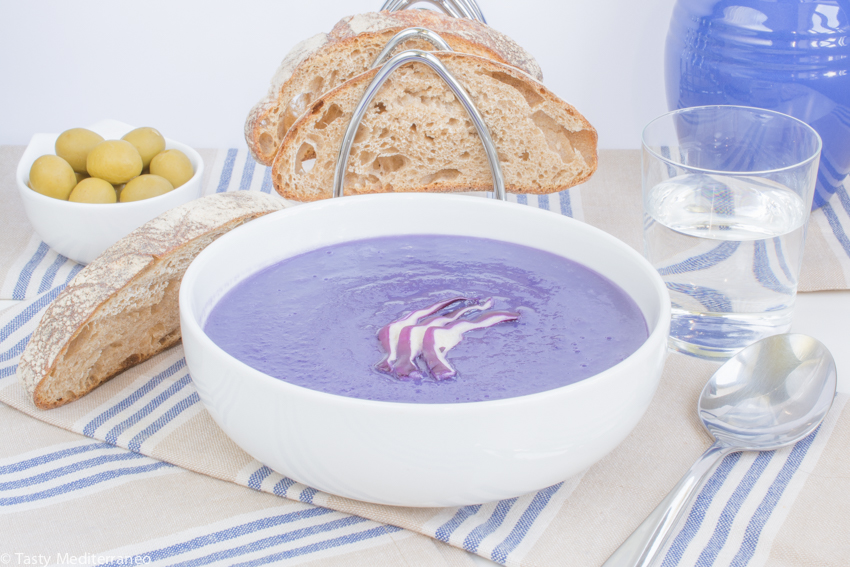 Red cabbage is even richer in antioxidants that white cabbage, however all types of cabbages are rich in polyphenols that provide the anti-inflammatory benefits.
Cabbage also has health benefits for the stomach and the digestive system as a whole, as well as for the cardiovascular system.
Its detoxification properties can enhance immune system health when regularly eating red cabbage.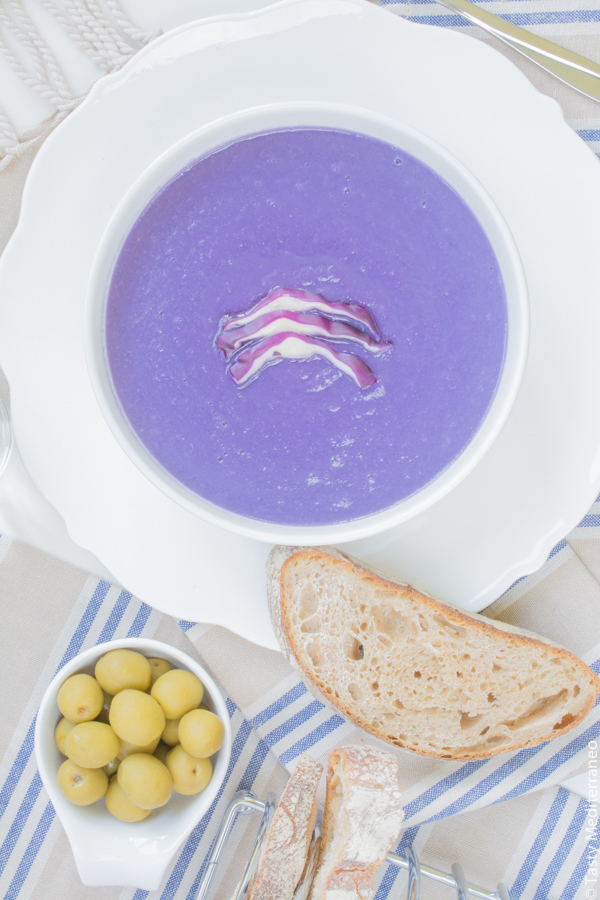 All these nutritional benefits of the cabbage make it easy for us to understand why it is considered a super food!
I had recently shared with you a vegan recipe using white cabbage, my "Mediterranean warm cabbage salad", and today I am sharing with you this vegan soup recipe where I use red cabbage in order to create a super healthy and tasty soup full of colour and goodness!
If you try this tasty and healthy vegan Mediterranean diet recipe of red cabbage soup, please let me know, leave a comment and rate it. I would love to know what you come up with. Enjoy!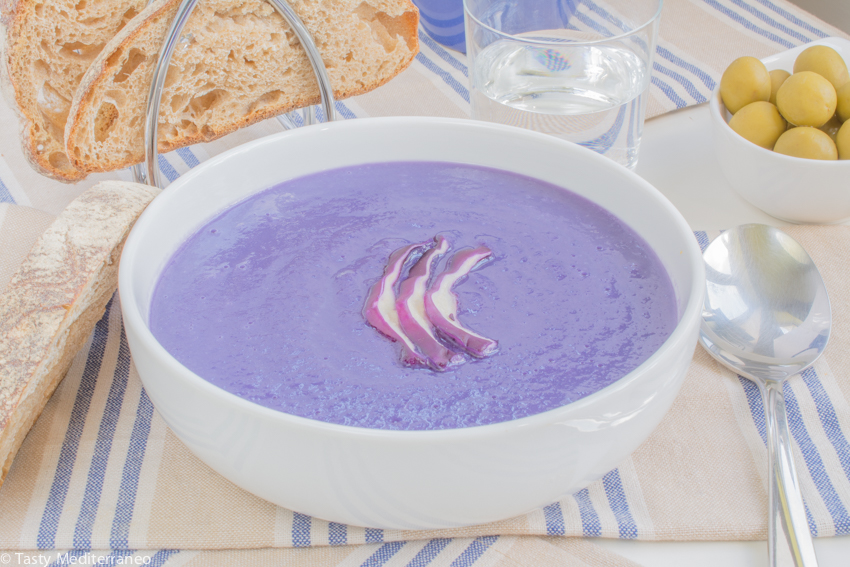 Red cabbage soup
Author:
Margarita @ Tasty Mediterraneo
Cuisine:
Mediterranean Diet
Ingredients
2 Tablespoons Extra Virgin Olive Oil (EVOO)
½ Red cabbage, cut into slices (Aprox. 600g or 6 cups of sliced red cabbage)
1 Leek, sliced
1 Onion, peeled and chopped
1 Small potato, peeled and diced
1l (2 pints) Vegetable stock (or water)
100ml (3.4 fl oz) Almond milk
1 Teaspoon sea salt (or salt to taste)
Instructions
Have all the vegetables well washed and prepared as indicated in the ingredients description.
Heat the EVOO in a large saucepan over moderate heat. Add the leeks and onion and a pinch of salt and sauté for about 3 minutes until soft. Add then the diced potato and 2 tablespoons of the vegetable stock (or water if not available) and sauté for about 10 minutes until the potatoes are cooked. Add then the sliced red cabbage and sauté for 5 minutes. Cover with the rest of the vegetable stock, bring to a boil over medium heat and when it has reached a boil remove the saucepan from the heat.
Add the almond milk, one teaspoon sea salt (or salt to taste) and with the help of a hand mixer (ideally a powerful one of at least 450 watt) mix it all well until perfectly combined.
Serve hot.
Notes
You can add some freshly grounded black pepper right before serving.