As you know, the Mediterranean cuisine uses olive oil as the main source of added fat. Its health benefits are well recognized. Olive oil is rich in beta-carotenes, Vitamin E and monounsaturated fats that help prevent cardiovascular diseases.
EVOO consumption has been found to be effective against cancer, diabetes, heart disease and even osteoporosis and Alzheimer. I always use EVOO not only for salads but also for cooking and for baking. What about you, have you already tried baking with EVOO?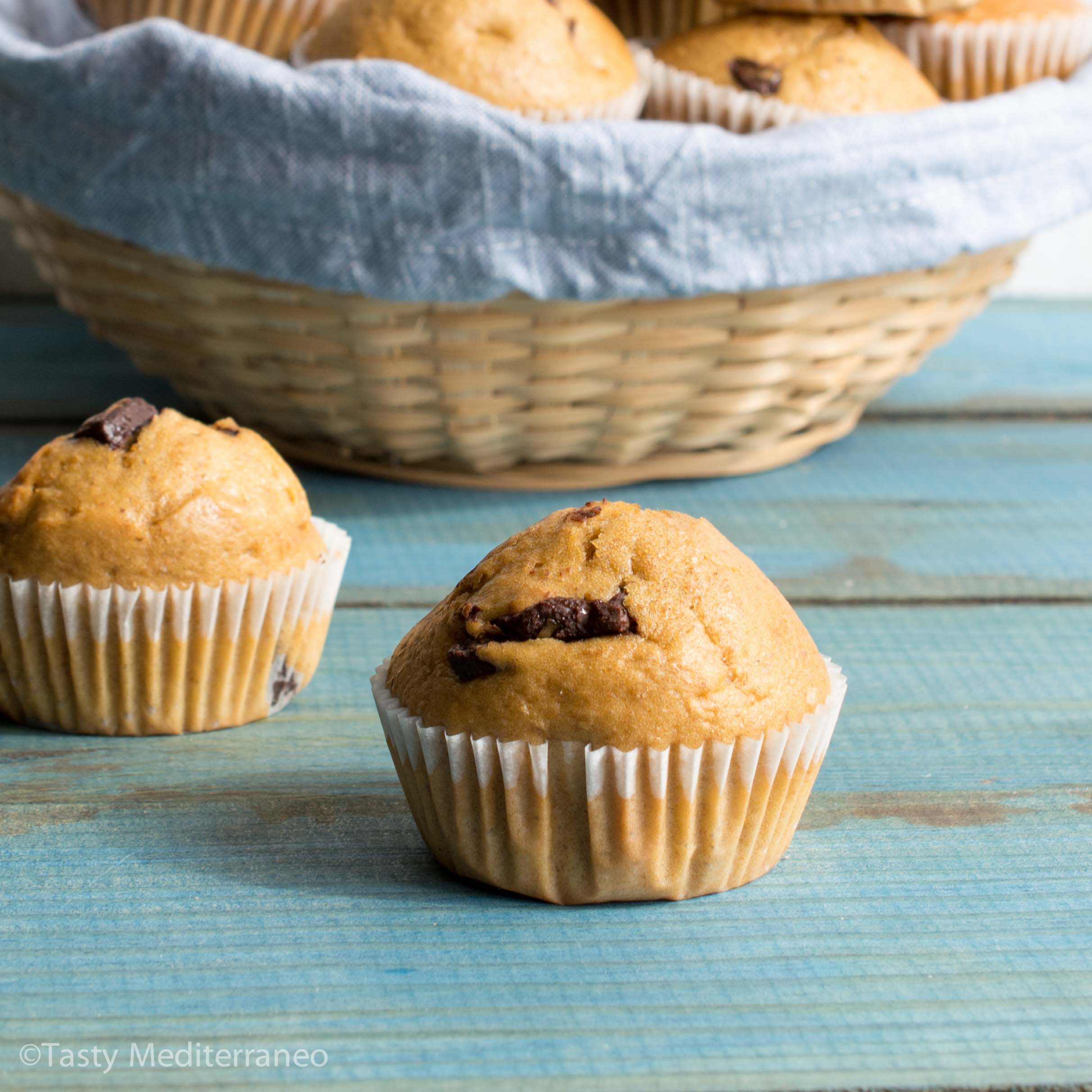 I have already shared with you quite a few baking recipes where I use EVOO, such as: my "Chocolate and Olive Oil Muffins", my "Orange and Olive oil muffins", my "Lemon & olive oil madeleines", my "EVOO, vanilla & chocolate chips loaf", my "Chocolate & EVOO brioche", my "Turmeric and EVOO brioche", my vegan "Sfouf"…
And today I am sharing yet another healthy treat where I use EVOO, my "EVOO & dark chocolate chunk muffins".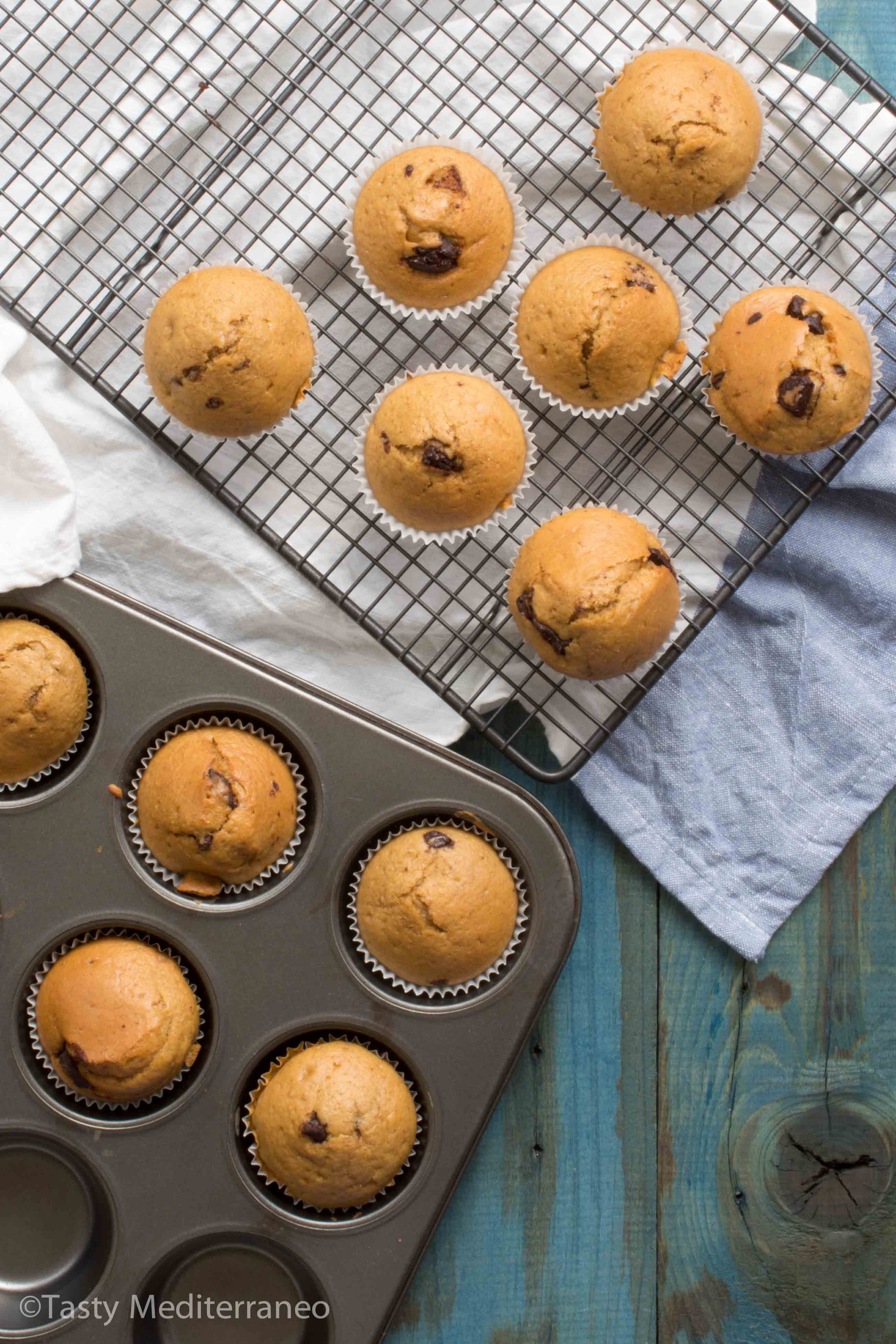 In today's diet we find plenty of prepared food products, refined products that lose most of their nutritional properties. A high percentage of people are over-consuming sugar, fats and refined products. The lack of quality and nutrients of this prepared food has a big impact on their health and contributes to the increase in chronic diseases.
There is a huge difference between baking some healthy treats at home for a special occasion, and buying processed cakes where you don't know the quality of the ingredients and where you find all sort of refined added sugars and unpronounceable preservatives on their labels. Those processed cakes add only calories, but no nutrients.
There are so many hidden and unnecessary ingredients and chemicals on a prepared food label that it is important to find the time to cook at home from scratch. These muffins are ready in only 20 minutes, and out of those 20 minutes you only need 5 minutes hands-on.
If you try this tasty vegetarian Mediterranean diet recipe of "EVOO & dark chocolate chunk muffins" please let me know, leave a comment and rate it. I would love to know what you come up with. Enjoy!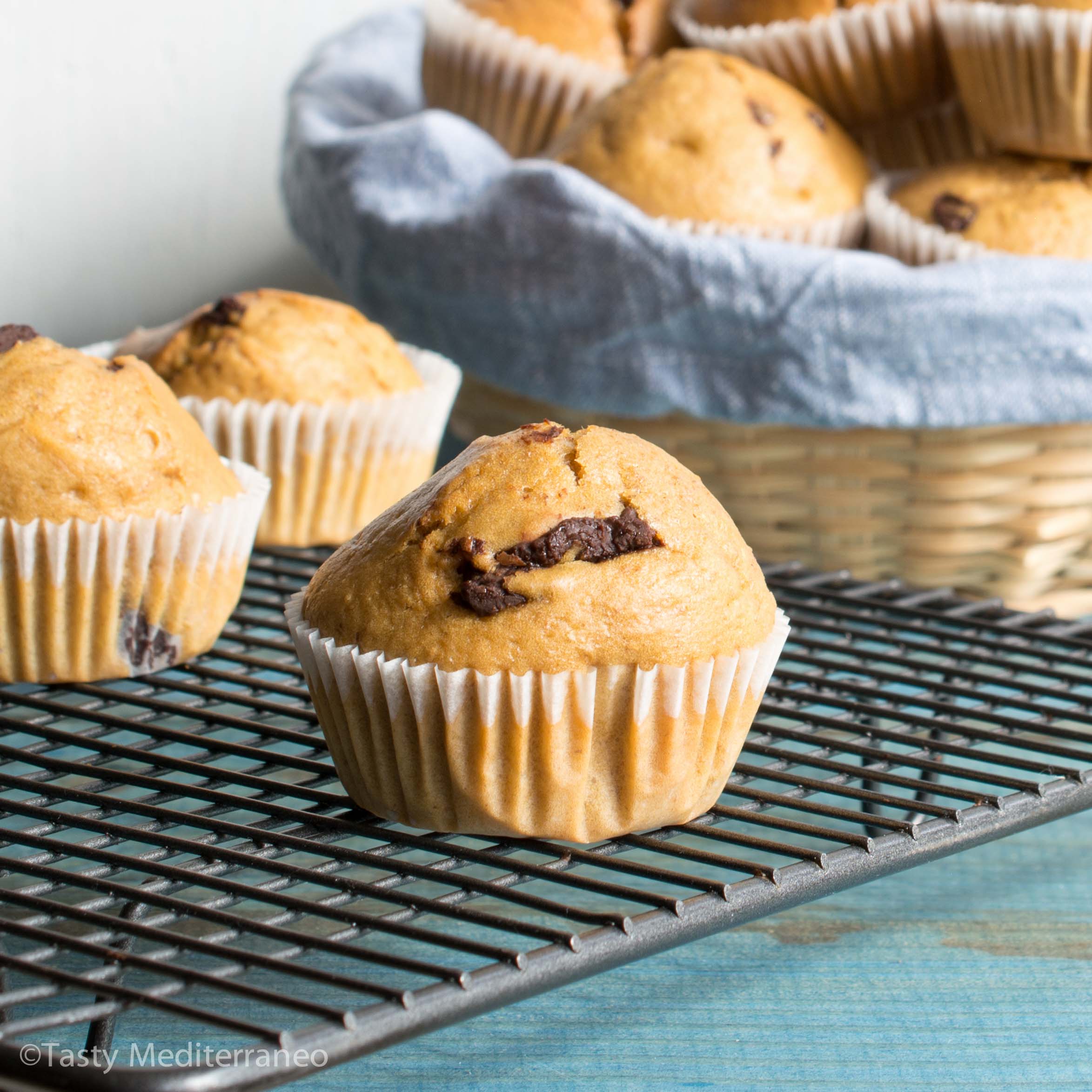 Author:
Margarita @ Tasty Mediterraneo
Cuisine:
Mediterranean Diet
Ingredients
4 Organic eggs
100g (½ cup) Unrefined dark muscovado sugar
100ml (3.4 fl oz) Extra virgin olive oil
50ml (1.7 fl oz) Almond milk
1 Tablespoon orange blossom water
85g (2/3 cup) Organic plain flour
85g (2/3 cup) Organic whole-wheat flour
1 Tablespoon baking powder
A Pinch of salt
50g (1/4 cup) Organic dark chocolate chunks
Instructions
Preheat the oven to 175 degrees C (350 degrees F).
Line a muffin tray with muffin paper cases, or if you prefer not to use muffin paper cases then lightly grease the muffin tray with olive oil or tahini sauce and set aside.
In a large bowl beat the eggs with a hand mixer. Add the sugar and continue mixing until dissolved. Then mix in the olive oil, the almond milk and the orange blossom water.
Add in the flours, the baking powder and a pinch of salt and mix it all well until just combined.
Fill the muffin cases with the muffin batter ¾ full. Add over their top the dark chocolate chunks.
Bake in the middle of the oven for 15-16 min at 175 degrees C (350 degrees F).
Remove from the oven and leave to cool.