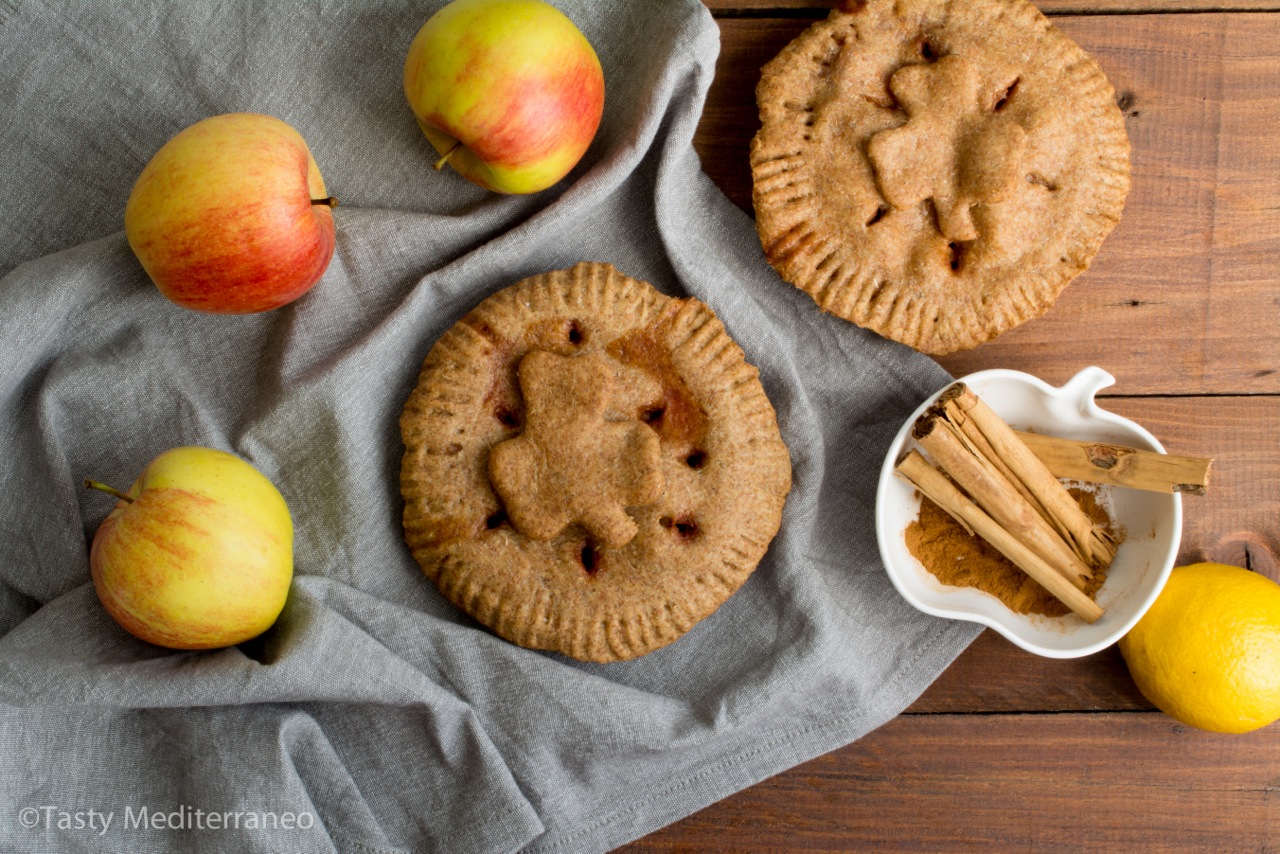 As you may already know carbohydrates (carbs), proteins and fats are the three macronutrients that together constitute 95% or more by weight of the human diet (apart from water).
Very often carbs get a very bad reputation when it comes to weight gain. This is why it is very important to distinguish between what I would call "good natural carbs" and "bad refined carbs".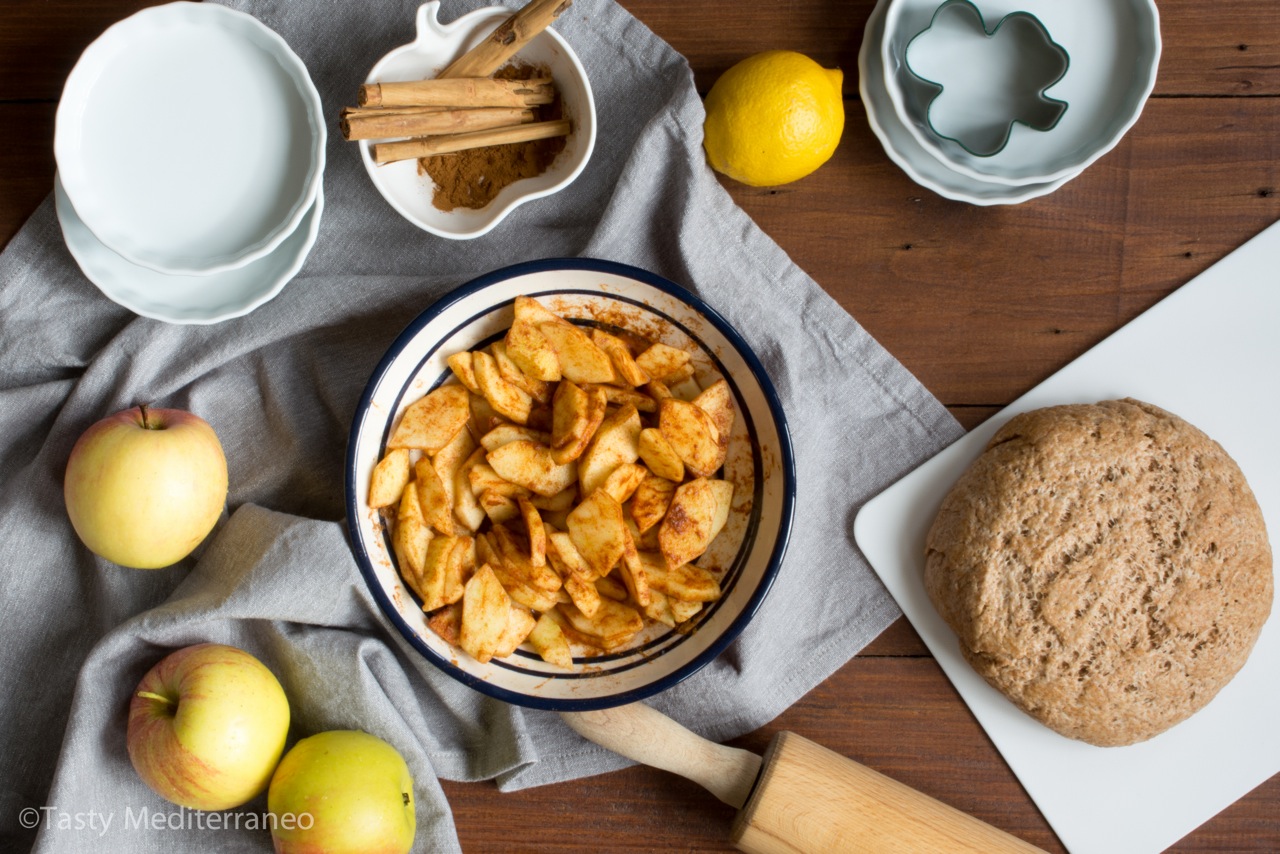 Carbs are found almost exclusively in plant foods and are of three main types: sugars, starches and fibres. The body uses carbs as its main fuel source. They are vital to our health as they provide us with energy.
If we choose good natural carbs that are full of fibre such as: beans and legumes, fruits, vegetables and whole grains they will provide us with many important nutrients that are essentials for a healthy and balanced diet.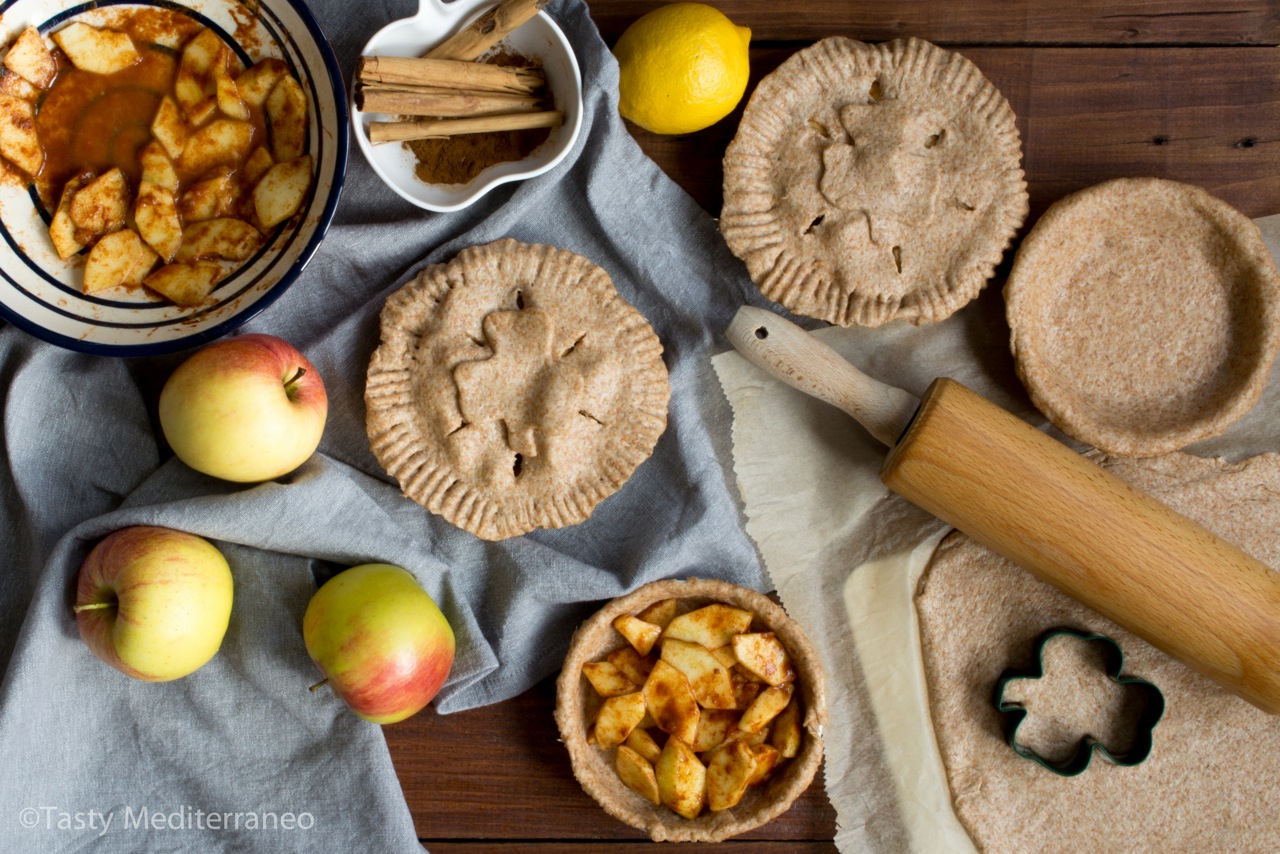 But if we choose refined and processed carbs and added sugars, we will not be adding any of the necessary fibre or the nutrients to our diet, only the calories!
For my vegan apple pie cake with spelt & EVOO crust I choose the good natural carbs. I use whole meal spelt flour that is high in fibre and essential nutrients like zinc and iron. And since the Irish apples I use are quite sweet, I do not have to add any sugar.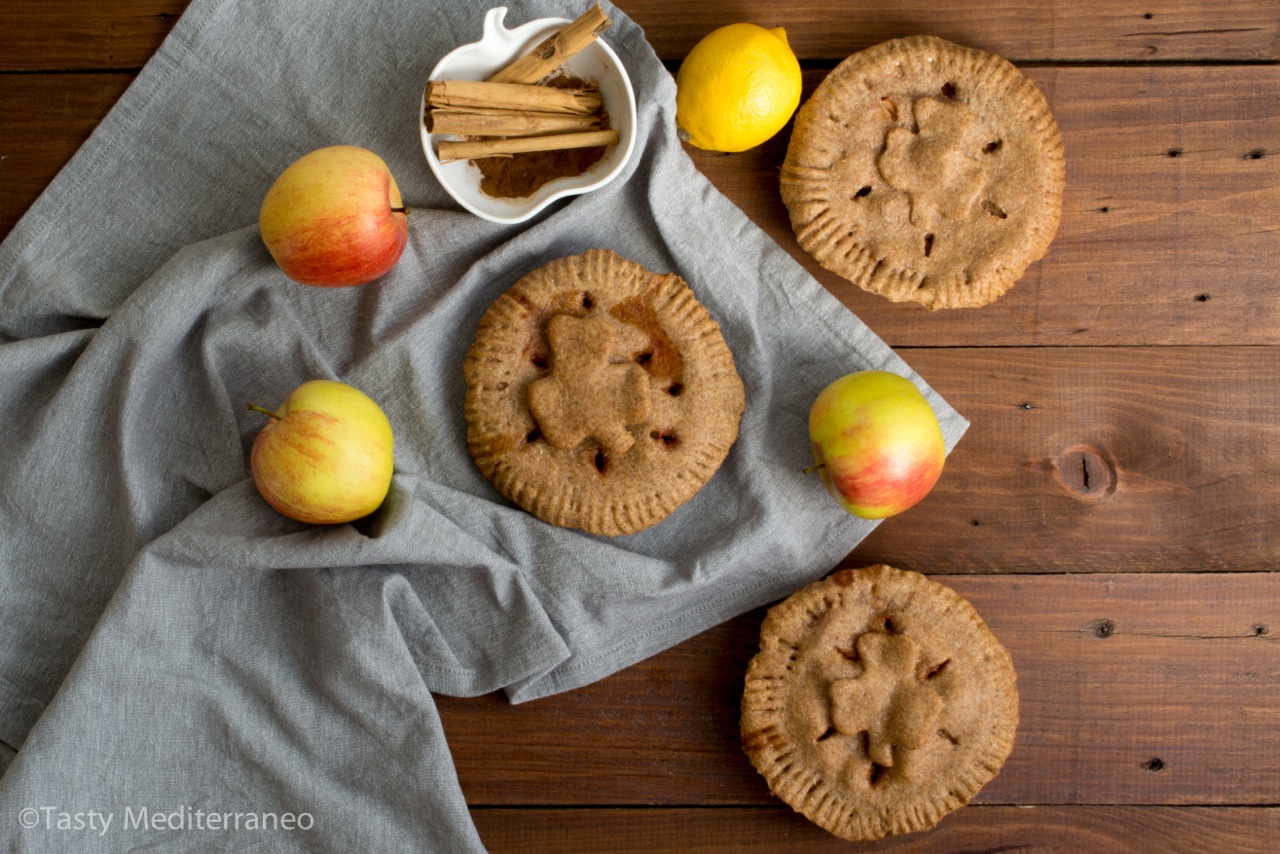 I wish all my Irish friends happy St. Patrick's celebrations!
If you try this tasty and healthy vegan Mediterranean diet recipe of Irish apple pie with spelt & EVOO crust, please let me know, leave a comment and rate it. I would love to know what you come up with. Enjoy!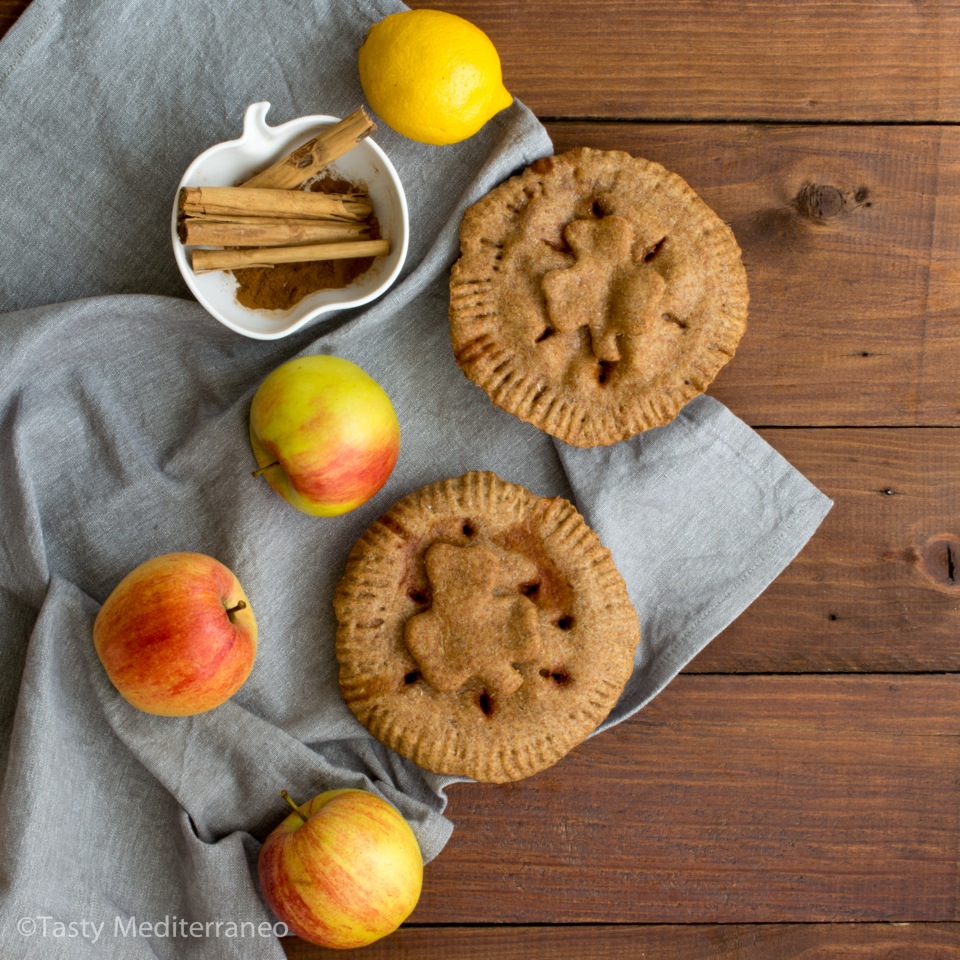 Vegan Irish apple pies with spelt & EVOO crust
Author:
Margarita @ Tasty Mediterraneo
Cuisine:
Mediterranean Diet
Ingredients
For the apple pie filling:
4 Organic apples, cored, peeled and cut into small pieces
The juice of 1 lemon freshly squeezed
1 Teaspoon organic cinnamon powder
For the pie crust:
300g (2 ½ cups) Wholemeal spelt flour
75ml (2.7 fl oz) Extra virgin olive oil (EVOO)
150ml (5.4 fl oz) Warm water
1 Teaspoon yeast powder
Instructions
For the apple pie filling:
Have the ingredients prepared as indicated in the ingredients description.
Mix the small pieces of apple, the lemon juice and the cinnamon powder in one bowl and set aside while preparing the crust.
For the pie crust:
In a big bowl combine the flour and the yeast powder. Make a well in the middle and pour into it the olive oil and the warm water. With a silicon spatula bring the flour in from the sides and mix it well with the liquid. Keep mixing until it all starts to come together, and then keep on mixing with your clean hands and knead it until you have a smooth, not sticky, dough.
Cover the bowl with a cloth and place in a warm place of the house for at least half an hour until the dough has doubled its volume.
Remove the dough from the bowl and place it in a clean flour-dusted surface. Knead it a bit with your hands and, with the help of a rolling pin (lightly dusted in flour), extend it gradually flattening it out. Divide the flattened dough in 8 equal round portions (that fit the baking dishes).
For the final preparation
Preheat the oven to 175 degrees C (350 degrees F).
Lightly grease 4 individual baking dishes or ramekins with olive oil and line each of them with a portion of the flattened dough.
Pat the apples dry of any excess of the lemon juice. Divide in 4 portions and pile each of the portions high into the dough-lined dishes.
Brush a little water around the dough rims and lay the dough lids over the apples of each of the individual baking dishes, pressing the edges together to seal. Trim the edge with a sharp knife and cut slashes so that steam can escape.
Bake in the middle of the oven for about 20 min at 175 degrees C (350 degrees F) until golden and the juice begins to bubble through the slashes in the crust. Serve warm.
Notes
The Irish apples I used are quite sweet and I did not have to add any sugar. If you have a sweet tooth, or if the apple variety you use is not sweet enough, you could add to the apple pie filling some honey or for a vegan option some natural organic maple or agave syrup.