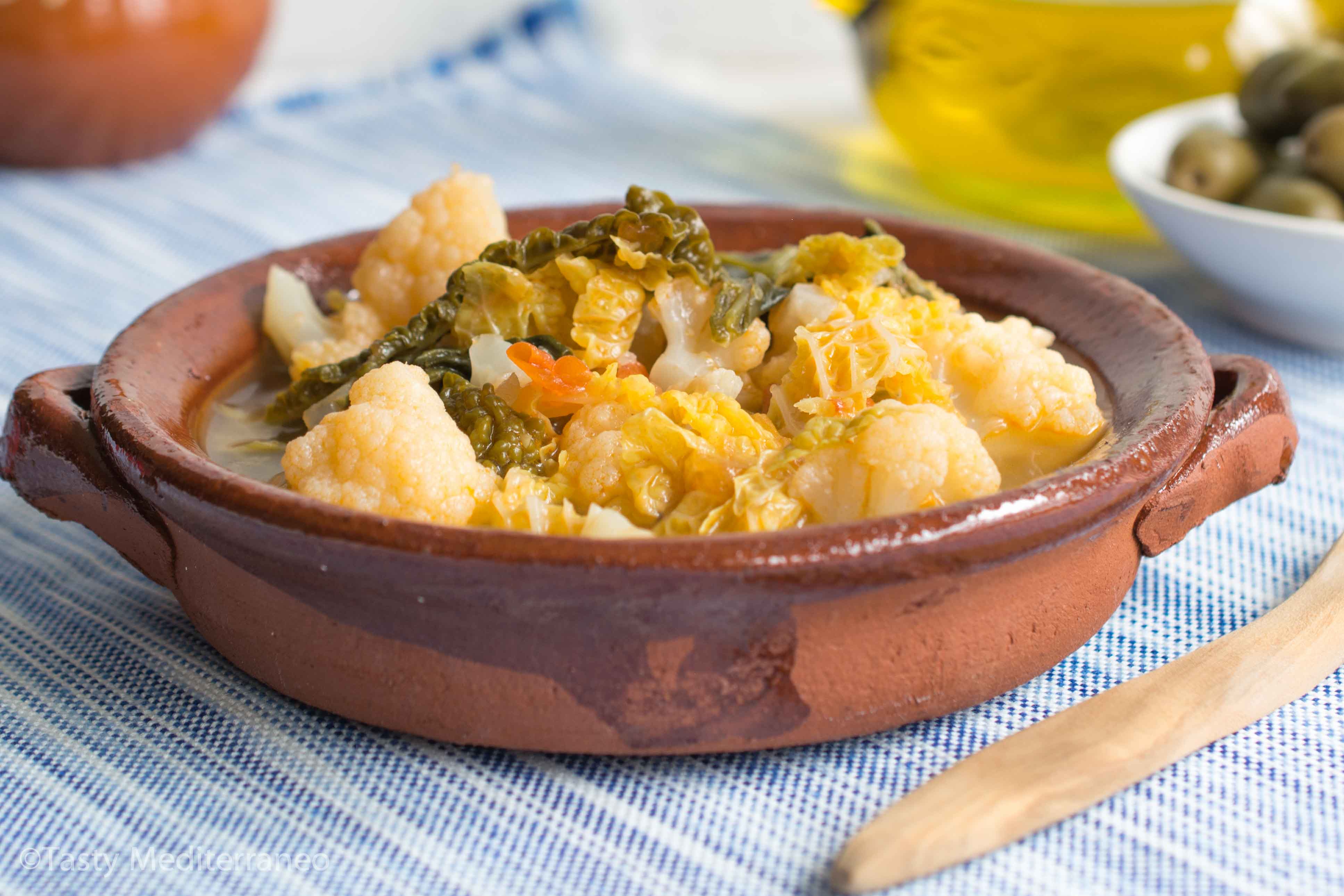 It is amazing how the taste, smell and texture of food can be so evocative and bring back childhood memories! Every time I have this dish of "Sopas Mallorquinas", Majorcan soup with vegetables and bread, my memory brings me back to my grandparents' and the quality time with my family in Majorca.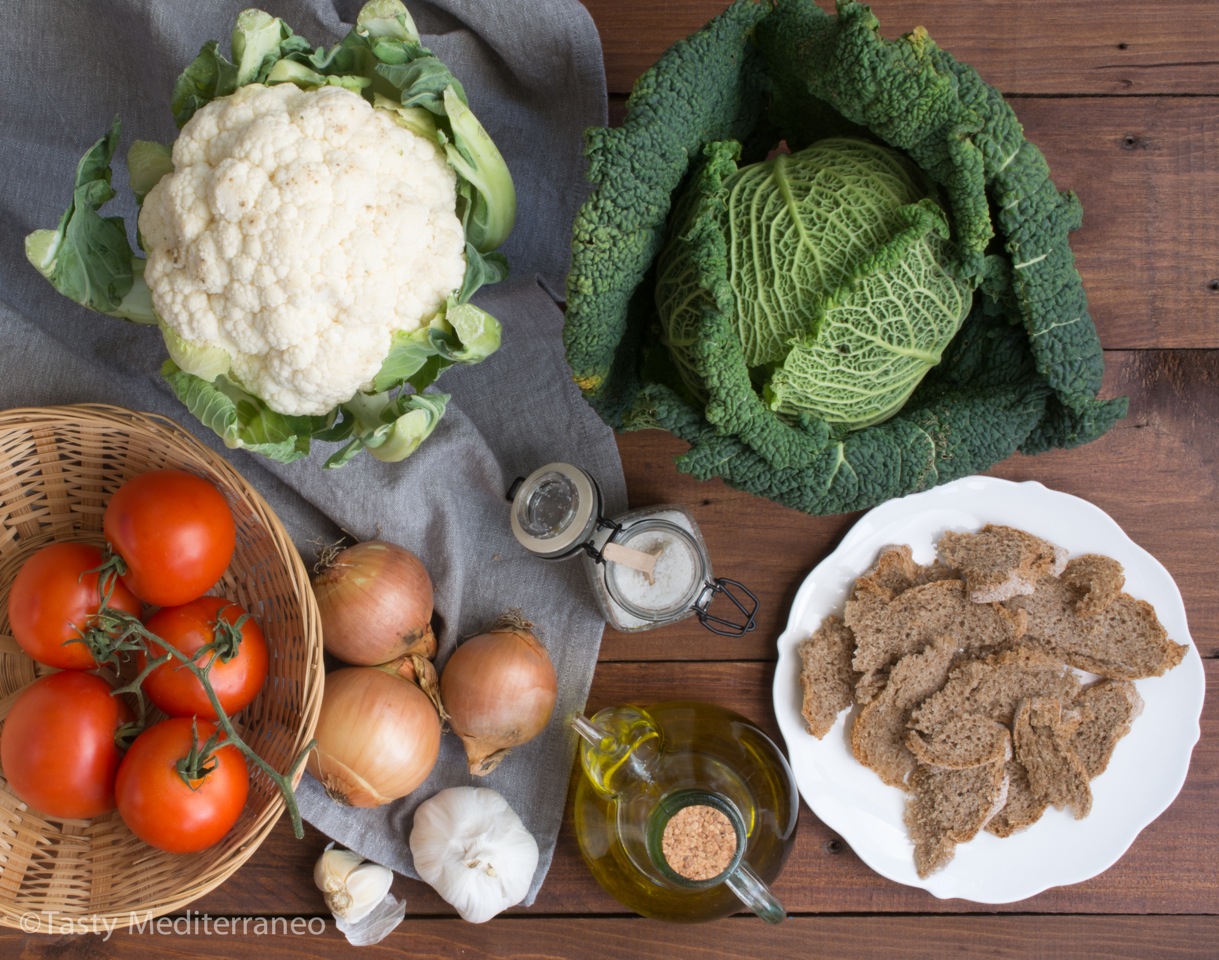 The ingredients in the "Majorcan Soup" are highly nutritious. Two of the main vegetables in this recipe are cabbage and cauliflower. As you know these vegetables are part of the Brassica family (also called cruciferous vegetables) that is well known for its disease fighting compounds.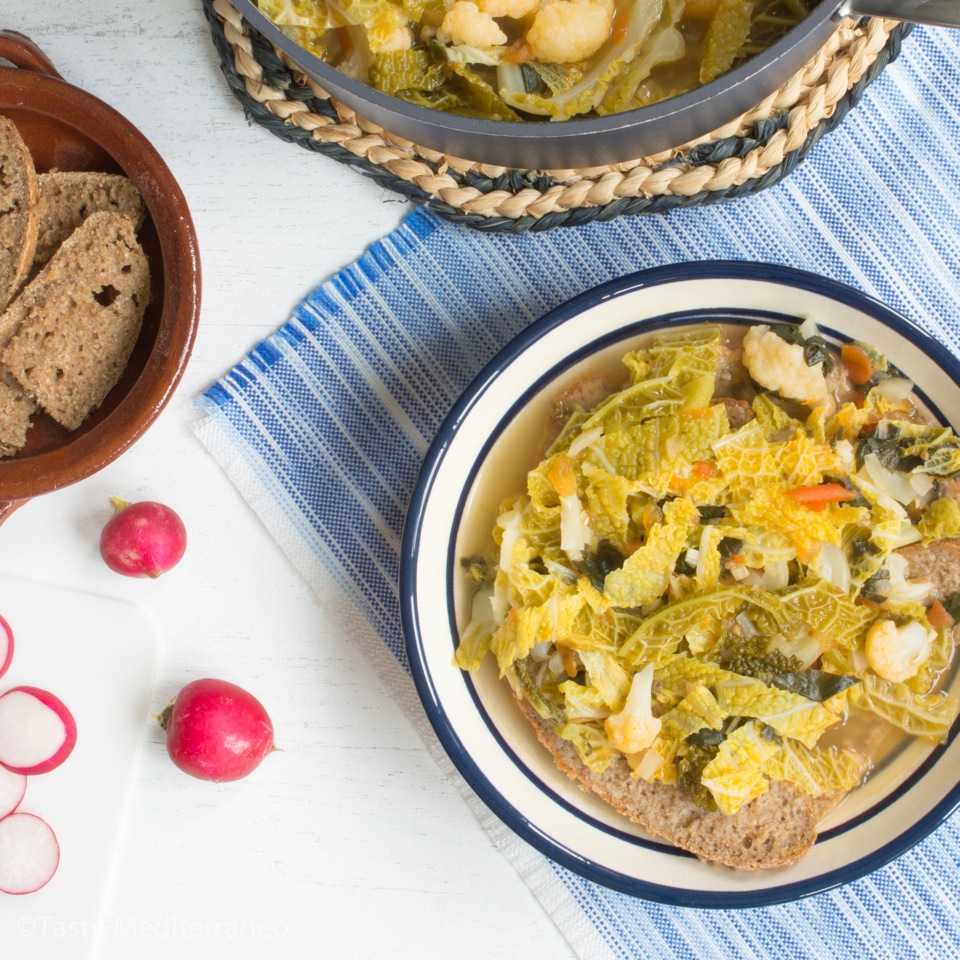 Cabbage and cauliflower are considered as super foods since they have always been credited with many medicinal properties. They are rich in antioxidants, anti-inflammatory compounds, fibre, folates, vitamin A, vitamin C, vitamin K, vitamin B6, calcium, magnesium, manganese …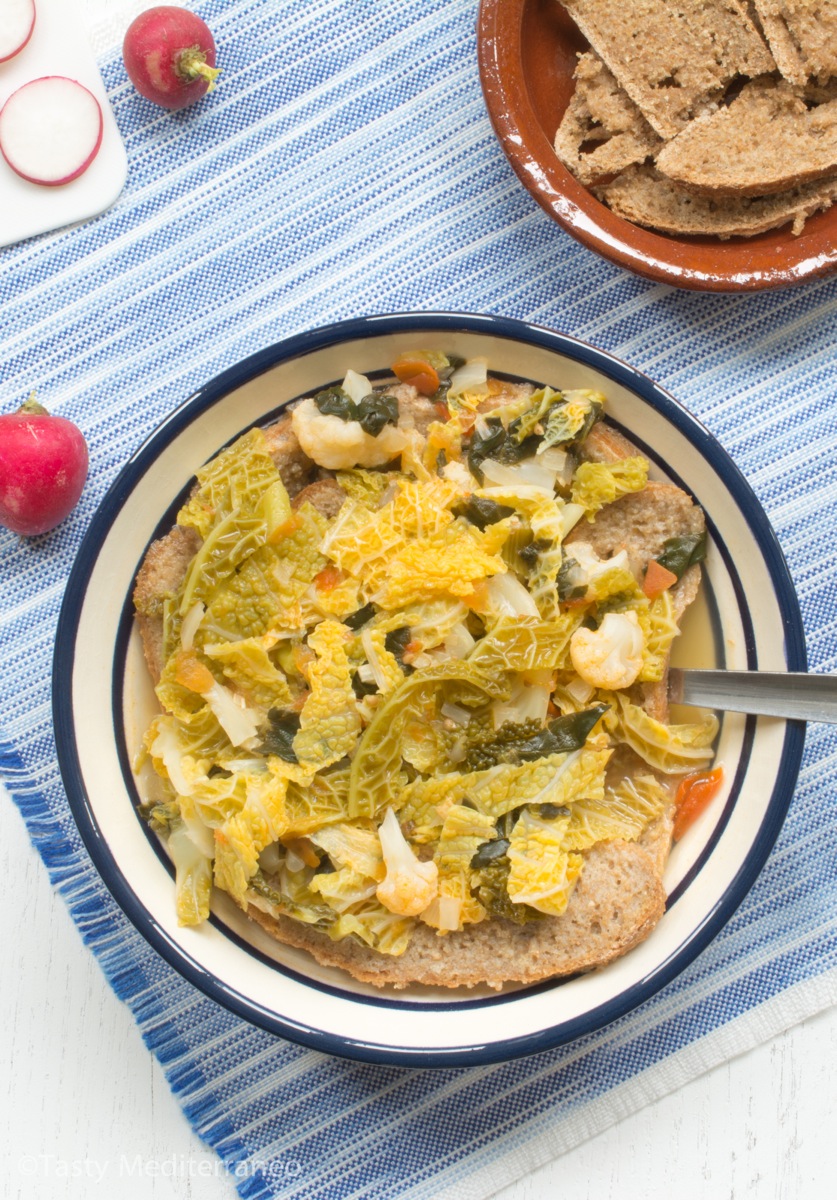 Given the fact that oxidative stress and chronic inflammation are risk factors for cancer, the antioxidant and anti-inflammatory richness of brassica vegetables in a healthy and balanced diet help to keep you at a lower risk for cancer and other chronic diseases.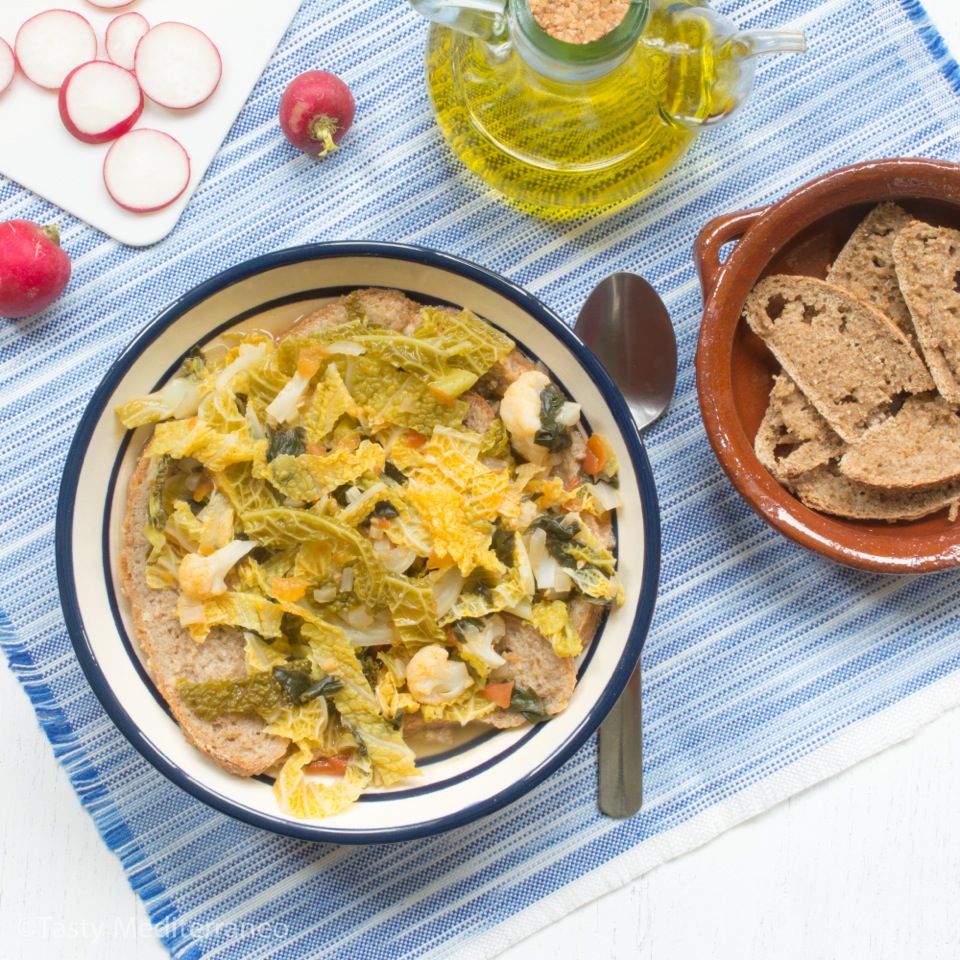 This nutritious recipe is ready in less than 30 minutes. As I always say, healthy eating and cooking can fit in a busy lifestyle!
If you try this tasty, healthy and highly nutritious vegan Mediterranean diet recipe of "Majorcan Soup" please let me know, leave a comment and rate it. I would love to know what you come up with. Enjoy!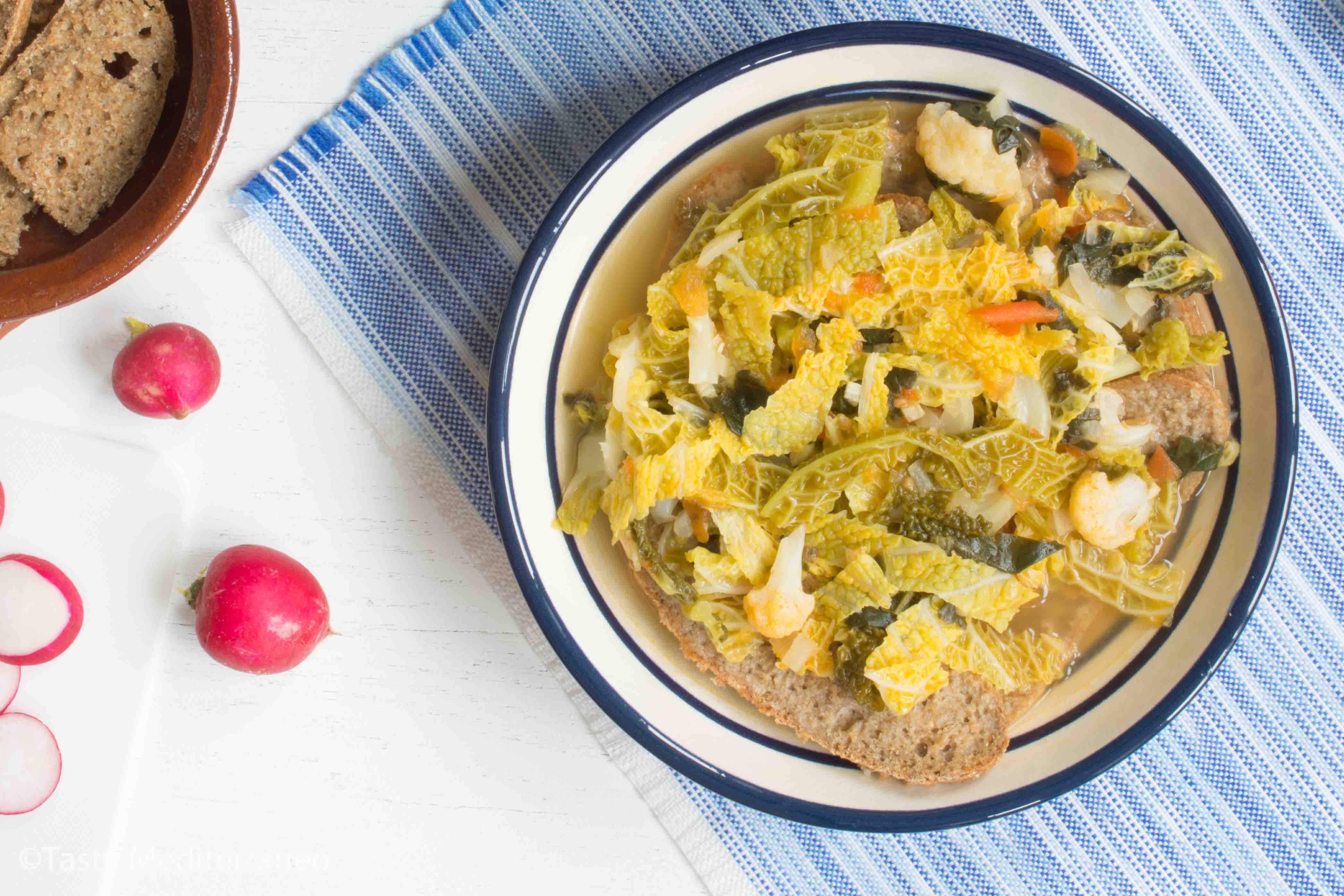 Majorcan Soup
Author:
Margarita @ Tasty Mediterraneo
Cuisine:
Mediterranean Diet
Ingredients
3 Tablespoons Extra Virgin Olive Oil (EVOO)
2 Garlic cloves, peeled and thinly chopped
1 Onion, peeled and thinly chopped
3 Medium fresh tomatoes, finely chopped
1 Teaspoon smoked Spanish paprika sweet
15g (a very small bunch) of fresh parsley leaves, thinly chopped
1 Small savoy cabbage head, thinly sliced
½ Cauliflower head cut in very small pieces (or 1 head if small)
115g (1/2 cup) Fresh spinach (or chard), finely chopped (thick stems removed)
1 Tablespoon sea salt
A pinch of freshly ground black pepper
1 ½ l (6 cups) Water
¼ Wholemeal country bread, very thinly sliced
Instructions
Have all the vegetables well washed and prepared as indicated in the ingredients description.
Heat 2 tablespoons EVOO in a large saucepan over medium heat. Add the garlic and sauté for around 1 minute until golden. Add then the onion and a pinch of salt and cook for a couple of minutes until soft but not brown. Add the finely chopped tomatoes, the thinly chopped parsley and the smoked paprika on top and sauté for 2 minutes stirring constantly.
Add the water and bring to a boil. Then reduce the heat to medium, add the thinly sliced cabbage, the cauliflower and the spinach and cook all together for about 5 minutes. Add salt and freshly ground black pepper to taste.
Add 3-4 slices of the thinly sliced wholemeal bread into each plate, pour the vegetable soup over them and serve hot with a drizzle of EVOO.