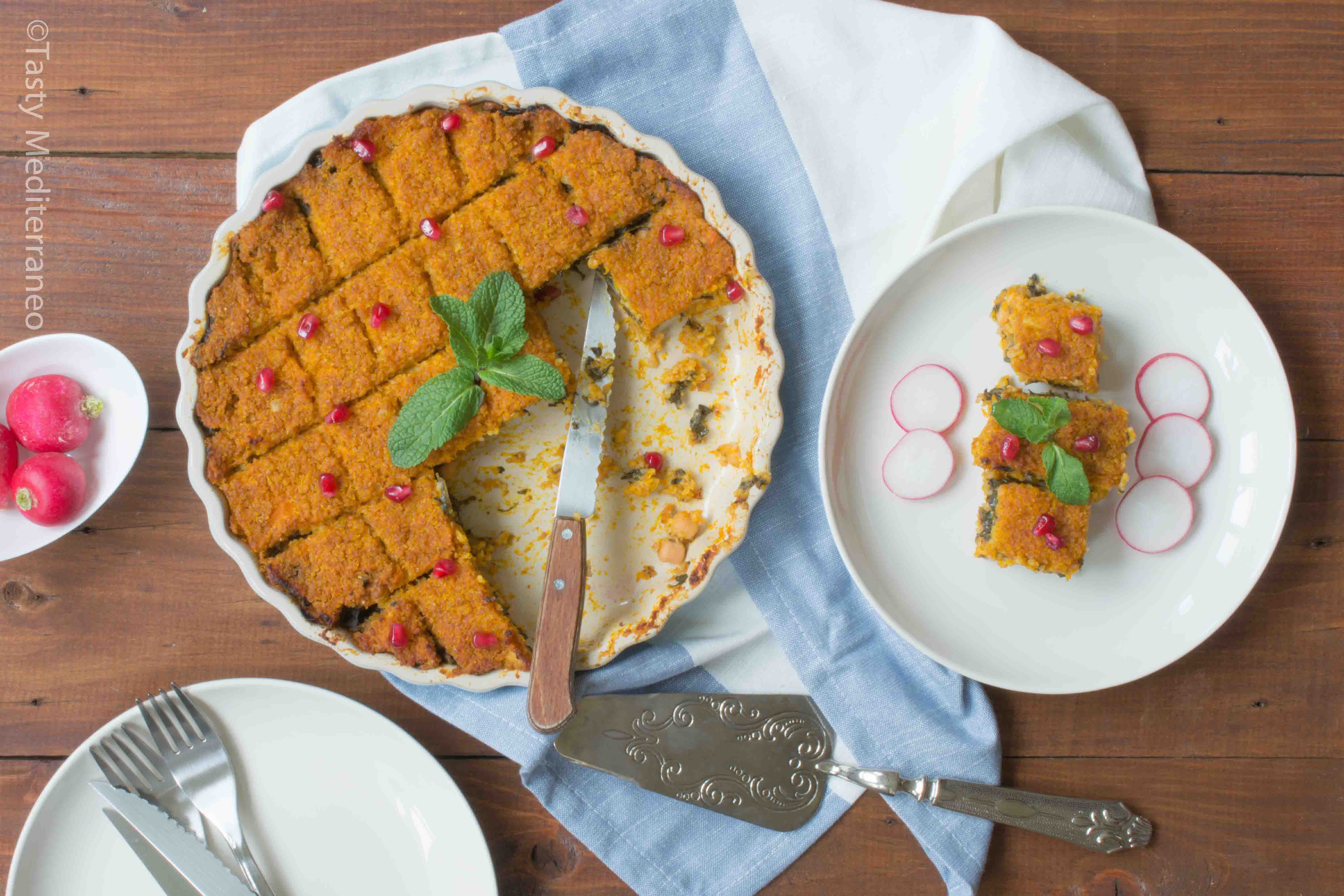 This week all newspapers have been talking about the new research findings that show evidence that increasing fruit and vegetable consumption as part of a healthful diet may improve psychological well-being and help reduce the risk of obesity, heart disease, stroke, type 2 diabetes and even some type of cancers.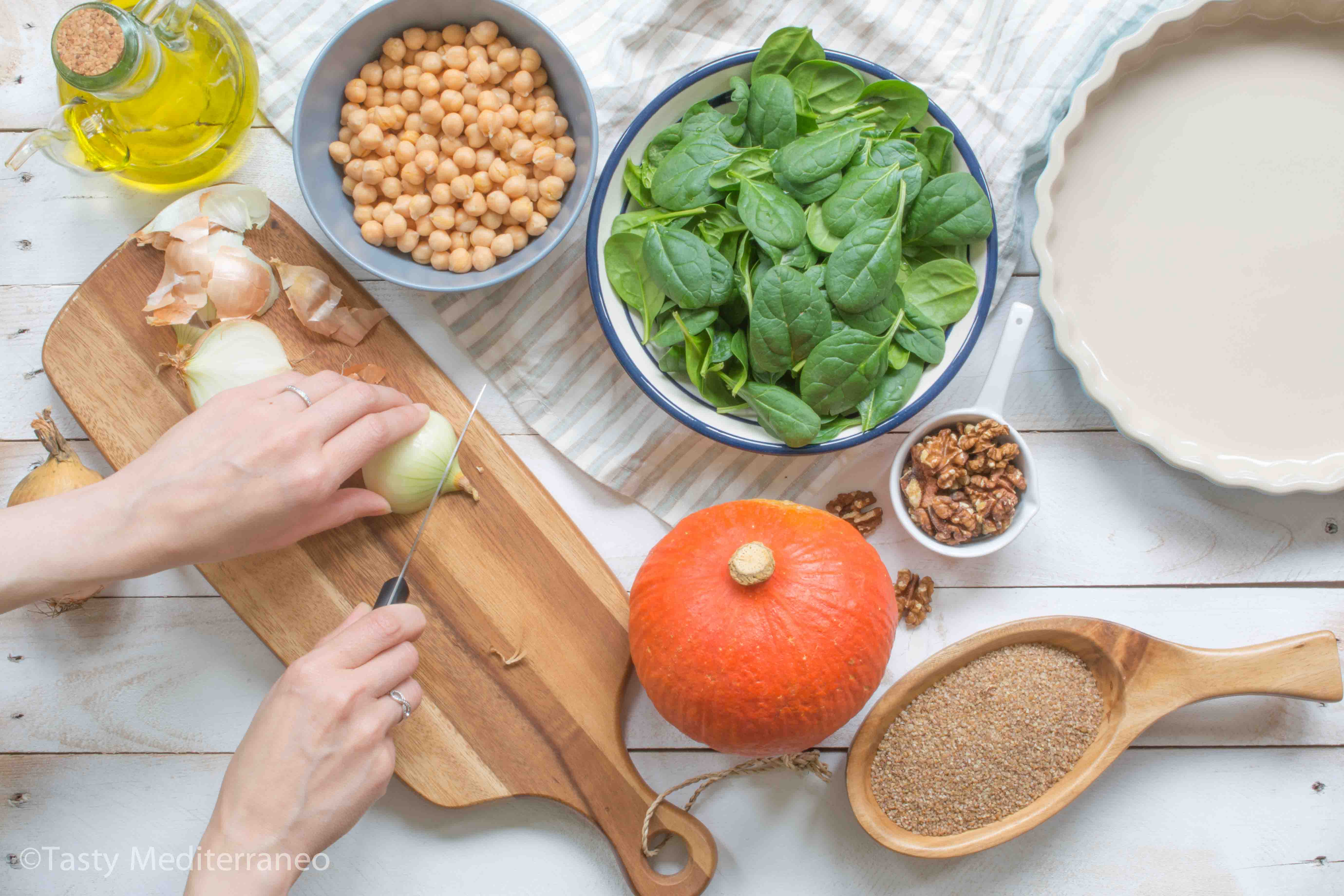 The current nutrition guidelines recommend eating around 5 portions of fruits and vegetables a day for good health, but according to this new study it is clear that a higher intake of fruits and vegetables has tremendous health benefits and people should try to increase their intake in their diet.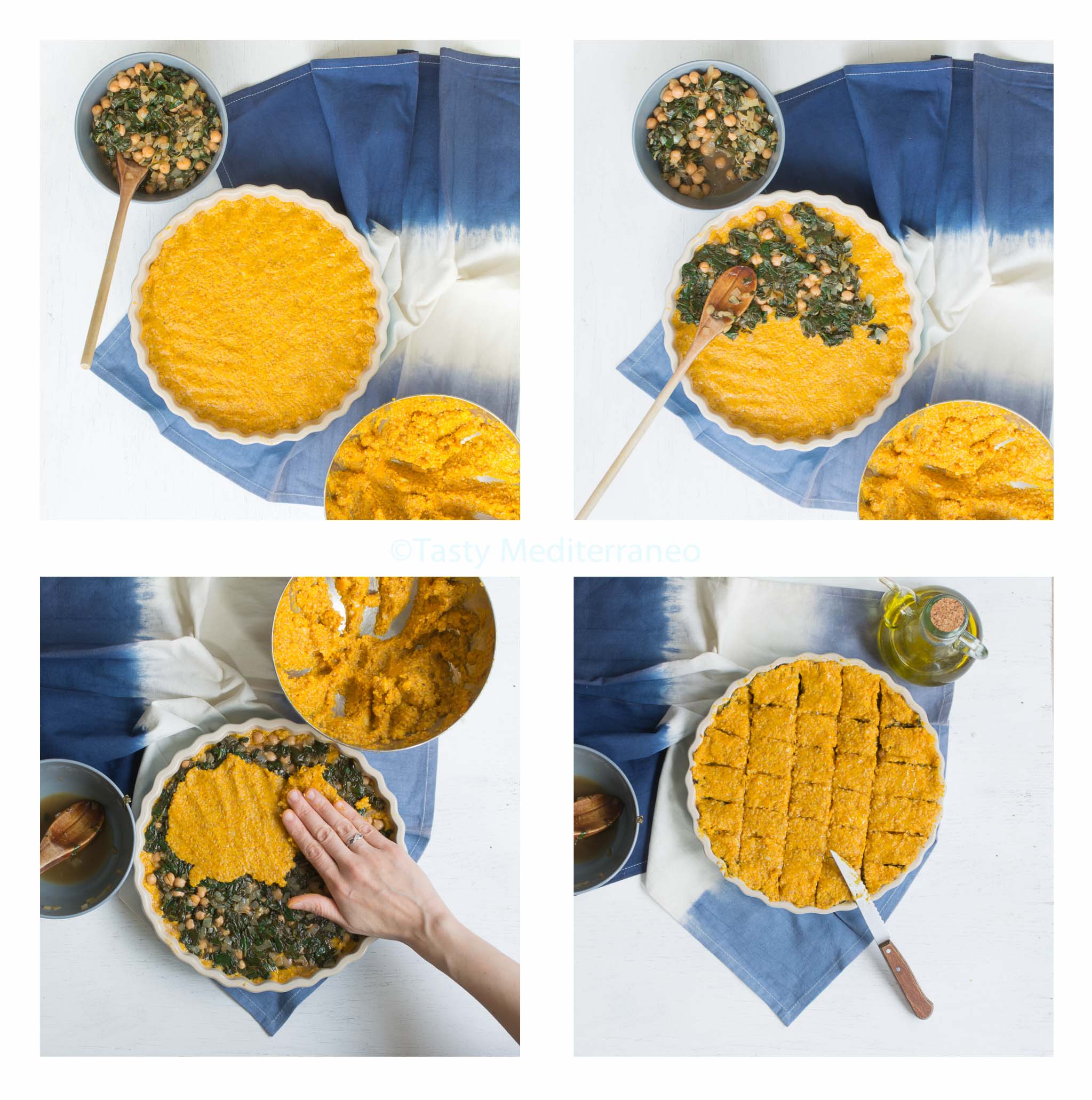 If you are still struggling with finding ways to add more fruits and vegetables to your diet, you are in the right place. On my blog you can find plenty of healthy vegetarian and vegan recipes from the Mediterranean diet where fruits, vegetables and legumes are abundant.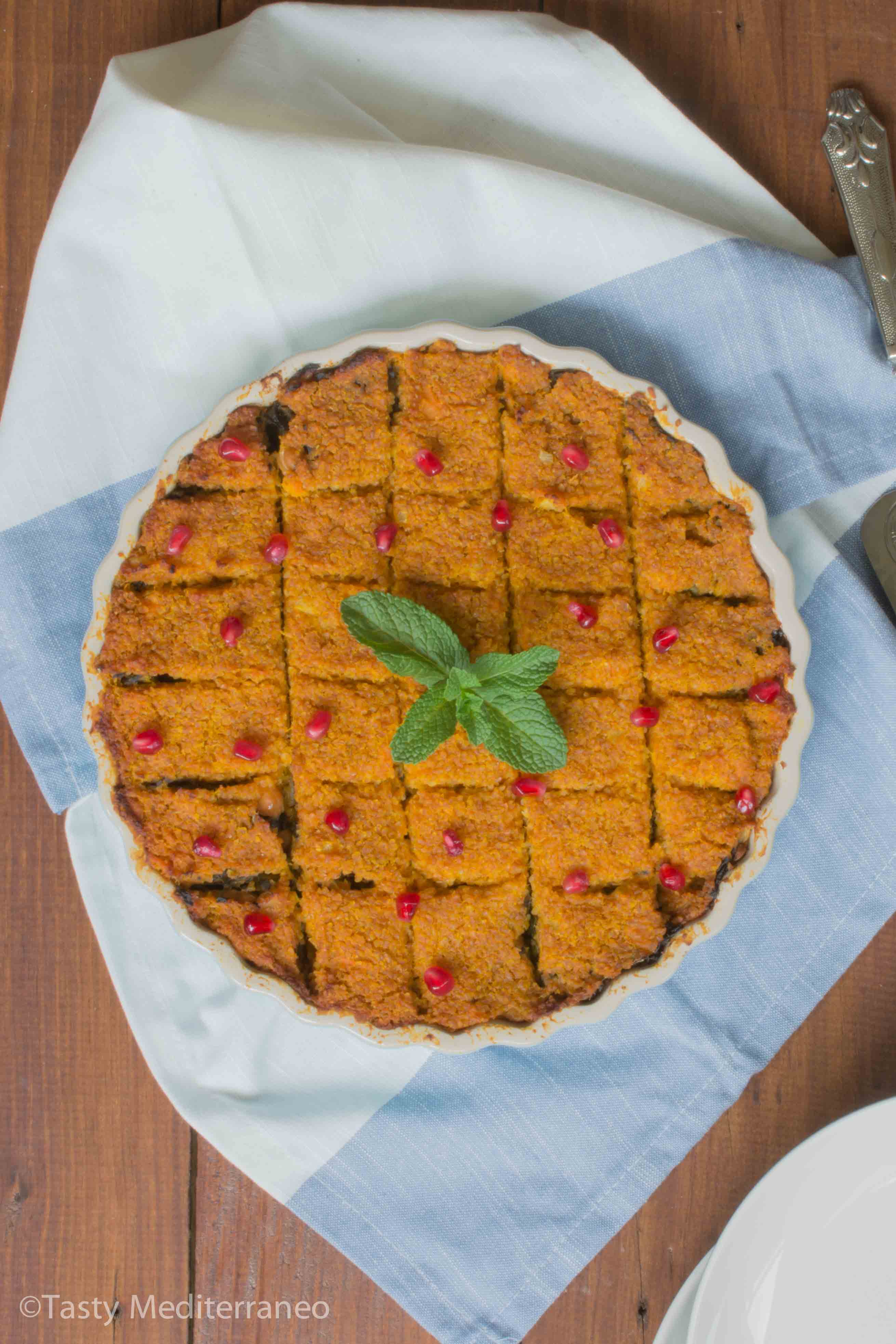 Today I share with you a delicious and highly nutritious Lebanese recipe: "Pumpkin Kibbeh" that has as main ingredients: pumpkin, spinach, chickpeas and bulgur.
Pumpkin is rich in vitamin A, vitamin C and vitamin E, folates, dietary fiber & minerals like copper, calcium, potassium and phosphorus.
Spinach are an excellent source of dietary fiber, vitamin K, vitamin A, vitamin B2, vitamin B6, vitamin E, vitamin C, manganese, folate, copper, iron, magnesium, calcium, zinc & potassium.
Chickpeas are rich in protein, fiber, manganese, folate, copper, phosphorus, iron & zinc.
Bulgur is rich in dietary fiber, iron, vitamin B6, magnesium and manganese.
These are just 4 of all healthy and natural ingredients included in this delicious and nutritious recipe. A perfect recipe to start adding more vegetables to your diet!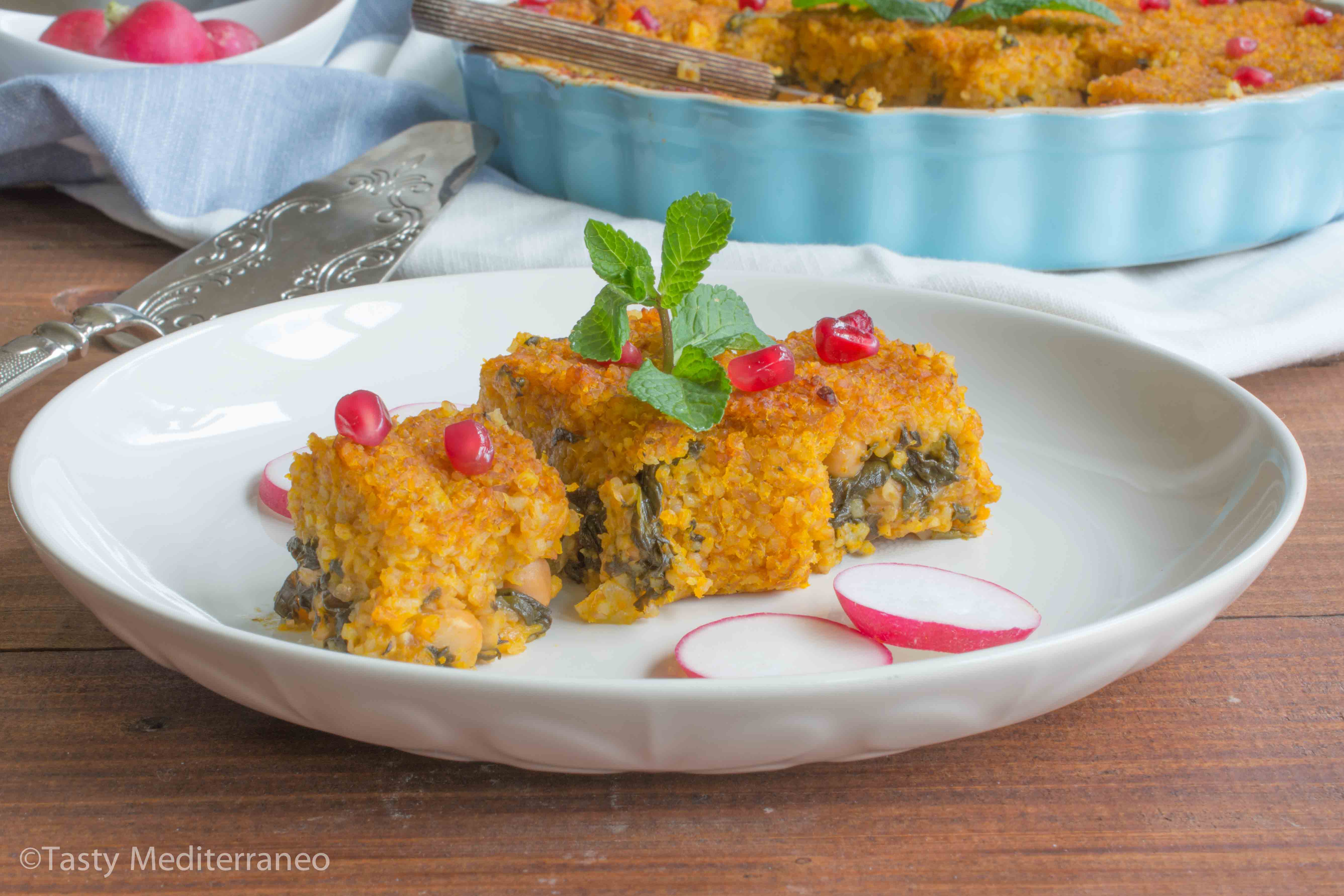 If you try this tasty and healthy vegan Mediterranean diet recipe of "Pumpkin Kibbeh" please let me know, leave a comment and rate it. I would love to know what you come up with. Enjoy!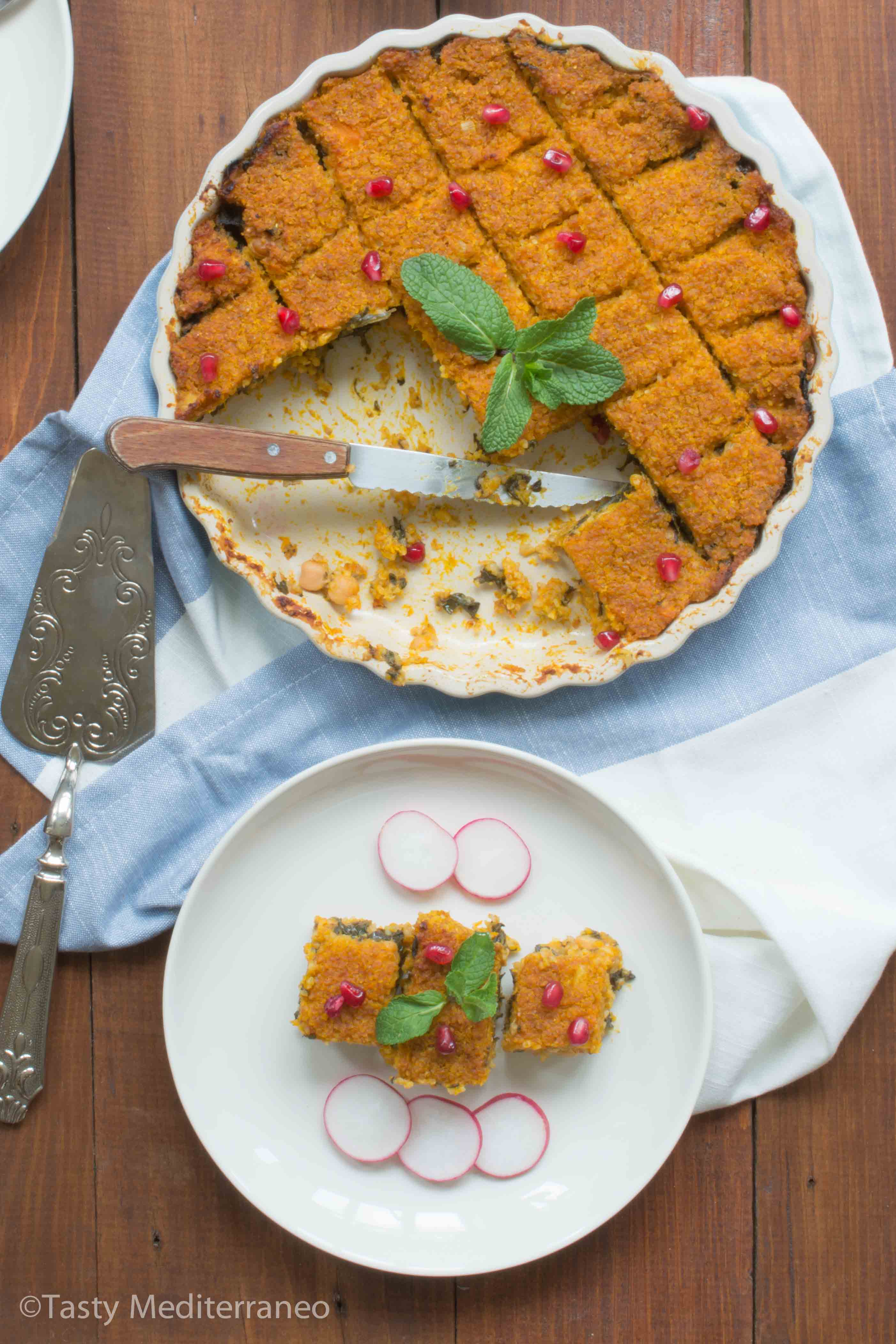 Pumpkin Kibbeh
Author:
Margarita @ Tasty Mediterraneo
Cuisine:
Mediterranean Diet
Ingredients
For the Kibbeh dough
1 Small fresh pumpkin, peeled and diced (Once peeled the pumpkin flesh needed is 500g or 2⅓ cups)
½ Onion, peeled and thinly chopped
180g (1 cup) Organic bulgur
3 Tablespoons organic whole-wheat flour
1 Teaspoon sea salt
A pinch of freshly ground black pepper
2 Tablespoons Extra Virgin Olive Oil (EVOO)
For the filling
1 Tablespoon EVOO
200g (1 cup) Fresh spinach leaves (I like to use baby spinach, but you can use any)
A pinch of salt
2 Medium onions, peeled and thinly chopped
150g (1 cup) Cooked organic chickpeas
50g (½ cup) Raw walnuts, coarsely chopped
2 Tablespoons pomegranate molasses
1 Lemon freshly squeezed
Instructions
For the Kibbeh dough
Have all the vegetables well washed and prepared as indicated in the ingredients description.
Peel the pumpkin and cut it into small cubes (you should use 500g (2⅓ cups) of pumpkin flesh). In a large saucepan, cover the pumpkin with enough water and boil it for 15 minutes or until soft. Drain the pumpkin well but keep the water in which you boiled it, as we will use it for the bulgur.
In a large bowl add the bulgur and pour 2 cups of the pumpkin water over it. Let it soak for 20 minutes. Then drain excess of water if any.
Add the drained bulgur, the ½ onion peeled and thinly chopped and the cooked pumpkin in a large bowl and mix well with your hands. Add the sea salt, the freshly ground black pepper and the flour and mix it all well until perfectly combined. The mixture should become like dough. Depending on how watery your pumpkin is, you may need to add an extra bit of flour.
For the filling
While the bulgur is soaking, wash well the spinach, remove the stems from the spinach leaves and tear the leaves into pieces.
In a frying pan add 1 tablespoon EVOO, the chopped onions and a pinch of salt and sauté for 2-3 minutes until golden. Add then the spinach, the cooked organic chickpeas, the walnuts, the pomegranate sauce and the lemon juice and allow it to cook at low temperature until the juice is consumed, for about 5 minutes.
Remove from the heat, allow it to cool and drain any rest of liquid.
For the final preparation
Preheat the oven to 175 degrees C (350 degrees F).
Lightly grease a non-stick baking tray with olive oil.
Divide the dough in 2 parts. Knead the first part well spreading it evenly on the baking tray. Once the 1st part of dough is covering the baking tray, add the filling on top. Then lay evenly the 2nd part of dough over the filling, flattening it with your hands, until the entire surface is covered. (See the photography of the steps)
Use a knife to decorate the kibbeh surface with square-shaped cuts. And spread over the surface 2 tablespoons EVOO.
Bake in the middle of the oven for 35-40 min at 175 degrees C (350 degrees F) until golden.
Remove from the oven and serve hot.
Notes
You can serve the pumpkin kibbeh with some pomegranate seeds, fresh mint, radish and lettuce.