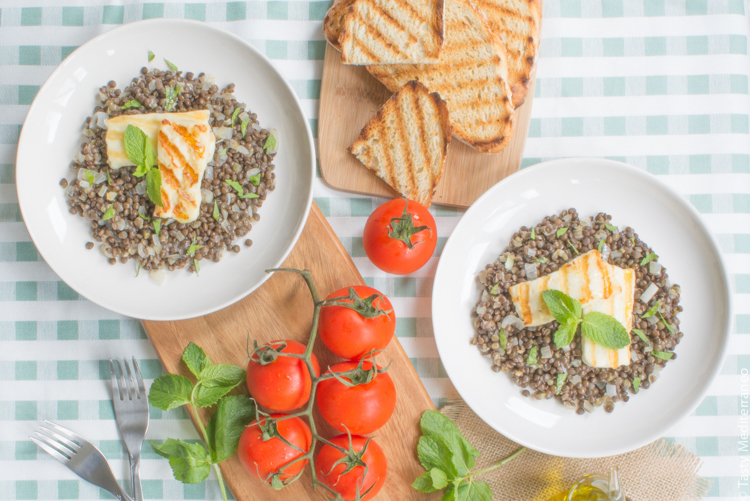 As many of you already know, legumes are a staple of the Mediterranean diet. They are good sources of proteins, amino acids, fibre, iron, B group vitamins and other nutrients that help prevent cancer, diabetes and heart diseases.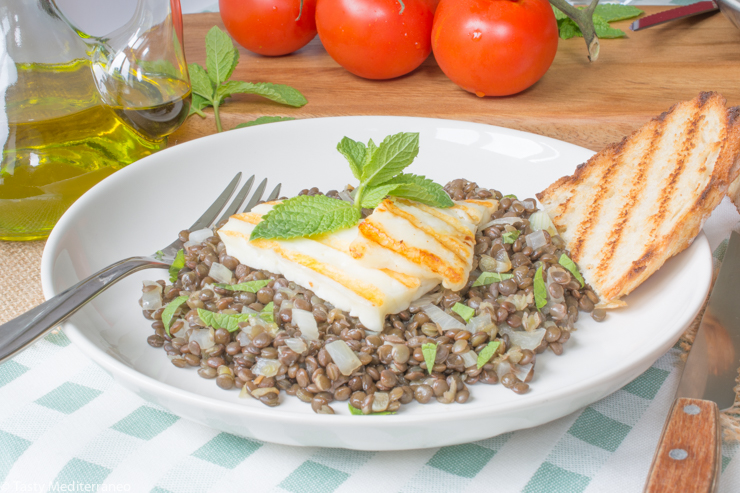 Pulses are part of the legume family, but when we talk about pulses we refer only to the dried seed. Pulses are low in fat, contain no cholesterol and so it is recommended to eat them as part of a healthy diet and to address obesity problems. Pulses are a very affordable and a great source of protein and minerals, which makes them a great plant-based protein option for vegetarians and vegans. They are a perfect addition to all sorts of dishes including soups and stews.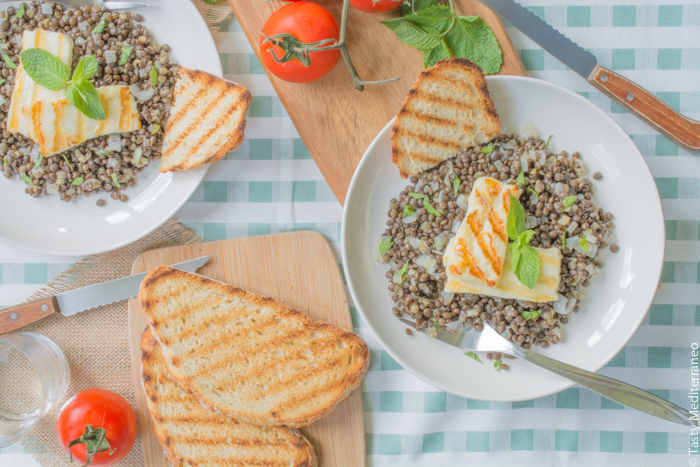 The United Nations declared 2016 the International Year of Pulses (IYP) #IYP2016. This aims to create awareness of the nutritional benefits of pulses as part of sustainable food production.
Those of you who are regular followers of my blog already know that I am proud to be a contributor to the IYP of the FAO (Food and Agriculture Organization) of the United Nations. A few of my pulses recipes have already been featured on the FAO website. If you are curious about my recipes' contributions you can find out more by clicking on the "More" page that is accessible from the main menu.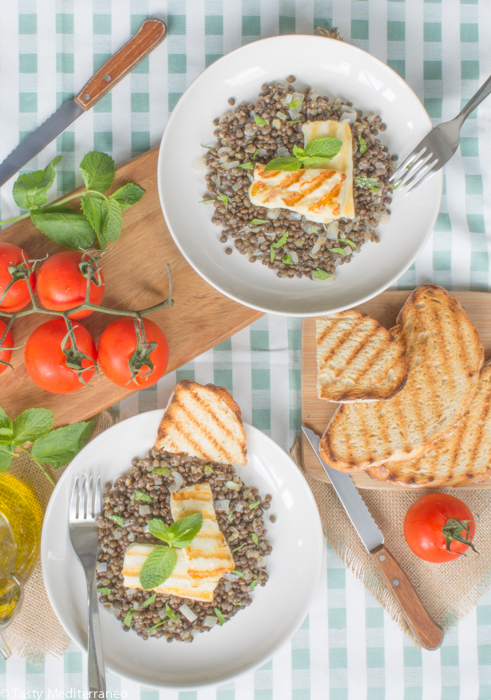 Lentils and chickpeas are my favourite types of pulses! They are very nutritious, they are available throughout the year and they can be stored for a long time.
Lentils in particular are relatively quick and easy to prepare that is why you can see them in many of my recipes: "Red lentil soup", "Rishta: Lebanese lentil soup", "Mediterranean lentil soup with vegetables", "Lentil and raspberry salad", "Lentil, rice and vegetables soup"…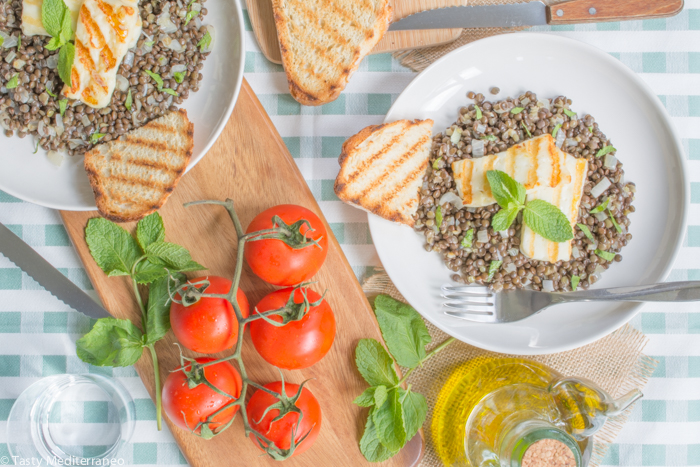 Today I share with you a new lentils recipe that we love at home; it is a healthy and super tasty Mediterranean recipe of beluga lentils with halloumi cheese and fresh mint. It comes together in less than 30 minutes what makes this recipe a perfect meal for weekdays.
You can serve it cold in summer or warm in winter, it is a great all year round healthy and delicious meal!
If you try this tasty and healthy vegetarian Mediterranean diet recipe of beluga lentil with halloumi cheese and fresh mint please let me know, leave a comment and rate it. I would love to know what you come up with. Enjoy!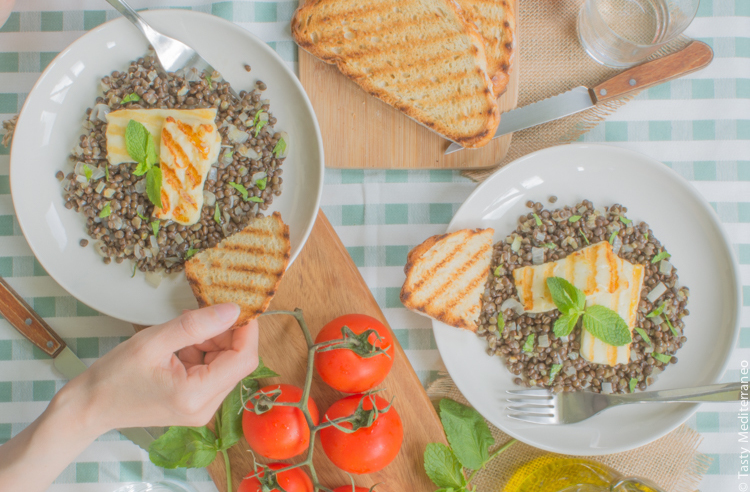 Beluga lentils with grilled halloumi & mint
Author:
Margarita @ Tasty Mediterraneo
Cuisine:
Mediterranean Diet
Ingredients
200g (1 cup) Organic beluga lentils (it works well with brown or Puy lentils too)
1 Onion, thinly diced
3 Garlic cloves, thinly diced
Fresh mint leaves thinly cut (leave a few leaves to decorate)
1 Halloumi cheese, cut in slices
4 Tablespoons Extra Virgin Olive Oil (EVOO)
1 Teaspoon sea salt (or salt to taste)
Freshly grounded black pepper (right before serving)
Instructions
Lentils do not require pre-soaking. Just make sure there are no little pebble in between, rinse them very well with cold water and drain. Add them in a pot with enough water to have them well covered and a pinch of salt. Bring them to a boil and then reduce the heat to simmer for 20 minutes. At this point you should try them to make sure they are already cooked and al dente. You may want to boil them for a couple of extra minutes but be careful to not overcook them.
While the lentils are cooking, in a large frying pan add olive oil (2 tablespoons), add the garlic and sauté for 1 minute until lightly golden. Add then the thinly diced onion and a pinch of salt and sauté at medium heat for a couple of minutes until soft. Remove from the heat
Once the lentils are ready, remove them from the heat, pour them into a fine sieve to remove the liquid and once drained place them in the frying pan with the garlic and onion. Add the few thinly sliced fresh mint leaves, 2 tablespoons EVOO, salt to taste and mix it all well.
In a hot grill-pan grill the halloumi cheese on both sides.
Serve the lentils mix warm (or allow it to cool during summer) with a couple of grilled halloumi cheese slices on top per person and sprinkle a bit of freshly grounded black pepper.
Notes
For a Vegan option you could replace the grilled halloumi cheese with grilled tofu.