Beluga lentils with grilled halloumi & mint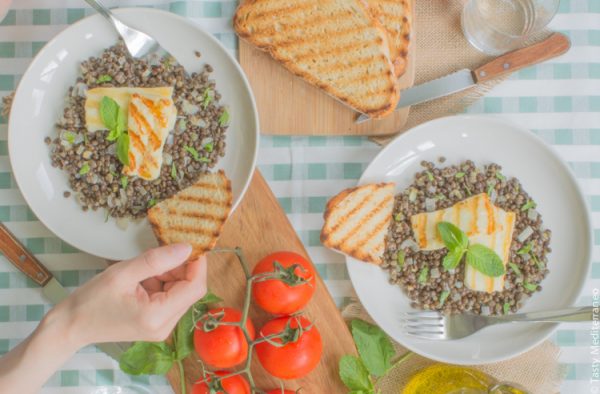 Author:
Margarita @ Tasty Mediterraneo
Cuisine:
Mediterranean Diet
200g (1 cup) Organic beluga lentils (it works well with brown or Puy lentils too)
1 Onion, thinly diced
3 Garlic cloves, thinly diced
Fresh mint leaves thinly cut (leave a few leaves to decorate)
1 Halloumi cheese, cut in slices
4 Tablespoons Extra Virgin Olive Oil (EVOO)
1 Teaspoon sea salt (or salt to taste)
Freshly grounded black pepper (right before serving)
Lentils do not require pre-soaking. Just make sure there are no little pebble in between, rinse them very well with cold water and drain. Add them in a pot with enough water to have them well covered and a pinch of salt. Bring them to a boil and then reduce the heat to simmer for 20 minutes. At this point you should try them to make sure they are already cooked and al dente. You may want to boil them for a couple of extra minutes but be careful to not overcook them.
While the lentils are cooking, in a large frying pan add olive oil (2 tablespoons), add the garlic and sauté for 1 minute until lightly golden. Add then the thinly diced onion and a pinch of salt and sauté at medium heat for a couple of minutes until soft. Remove from the heat
Once the lentils are ready, remove them from the heat, pour them into a fine sieve to remove the liquid and once drained place them in the frying pan with the garlic and onion. Add the few thinly sliced fresh mint leaves, 2 tablespoons EVOO, salt to taste and mix it all well.
In a hot grill-pan grill the halloumi cheese on both sides.
Serve the lentils mix warm (or allow it to cool during summer) with a couple of grilled halloumi cheese slices on top per person and sprinkle a bit of freshly grounded black pepper.
For a Vegan option you could replace the grilled halloumi cheese with grilled tofu.
Recipe by
Tasty Mediterraneo
at https://www.tastymediterraneo.com/beluga-lentils-with-grilled-halloumi-mint/