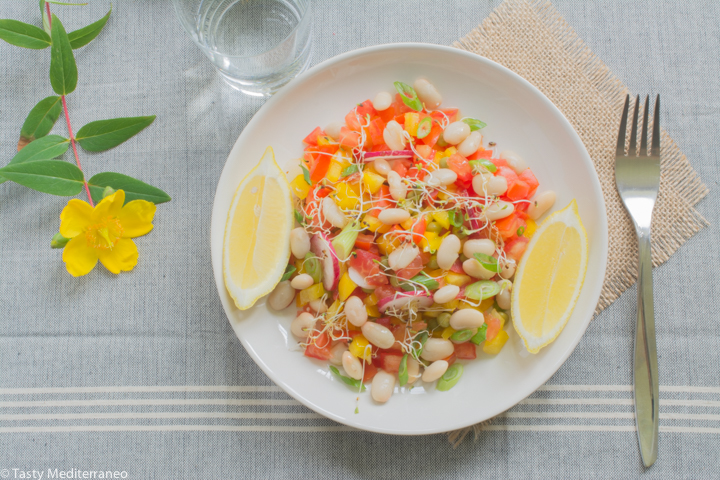 This week we have had a beautiful weather in Dublin, and I have been able to take quite a few pictures of my food! I only use natural light for my food photography, and living in Ireland very often I find myself with a cloudy day that would not allow me to photograph the yummy recipe that I have prepared and that I was willing to share with you.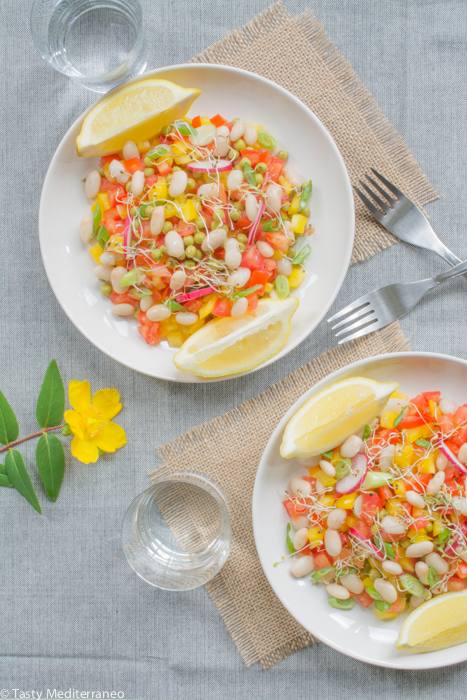 I am resisting the need to buy a studio lighting kit, as I feel there is nothing like natural light for food photography. So you can imagine how happy I am when the sun is shining and I can take advantage to photograph my food and therefore share one more of my recipes!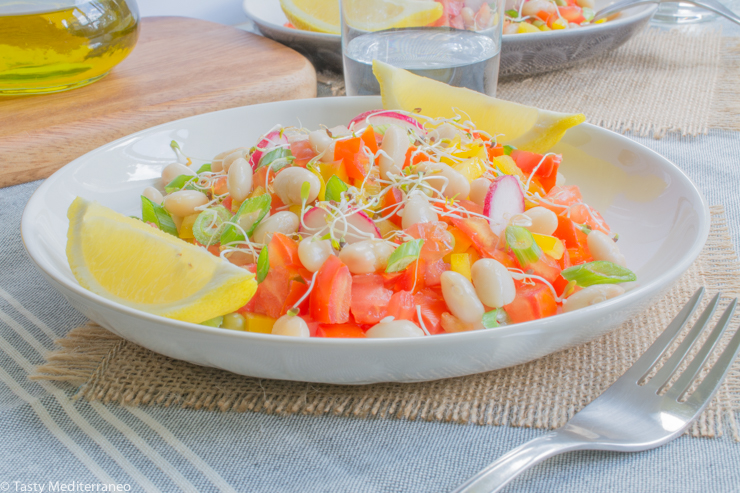 The good weather and the high temperatures call for refreshing meals, and this is why I share with you today a light and tasty Mediterranean salad recipe with cannellini beans as the main ingredient.
This vegan and gluten free salad is a good source of proteins, fibre, iron, B & C vitamins and other nutrients; a delicious and nutritious salad recipe that comes together in less than 30 minutes.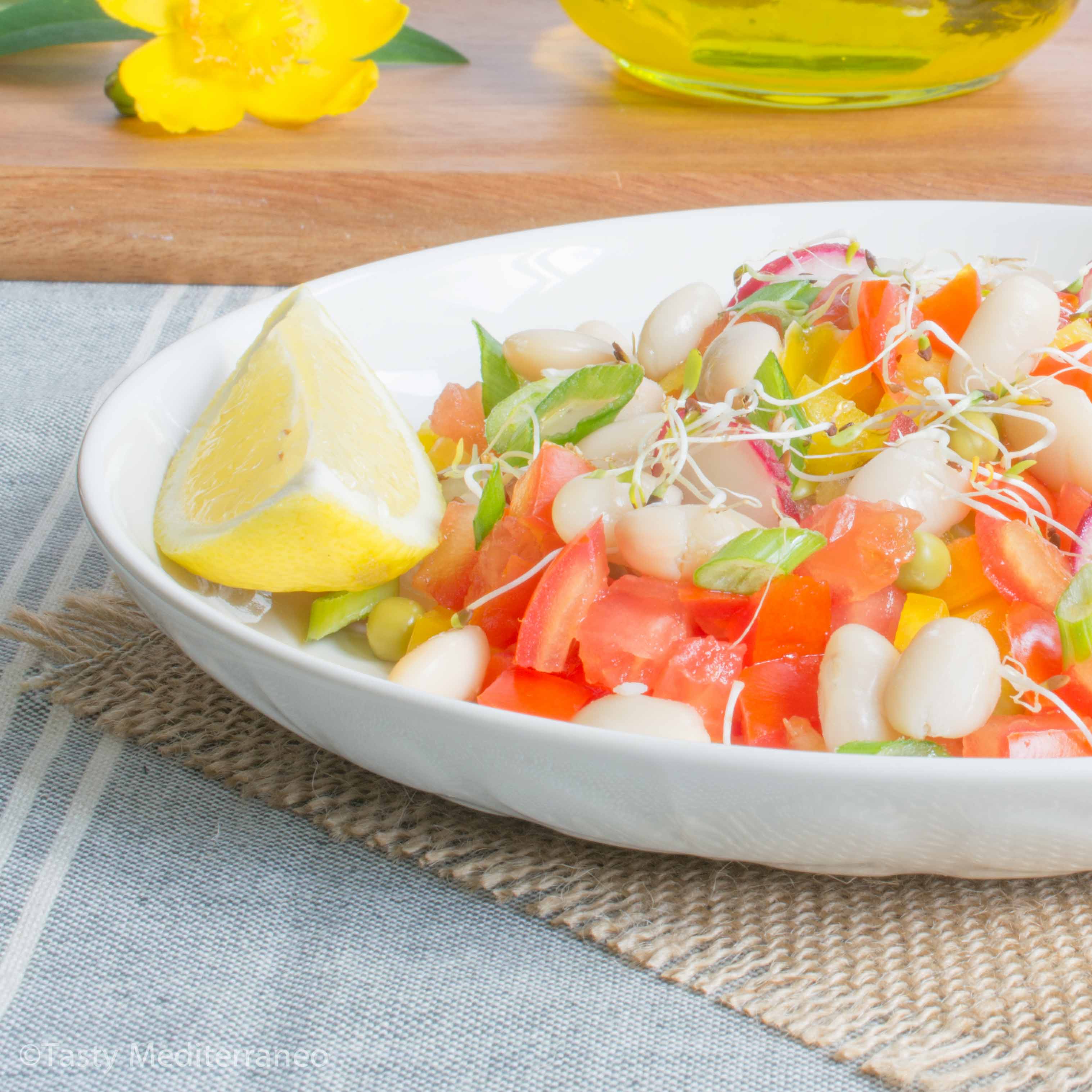 If you try this tasty and healthy vegan Mediterranean diet recipe, cannellini bean salad, please let me know, leave a comment and rate it. I would love to know what you come up with. Enjoy!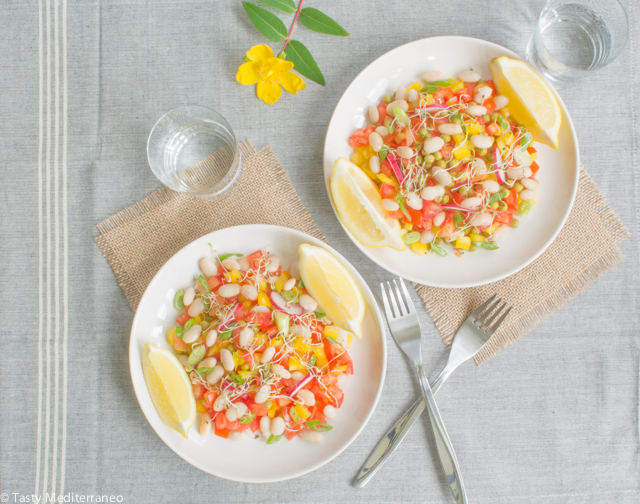 Mediterranean cannellini bean salad
Author:
Margarita @ Tasty Mediterraneo
Cuisine:
Mediterranean Diet
Ingredients
250g (1⅓ cup) organic cannellini beans, cooked
2 Tomatoes, thinly diced
1 Scallion, thinly sliced
1 Yellow bell pepper, thinly diced
1 Radish, thinly sliced
4 Tablespoons fresh green peas
Alfalfa sprouts
3 Tablespoons Extra Virgin Olive Oil (EVOO)
1 Lemon, cut in wedges
1 Teaspoon sea salt (or salt to taste)
Freshly grounded black pepper
Instructions
If you are using dried beans, to cook them: soak the dried beans in cold water for 12 hours (ideally leave them soaked overnight). Rinse them well and drain. Put them in a cooking pot and cover with water and cook over low to medium heat for 40 minutes or until tender. Remove them from the heat, drain and leave them to cool. If you are using a jar of organic cannellini beans in unsalted water just make sure you rinse them well and drain.
Have all the vegetables and the sprouts well washed and prepared as indicated in the ingredients description.
In a large bowl add the diced tomatoes, the sliced scallion, the diced bell pepper, the radish, the green peas, the 3 tablespoons EVOO and salt and pepper to taste and mix it all well. Add then the cooked cannellini beans and carefully mix them with the rest of ingredients without smashing them.
Serve warm or cold with lemon wedges and some alfalfa sprouts.