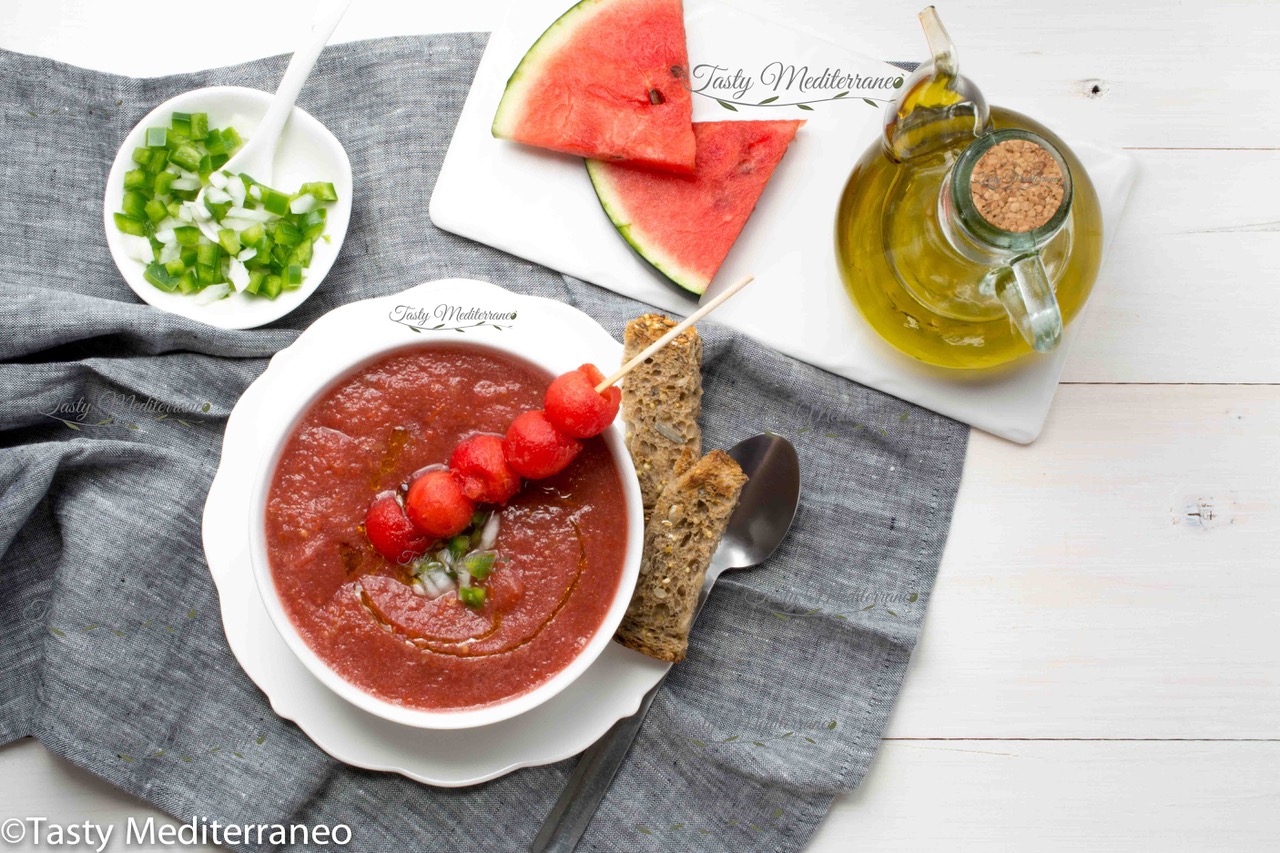 The consumption of a healthy diet throughout the life course can help to prevent malnutrition as well as a range of conditions and non-communicable diseases (NCDs).
NCDs, also known as chronic diseases, are medical conditions that are not caused by infectious agents but caused by external factors, such as nutrition and lifestyle choices. The NCDs include malnutrition (caused by too little food or eating the wrong kind of foods), cardiovascular diseases (CVDs), hypertension, diabetes mellitus type 2 and cancer amongst others.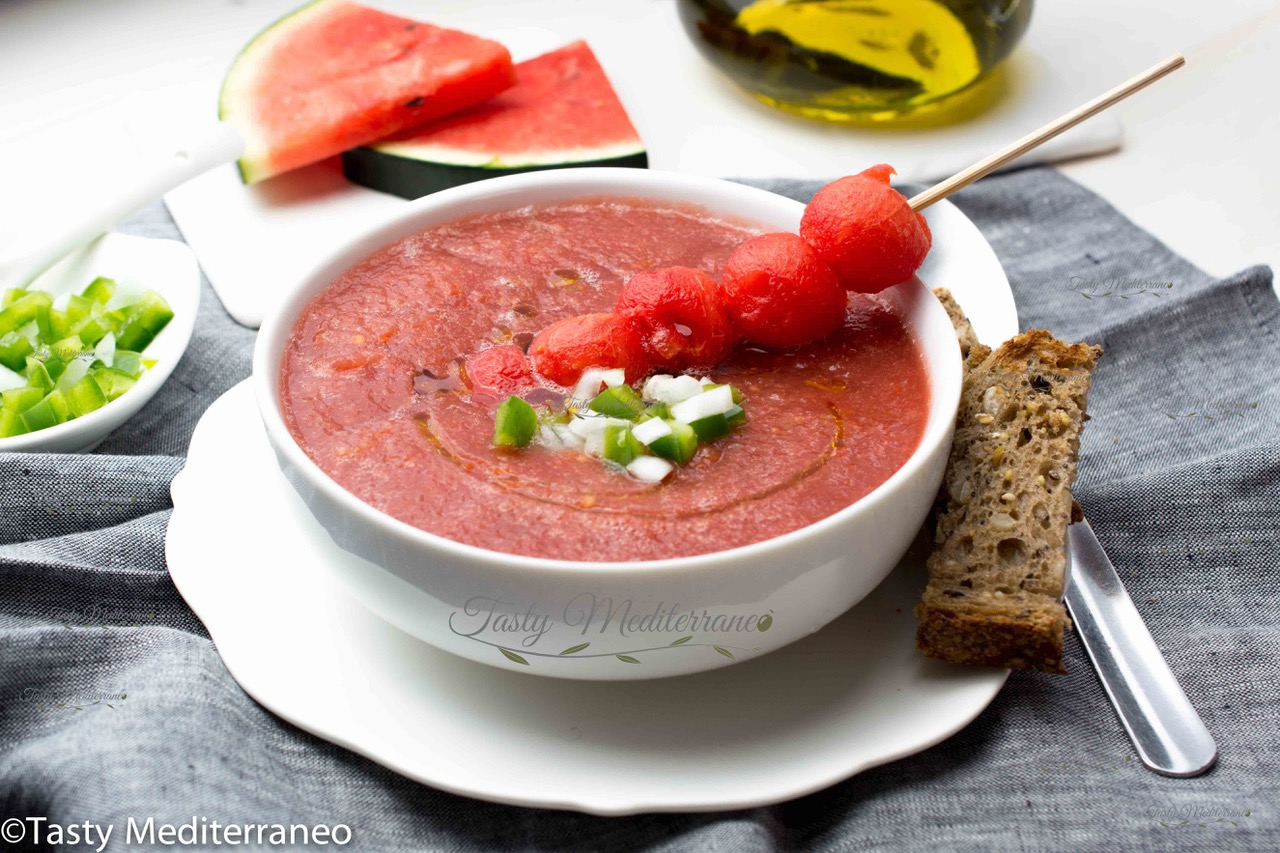 In today's society, the increased consumption of processed foods and the changes in lifestyles have led to a shift in dietary patterns. People consume more foods that are high in energy, fats, free sugars and salt, and they do not consume enough fruits, vegetables and other dietary fibre foods such as whole grains.
In 2018 the World Health Organisation (WHO) described the Key facts for a healthy diet, that consists of a balanced nutrient diet (with less than 30% of total energy intake attributed to fat – preferably unsaturated), rich in fibre, a high proportion allocated to fruits and vegetable (at least 5 portions), reduced intake of sugars (no more than 5% of total energy intake) and salts (less than 5g per day).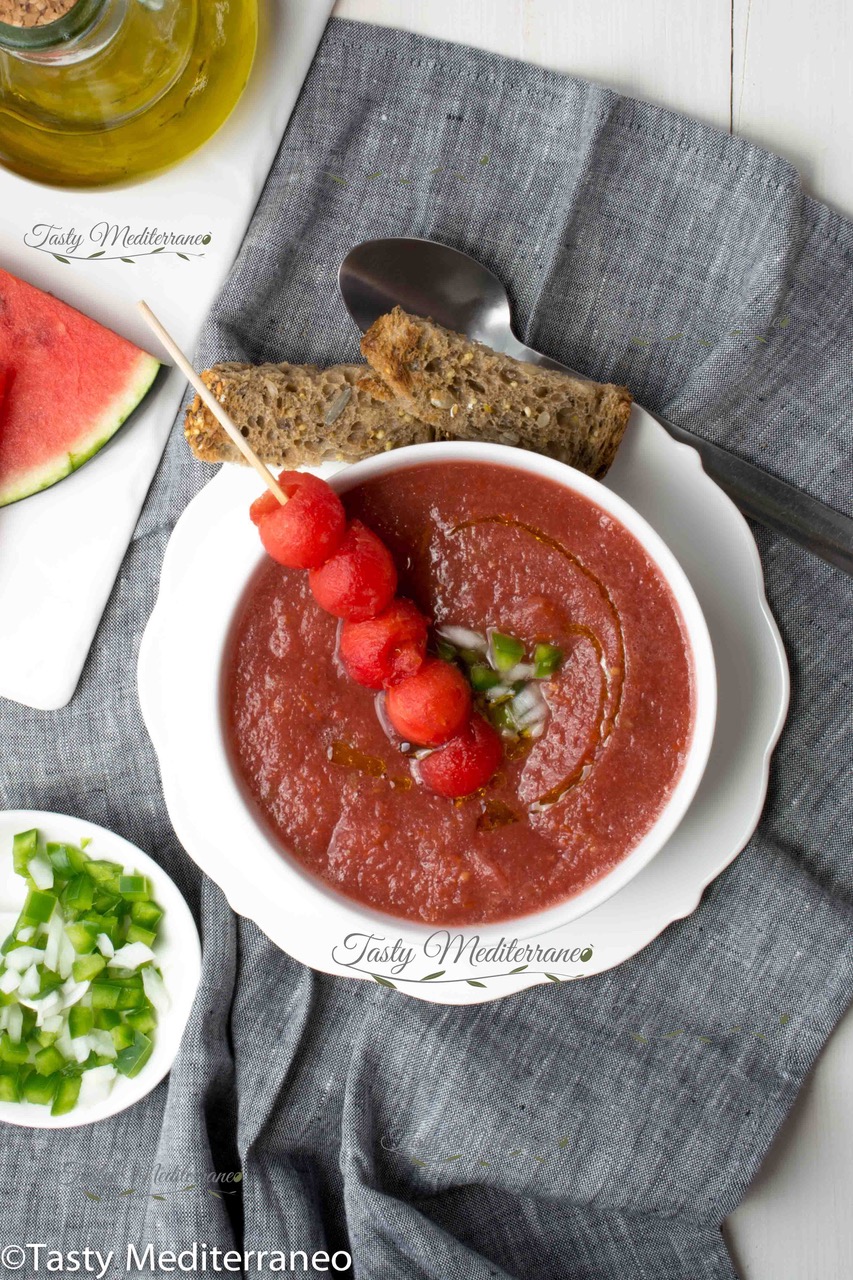 The Mediterranean diet is one of the healthiest dietary patterns in the world and it emphasizes eating primarily plant-based foods.
As always, I encourage my readers to follow a healthy diet and lifestyle, such as the Mediterranean diet, to enjoy food without counting calories and to have an active lifestyle.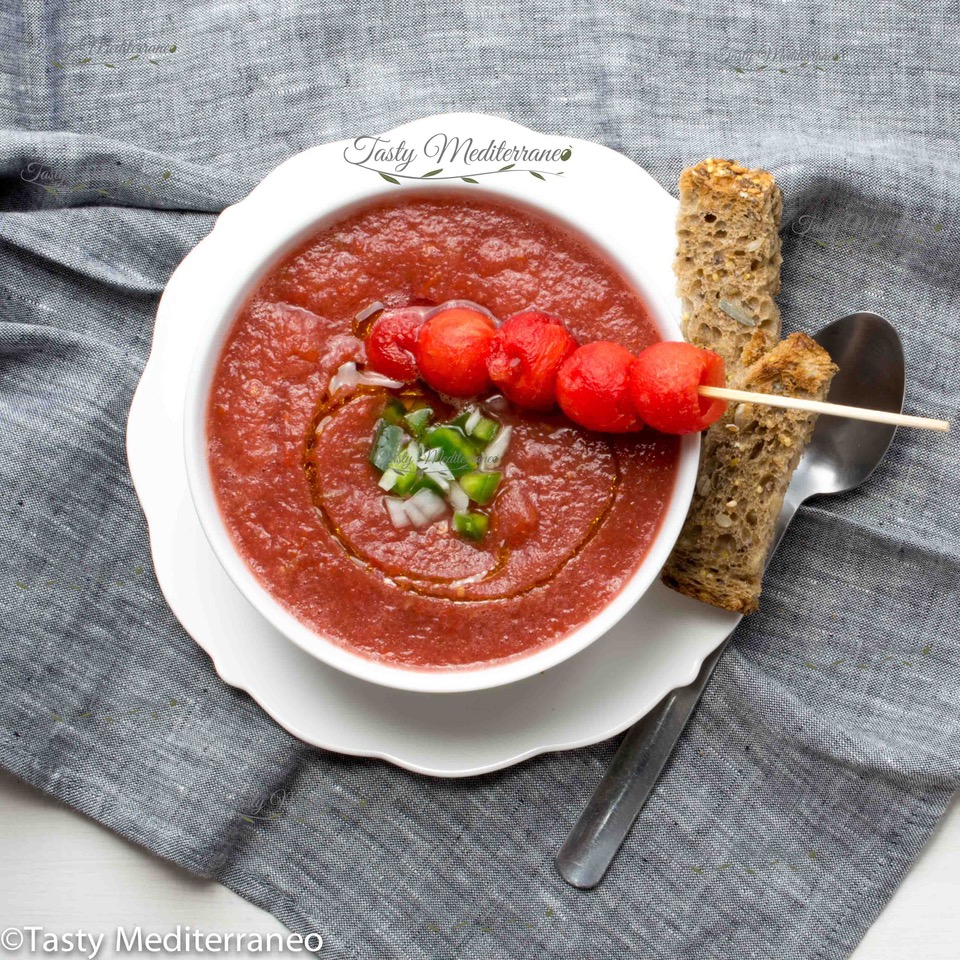 To give you more ideas of healthy Mediterranean diet dishes here you have yet another tasty and nutritious vegan Mediterranean diet recipe of "Watermelon Gazpacho". This recipe is full of veggies and fruits, making it easy to have your 5 a day! My watermelon gazpacho is a variation of my "Andalusian Gazpacho: chilled tomato soup", and during hot summer days you may also like to try my "Chilled melon and almond soup".
If you try this tasty and healthy vegan Mediterranean diet recipe of "Watermelon Gazpacho", please let me know, leave a comment and rate it. I would love to know what you come up with. Enjoy and happy healthy cooking!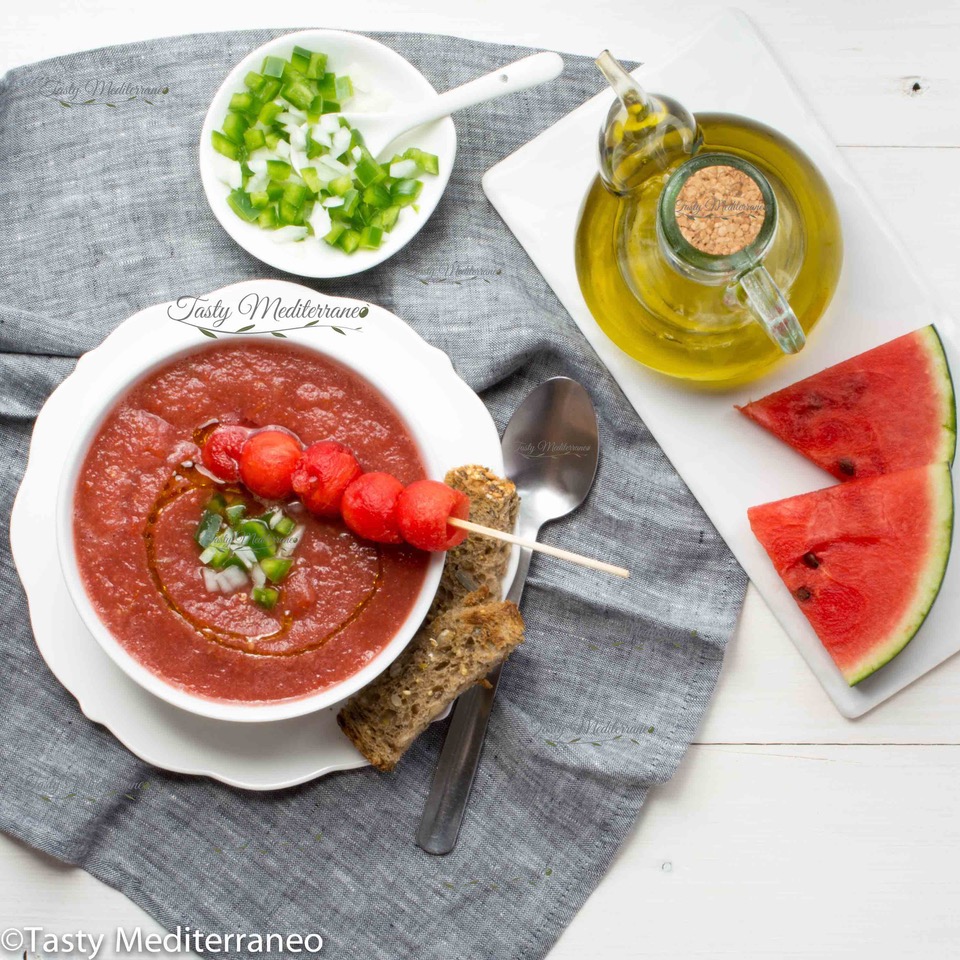 Watermelon gazpacho
Author:
Margarita @ Tasty Mediterraneo
Cuisine:
Mediterranean Diet
Ingredients
1kg (2lb) Ripe tomatoes (pear tomatoes or on the vine tomatoes), chopped
½ Kg (1lb) Watermelon, peeled and chopped
1 Tablespoon extra virgin olive oil (EVOO)
1 Garlic clove, peeled
1 Medium cucumber, peeled and chopped
¼ Onion, peeled and chopped
1 Italian Green Pepper, cored, seeded and chopped (A small green bell pepper will do if you cannot easily find this variety of pepper)
½ Teaspoon sea salt, or salt to taste
Instructions
Have all the vegetables well washed and all the ingredients prepared as indicated in the ingredients description.
Put all the ingredients into a food processor or blender and process until you get a very smooth purée. Depending on how juicy the tomatoes are you may want to add some cold water at the end and mix again.
Chill in the refrigerator for a few hours. Salt to taste, mix and serve in glasses or in soup bowls.
Garnish with some diced onion, green and red bell peppers and a small drizzle of EVOO. And optionally add some watermelon skewers and toasted bread.