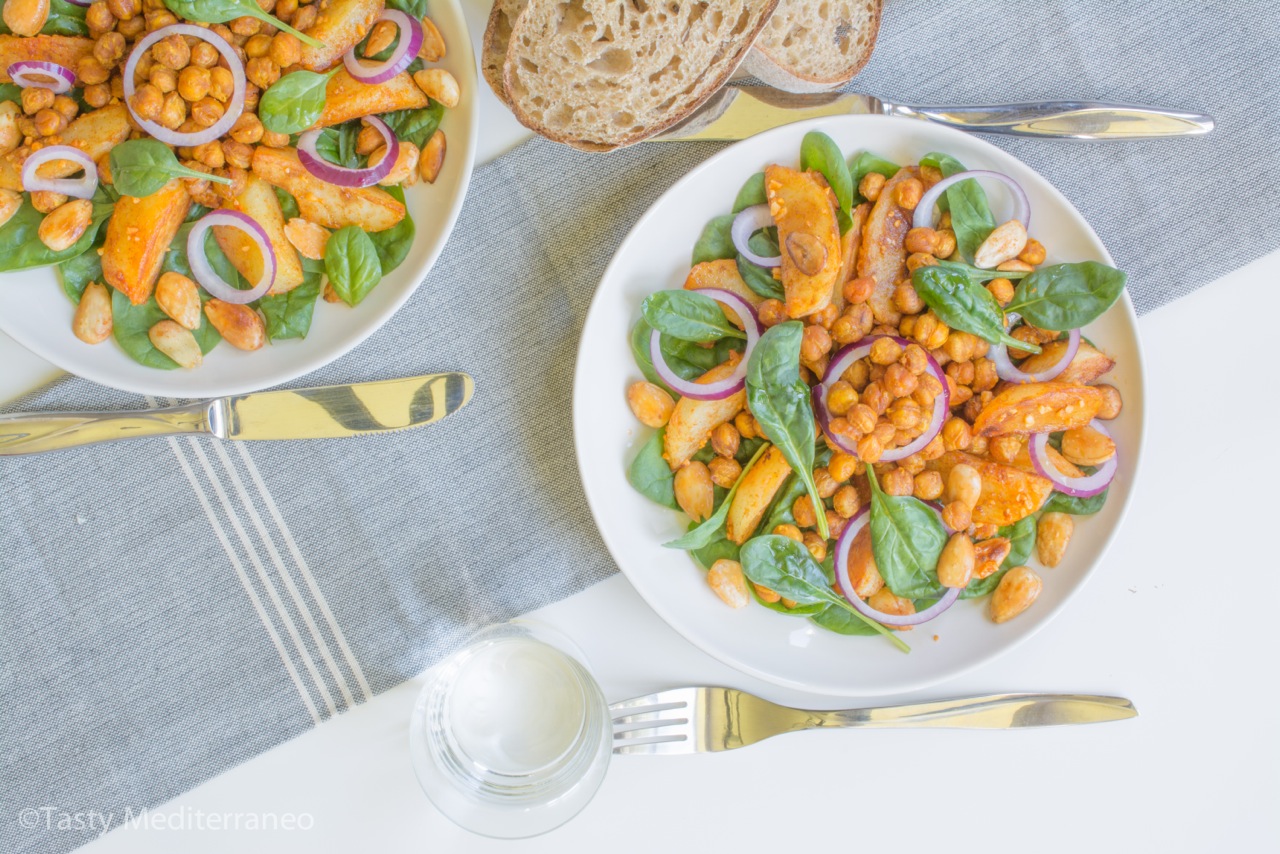 Tuesday the 11th of October 2016 was "World Obesity Day". This day was established with the main goal of raising awareness of the increasing child and adolescent obesity around the world, to promote actions that help people to achieve and maintain a healthy weight, and to fight the obesity crisis that is spreading globally.
The fat problem started with the "fast food" American lifestyle, but this fat problem became a global one as food corporations exported their sugary, salty, fatty diet around the world. Many European countries, such as Greece, that historically had been following a healthy Mediterranean diet also face now the epidemic of obesity.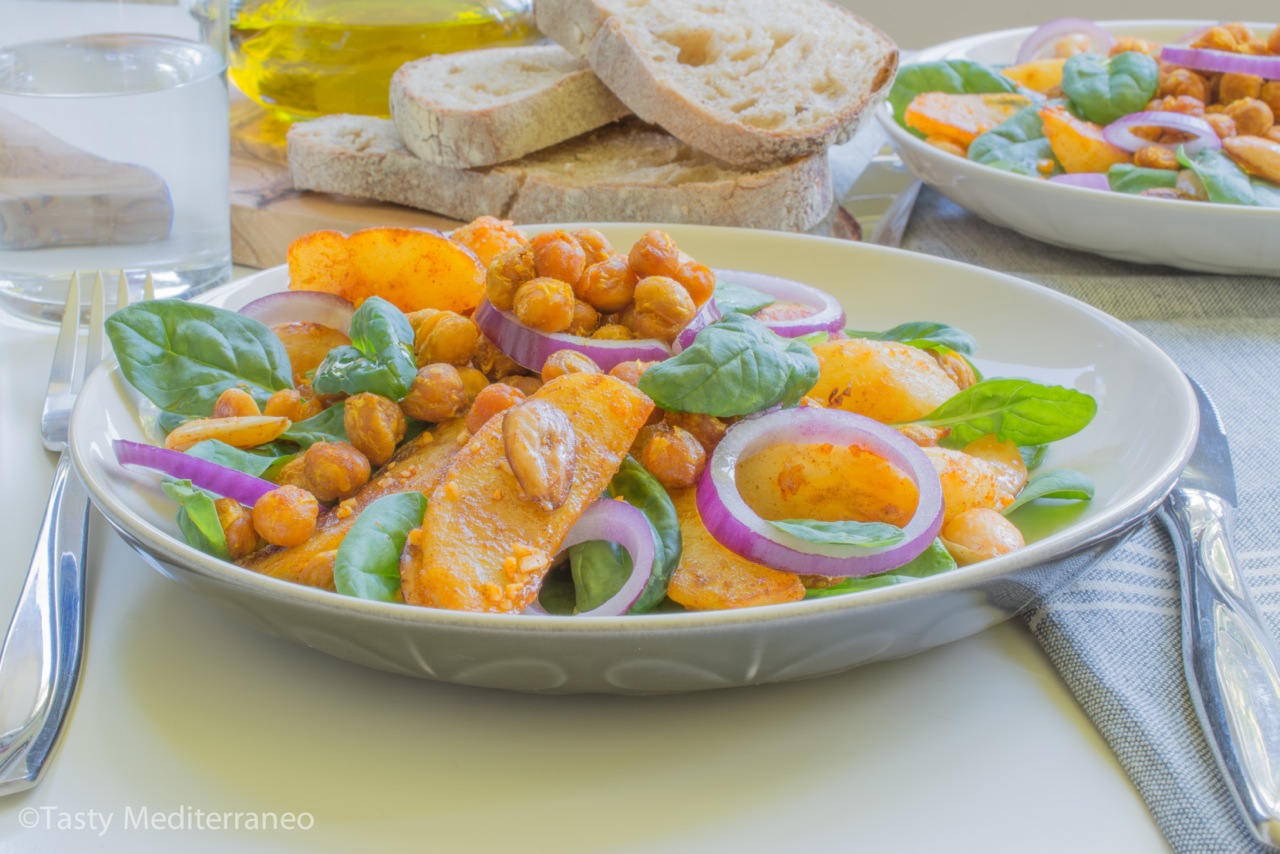 The epidemic of obesity is due to diets with too much saturated fats and too much sugar combined with very little exercise, and it is a growing public health problem.
The WHO (World Health Organisation) calls on countries to reduce sugars intakes amongst adults and children, and to consume no more than 25g (6 teaspoons) per day.
Did you know that a fizzy drink already contains more than 6 teaspoons of sugar? There is sugar added not only to fizzy drinks but also to processed foods, most of the refined sugar in our diet is in fact hidden.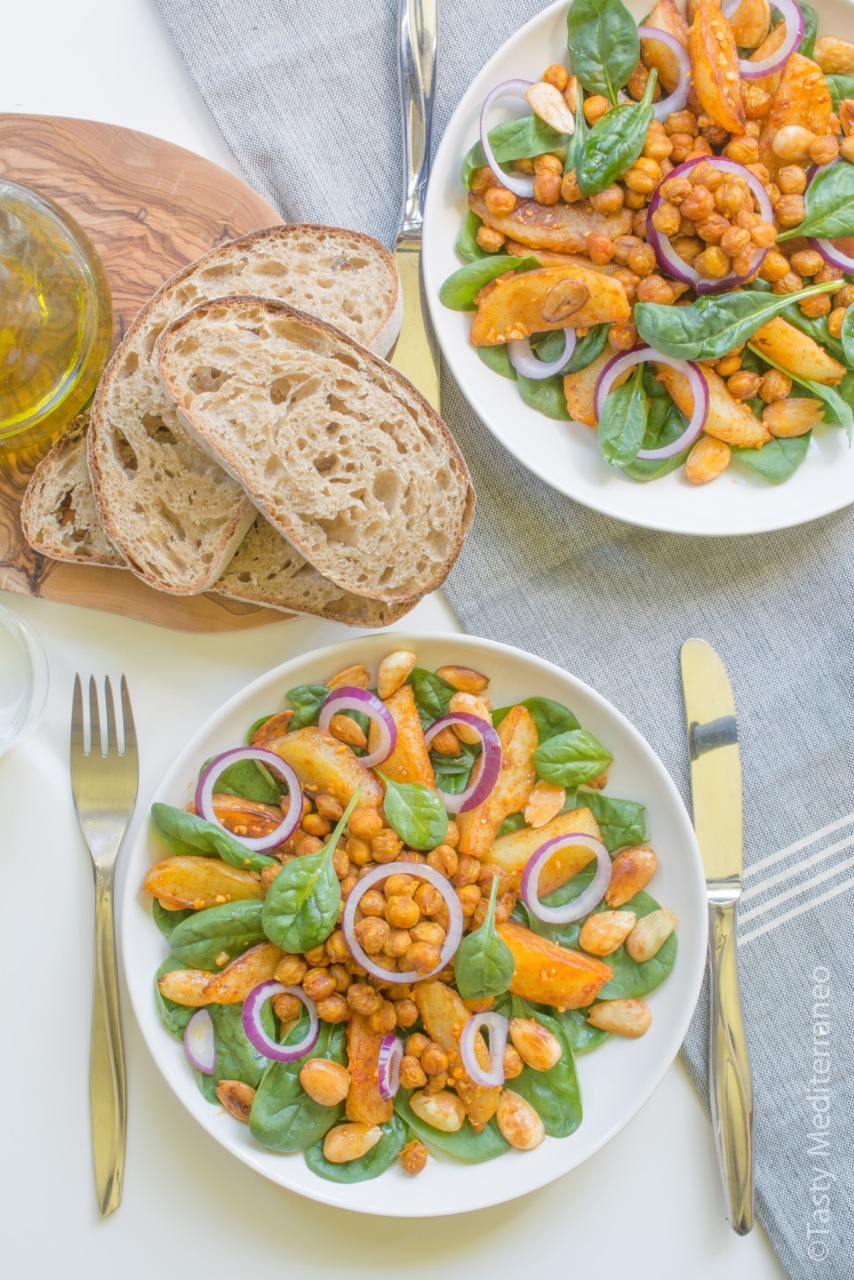 It is clear that when the human body takes in more energy (calories) than it spends, the excess is stored as fat.
We are responsible for what we eat, but we live in a "toxic environment" or "obesogenic environment" where advertisement and marketing campaigns are often focused on the poorest quality foods imaginable, an environment that encourages people to eat unhealthily and not do enough exercise. The scale of temptation is way too high for children and adults alike.
The bad eating habits of modern society involve raising a generation of children that will have a lower life expectancy than their parents.
Healthy eating is possible even on a restricted budget. It is important to take control of the situation, to take the time to cook healthy meals at home and to eat less fast food and processed meals. Believe it or not cooking can fit in a busy lifestyle.
And I believe that a balanced diet such as the Mediterranean diet is the key to live healthy longer.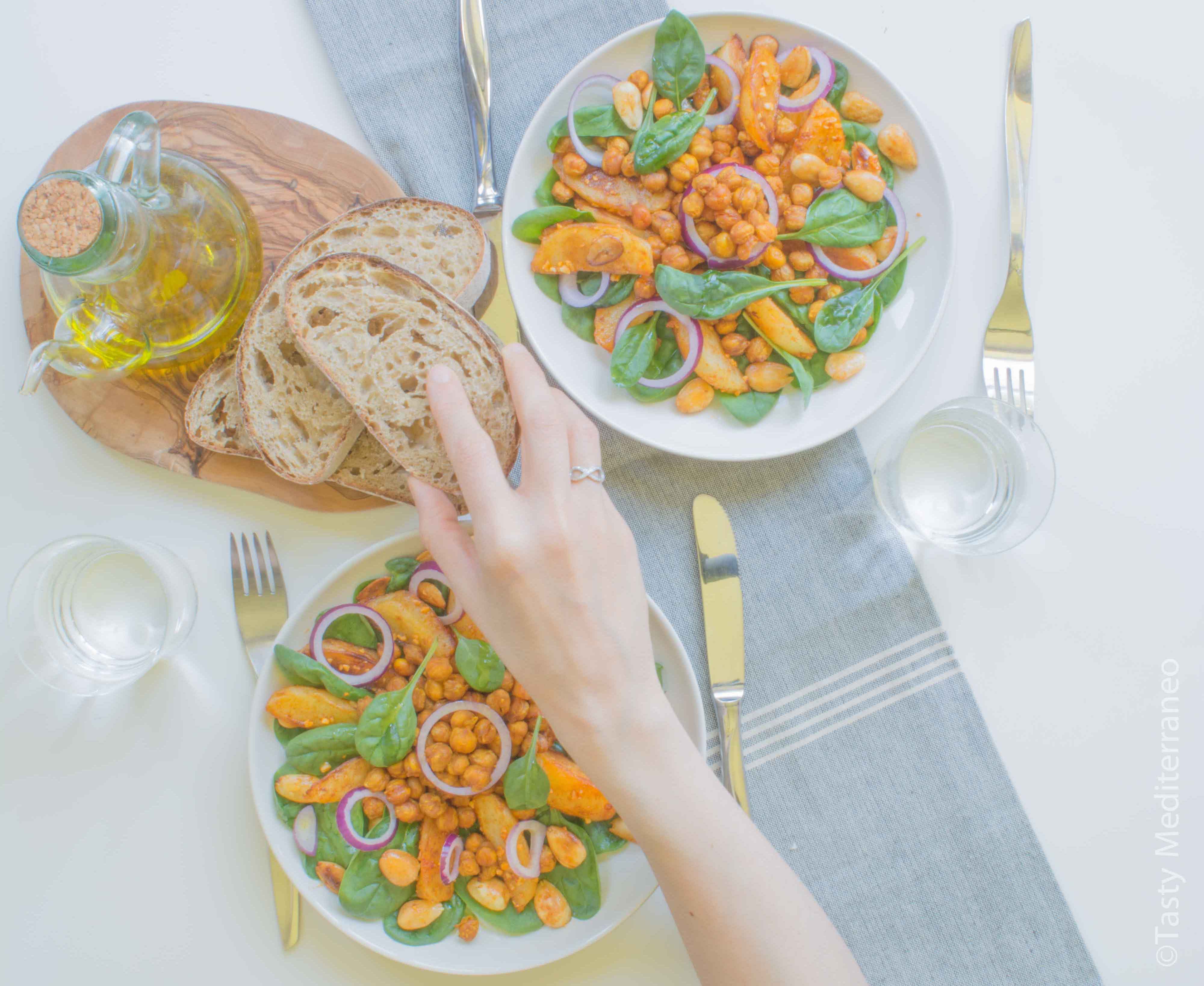 With the hope of encouraging many of you to prepare healthy recipes at home I created Tasty Mediterraneo, where you can find plenty of healthy, hearty and delicious vegetarian and vegan recipes from the Mediterranean diet. Recipes that are very easy to prepare and most of them are ready in 30 minutes or a little more.
Today's recipe is a tasty Mediterranean roasted chickpea, potato & almond salad. This salad is rich in fibre, proteins, amino acids, iron, B group vitamins and other nutrients.
If you try this tasty and healthy vegan Mediterranean diet recipe of roasted chickpea, potato & almond salad please let me know, leave a comment and rate it. I would love to know what you come up with. Enjoy!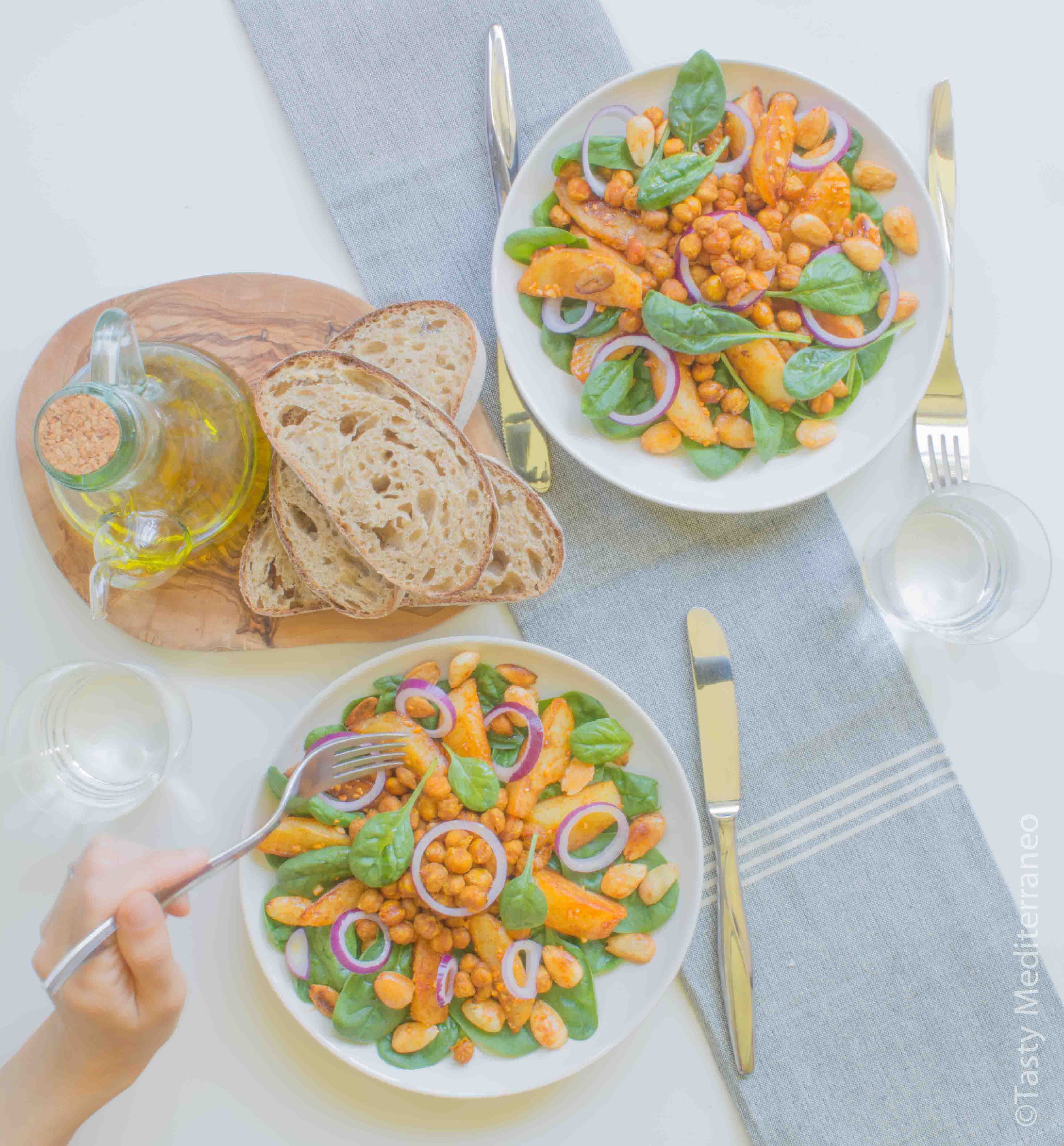 Roasted chickpea, potato & almond salad
Author:
Margarita @ Tasty Mediterraneo
Cuisine:
Mediterranean Diet
Ingredients
500g (2 ½ cup) chickpeas, cooked and dried with kitchen roll
2 Large potatoes cut into wedges
45g (1/3 cup) Whole raw unsalted almonds, peeled and 3 teaspoons unsalted chopped almonds
1 ½ Teaspoon hot Spanish paprika (ideally Pimentón de la Vera)
1 Teaspoon organic turmeric powder
1 Teaspoon sea salt
200g (1 cup) Fresh organic baby spinach
1 Small red onion, peeled and thinly sliced
2 Tablespoons extra virgin olive oil (EVOO)
Freshly grounded black pepper
Instructions
Wash well the baby spinach leaves. Scrub the potatoes clean and get rid of any gnarly bits. And have the rest of ingredients prepared as indicated in the ingredients description.
Cut the potatoes into wedges. Add them to a large saucepan, cover with cold salted water and parboil for 10 minutes. Then drain in a colander and leave to steam dry for a couple of minutes.
Preheat the oven to 200 degrees C (400 degrees F).
Mix the 3 teaspoons of unsalted chopped almonds, 1 teaspoon salt, 1 ½ teaspoons hot smoked paprika, 1 teaspoon turmeric powder and a pinch of freshly grounded black pepper in a mortar and pestle until it is all well combined.
In a large bowl, toss the chickpeas and the potato wedges with 2 tablespoons EVOO and season with the chopped almond mix of step number 4.
Transfer the bowl content into a roasting tray and cook in the hot oven for approximately 10 minutes at 175 degrees C (350 degrees F). At that moment add the whole raw almonds onto the tray, stir and roast for 15 more minutes until the potatoes, chickpeas and almonds are golden, crisp and cooked through.
Remove from the oven and transfer the roasting tray content into a large bowl together with the fresh baby spinach leaves and the red onion slices.
Serve warm and optionally season with a bit more of EVOO, sea salt and freshly grounded black pepper to taste.