Roasted chickpea, potato & almond salad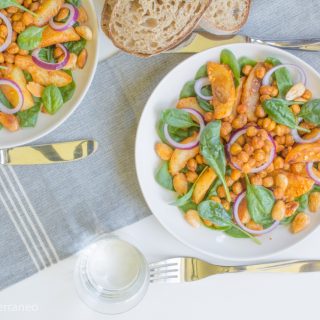 Author:
Margarita @ Tasty Mediterraneo
Cuisine:
Mediterranean Diet
500g (2 ½ cup) chickpeas, cooked and dried with kitchen roll
2 Large potatoes cut into wedges
45g (1/3 cup) Whole raw unsalted almonds, peeled and 3 teaspoons unsalted chopped almonds
1 ½ Teaspoon hot Spanish paprika (ideally Pimentón de la Vera)
1 Teaspoon organic turmeric powder
1 Teaspoon sea salt
200g (1 cup) Fresh organic baby spinach
1 Small red onion, peeled and thinly sliced
2 Tablespoons extra virgin olive oil (EVOO)
Freshly grounded black pepper
Wash well the baby spinach leaves. Scrub the potatoes clean and get rid of any gnarly bits. And have the rest of ingredients prepared as indicated in the ingredients description.
Cut the potatoes into wedges. Add them to a large saucepan, cover with cold salted water and parboil for 10 minutes. Then drain in a colander and leave to steam dry for a couple of minutes.
Preheat the oven to 200 degrees C (400 degrees F).
Mix the 3 teaspoons of unsalted chopped almonds, 1 teaspoon salt, 1 ½ teaspoons hot smoked paprika, 1 teaspoon turmeric powder and a pinch of freshly grounded black pepper in a mortar and pestle until it is all well combined.
In a large bowl, toss the chickpeas and the potato wedges with 2 tablespoons EVOO and season with the chopped almond mix of step number 4.
Transfer the bowl content into a roasting tray and cook in the hot oven for approximately 10 minutes at 175 degrees C (350 degrees F). At that moment add the whole raw almonds onto the tray, stir and roast for 15 more minutes until the potatoes, chickpeas and almonds are golden, crisp and cooked through.
Remove from the oven and transfer the roasting tray content into a large bowl together with the fresh baby spinach leaves and the red onion slices.
Serve warm and optionally season with a bit more of EVOO, sea salt and freshly grounded black pepper to taste.
Recipe by
Tasty Mediterraneo
at https://www.tastymediterraneo.com/roasted-chickpea-potato-almond-salad/