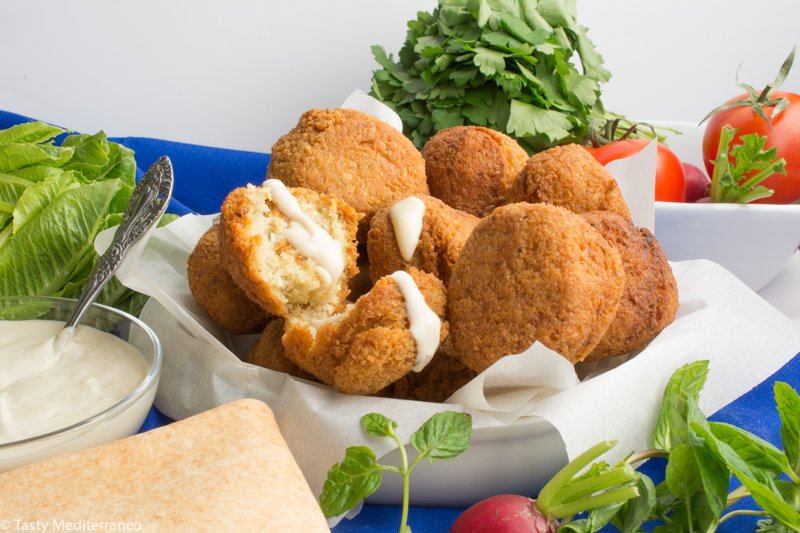 Happy New Year! A new year is upon us and I am very excited about the many healthy and tasty Mediterranean recipes that I will be sharing with you!
I have to admit 2015 was a good year for me! I created Tasty Mediterraneo where I have already shared with you 60 recipes in English, 60 recipes in French, 60 recipes in Spanish and 60 recipes in Arabic.  A total of 240 posts!
The Expo Milano 2015 invited me to be part of the Expo worldrecipes as an official contributor to their official global cookbook. Foodgawker published 56 of my recipes and The Huffington Post recently selected my Zucchini, leek & potato quiche recipe among their favourite holiday breakfast and brunch recipes.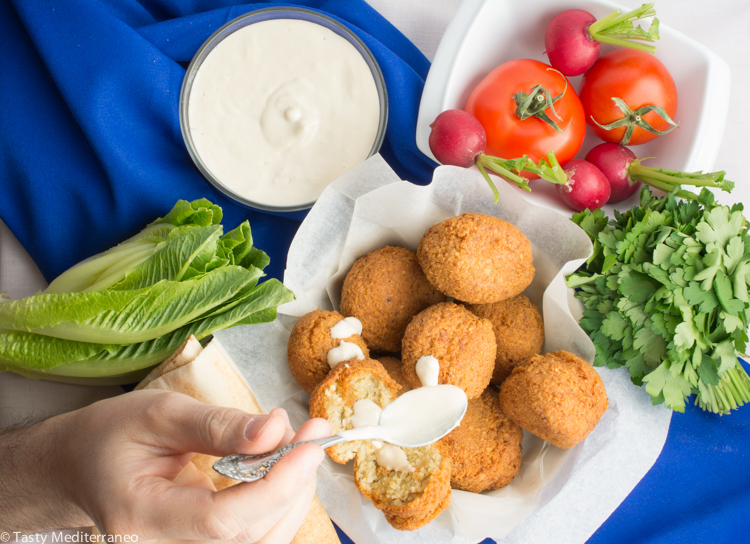 For 2016 Tasty Mediterraneo invites you to enjoy healthy recipes all year long, because eating well is not something that we just do for a limited period of time with the purpose of losing some weight to get ready for a special occasion, but something that should be part of our daily lives, a routine and a pleasure at the same time.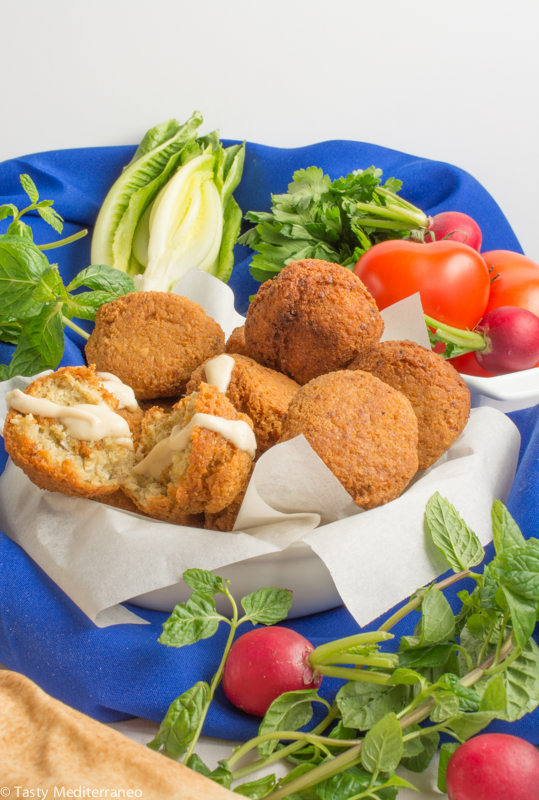 If healthy eating tops your resolutions list for 2016, I invite you to subscribe to Tasty Mediterraneo newsletter and to follow my recipes on Facebook, Instagram, Pinterest and Twitter.
The first recipe I share with you this year is my Lebanese family Falafel recipe. A vegan and gluten free tasty Mediterranean dish that is very easy to prepare and a good source of proteins and fibre.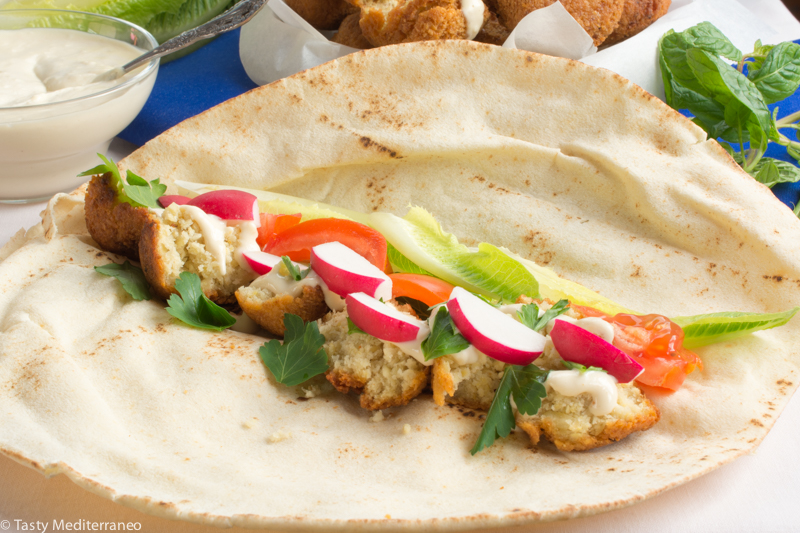 If you try this homemade falafel recipe, please let me know, leave a comment and rate it. I would love to know what you come up with.
I wish you and your family a happy, healthy and tasty 2016! And for my Spanish friends and family I hope you behaved well and that the Three Wise Men have been generous and brought you many gifts!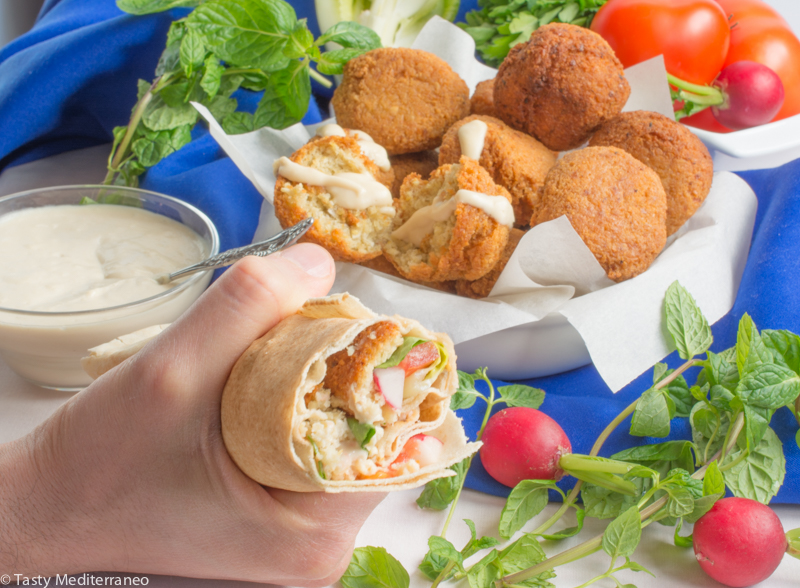 Mediterranean Falafel
Author:
Margarita @ Tasty Mediterraneo
Cuisine:
Mediterranean Diet
Ingredients
500g (2 ½ cups) Split dried fava beans
250g (1 ¼ cups) Dried chickpeas
1 Potato, peeled and cut into small pieces
1 Onion, peeled and finely chopped
5 Garlic cloves, peeled and finely minced
½ Teaspoon of baking soda
¼ Teaspoon of baking powder
1 Teaspoon of salt
1 Teaspoon of cumin
1 Teaspoon of falafel spices (coriander, white pepper, cumin, cinnamon, black pepper, salt)
Instructions
Soak the dried fava beans in cold water for 10 hours. And soak the dried chickpeas in warm water for 10 hours. Ideally leave them soaked overnight. Rinse them well and drain.
Have the ingredients prepared as indicated in the ingredients description.
In a food processor mix the drained fava beans and chickpeas with the potato, onion and garlic cloves until combined but slightly chunky so that it maintains a bit of texture. Then add the cumin, the falafel spices and the salt and mix it all well with the help of a spoon until combined.
Keep the mix refrigerated for 20 minutes.
Remove the mix from the fridge and add the baking soda and the baking powder. Mix it all well and with your hands make small balls of falafel.
Traditionally they are deep fried in oil for 4-5 minutes until golden. But personally I am not a big fan of frying and this is my cooking suggestion: Lightly grease an oven tray with olive oil and preheat the oven to 175 degrees C (350 degrees F). In a large frying pan heat a tablespoon of extra virgin olive oil over moderate heat, add the falafels and sauté for 3-4 minutes on one side until lightly golden, and then turn on the other side and sauté them for 3-4 more minutes. Then add them in the oven tray and bake them in the oven for 40 minutes, flipping them at the halfway point for even cooking. Serve hot.
Notes
It is also very common to add chopped parsley and coriander to the falafel mix.
My suggestion is to serve them in a flatbread or pita accompanied by some fresh parsley, fresh mint, tomatoes, lettuce, radish, Lebanese pickles and a delicious
tahini dressing (Lebanese Tarator)
.
They are also delicious added to your green salads.