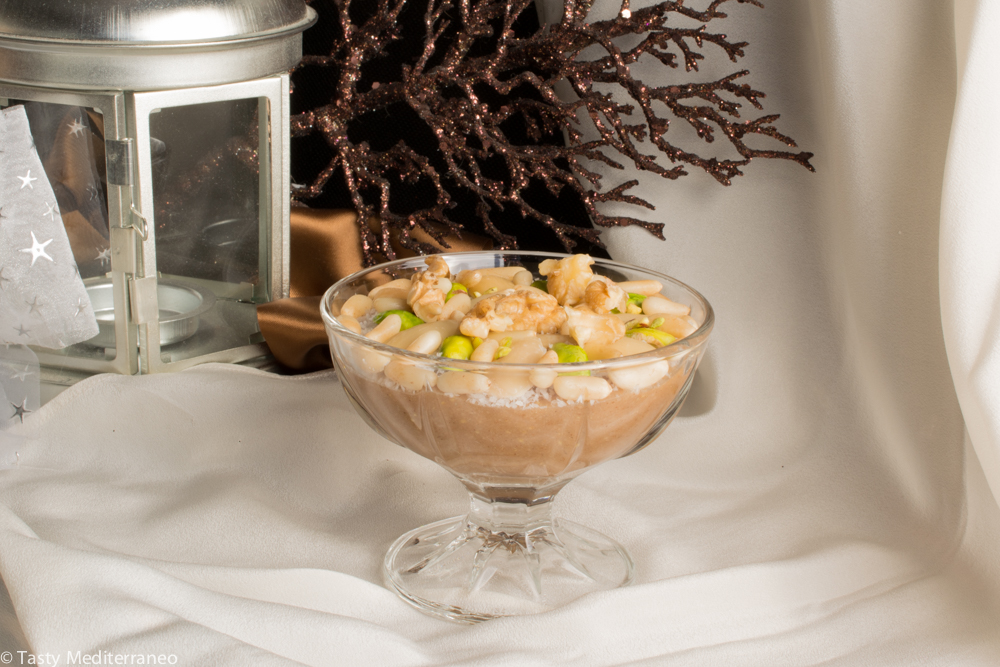 Today I am writing this post from Beirut (Lebanon) where the sun is shining.
I wanted to publish this recipe a couple of days ago, but between Christmas celebrations and family events it is only now that I can finally share it with you.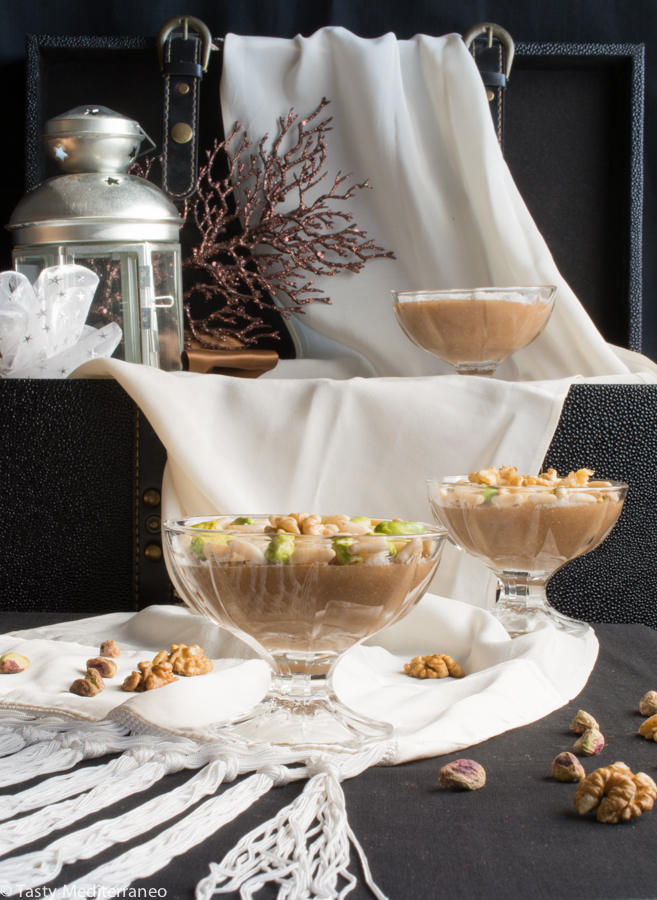 The Meghli is a traditional Lebanese dessert that is served to celebrate the birth of a baby. It is a delicious rice pudding spiced with anise, cinnamon and caraway and garnished with shredded coconut and nuts. And as this rice pudding is all about celebrating birth, during Christmas it is obviously served to celebrate the birth of Christ.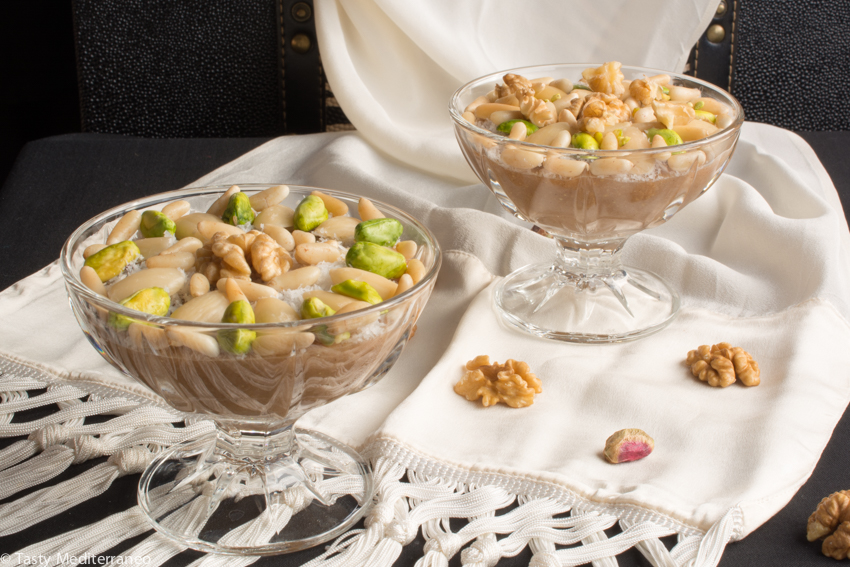 I prepared Meghli with my mother in law following the family recipe, a very simple recipe that now all of you will be able to follow.
This dessert is healthy and nutritious and naturally gluten free, as it is made using rice flour. It is also dairy free and vegan.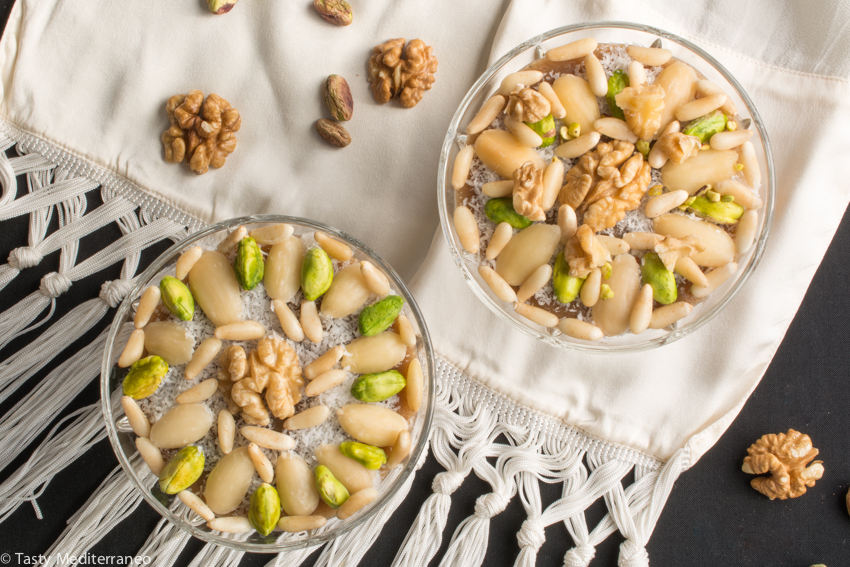 How was your Christmas? Did you enjoy healthy and delicious meals? Or you finished uncomfortably stuffed and feeling bloated? In any case I hope you enjoyed and had a good time with your loved ones.
If you try this traditional Lebanese vegan dessert, please let me know, leave a comment and rate it. I would love to know what you come up with. Enjoy!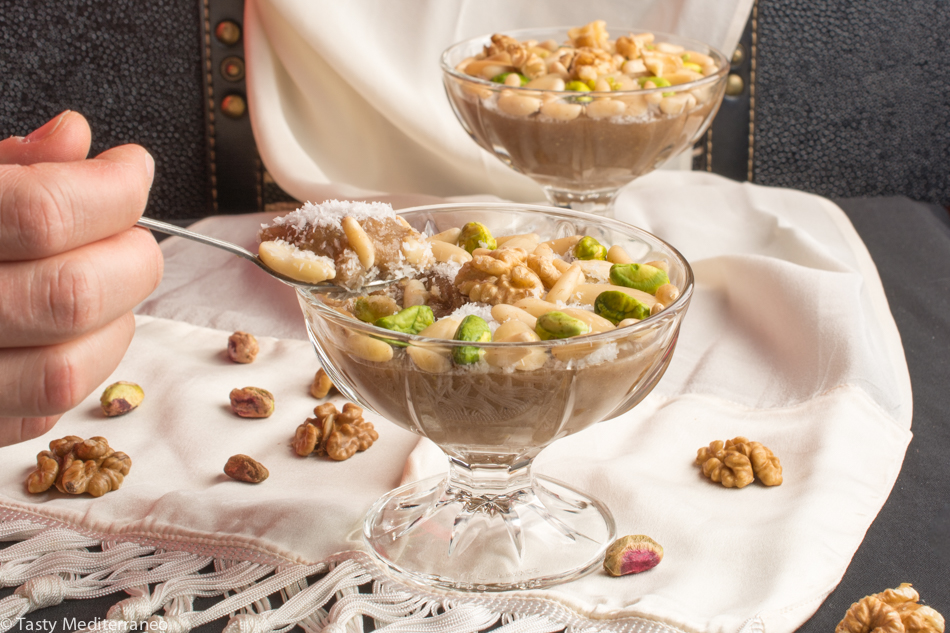 Lebanese Meghli
Author:
Margarita @ Tasty Mediterraneo
Cuisine:
Mediterranean diet
Ingredients
125g (1 cup) Organic rice flour
150g (1¼ cups) Organic unrefined sugar, milled into powder
1 Tablespoon caraway powder
1 Tablespoon cinnamon powder
1 Tablespoon grounded anise seeds
2l (8 cups) cold water
8 Teaspoons organic shredded coconut unsweetened
100g (1/2 cup) Walnuts (peeled and soaked in cold water)
100g (1/2 cup) Almonds (peeled and soaked in cold water)
100g (1/2 cup) Pistachios (peeled and soaked in cold water)
50g (1/4 cup) Pine nuts (peeled and soaked in cold water)
Instructions
Have all the ingredients prepared as indicated in the ingredients description.
In a large cooking pot add the rice flour, the sugar, the caraway, the cinnamon and the anise and mix them well before adding the water. Add the cold water and mix well. Once it is well mixed put the cooking pot on the stove at low heat and stir well.
Let the mixture cook at low heat, stirring constantly, for about 20 minutes. Depending on the type of rice you may have to cook it a bit longer until it reaches a certain consistency.
Remove from the heat, pour directly into small individual cups or in a large serving dish and let it cool.
Once it is cold add on top of each cup a teaspoon of coconut, and a few walnuts, almonds, pistachios and pine nuts.
Notes
The Meghli should not have a runny texture but rather hold itself if you try to tilt it.

It keeps well in the fridge for up to 3-4 days.