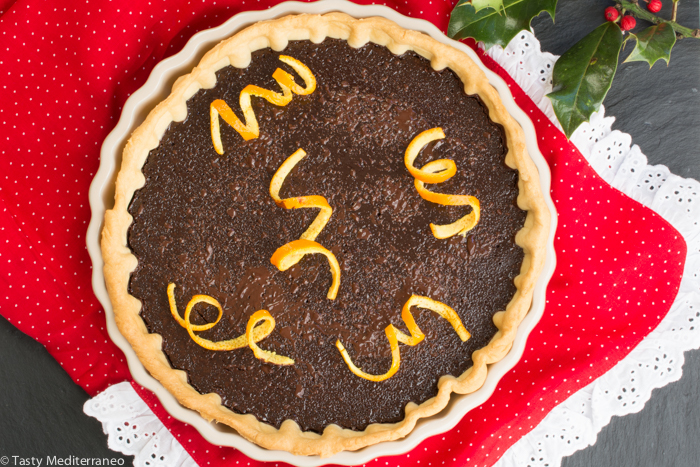 Those of you who follow my blog will be happy to know that The Huffington Post recently shared my Zucchini, leek & potato quiche recipe in their article "28 Christmas Breakfast And Brunch Recipes" where they have chosen their favourite holiday breakfast and brunch recipes. If you check out their article you will see that my quiche is recipe number 23!
I feel very proud of my blog Tasty Mediterraneo!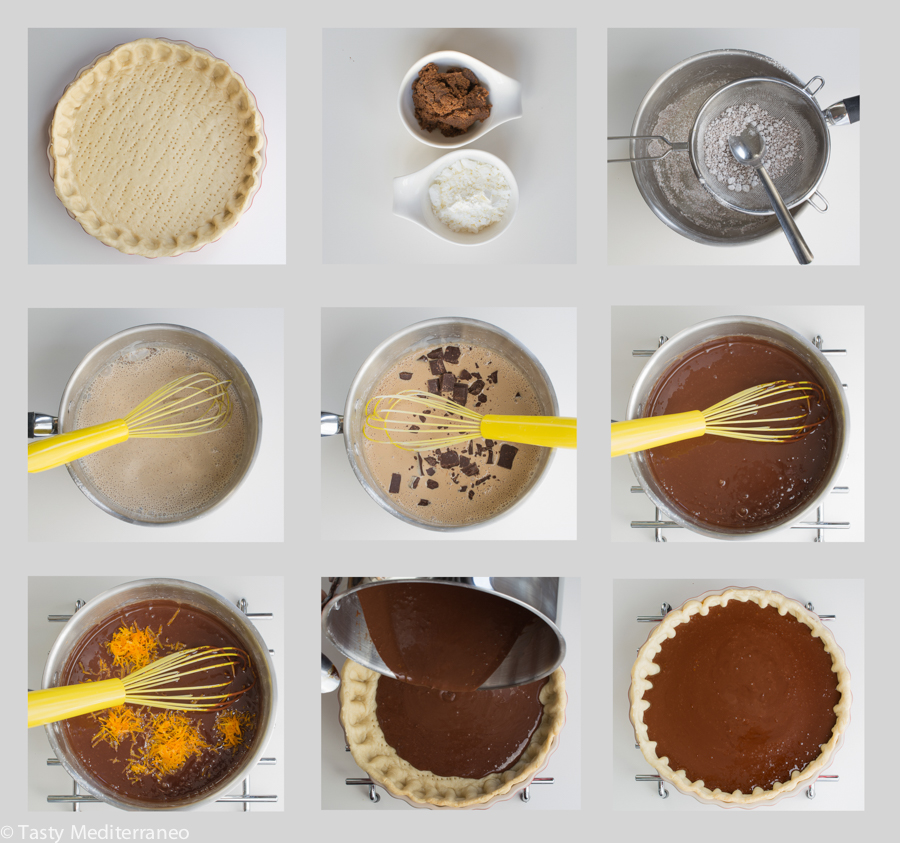 Christmas is almost here, just a few days away!
This year I will spend Christmas with my husband's family. The fact that our parents live in different countries does not make it easy for us to gather both of our families together for the festive season. Although a couple of years ago we managed to have both my parents and my husband's together at our home in Dublin and that was absolutely fantastic!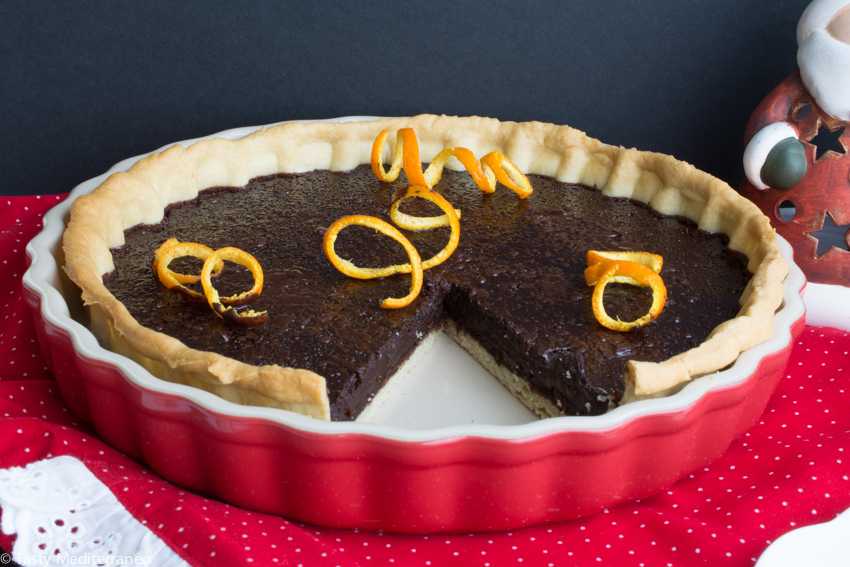 As I know that many of you are still in the search of the perfect dessert recipe for the festive season, I would like to propose my delicious chocolate and orange zest vegan tart made in an extra virgin olive oil (EVOO) crust. The recipe for my EVOO crust is no other than my multipurpose olive oil dough. Yes, the same dough used in my famous "Zucchini, leek & potato quiche", as well as in my "Basil pesto & zaatar flatbread Christmas appetisers" and in so many other of my recipes!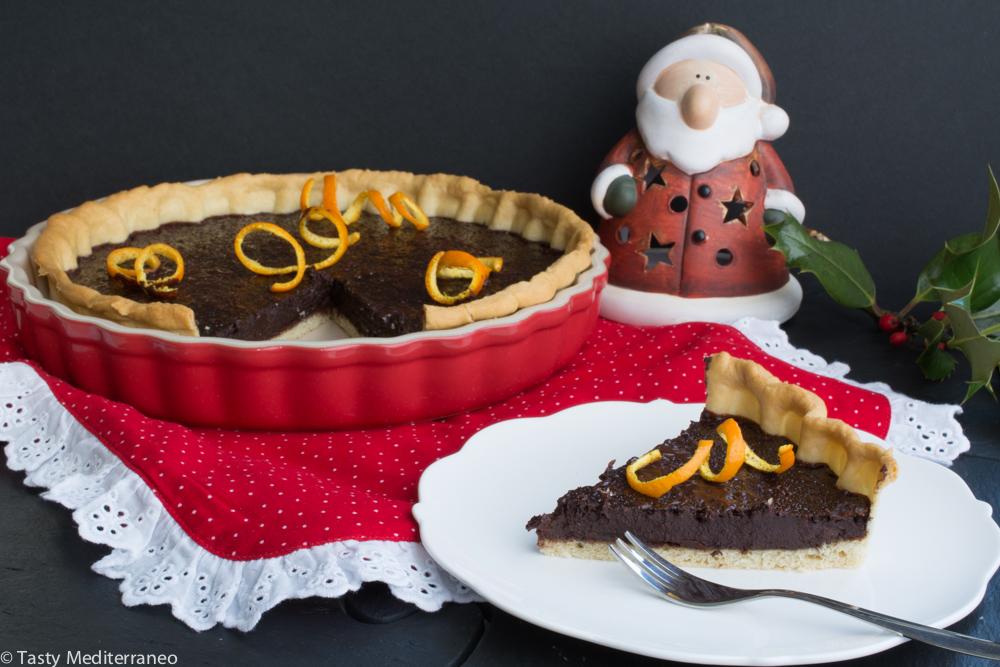 If you try this delicious vegan dessert recipe, please let me know, leave a comment and rate it. I would love to know what you come up with. Enjoy and happy Christmas!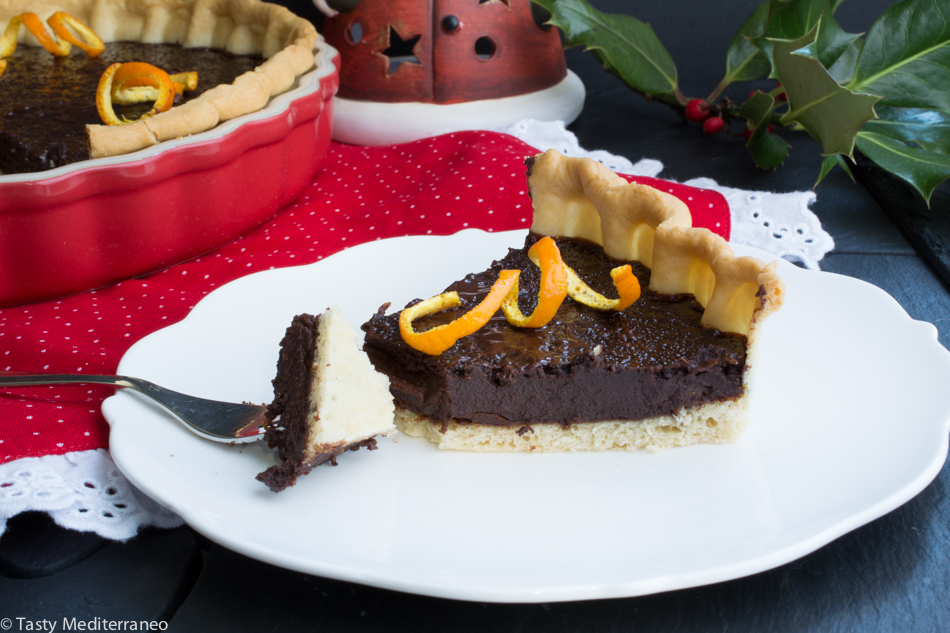 Dark chocolate and orange zest tart
Author:
Margarita @ Tasty Mediterraneo
Cuisine:
Mediterranean Diet
Ingredients
150g (1¾ cups) Plain flour
40ml (1/4 cup) Extra virgin olive oil
75ml (1/3 cup) Warm water
1 Teaspoons yeast powder
For the chocolate cream:
35g (3 ½ tablespoons) Corn flour (corn starch)
70g (1/3 cup) Unrefined dark muscovado sugar
250ml (1 cup) Soya alternative to single cream
125g (4.5 ounces) Dark cooking chocolate 70% cocoa
The finely grated zest of 3 organic unwaxed oranges (avoid the bitter white membrane beneath the orange peel)
Instructions
Follow the instructions as explained in my multipurpose olive oil dough recipe but skip the salt.
Preheat the oven to 175 degrees C (350 degrees F).
Lightly grease with a drop of olive oil a pie pan. Once you have flattened out the multipurpose olive oil dough, press it into the pie pan and pierce the bottom with holes with the help of a fork.
Bake in the middle of the oven for 10 minutes at 175 degrees C (350 degrees F) and remove from the heat.
For the chocolate cream:
In a bowl mix the corn flour with the sugar. Once you have mixed them well sift the mix to break up any lump by pushing it through a flour sifter or through a fine strainer.
Pour the mix into a cooking pot. Add the soya alternative to single cream and the dark cooking chocolate. Heat at low temperature and stir the mix constantly for about 5 minutes or until the chocolate is completely melted
Remove from the heat, add the orange zest and mix.
For the final preparation:
Preheat the oven to 175 degrees C (350 degrees F).
Pour the chocolate mix over the previously baked tart dough.
Bake in the oven for 20 min at 175 degrees C (350 degrees F).
Remove from the oven and leave to cool.
Notes
The preparation time is 15 minutes + the rise of the dough