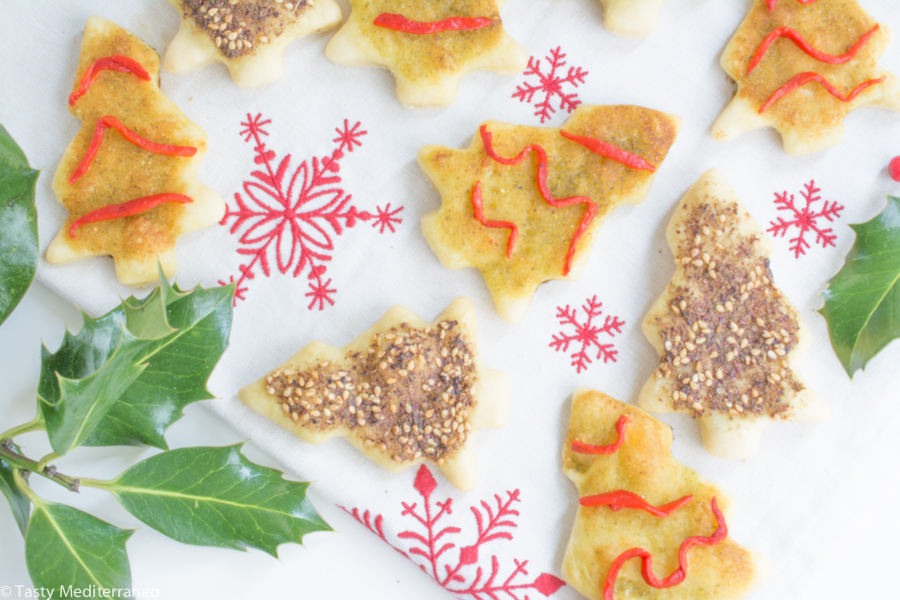 Christmas lights are switched on in Dublin since the 15th of November.
I usually wait until mid December to put my tree up and all the Christmas decorations but this time, when the month of December started I decided to get into the Christmas spirit.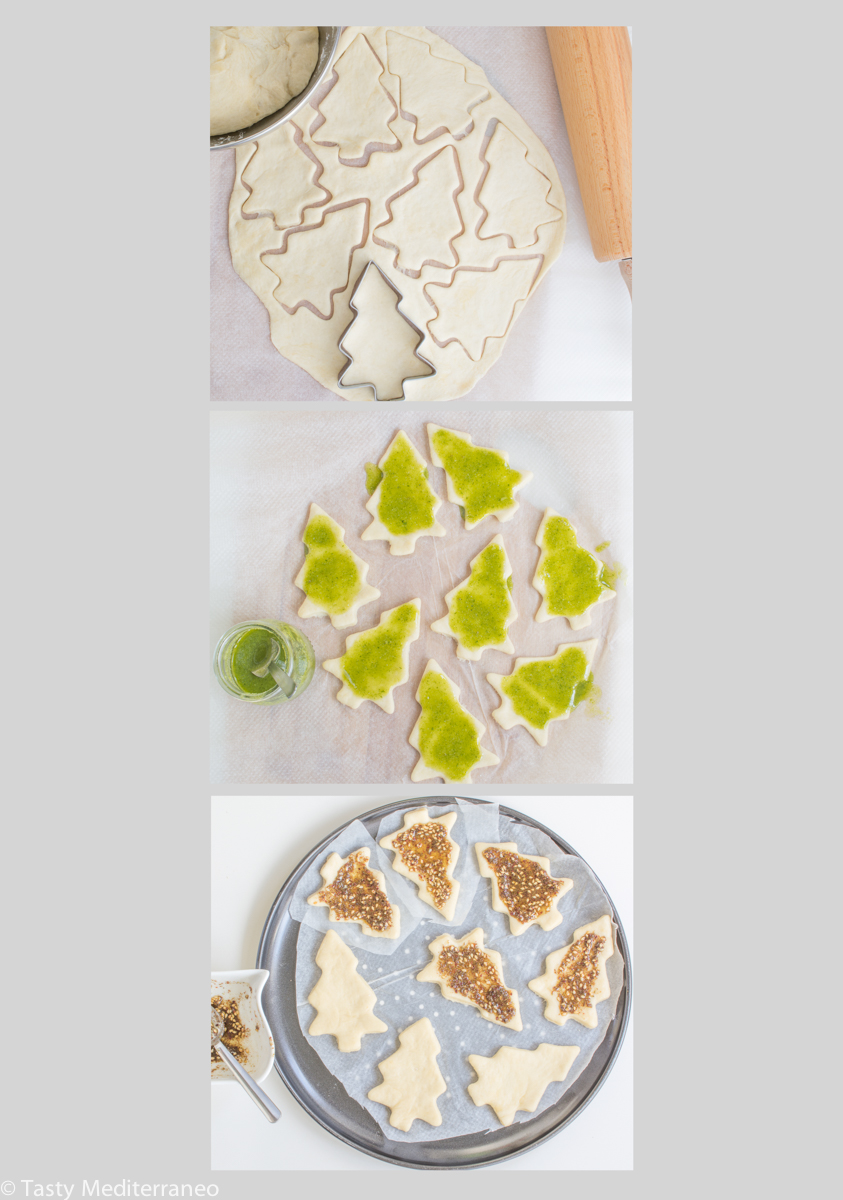 My husband absolutely loves za'atar manouche! That is by far his favourite Mediterranean flatbread, so I baked a festive version of them. In my case I love pesto sauce and thus I prepared a small batch of flatbread appetisers topping them with my fresh basil pesto sauce and thinly sliced Spanish piquillo peppers. I made both appetisers using my multipurpose olive oil dough.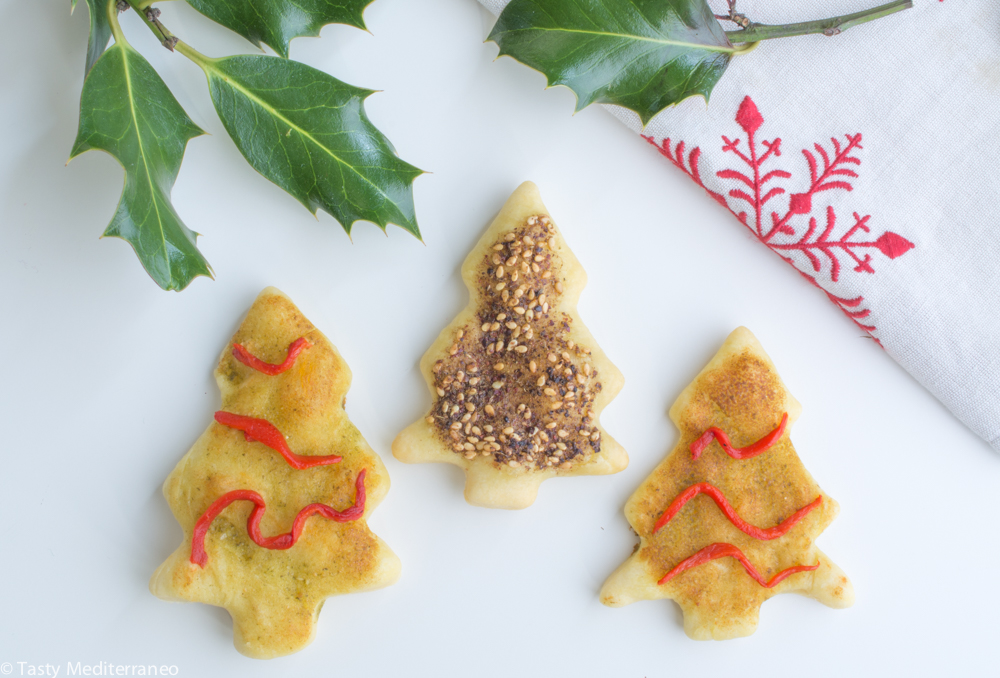 These vegetarian Mediterranean appetisers are very tasty and easy to prepare and they are an absolute lifesaver if you have guests over for Christmas. You can bake them one day in advance and just heat them in the oven for a couple of minutes when your guests arrive, so that you can focus on your other dishes instead and have one less thing to worry about!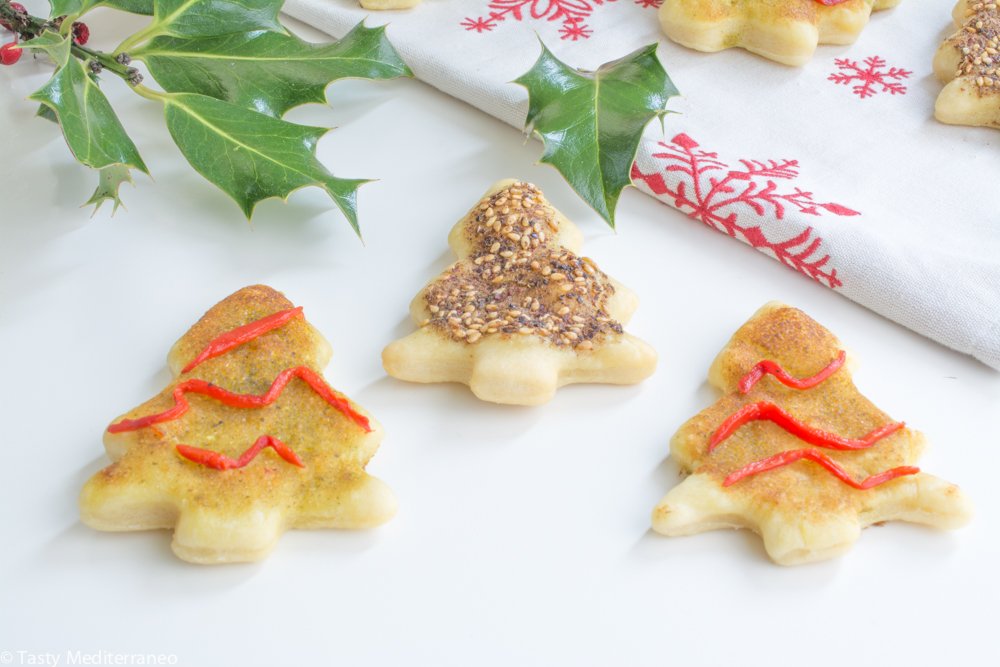 My suggestion is to serve these Christmas flatbread appetisers accompanied with Lebanese cucumbers, olives, mint, tomatoes and some cured cheese (such as Spanish Manchego, French Comté or Italian Parmesan).
If you try this delicious vegetarian appetiser recipe, please let me know, leave a comment and rate it. I would love to know what you come up with. Enjoy!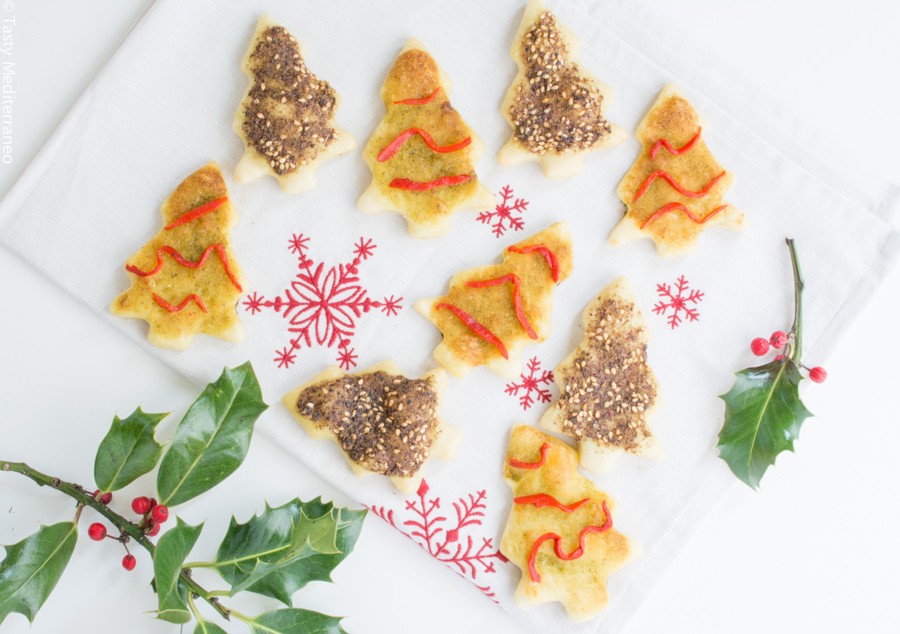 Basil pesto & zaatar flatbread appetisers
Author:
Margarita @ Tasty Mediterraneo
Cuisine:
Mediterranean Diet
Serves:
A batch of 35 mini flatbreads
Ingredients
For the flatbreads
dough
:
300g (2 ½ cups) Organic plain flour
75ml (2.7 fl oz) Extra virgin olive oil
150ml (5.4 fl oz) Warm water
2 Teaspoons yeast powder
1 Teaspoon sea salt
For the za'atar topping:
2 Tablespoons za'atar mix (thyme, sumac, sesame seeds, salt)
3 Tablespoons extra virgin olive oil
12g (1/2 cup) fresh basil leaves plucked off stems
2 ½ teaspoons pine nuts
½ garlic clove, pealed and finely minced
50ml (1/6 cup) extra virgin olive oil
25g (1/4 cup) freshly grated Parmesan cheese
+ 2 Spanish piquillo peppers (Spanish variety of red peppers) cut in strips to decorate on top of the fresh basil flatbreads.
Instructions
For the flatbreads
dough
:
Follow the instructions as explained in my Multipurpose Olive Oil Dough recipe.
Once you have flattened out the dough, using a cookie cutter cut out as many flatbreads as possible but keeping them slightly apart. Knead the trimmings back together and roll them out again using the same method.
For the za'atar topping:
In a small bowl mix the za'atar and the extra virgin olive oil.
With the help of a spoon, spread the mix on top of half of the batch of flatbreads.
Follow the instructions as explained in my Fresh basil pesto sauce recipe.
With the help of a spoon, spread the pesto sauce on top of the rest of flatbreads.
For the final preparation:
Preheat the oven to 200 degrees C (400 degrees F)
Bake in the oven for 8 min at 200 degrees C (400 degrees F)
Remove from the oven and serve hot or leave to cool on a cooling rack.
Notes
Before serving, add a few strips of Spanish piquillo peppers on top of the baked fresh basil flatbreads batch.

If you cannot easily find Piquillo peppers where you live, you could use roasted red bell peppers instead.