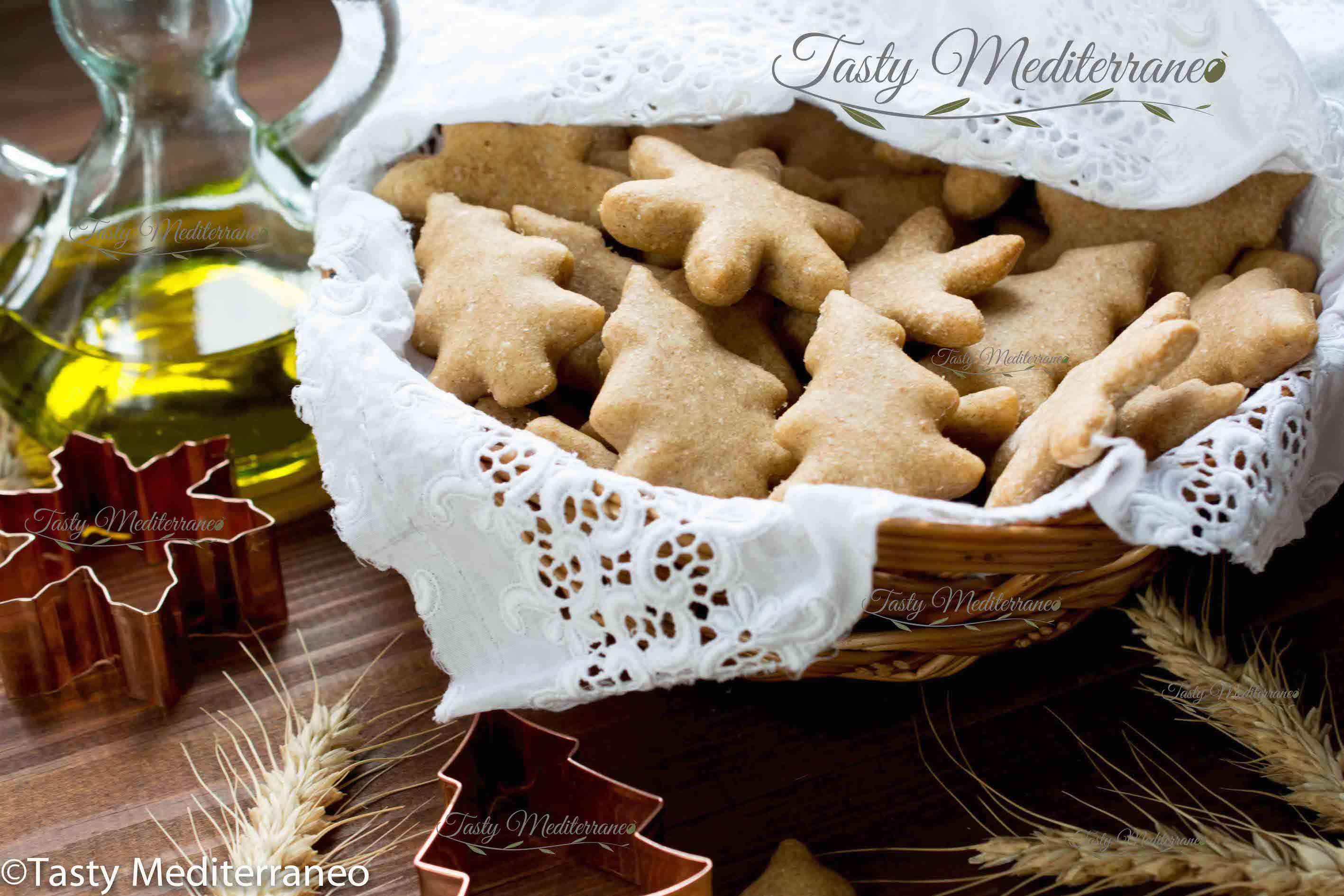 Last month I was invited by Tasty Andalucia to a gastronomic press tour of Andalusia. I was delighted to receive their invitation because Andalusia has the largest production of olive oil in the world, with the province of Jaén being internationally recognised as "The World Capital of Olive Oil".
As you know, Extra Virgin Olive Oil (EVOO) is an essential element of the Mediterranean Diet. EVOO is well known by its organoleptic characteristics and its health benefits.
I joined the gastronomic press tour of Andalusia on the evening of Day 2. I arrived to Seville and joined the rest of the group for dinner at "Bar Castizo". I like to have light dinners and since I am vegetarian I was glad to find in their menu a delicious and nutritious vegan lentil soup that went down a treat!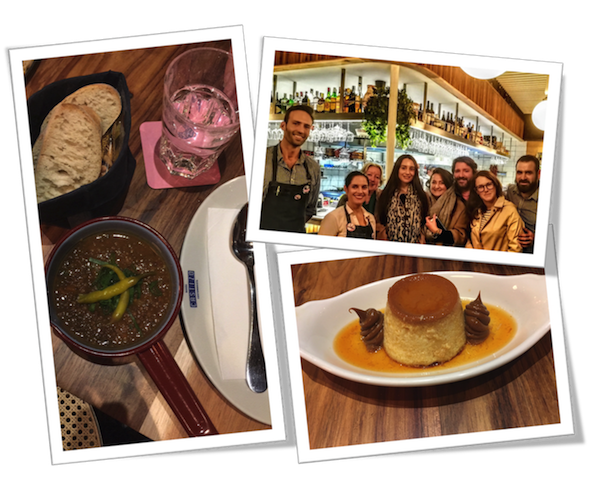 On Day 3, as part of the gastronomic tour we went to Córdoba and visited the olive oil mill of "Venta del Barón" in "Priego de Córdoba" which has the Denomination of Origin Priego de Córdoba.
The Denomination of Origin Priego de Córdoba carries out extensive quality controls throughout every process of the harvest, production and bottling of their Extra Virgin Olive Oils in order to guarantee the origin and the maximum quality of their products. Their EVOO is one of the best in the world thanks to its premium quality.
The varieties of olives that they use to get their exceptional EVOO include Picuda, Hojiblanca and Picual. These olives are harvested at the optimum moment of maturity, and then taken to the mill (almazara) to obtain this EVOO of exceptional quality.
We did an EVOO tasting (cata) to distinguish in between the different EVOO varieties certified by the Denomination of Origin Priego de Córdoba what allowed us to taste the different flavours and nuances of its excellent varieties.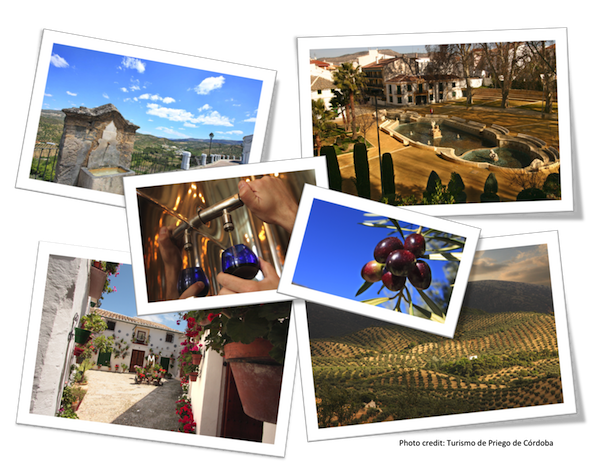 The EVOO mill was followed by a visit to the factory of the famous hand cooked extra virgin potato crips "San Nicasio". Their hand cooked crips are fried in EVOO, certified by the Denomination of Origin Priego de Córdoba.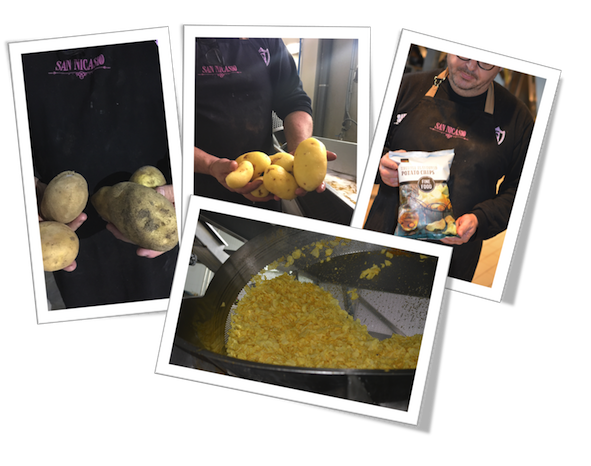 We had a magnificent lunch at "La Ribera Restaurante" were they served to me a fantastic selection of vegetarian and vegan Mediterranean dishes such as the ones you can see in the pictures below.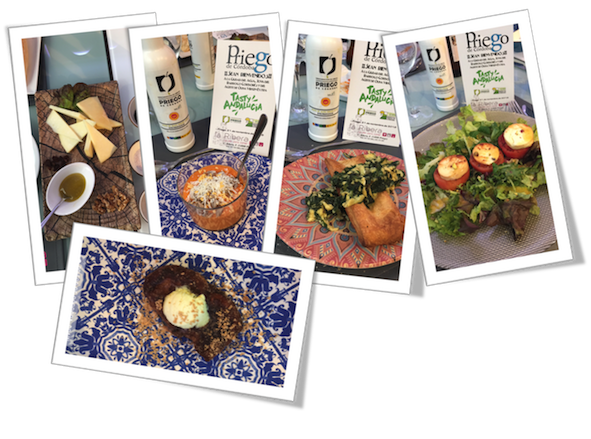 After this satisfying meal we went for a walk around the beautiful city of Priego de Córdoba. And dinner took place at "Bodegas Campos Córdoba" were I was served a light vegetarian dinner consisting of some typical Andalusian dishes such as "Mazamorra" & "Salmorejo" followed by a yummy salad & EVOO icecream for dessert.
On Day 4 we travelled to Cádiz to visit the winery "Bodegas Hidalgo La Gitana", a winery founded in 1792 that is still managed by the Hidalgo family who found it.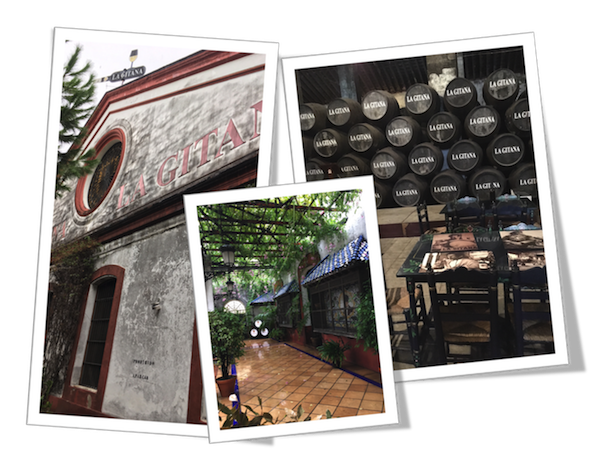 After the winery visit we had lunch at "Casa Balbino" in "Sanlúcar de Barrameda" a restaurant that is very famous for its fish, but in my case being vegetarian I didn't have many options, although they were kind enough to prepare for me eggs with cardoon and some olives.
Sanlúcar de Barrameda is a city in Cádiz that is very well known for its fish, thus as part of the gastronomic tour of day 4 they took us to the fish market and we had dinner at "Bar La Campana" where they were super kind to prepare for me a delicious vegan dish of breaded seaweed and a yummy tomato salad with olives & EVOO.
Some restaurants in Andalusia may not have many vegetarian or vegan options in their menus but my experience was that they will do everything they can to serve you a tasty dish that you can eat to accommodate your dietary requirements.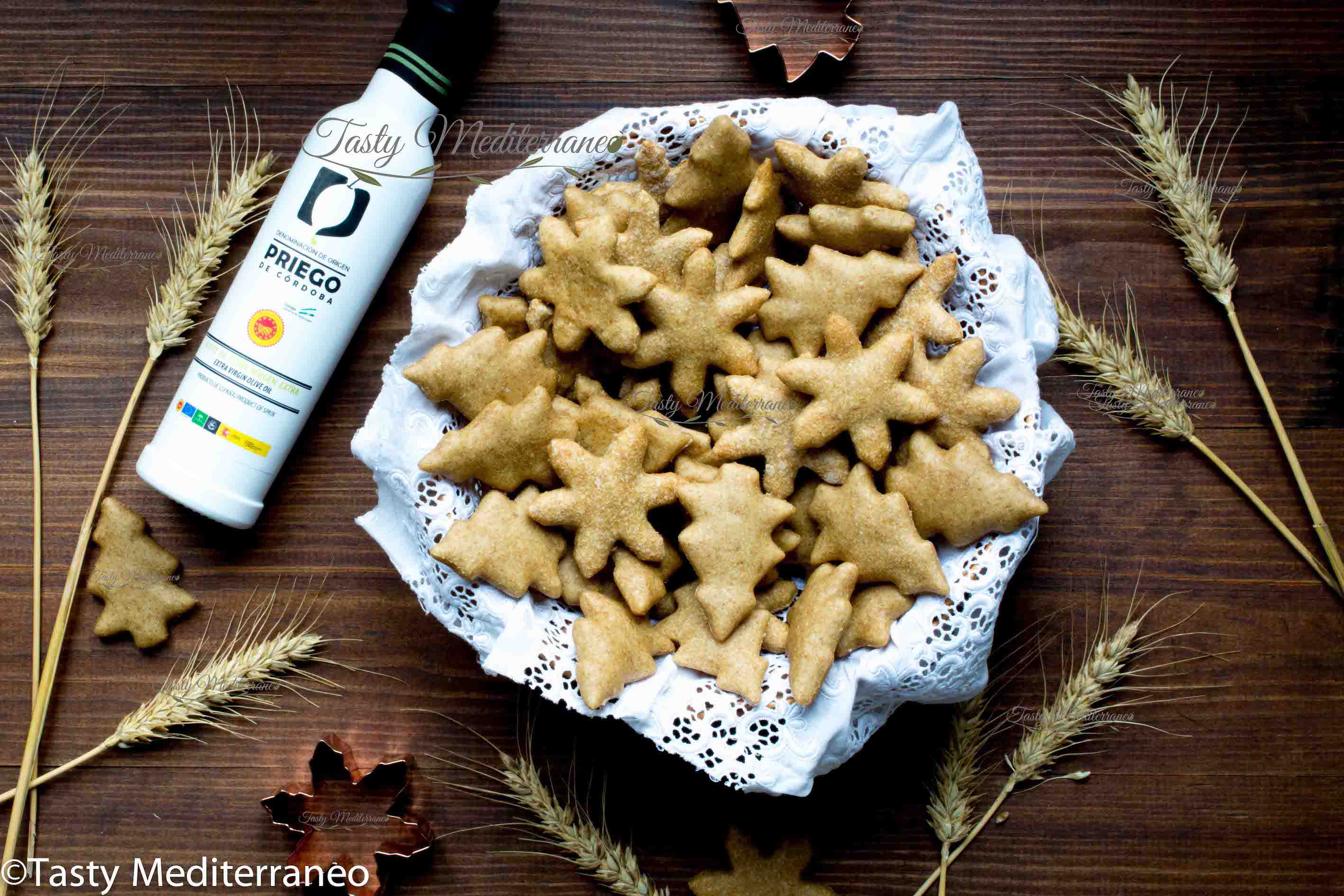 And I didn't want to finish this post without sharing a yummy vegan recipe of EVOO mini flatbreads that I have prepared using EVOO Denomination of Origin Priego de Córdoba.
These EVOO mini flatbreads are perfect for the festive season to serve them for example with hummus, baba ghanoush, vegan paté and many others.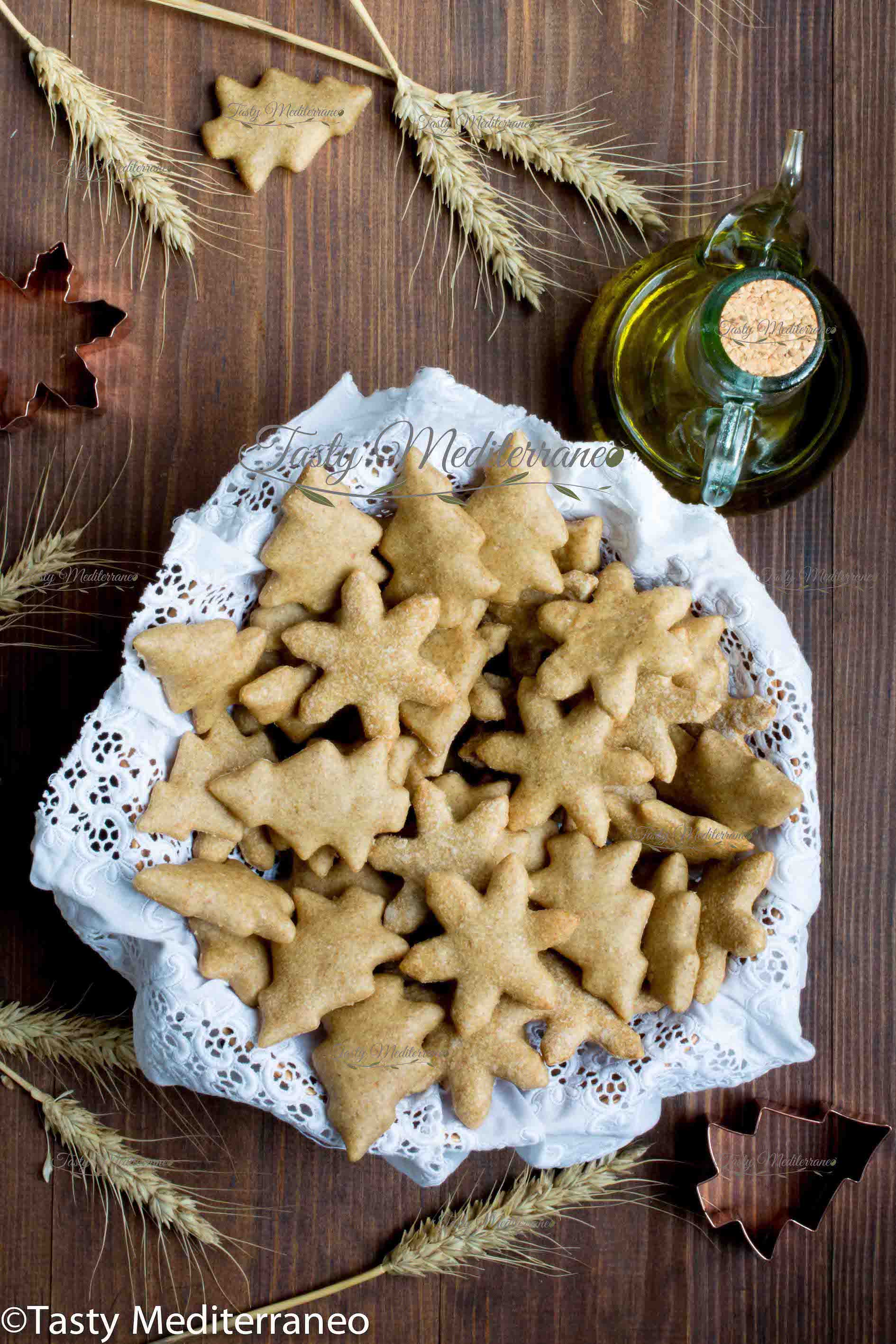 If you try this tasty and nutritious vegan recipe from the Mediterranean diet of "EVOO mini flatbreads" please let me know, leave a comment and rate it. I would love to know what you come up with. Enjoy and happy holidays!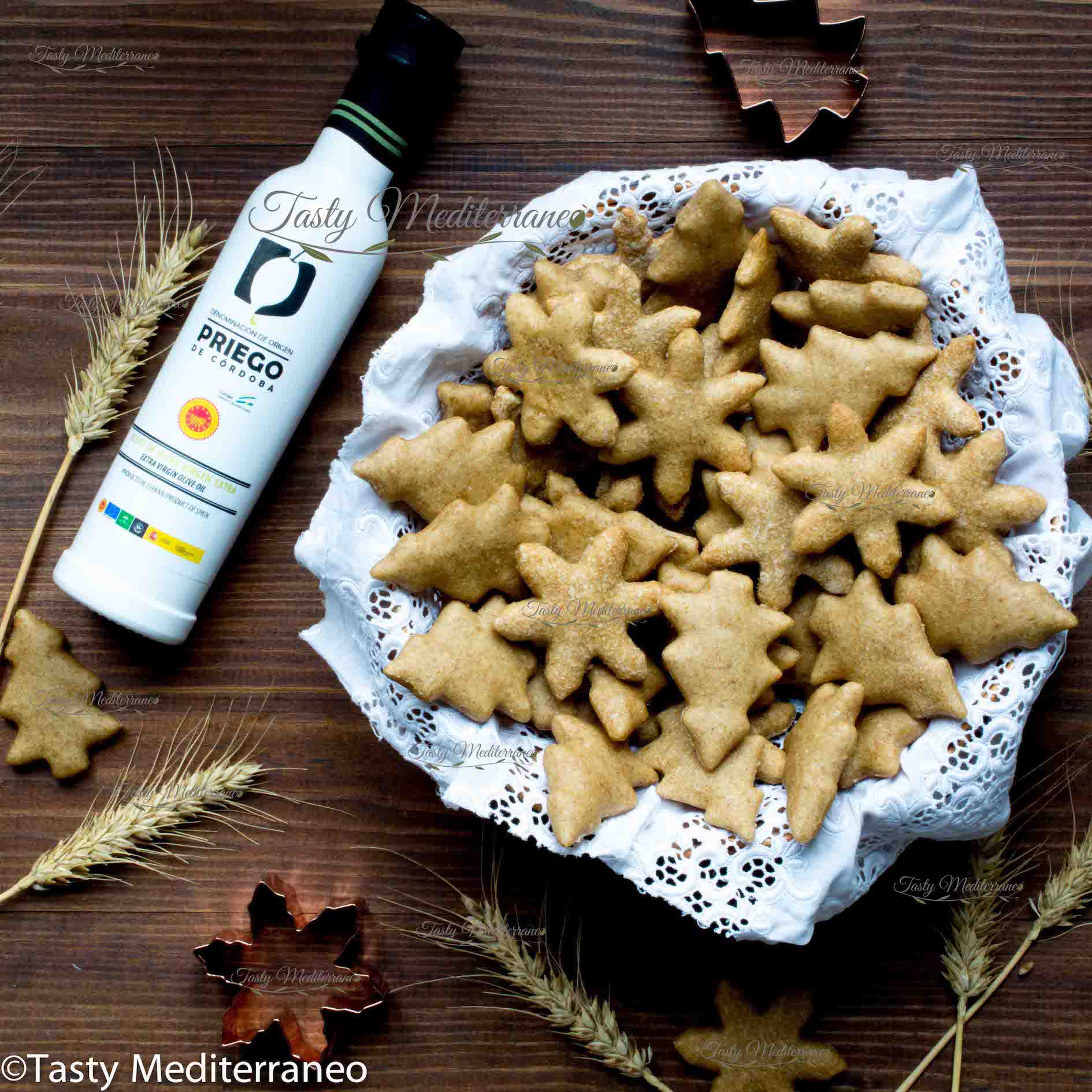 EVOO mini flatbreads
Author:
Margarita @ Tasty Mediterraneo
Cuisine:
Mediterranean Diet
Serves:
50 mini flatbreads
Ingredients
300g (2 ½ cups) Organic whole-wheat flour
75ml (2.7 fl oz) Extra virgin olive oil
150ml (5.4 fl oz) Warm water
1 Teaspoon yeast powder
½ Teaspoon sea salt (or salt to taste)
Instructions
In a big bowl combine the flour, the salt and the yeast powder. Make a well in the middle and pour into it the extra virgin olive oil and the warm water. With a silicon spatula bring the flour in from the sides and mix it well with the liquid. Keep mixing until it all starts to come together, and then keep on mixing with your clean hands and knead it until you have a smooth, not sticky, dough.
Cover the bowl with a cloth and place in a warm place of the house for at least half an hour until the dough has doubled its volume.
Remove the dough from the bowl and place it in a clean flour-dusted surface. Knead it a bit with your hands and, with the help of a rolling pin (lightly dusted in flour), extend it gradually flattening it out to the thickness of 1€ coin (approx. 0,25cm). And using a small cookie cutter with your preferred shape, cut out as many flatbreads as possible but keeping them slightly apart. Knead the trimmings back together and roll them out again using the same method. Line a baking tray with non-stick baking paper and place the EVOO mini flatbreads on it.
Preheat the oven to 200 degrees C (400 degrees F)
Bake in the oven for 15 min at 200 degrees C (400 degrees F)
Remove from the oven and serve hot or leave to cool on a cooling rack.
Notes
The preparation time includes 30 minutes to allow the dough to double.

You can bake them one day in advance and just heat them in the oven for a couple of minutes when your guests arrive, so that you can focus on your other dishes instead and have one less thing to worry about!