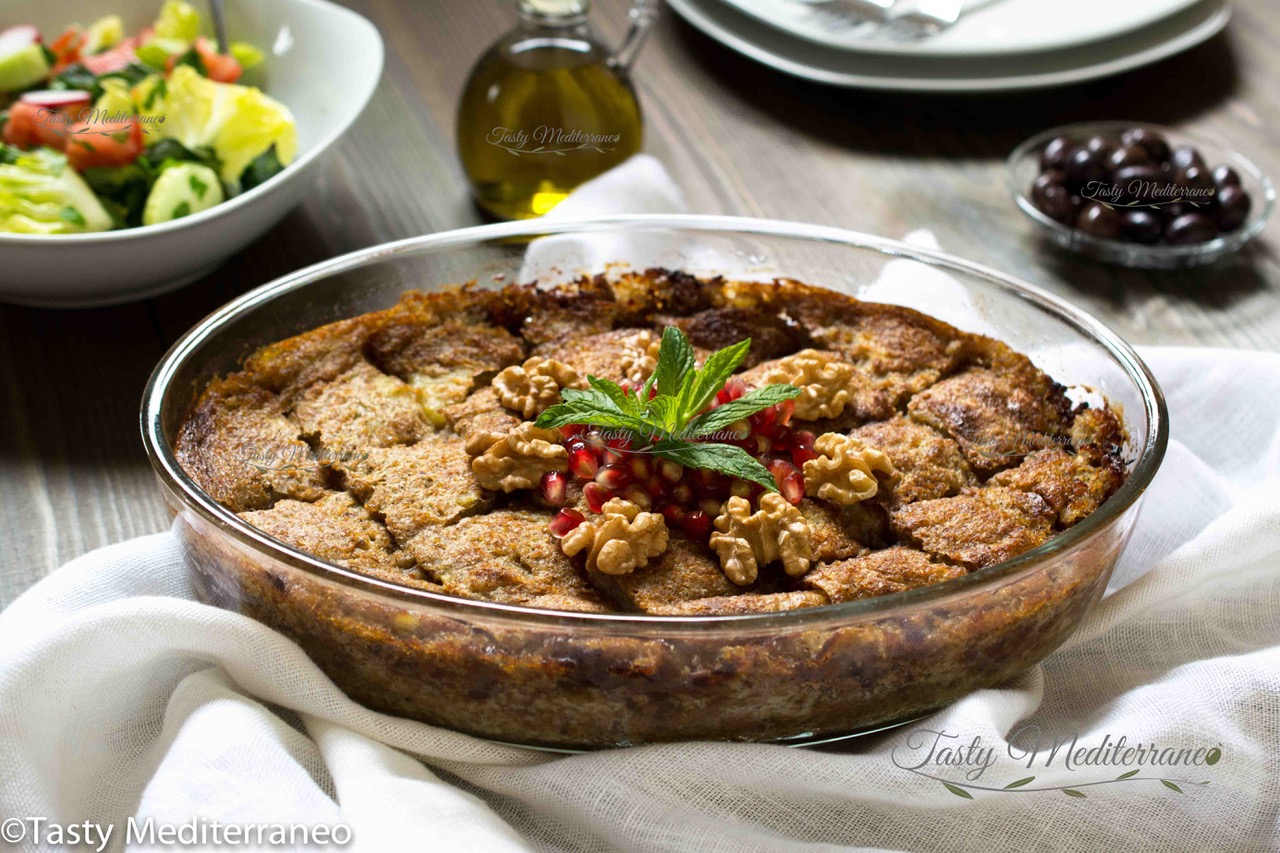 I recently attended the All-island Obesity Action Forum in Ireland organized by Safefood. An event that highlighted how reformulating our obesogenic environments can create positive behaviours to promote a healthy weight and to fight non-communicable diseases (NCDs).
NCDs, also known as chronic diseases, are medical conditions that are not caused by infectious agents but caused by external factors, such as nutrition and lifestyle choices. The NCDs include malnutrition (caused by too little food or eating the wrong kind of foods), cardiovascular diseases (CVDs), hypertension, diabetes mellitus type 2 and cancer amongst others.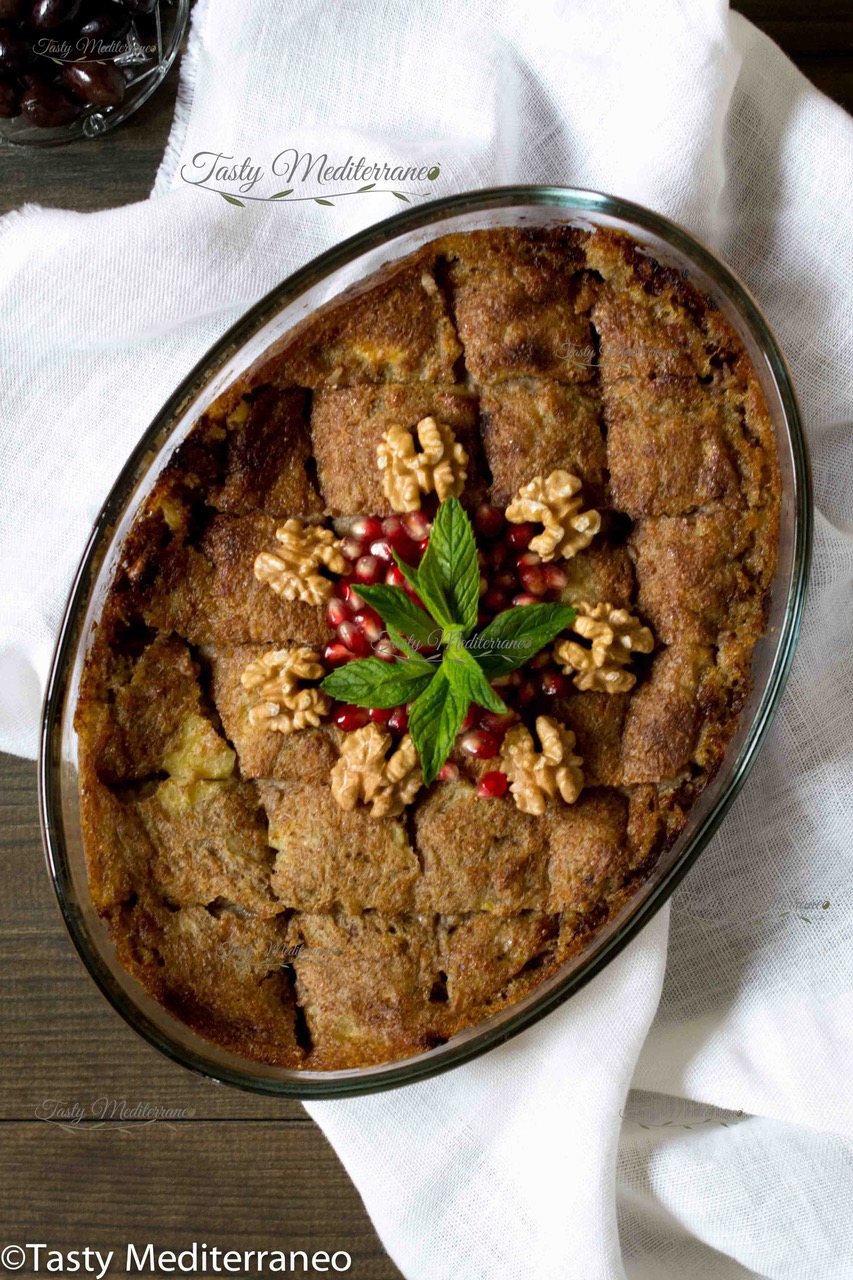 In today's society, one of the most common problems related to lifestyle is overweight. And obesity, or severe overweight, is a key risk factor in the development of NCDs. Evidence suggests that the prevalence of overweight and obesity is rising dramatically worldwide and this problem affects children and adults alike.
In this forum, the promotion of healthy diets and increased levels of physical activity to control overweight and obesity were discussed. The active participation of many groups including governments, health professionals, the food industry, the media and consumers is necessary in order to change our obesogenic environments. Also to encourage people to be more physically active and to help promote healthy diets that are low in fat, high in complex carbohydrates and which contain large amounts of fresh fruits and vegetables, is a shared responsibility.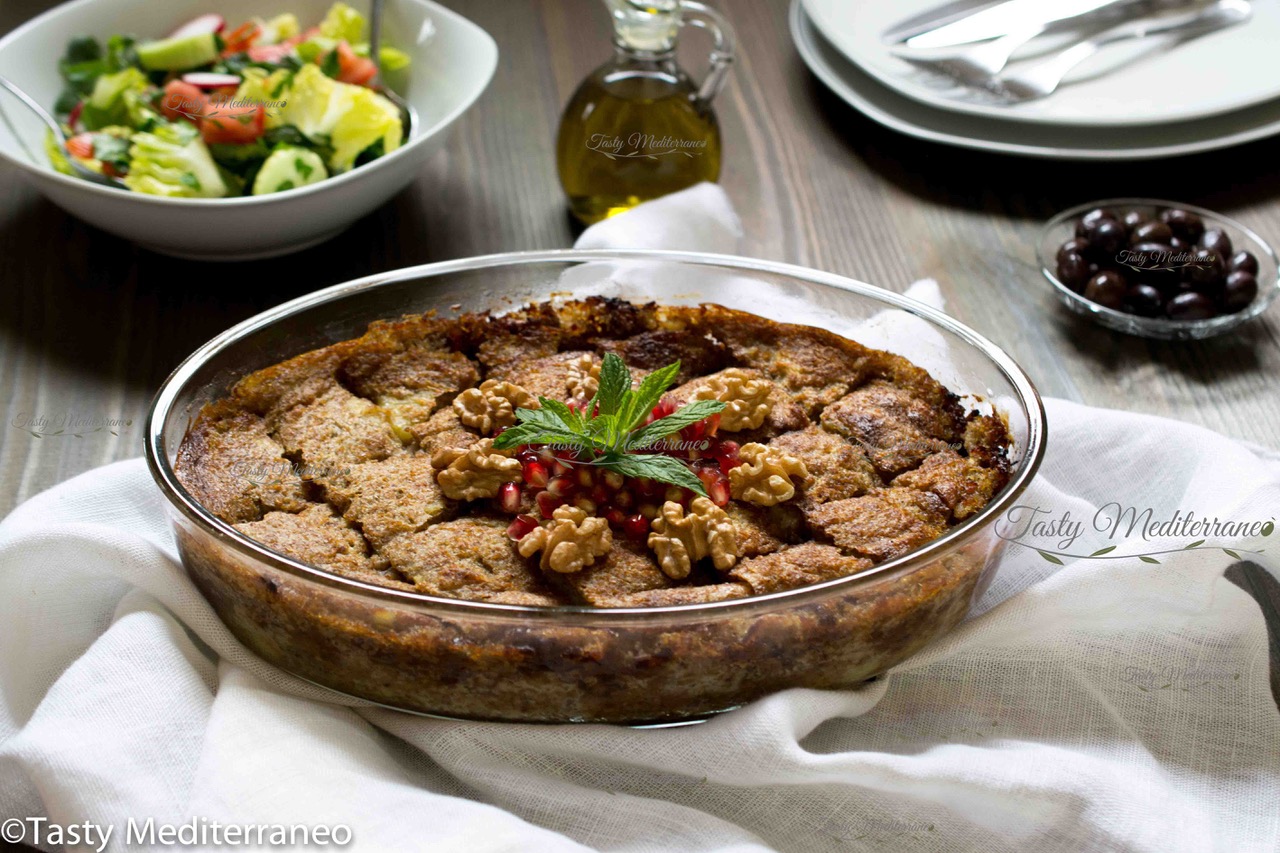 I would like to encourage you to be more active and to follow a healthy dietary pattern such as the Mediterranean diet where large amounts of fruits and vegetables, legumes such as beans and lentils, nuts, whole grains and extra virgin olive oil (EVOO) are abundant.
The recipe I share with you today is a recipe that my mother in law shared with me during our latest trip to Lebanon, "Potato kibbeh", a tasty and nutritious vegan recipe from the Mediterranean cuisine.
Some of the ingredients in this recipe are potatoes (that are virtually fat free and a good source of fibre, protein, potassium and vitamin C), bulgur (a cereal rich in iron as well as in dietary fibre, vitamin B6, magnesium and manganese) and walnuts (a very good source of mono-unsaturated, heart-friendly fats).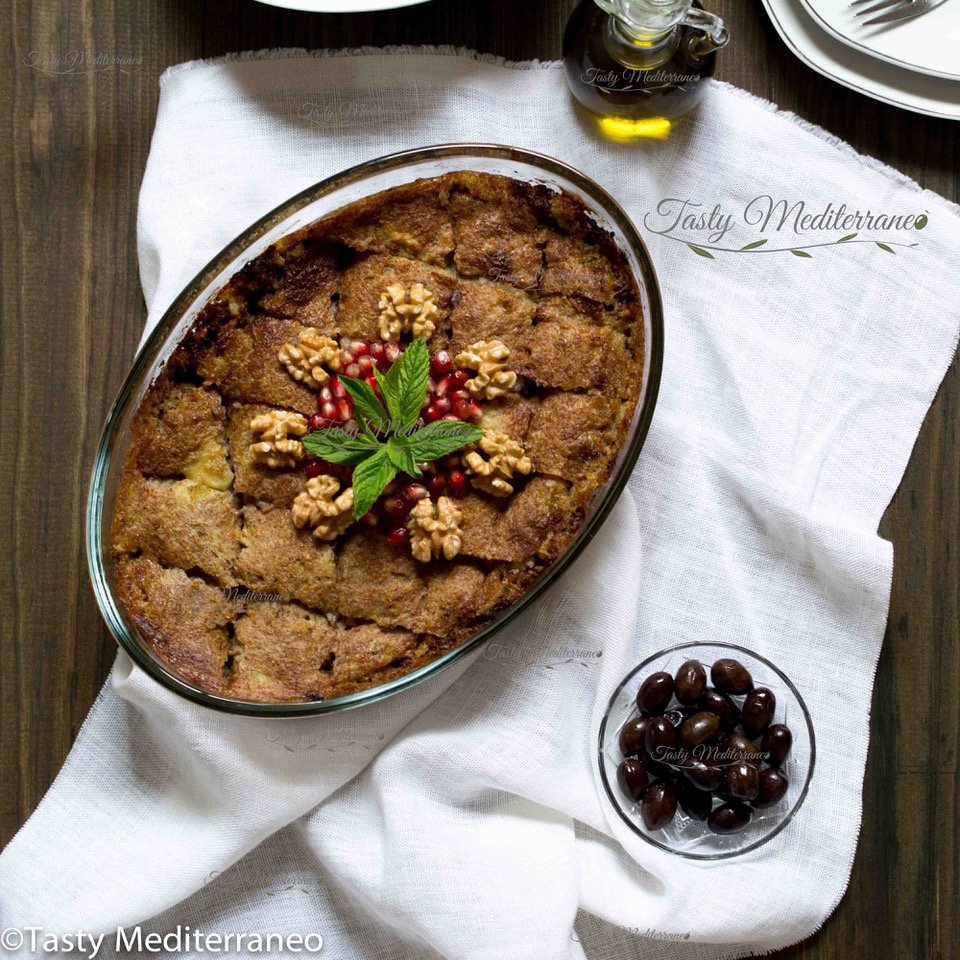 If you try this tasty and nutritious vegan recipe from the Mediterranean diet of "Potato kibbeh" please let me know, leave a comment and rate it. I would love to know what you come up with. Enjoy!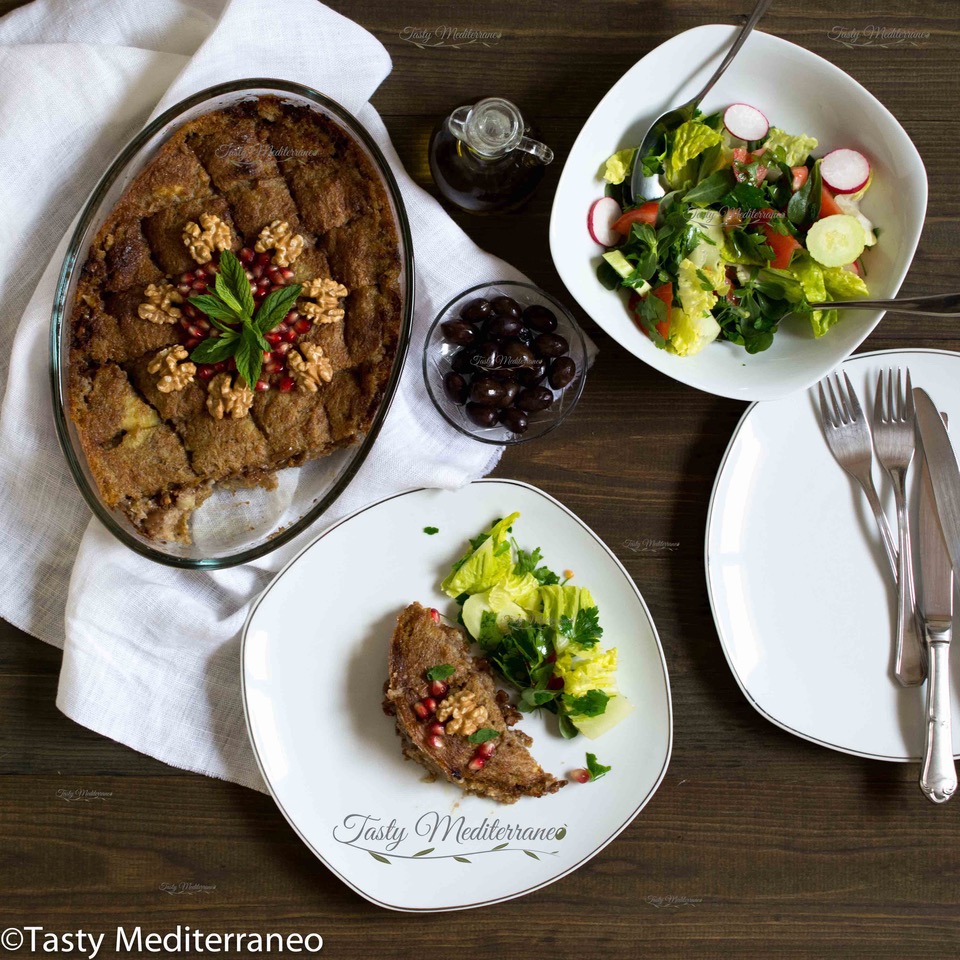 Potato kibbeh
Author:
Margarita @ Tasty Mediterraneo
Cuisine:
Mediterranean Diet
Ingredients
1 kg (2,2 pounds) Potatoes
225g (1 cup) Organic wholegrain bulgur wheat, raw
5 Medium onions, thinly chopped
200g (1 ½ cups) Raw walnuts, coarsely chopped
2 Tablespoons Extra Virgin Olive Oil (EVOO)
1 Tablespoon pomegranate molasses
1 Tablespoon freshly squeezed lemon juice
½ Tablespoon sea salt (or salt to taste)
Freshly ground white pepper
Instructions
Have the ingredients prepared as indicated in the ingredients description.
For the kibbeh dough
Scrub the potatoes clean to get rid of any dirt and get rid of any gnarly bits. To boil the potatoes, place them in a saucepan with cold water and simmer for about 15-20 minutes until you can easily poke through them with a fork. Drain the excess of water, peel the potatoes and mash them in a large bowl with the help of a potato masher.
Wash and rinse the bulgur. Once the potatoes are mashed, add the rinsed bulgur into the bowl with the mashed potatoes, 1 teaspoon sea salt (or salt to taste), a bit of freshly grounded white pepper and mix well, it will become like dough.
For the filling
While the potatoes are boiling, add 1 tablespoon EVOO into a large frying pan and sauté the chopped onions for about 5 minutes at low heat until they are tender and lightly golden; then add the walnuts, the pomegranate molasses, the lemon juice and a bit of salt, sauté all together for a couple of extra minutes, remove from the heat and keep aside.
For the final preparation
Preheat the oven to 150 degrees C (300 degrees F).
Lightly grease a non-stick baking tray with olive oil.
Divide the dough in 2 parts. Knead the first part well spreading it evenly on the baking tray. Once the 1st part of dough is covering the baking tray, add the filling on top. Then lay evenly the 2nd part of dough over the filling, flattening it with the help of a spoon, until the entire surface is covered.
Use a knife to decorate the kibbeh surface with deep square-shaped cuts. And spread over the surface 1 tablespoon EVOO.
Bake in the middle of the preheated oven for 25-30 min at 150 degrees C (300 degrees F) until golden. Remove from the oven and serve hot.
Notes
This dish can be a nutritious main dish when served with a green salad or you can also have it as a side dish.