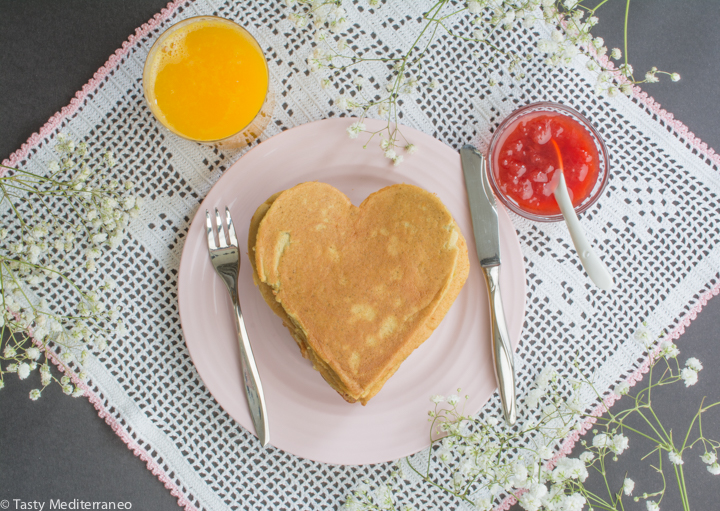 Those of you who are regular followers of my blog might have already noticed a new badge on my website. This badge is actually the logo of the International Year of Pulses (IYP).
As I recently mentioned on my "Lebanese Tarator" post, the United Nations declared 2016 the International Year of Pulses (IYP) in order to create awareness of the nutritional benefits of pulses as part of sustainable food production.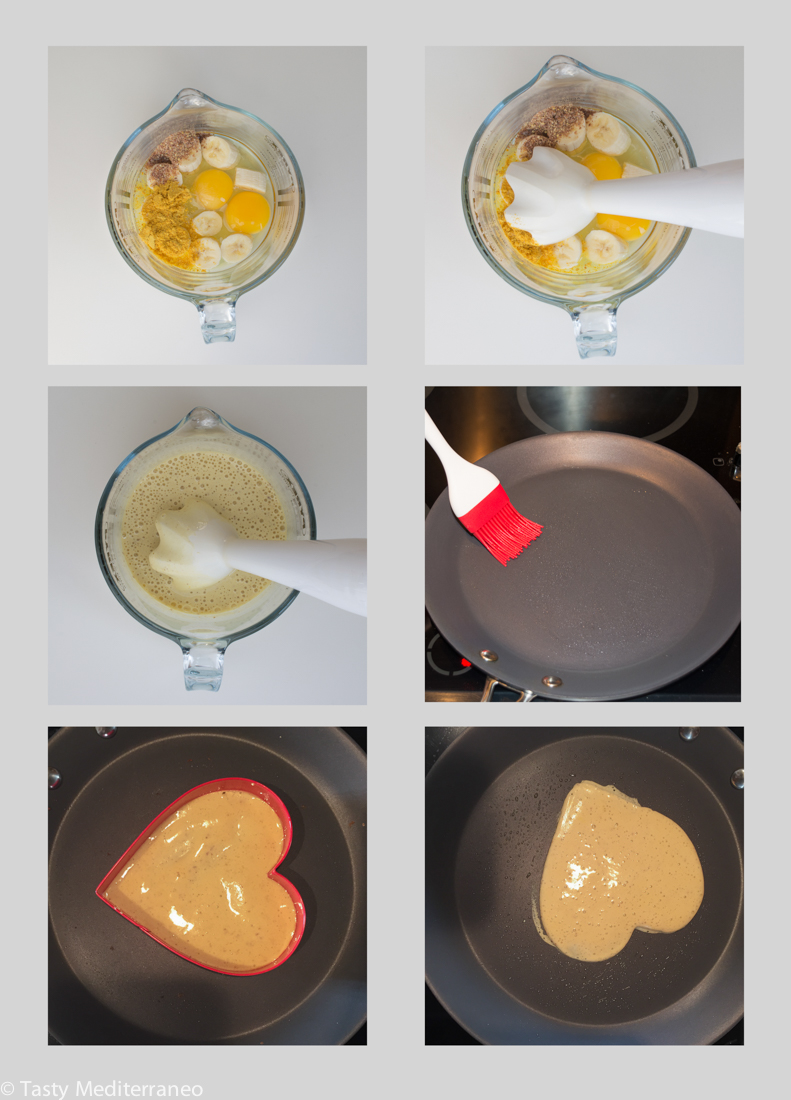 Since pulses are a staple of the Mediterranean diet, and I have all sorts of recipes made with pulses on my blog "Tasty Mediterraneo", the Food and Agriculture Organization of the United Nations (FAO) invited me to share with them my pulses recipes for the #IYP2016. And the first recipe that I have shared with them is my "Spanish chickpea & spinach stew" that is now featured on the FAO website.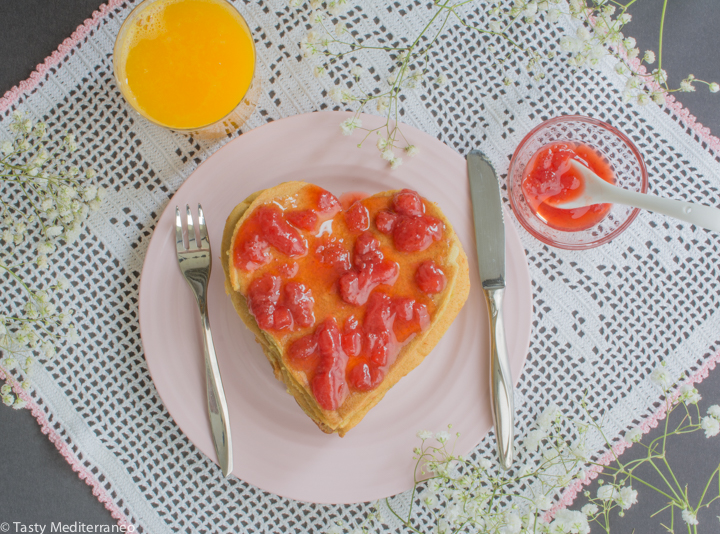 This Sunday is St. Valentine's Day, and I have prepared a special pancake recipe for those of you who want to surprise your other half on the day.
Personally, I believe everyday is a good day to show your love to your partner, that there is no need of a commercial day to remind us of the importance of caring for each other. But since many of you want to do an extra effort on that day, I share with you this delicious gluten free pancake recipe so that you can put both love and health on the table for your loved one with this nutritious breakfast.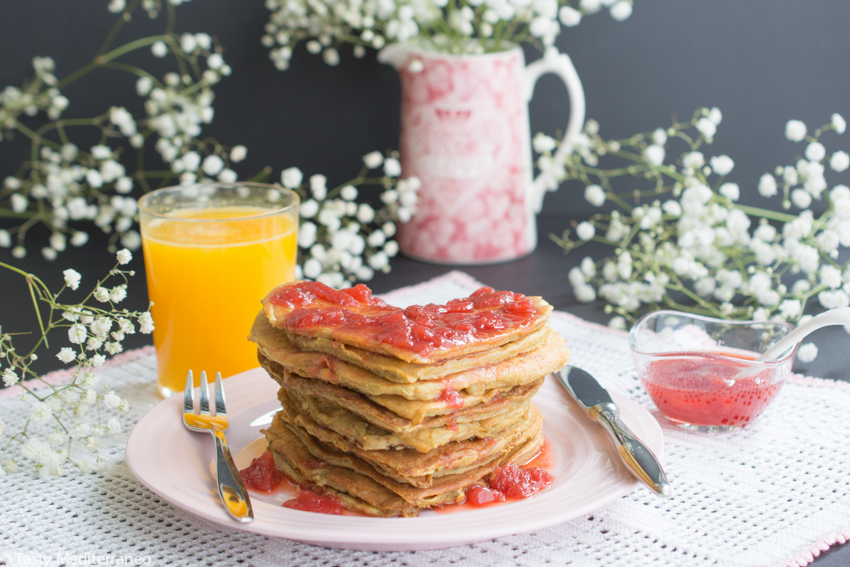 Add to your breakfast a homemade smoothie and a glass of freshly squeezed orange juice and you will get the right balance of all your nutritional needs that will keep you full and energized all morning.
If you try this healthy and nutritious pancake recipe, please let me know, leave a comment and rate it. I would love to know what you come up with. Enjoy!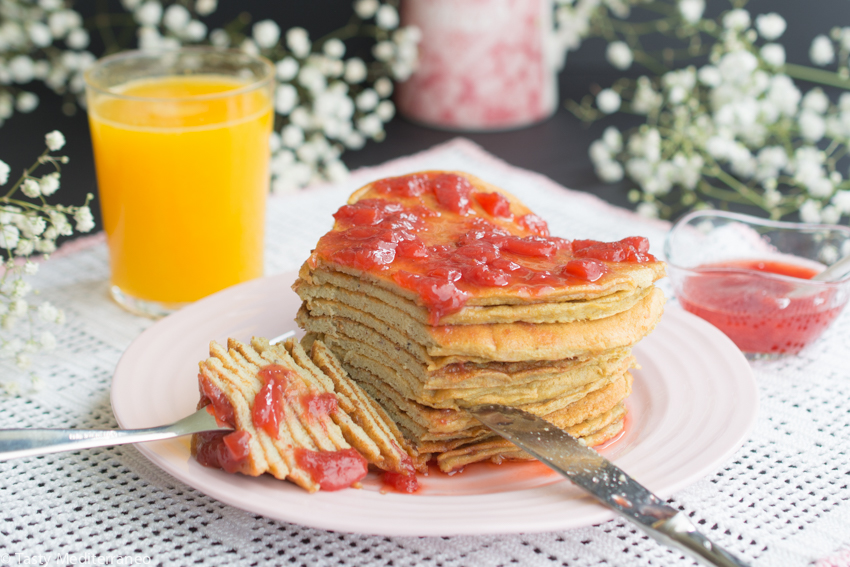 St. Valentine's pancakes
Author:
Margarita @ Tasty Mediterraneo
Cuisine:
Mediterranean Diet
Ingredients
4 Organic eggs
2 Banana, peeled and cut into small pieces
1 Tablespoon organic bee pollen, milled
1 Tablespoon organic milled flax seeds
½ Teaspoon extra virgin olive oil (for the pancake pan)
Instructions
Crack the eggs into a bowl, add the banana pieces, the bee pollen and the flax seeds. And with the help of a hand mixer blend all the ingredients together until you get a smooth batter.
Heat a few drops of extra virgin olive oil over moderate heat on a non-stick pancake pan and pour some batter into the pan. Leave to cook, undisturbed, for about 2 minutes until the pancake has turned golden underneath and you can easily lift it. Then it should be ready to turn. With the help of a silicon spatula, lift it and flip it over making sure that the pancake is lying flat against the base of the pan. Cook for about 30 seconds and turn out onto a plate.
Continue the same process with the rest of the batter. And serve them as you cook or all together.
My serving suggestion is to add some homemade strawberry, vanilla and pine nuts jam on top.