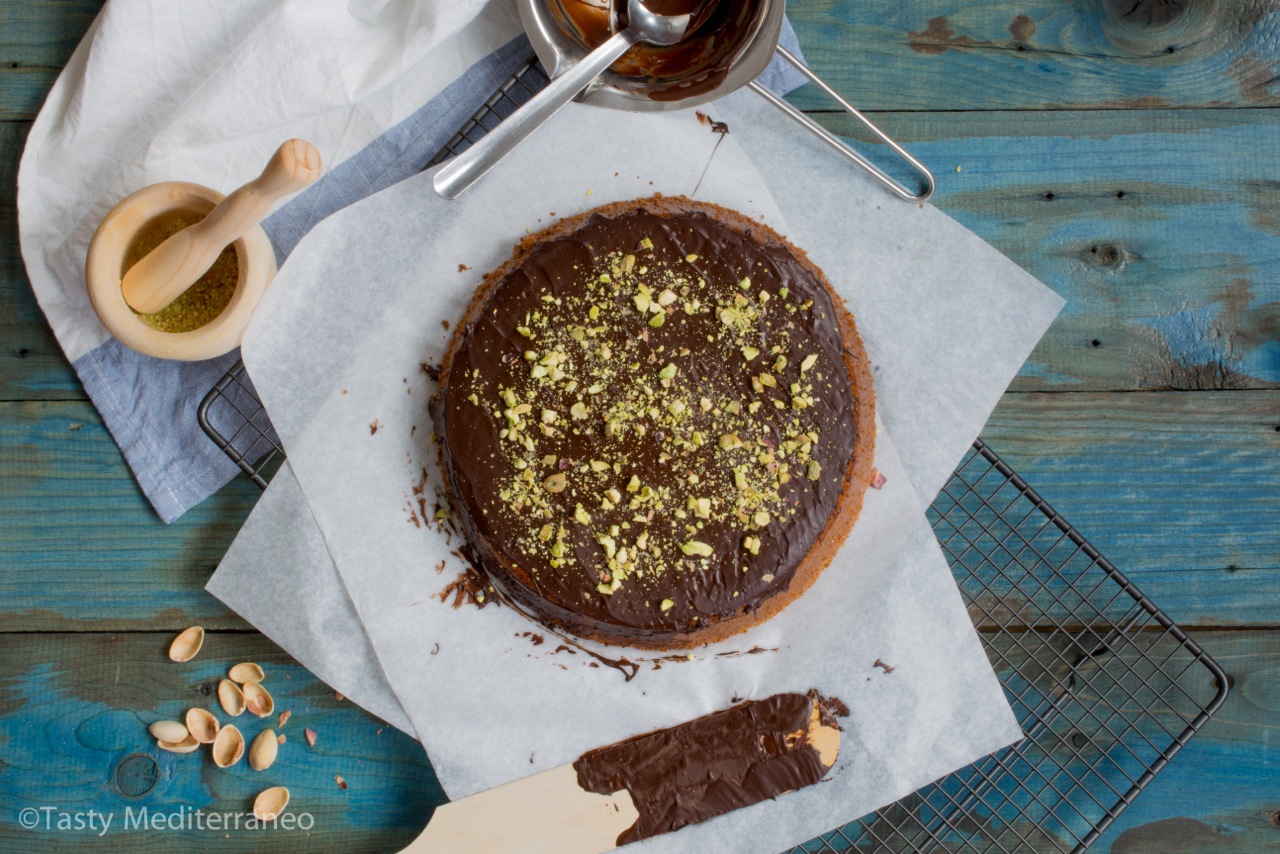 Carbohydrates (carbs) – get a very bad reputation when it comes to weight gain. But carbs are actually used by the body as its main fuel source. Carbs are found almost exclusively in plant foods and are of three main types: sugars, starches and fibres. They are vital to our health as they provide us with energy.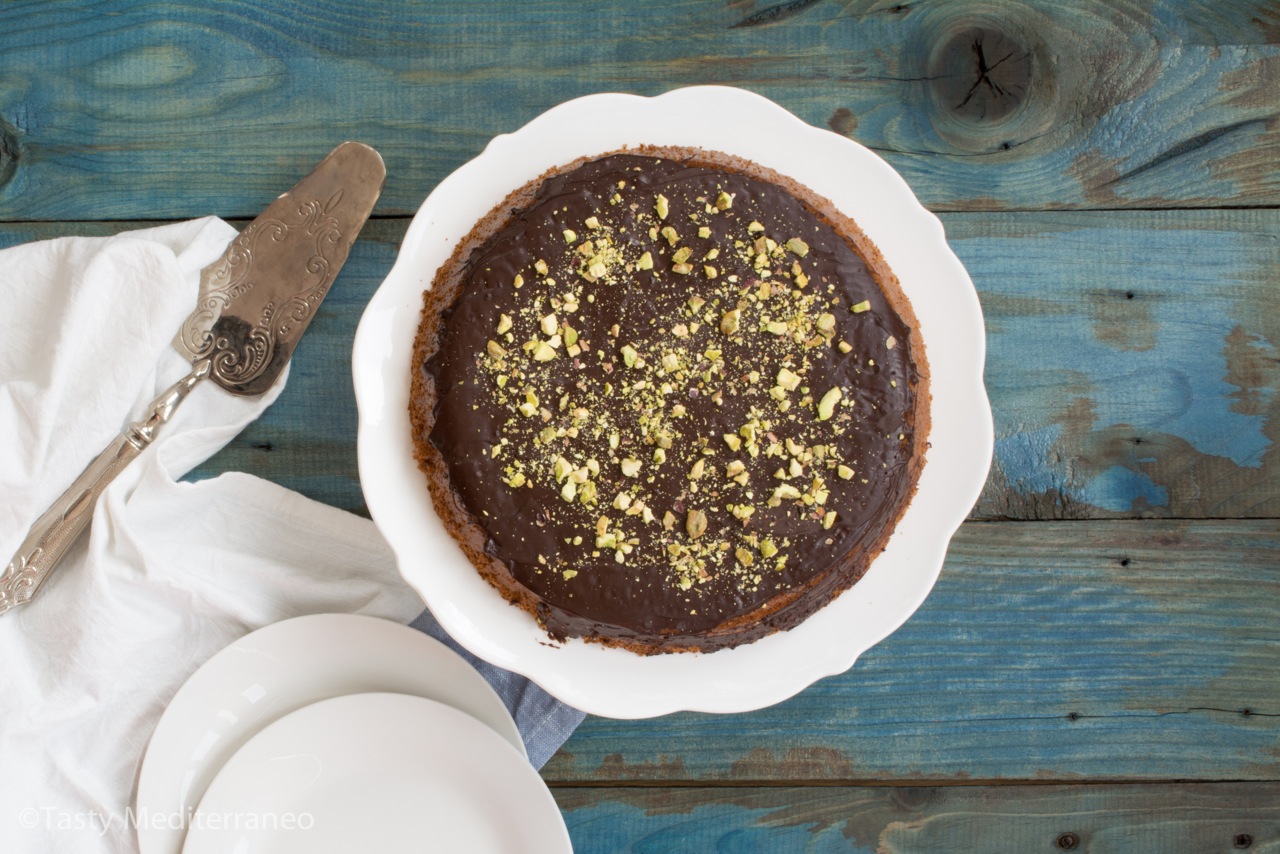 If we choose good natural carbs that are full of fibre such as: beans and legumes, fruits, vegetables and whole grains they will provide us with many important nutrients that are essentials for a healthy and balanced diet.
But if we choose refined and processed carbs and added sugars, we will not be adding any of the necessary fibre or the nutrients to our diet, only the calories!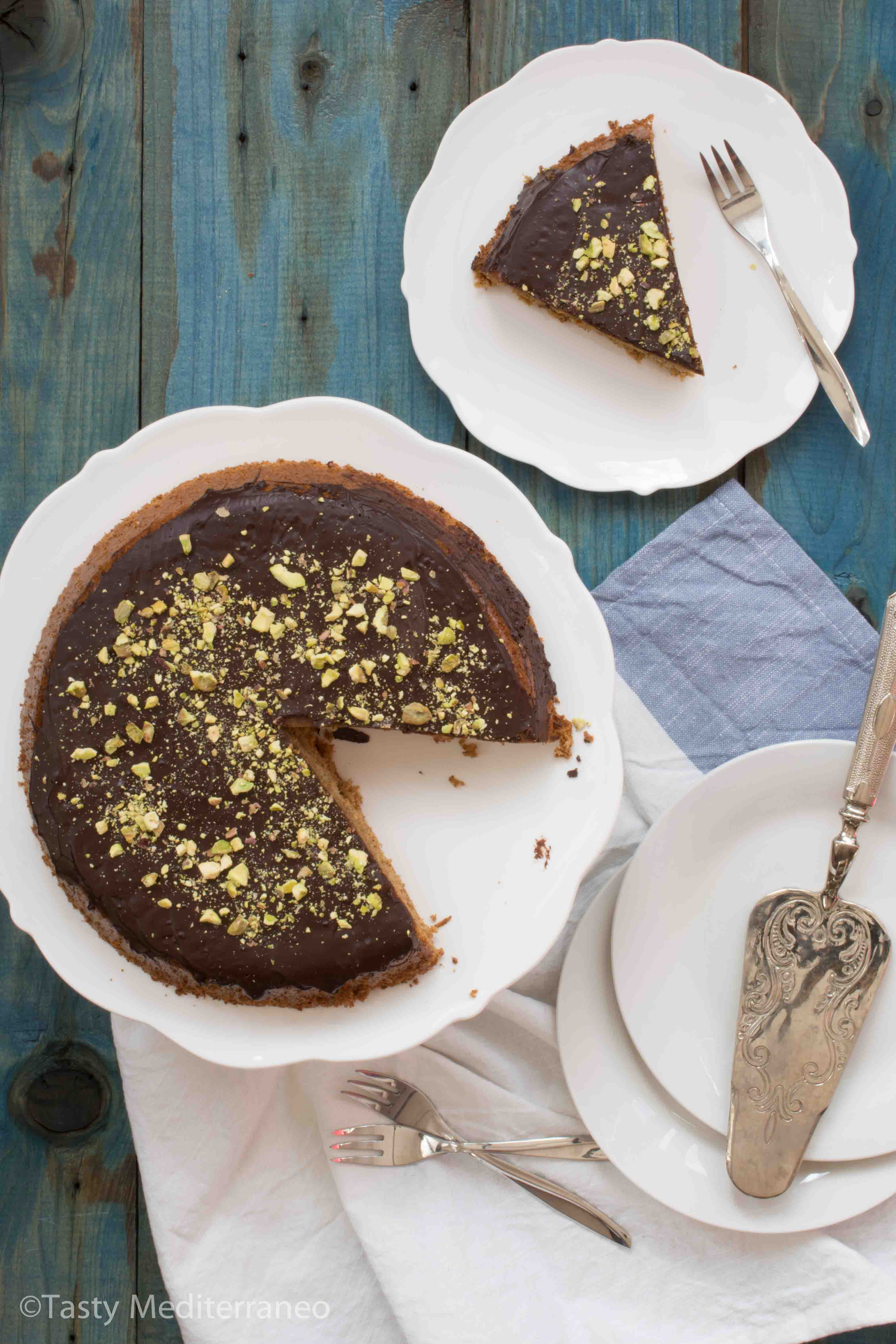 The spelt cake with chocolate & pistachio topping recipe that I share with you today contains good natural carbs and it is high in protein and fibre, very light, moist and fluffy. I love baking with wholemeal spelt flour since it is high in fibre and essential nutrients like zinc and iron.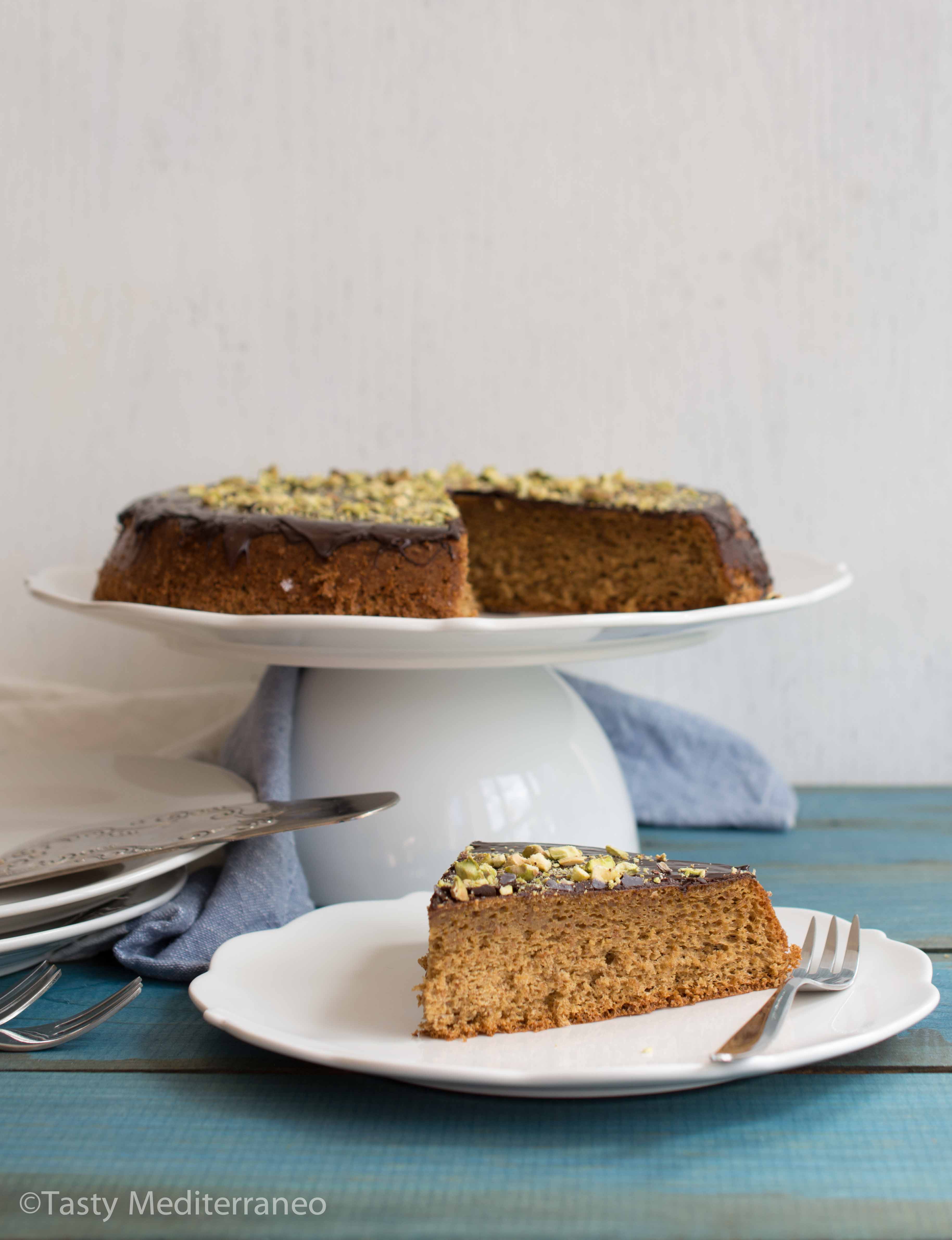 This nutritious cake requires only 4 ingredients, plus 2 extra ingredients for the topping. It is a perfect addition to your breakfast, since in the morning you need to restore the blood glucose levels to normal after the overnight fast.
Personally I like to have oatmeal porridge with fruits and nuts in the morning together with a small slice of one of my homemade cakes or one of my muffins. A well-balanced breakfast helps me to keep full & energized during the morning, and I don't feel the need to snack in between meals.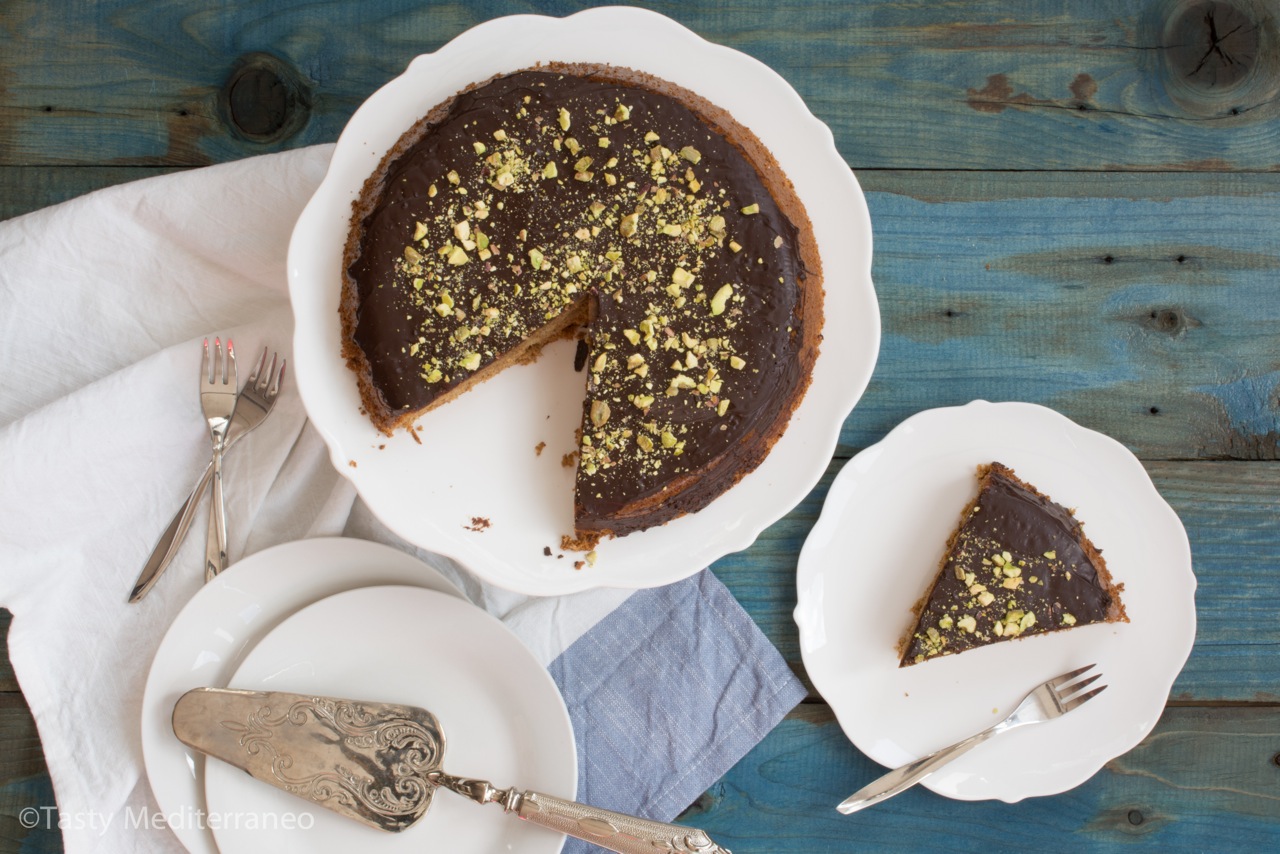 My spelt cake with chocolate & pistachio topping is a healthy variation of "Coca de cuarto mallorquina", one of my family's cake recipes and a classic cake from Majorcan island.
If you try this tasty and nutritious recipe of spelt cake with chocolate & pistachio topping, please let me know, leave a comment and rate it. I would love to know what you come up with. Enjoy!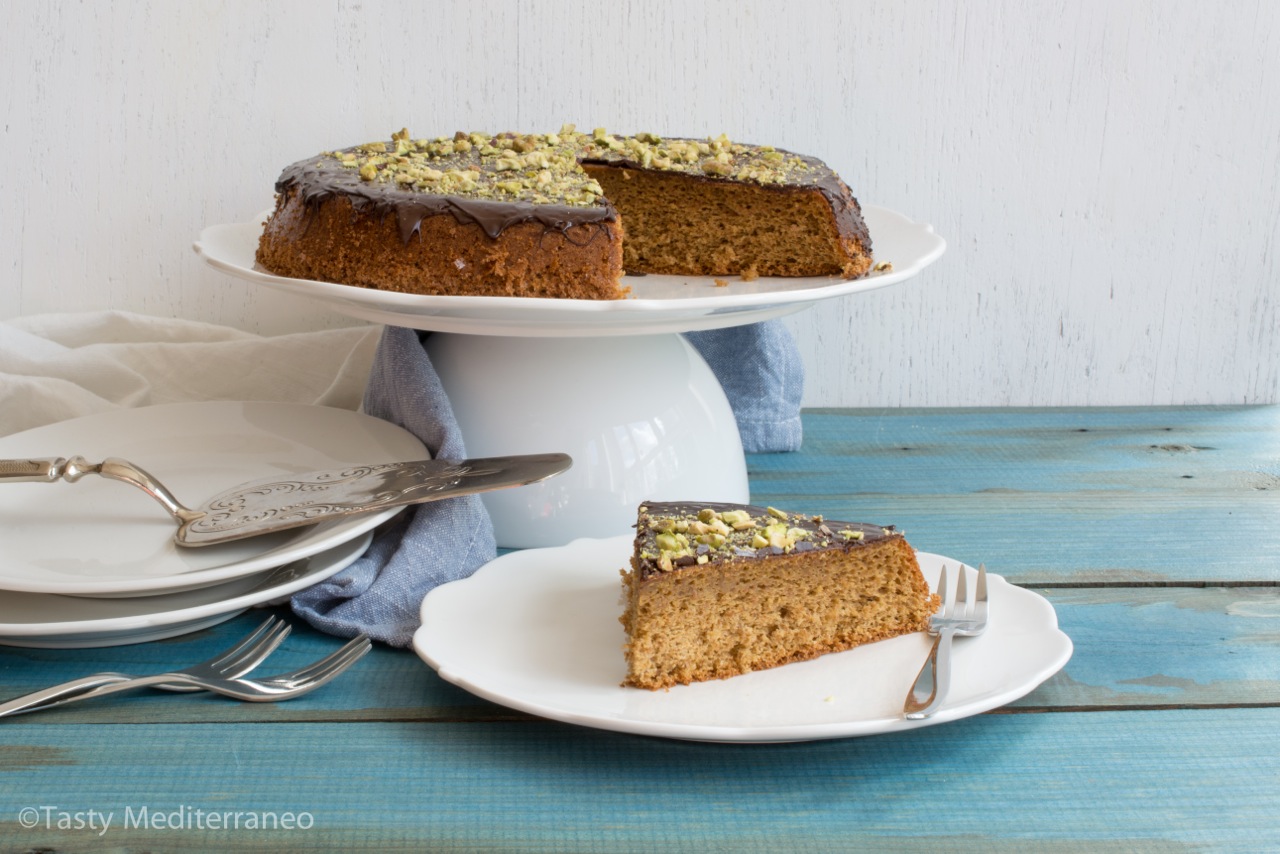 Spelt cake with chocolate & pistachio topping
Author:
Margarita @ Tasty Mediterraneo
Cuisine:
Mediterranean Diet
Ingredients
8 Organic eggs
115g (1 cup) Organic wholemeal spelt flour
120g (1 cup) Unrefined dark muscovado sugar (or organic coconut sugar)
1 Tablespoon baking powder
For the topping:
50g (2 ounces) Dark chocolate, chopped
35g (1/4 cup) Raw Pistachios, coarsely ground
Instructions
Take out the eggs from the fridge and allow them to stand at room temperature for 10-15 minutes before preparing the cake.
Preheat the oven to 175 degrees C (350 degrees F).
Lightly grease a non-stick round cake pan (with olive oil or tahini sauce and set aside).
Separate the egg yolk from the egg white and place them in 2 separate bowls, making sure there is no egg yolk (not even a drop) mixed in with the egg white. Repeat the process with all the eggs.
Beat the egg yolks, add the sugar and beat together until combined. Add then the flour and the baking powder and beat well together until perfectly combined.
Beat the egg whites to stiff peaks – this helps trap air and create lightness – and add them to the beaten yolks mix bowl. Mix well together.
Bake in the middle of the oven for 30 minutes at 175 degrees C (350 degrees F) until a toothpick or any thin skewer inserted into the middle of the cake comes out clean.
Remove from the oven and leave to cool down.
For the topping:
Once the cake has cool down, place the chopped dark chocolate into a heatproof bowl.
In a small saucepan add 1 cup water, bring to a boil and remove from the heat.
Sit the heatproof bowl containing the chocolate over the saucepan of barely simmering water and do a "bain marie" allowing the chocolate to melt stirring until it is totally melted.
Pour the melted dark chocolate over the spelt cake and add on top the coarsely ground pistachios.
Allow it to cool down before serving.