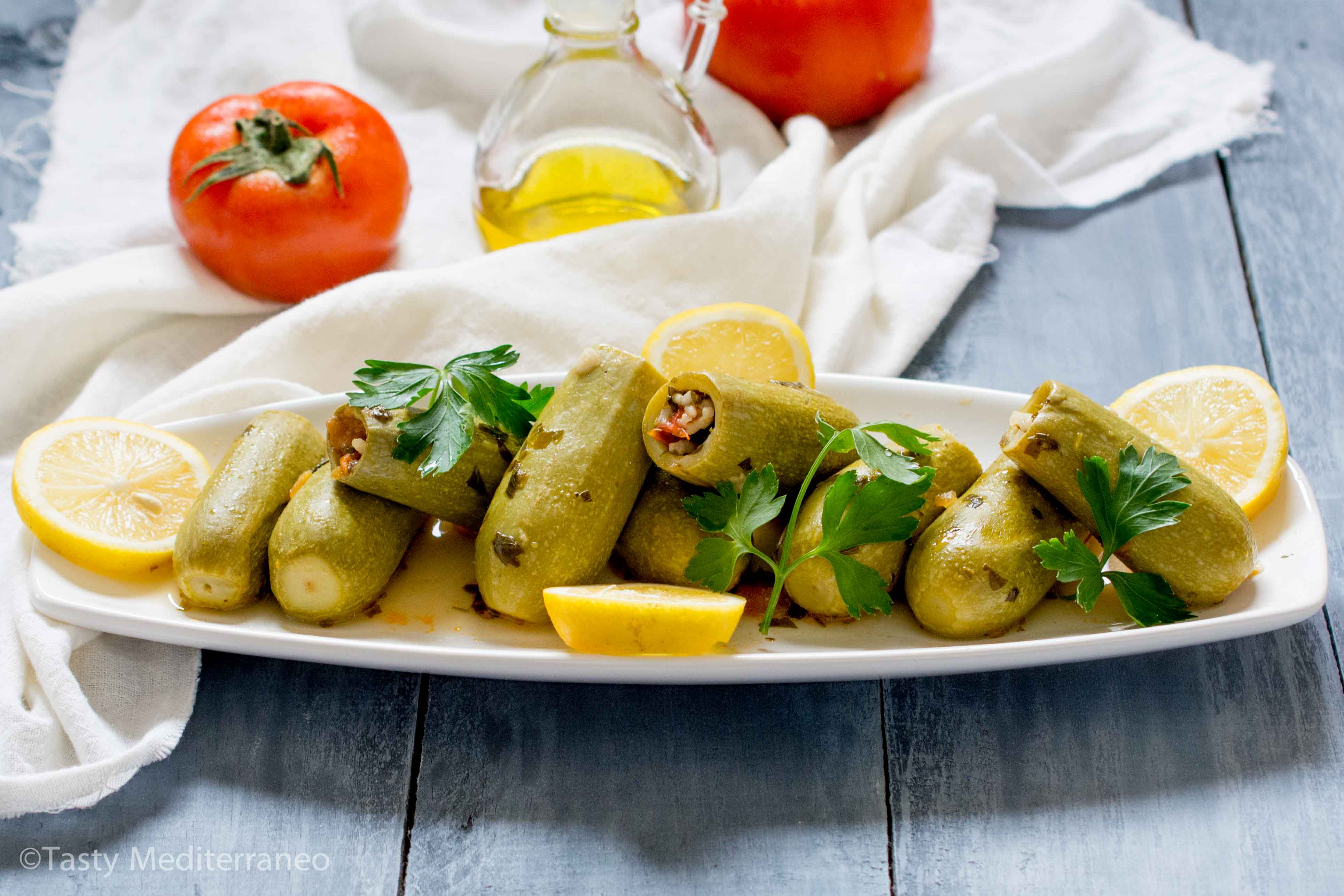 Today I am writing this post from Beirut (Lebanon). Every time we come to Beirut, I take advantage to cook with my mother in law to learn the traditional Lebanese recipes from the family. For me there is nothing like the pleasure of cooking and eating together, the Mediterranean way!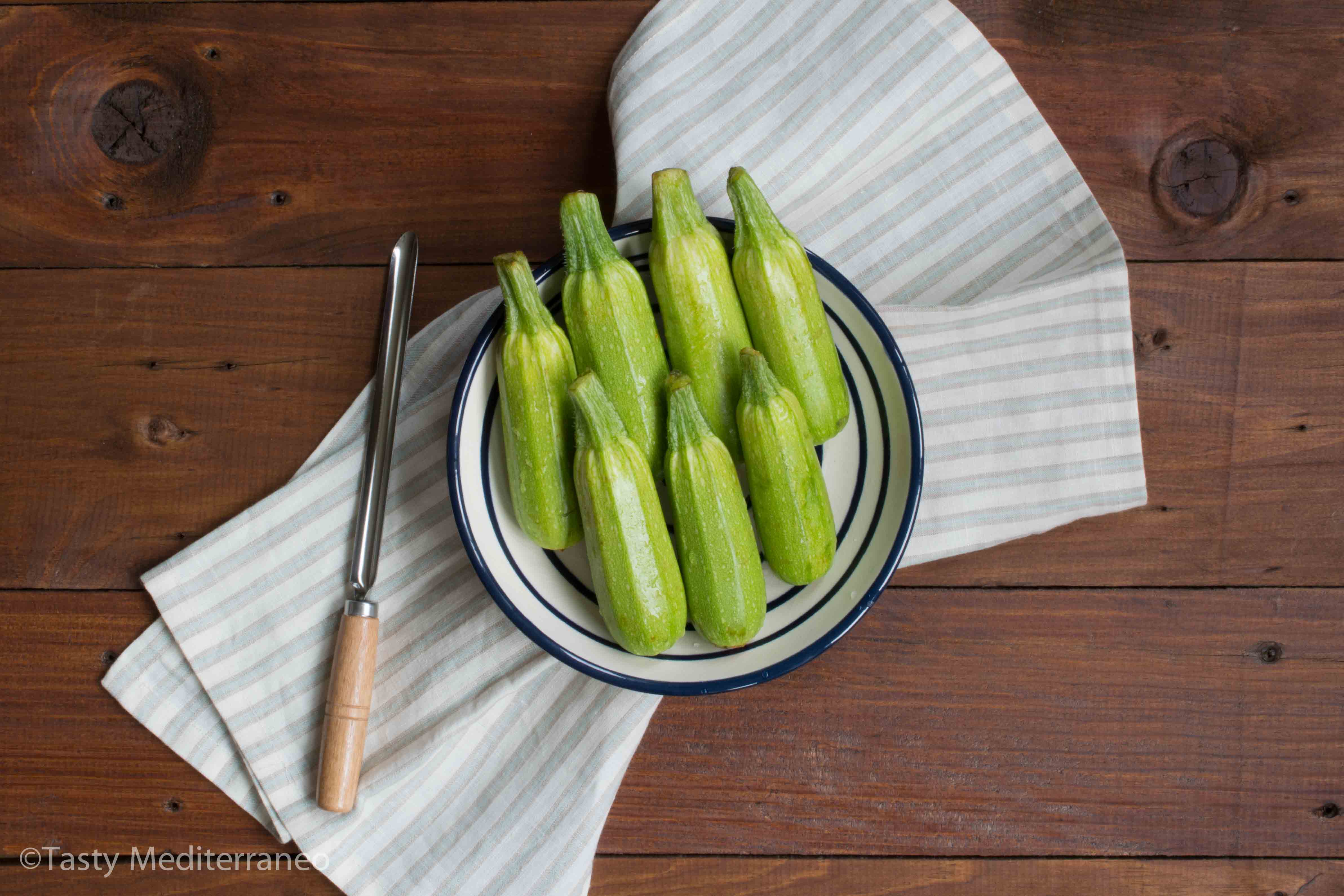 Both on my family side and on my husband's side there is a big cooking tradition, and the recipes pass from generation to generation. Being both of us from Mediterranean countries, we are used to home cooking and to eating all together sitting around the table enjoying the food that the family members have made with love from scratch.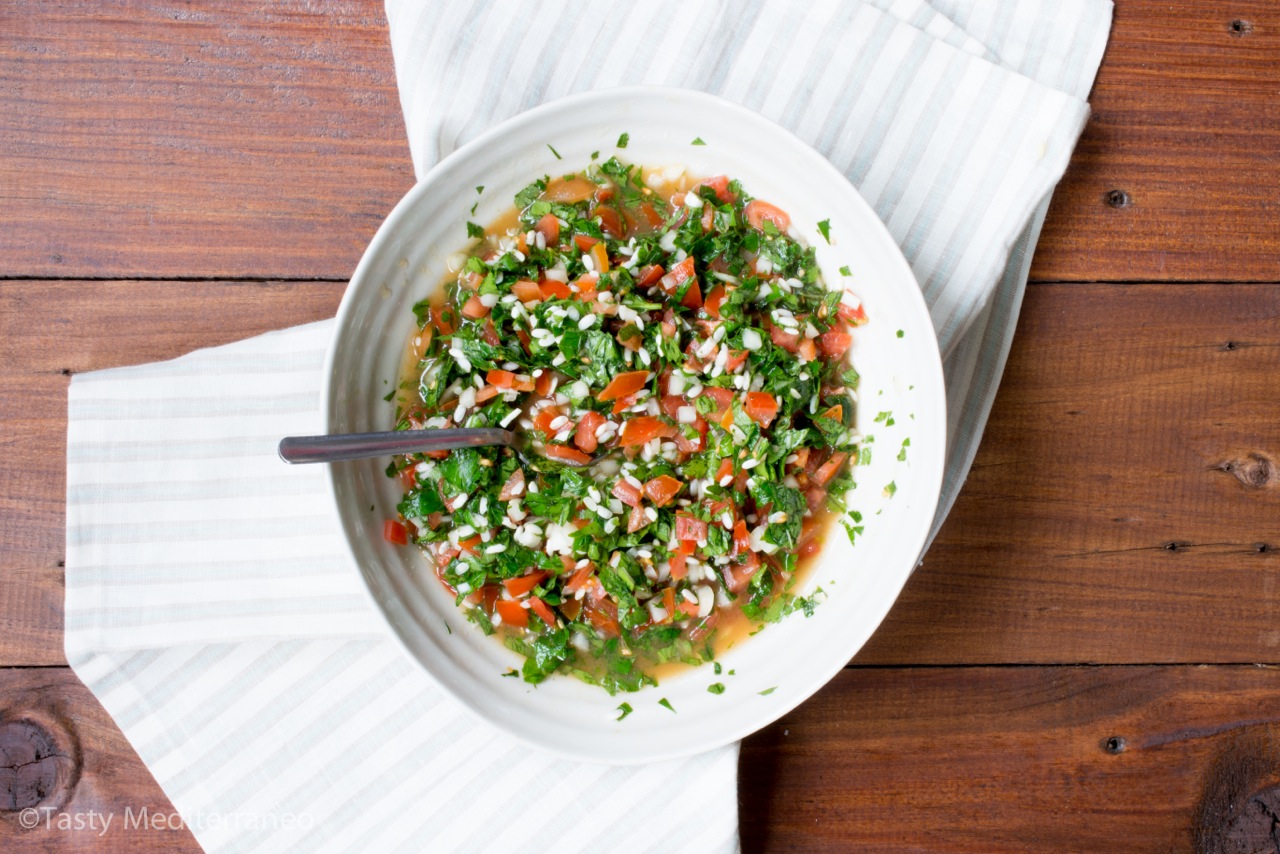 Before I start talking about the recipe I am sharing with you today, I would like to let you know that I am happy to have been "Featured foodie of the month" at Digitalfood.ie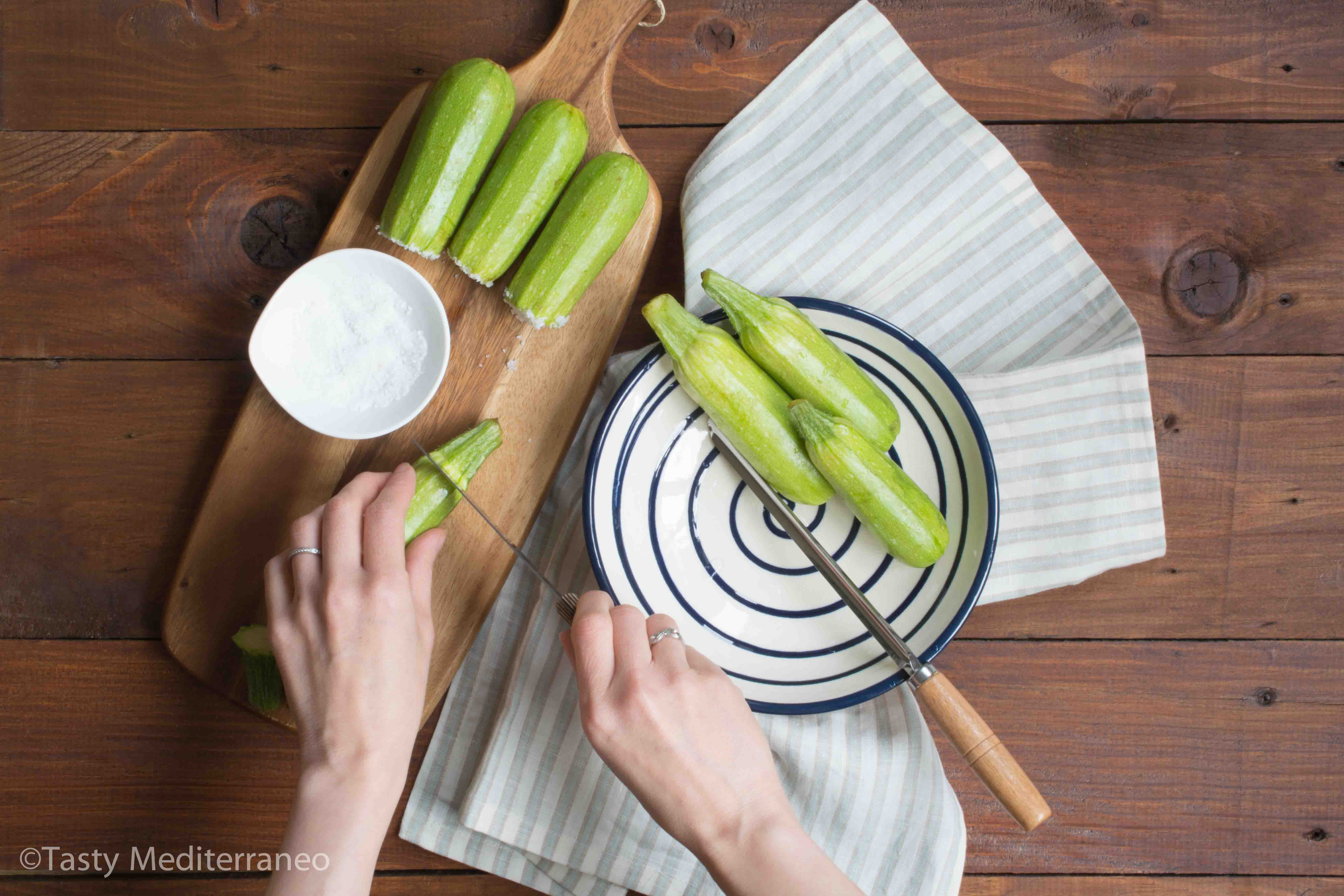 Today's recipe is a traditional Lebanese recipe, small zucchini (Kousa) stuffed with the same ingredients we use for the Lebanese tabbouleh salad except for the bulgur that is replaced with rice.
With this tasty mix we also stuff grape leaves, mini aubergines (eggplants), chard leaves and cabbage leaves. I will be sharing those recipes with you soon on the blog.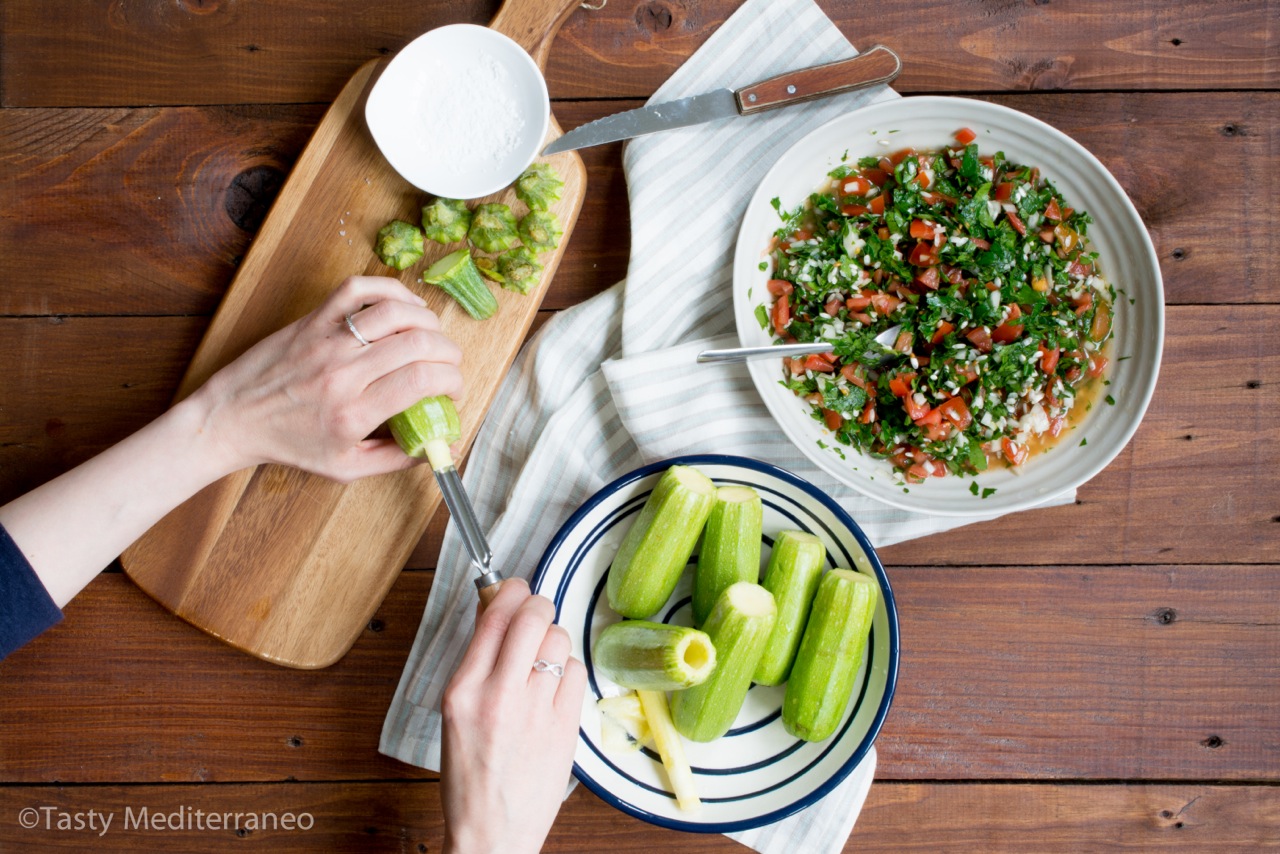 This recipe is highly nutritious. Zucchinis are a good source of vitamin A, vitamin B1, B6, B2, folate, magnesium, potassium, copper, zinc, phosphorus and protein. And the stuffing includes parsley, tomato, onion, mint, lemon juice and extra virgin olive oil.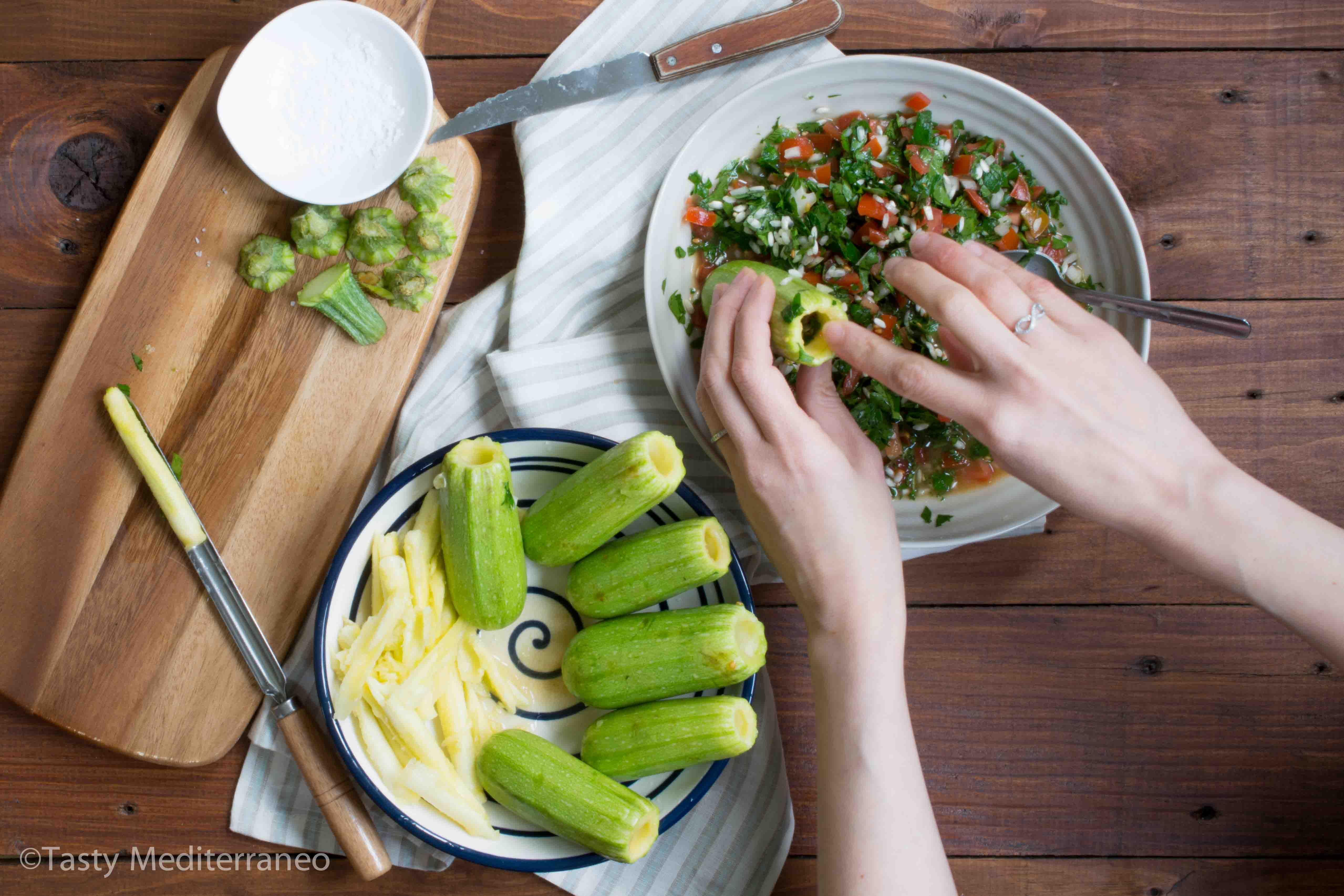 Parsley is an excellent source of anti-oxidant nutrients, iron, vitamins K, C and A and folic acid. Tomatoes are also rich in vitamin C and beta-carotene, manganese and vitamin E. Together with the nutritional properties of lemon, onion and extra virgin olive oil, this healthy vegan Mediterranean diet recipe of Lebanese stuffed zucchini is highly nutritious and provide us with strong antioxidant and anti-inflammatory nutrients, which are good to destroy the free radicals and to help prevent cancer.
If you try this tasty and healthy vegan Mediterranean diet recipe of Lebanese stuffed zucchini, please let me know, leave a comment and rate it. I would love to know what you come up with. Enjoy!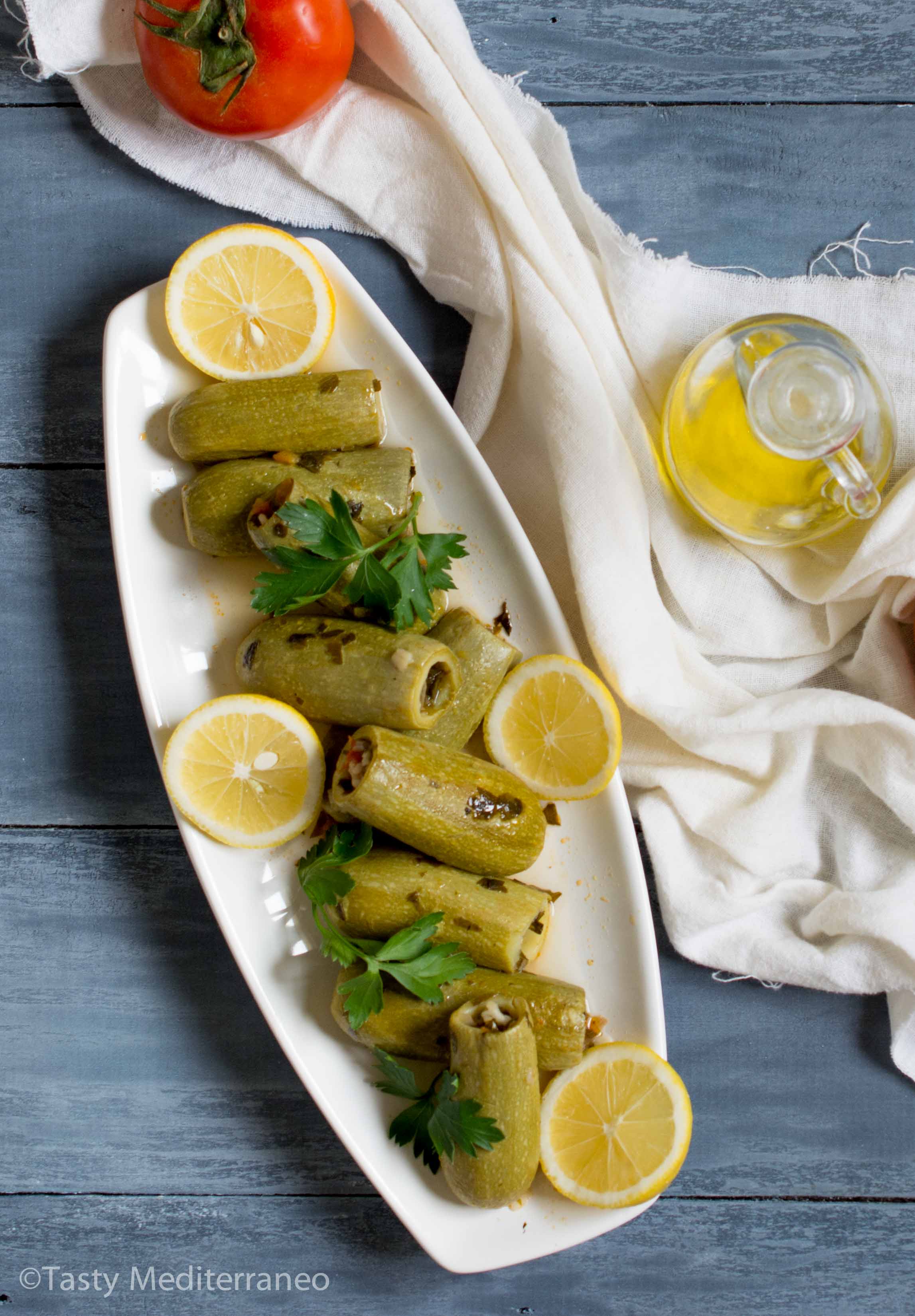 Lebanese stuffed zucchini
Author:
Margarita @ Tasty Mediterraneo
Cuisine:
Mediterranean Diet
Serves:
12 stuffed zucchinis
Ingredients
12 Small Lebanese zucchini
50g (1/4 cup) White rice
A large bunch of fresh organic parsley, finely chopped
2 Medium tomatoes, thinly diced
1 Small onion, thinly chopped
A few leaves of fresh organic mint, finely chopped
1 Large lemon, freshly squeezed
3 Tablespoons Extra Virgin Olive Oil (EVOO)
1 Teaspoon sea salt (or salt to taste)
A pinch of freshly grounded black pepper
Instructions
Have all the vegetables well washed and prepared as indicated in the ingredients description.
Trim off the stem end of the zucchini. Dip that end of the zucchini in sea salt; repeat the same process with all the zucchinis and let them aside for 10 minutes. This will help to soften the zucchini flesh to scoop it out more easily. After the 10 minutes in salt, with the help of a special spoon, or an apple corer, scoop out the flesh of the zucchini, being careful enough not to make any hole. (Do not throw out the zucchini flesh; you can chop it up and use it for example to prepare an omelette, to sauté it with some chopped onion, …)
In a mixing bowl combine the thinly diced tomatoes, the thinly chopped parsley, the thinly chopped onion, the thinly chopped mint leaves, the freshly squeezed lemon juice, the EVOO, the rice, salt to taste and a pinch of freshly grounded black pepper.
Stuff each zucchini with the rice mix ¾ full.
Place the stuffed zucchinis in a saucepan, cover with water and cook at low heat for 25-30 minutes.
Remove from the heat and serve hot or cold.