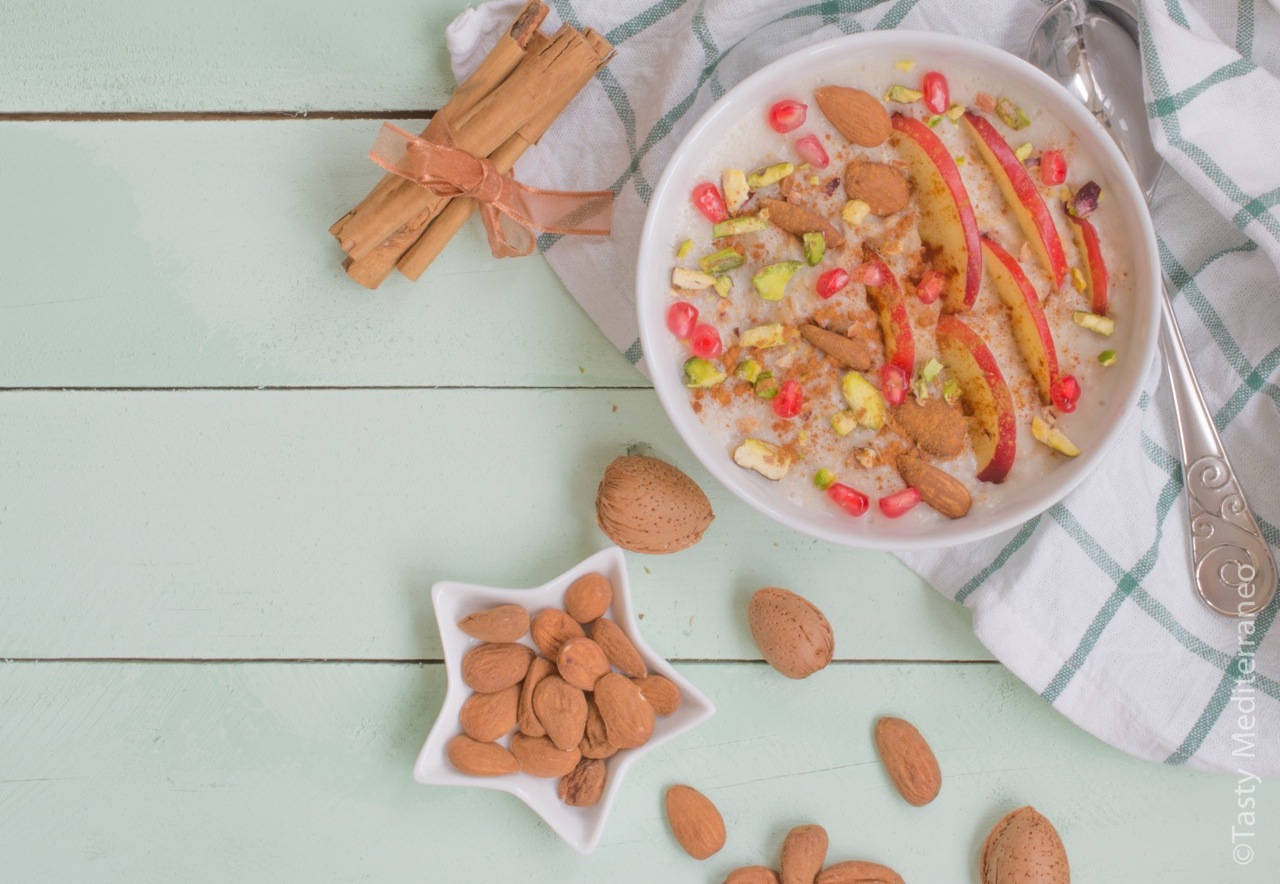 You may already know that a healthy breakfast is necessary to raise the body's energy levels and to restore the blood glucose levels to normal after the overnight fast.
Skipping breakfast can have a negative impact and increase the risk of gaining excess weight both on children and adults alike.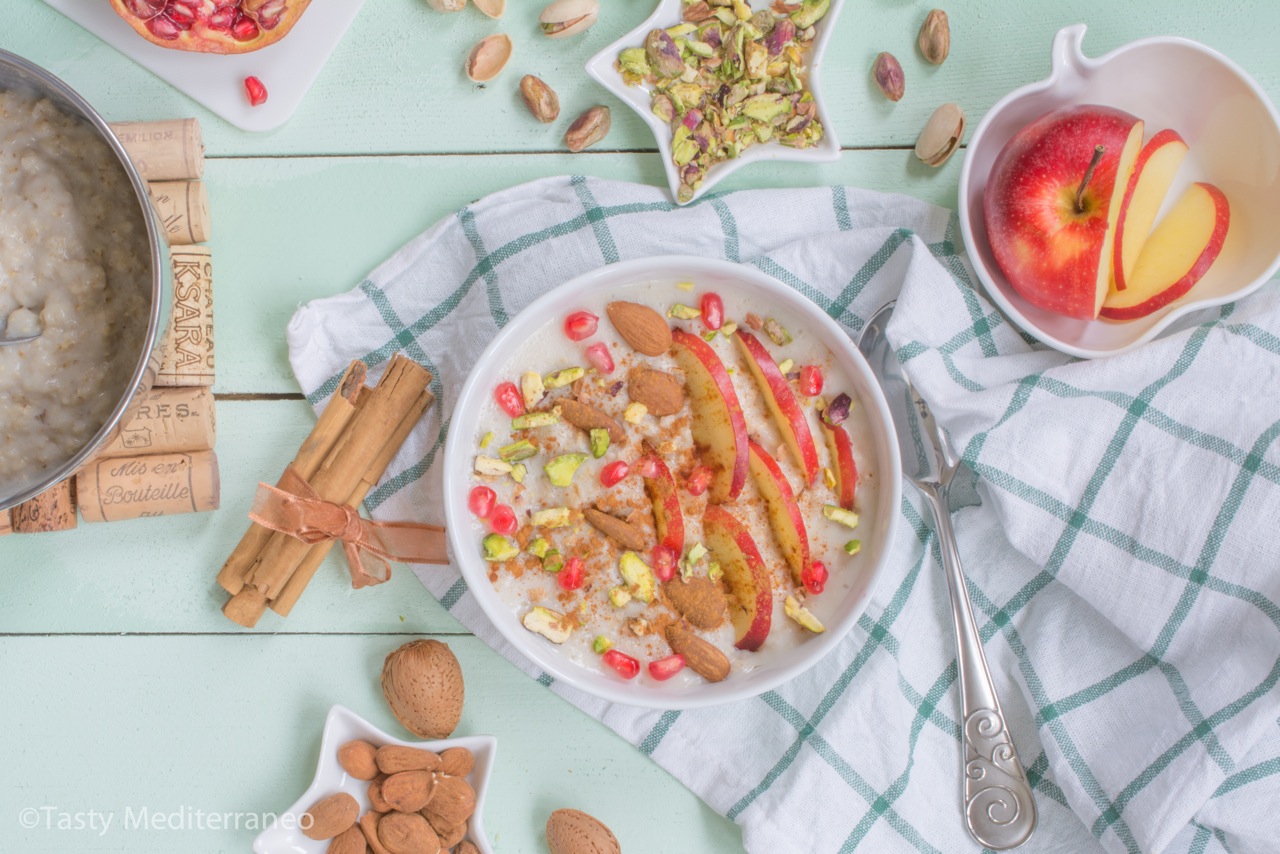 Eating a nutritious breakfast is especially important for children because they need energy and focus for their studies. Starting the day with a healthy breakfast is key to provide them with the nutrients and energy that they need for their activities during the morning.
Many adults, with the desire to lose weight, tend to skip breakfast. But that is a terrible mistake.
In general, people skipping breakfast are at a higher risk of gaining excess weight because they tend to eat more at lunch or to snack all day.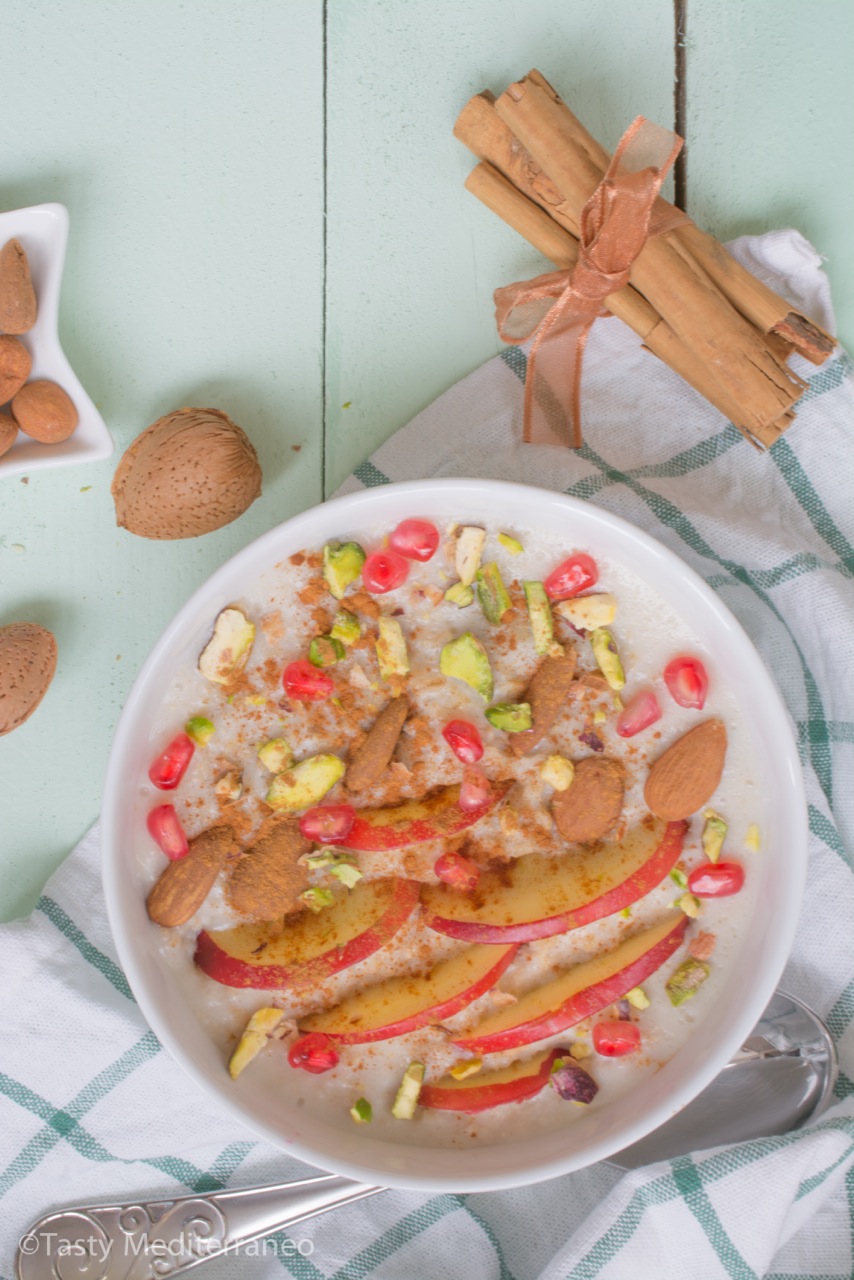 Today I am sharing with you a recipe for oatmeal porridge with seasonal fruits, nuts & cinnamon, a well-balanced breakfast that will help you keep full & energized during the morning.
As you know oatmeal porridge is a very common breakfast in Ireland and the UK, but it is not so well known in other European countries.
I have to admit I never had oatmeal porridge as a child for breakfast. It is not a common breakfast in Spain or in France.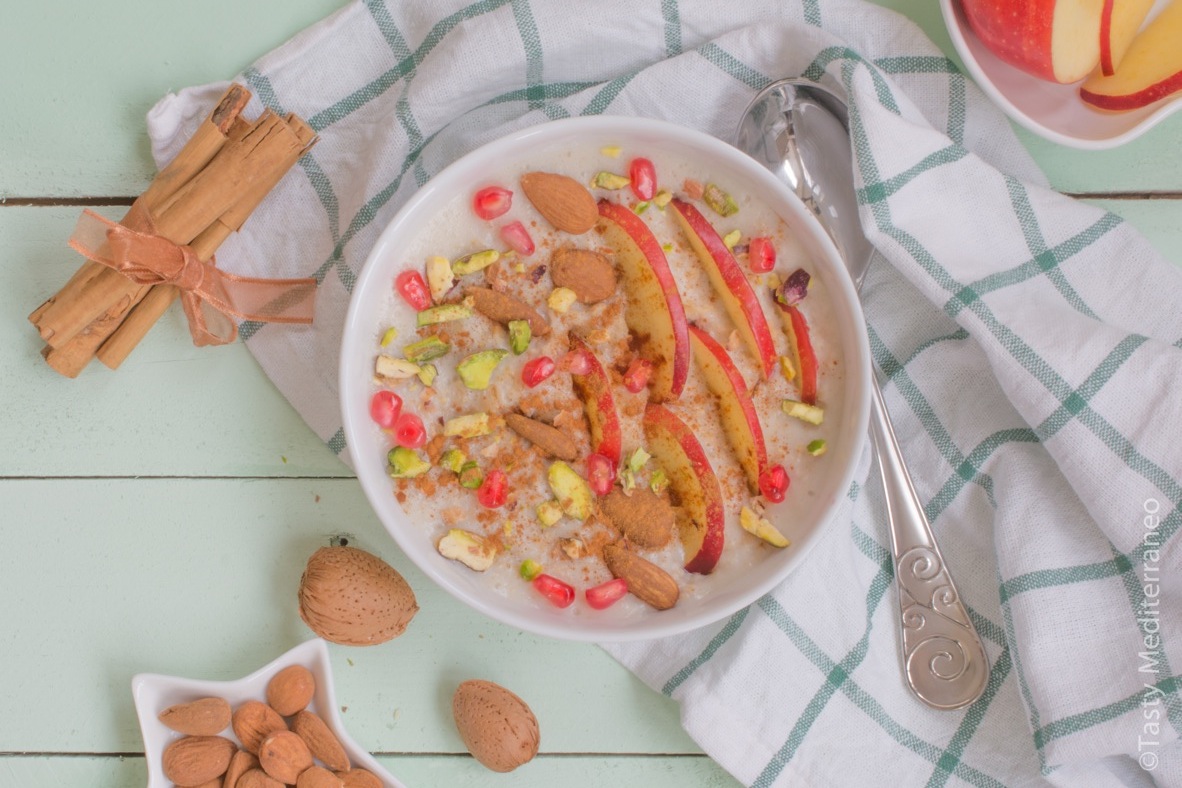 Whole oats are a good source of fiber and plant based protein. They are rich in vitamins (B1, B5 and folic acid), minerals (phosphorus, iron, copper, manganese, zinc, magnesium) & antioxidants. They make a nutritionally balanced option for breakfast and I included them into my usual healthy breakfast options long time ago.
When my friends come over to discover Ireland and I prepare Irish porridge for them at home, they always ask me for the recipe. My oatmeal porridge with seasonal fruits, nuts & cinnamon recipe gets its Mediterranean touch through the almonds, pistachios and pomegranate seeds that I add on top.
If you try this tasty and healthy vegan breakfast recipe of oatmeal porridge with seasonal fruits, nuts & cinnamon please let me know, leave a comment and rate it. I would love to know what you come up with. Enjoy!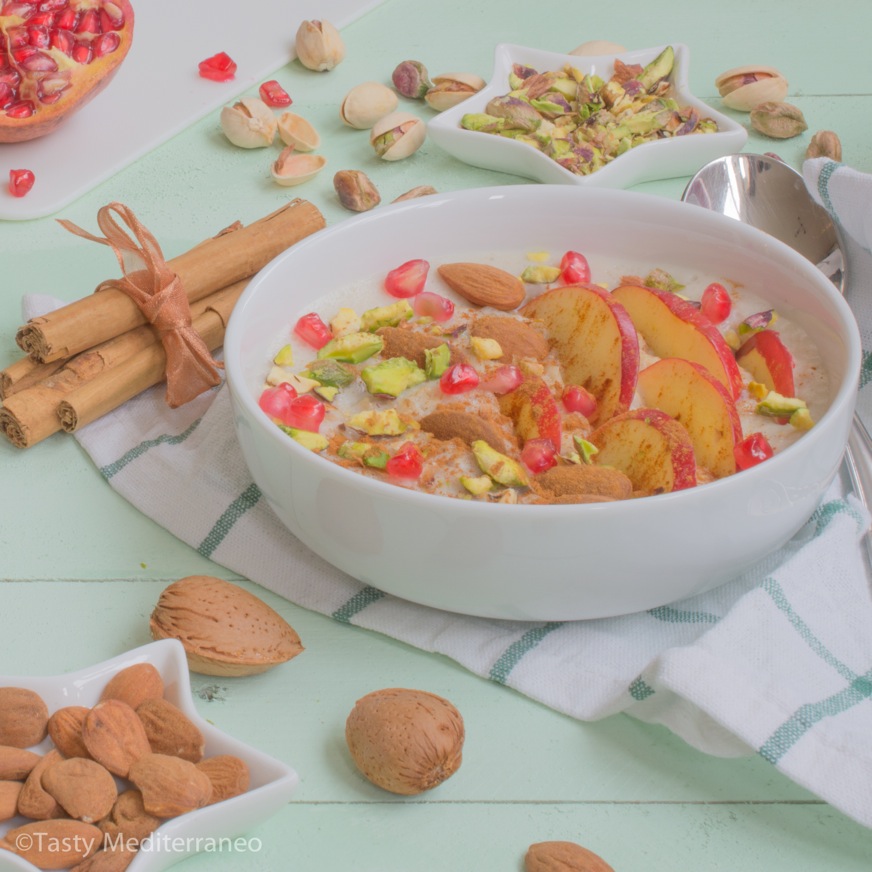 Oatmeal porridge with fruits, nuts & cinnamon
Author:
Margarita @ Tasty Mediterraneo
Cuisine:
Mediterranean Diet
Ingredients
100g (1 cup) Wholegrain organic porridge oats (gluten free)
250ml (1 cup) Almond milk
250ml (1 cup) Water
1 Organic apple, thinly sliced
2 Tablespoons pomegranate seeds
30g (1/4 cup) Raw almonds
35g (1/4 cup) Raw Pistachios, coarsely ground
2 Teaspoons cinnamon
Instructions
Add the wholegrain oats, the almond milk and the water into a saucepan over a medium heat and bring to a boil. Reduce heat and simmer for 5 minutes, stirring as often as you can until you get a smooth creamy porridge. If you like it with a runny texture, simply add a splash more water.
Wash and dry the apple, cut it in half and cut in thin slices.
Serve hot with the apple slices, pomegranate seeds, almonds and pistachios on top and dust lightly with cinnamon.