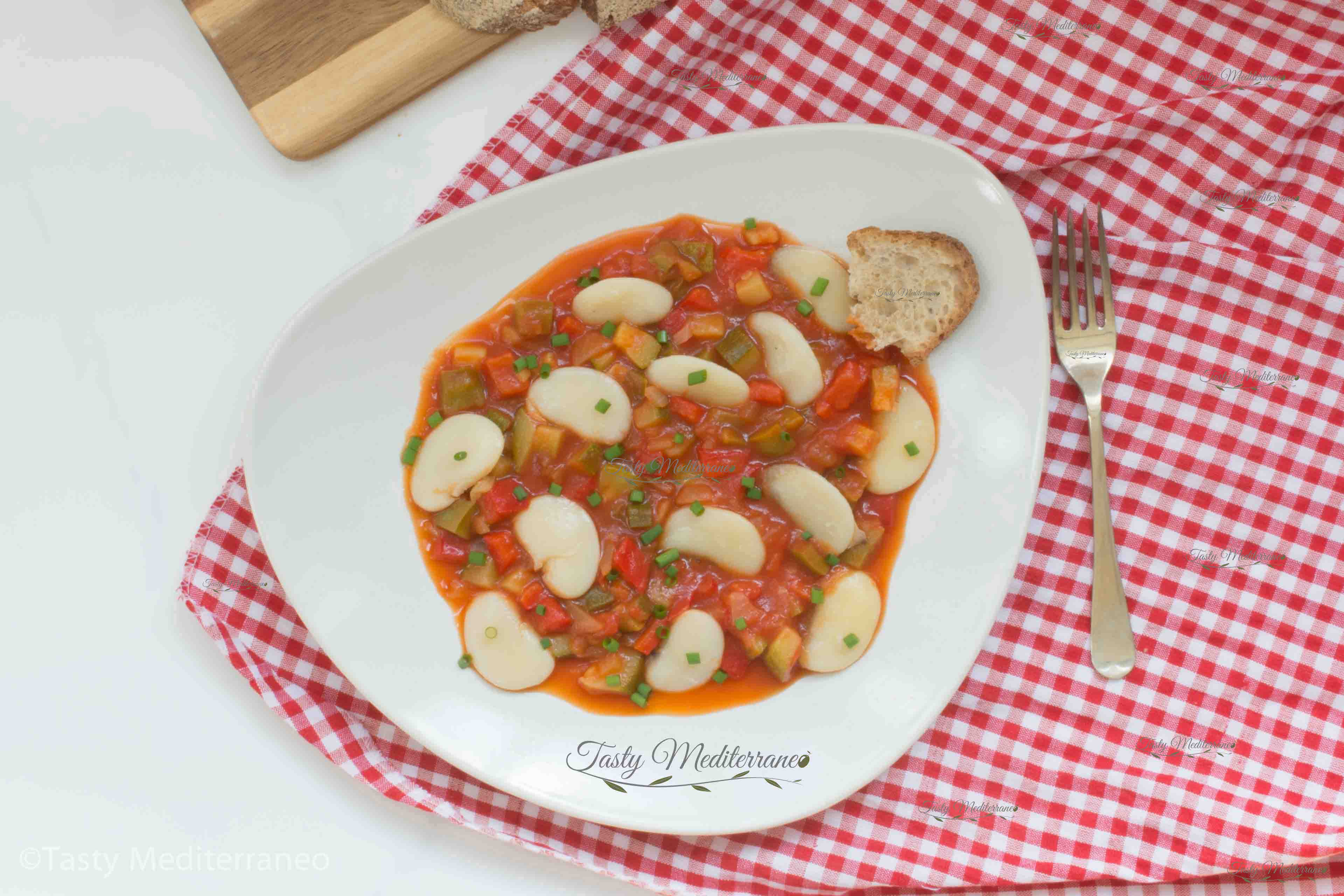 I am delighted to let you know that my blog has been shortlisted at the Health Blog Awards!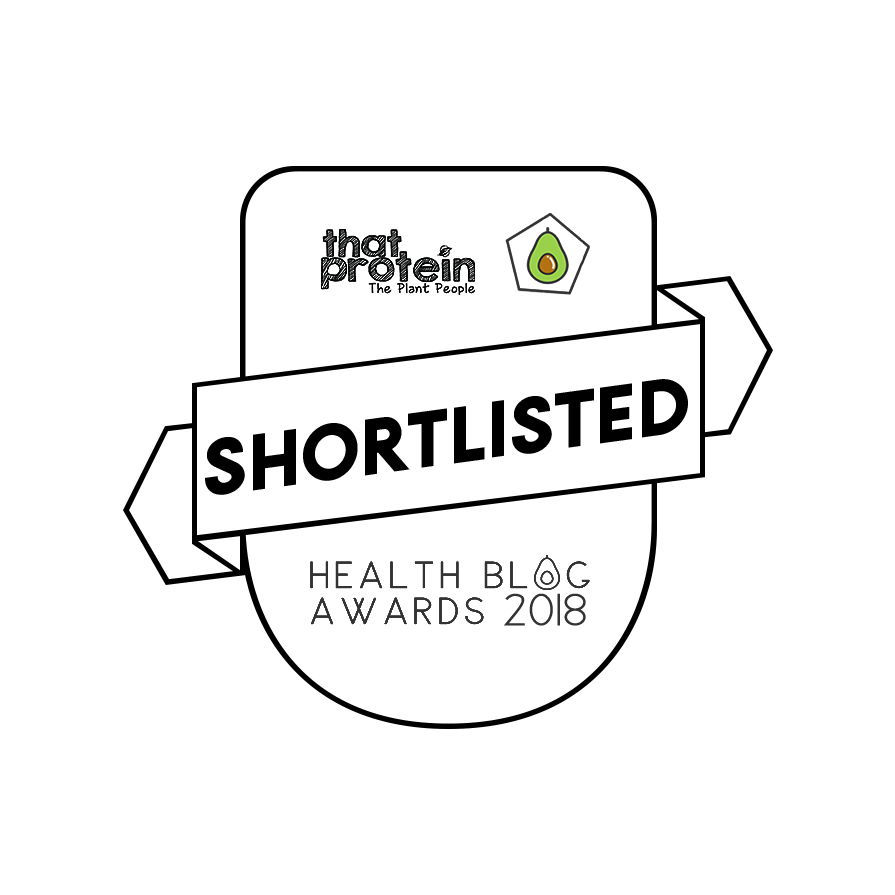 The judging process to choose the winner involves asking my followers to vote for me. If you like my work and the recipes I share on my blog I would be grateful if you could vote for me.
Here is the voting link: https://events.healthbloggerscommunity.com/awards/ You can vote until the 31st of July 2018.
When you open the link, scroll down until you arrive to "Vote for your favourite bloggers" click there and you'll find me at the "Best European" category, representing Spain.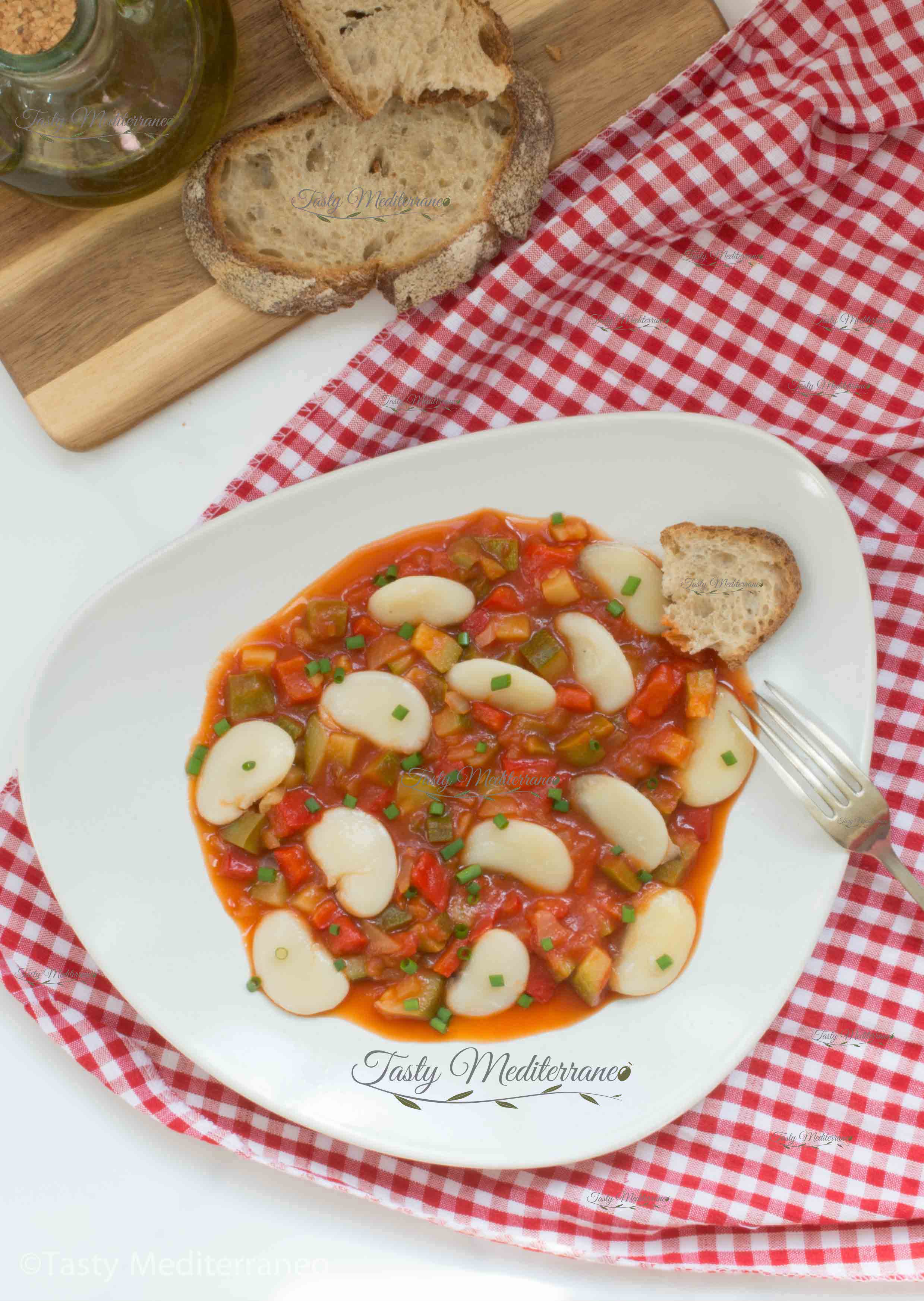 Apart from the link to vote for my blog I am also sharing with you a new healthy Mediterranean recipe: "Spanish pisto manchego with white beans".
The pisto Manchego is a stew made of tomatoes, garlic, onions, red and green peppers, zucchini (some people add also eggplant) and, obviously, an ingredient that you can never miss in the Mediterranean diet: the extra virgin olive oil.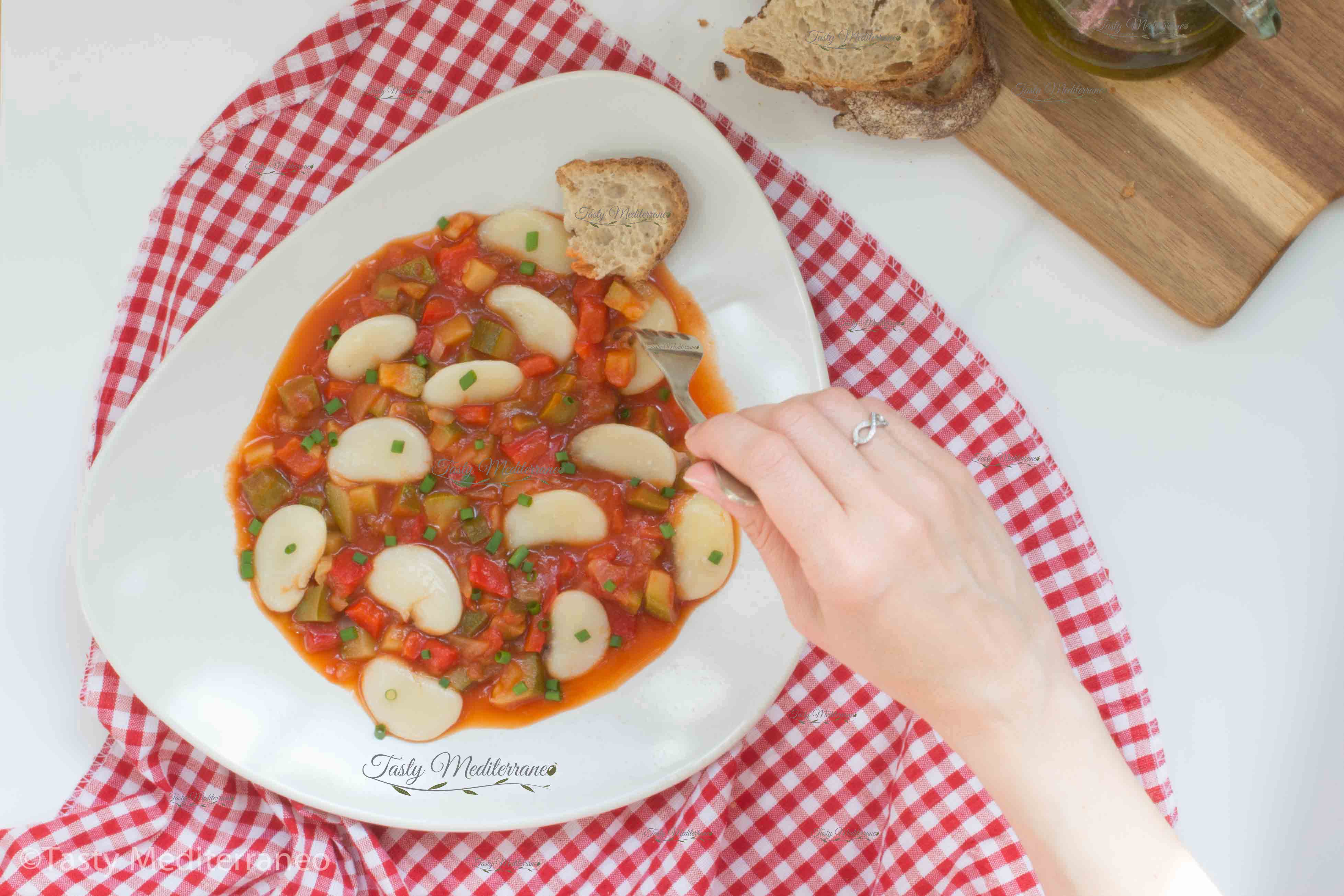 To this nutritious dish I add white beans converting it into a very satisfying meal.
This dish is perfect served cold during summer when the temperatures are high, but you can also serve it warm or hot in winter.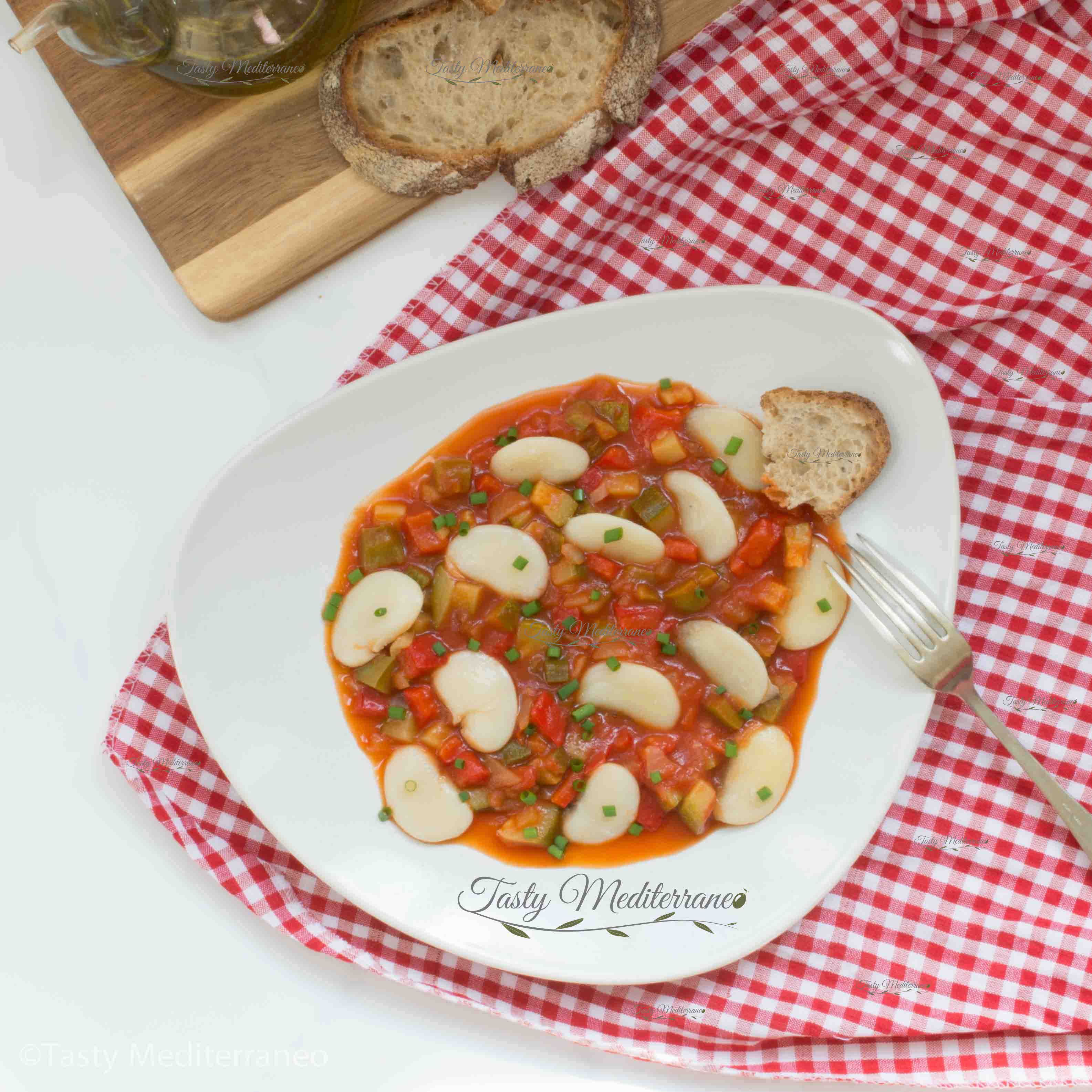 If you try this tasty and healthy vegan Mediterranean diet recipe of "Spanish pisto manchego with white beans", please let me know, leave a comment and rate it. I would love to know what you come up with. Enjoy!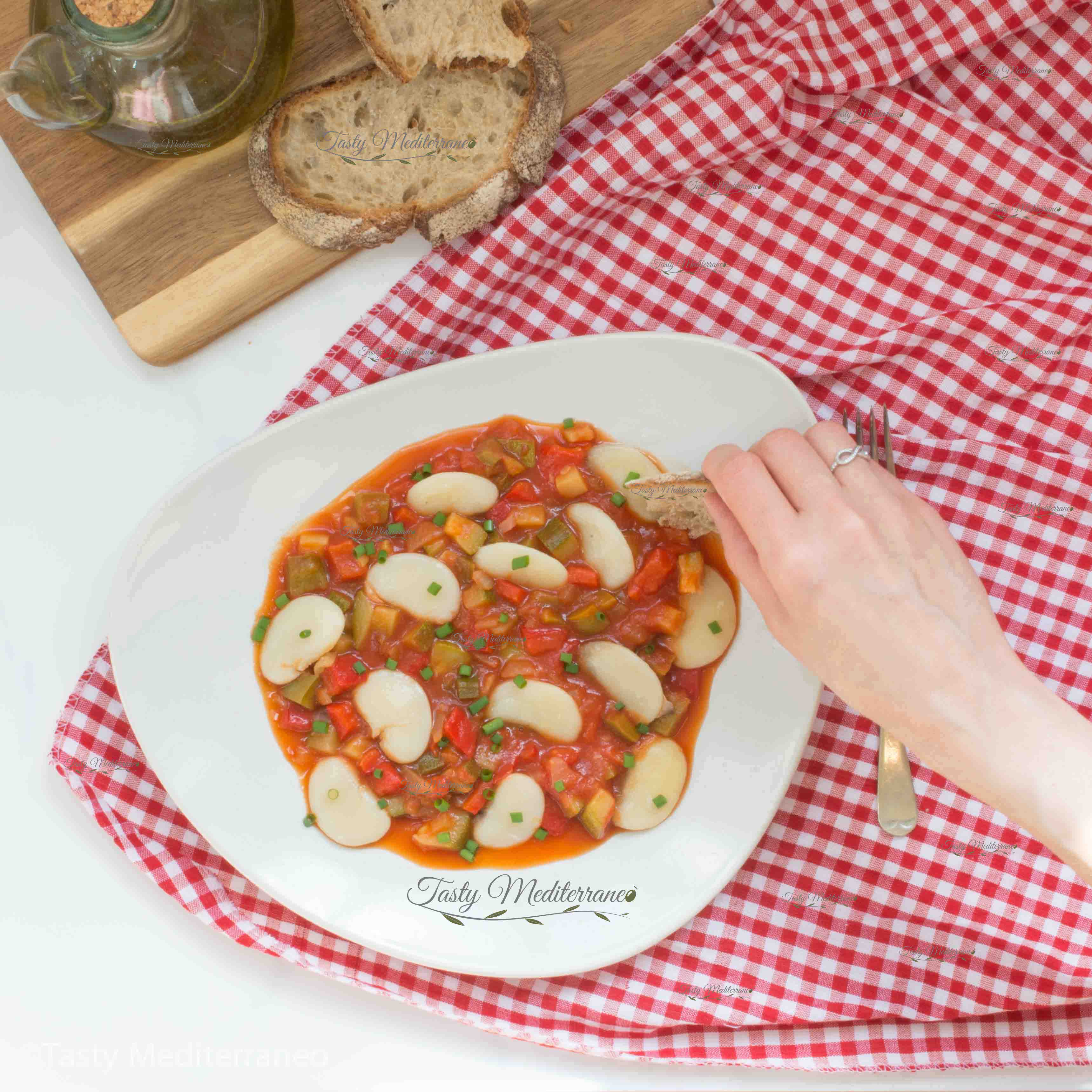 Spanish pisto Manchego with white beans
Author:
Margarita @ Tasty Mediterraneo
Cuisine:
Mediterranean Diet
Ingredients
2 Jars (250g net drained weight each jar) of organic white beans in water with no added salt
2 Tablespoons extra virgin olive oil
2 Garlic cloves peeled and finely minced
1 Medium onion peeled and finely chopped
1 Red bell pepper, cored and diced
1 Green bell pepper, cored and diced
1 Zucchini, diced
½ Teaspoon Pimentón de la Vera (Spanish Paprika)
6 Medium tomatoes peeled and diced. You could also use ½ l of tomato passata if it the tomatoes are not in season
1 Teaspoon sea salt (or salt to taste)
Instructions
Have all the vegetables well washed and prepared as indicated in the ingredients description.
In a frying pan with lid, heat olive oil (2 spoons), add the garlic and stir-fry for 1 minute until lightly golden. Add then the onion, red and green bell peppers and a pinch of salt and stir-fry over medium heat for around 5 minutes until soft but not brown. Add the zucchini and stir for one more minute.
Reduce heat to low. Add the ½ teaspoon Pimentón de la Vera (Spanish Paprika) and the tomatoes and a teaspoon salt or salt to taste and stir. Leave to cook, covered with a lid, at a medium-low heat for approximately 15 minutes stirring from time to time. And remove from the heat.
Once the pisto manchego is ready, add the drained white beans.
Serve warm or cold during summer.
Notes
If you are using dried beans (360g (1⅔ cup) would suffice for 4 people), to cook them: soak the dried beans in cold water for 12 hours (ideally leave them soaked overnight). Rinse them well and drain. Put them in a cooking pot and cover with water and cook over low to medium heat for about 1 hour or until tender. While cooking part of the water may evaporate, add one cup of cold water and continue boiling until they are tender. Remove them from the heat, drain and add them as indicated in step 3.

Optionally you can add some chopped chives on top.