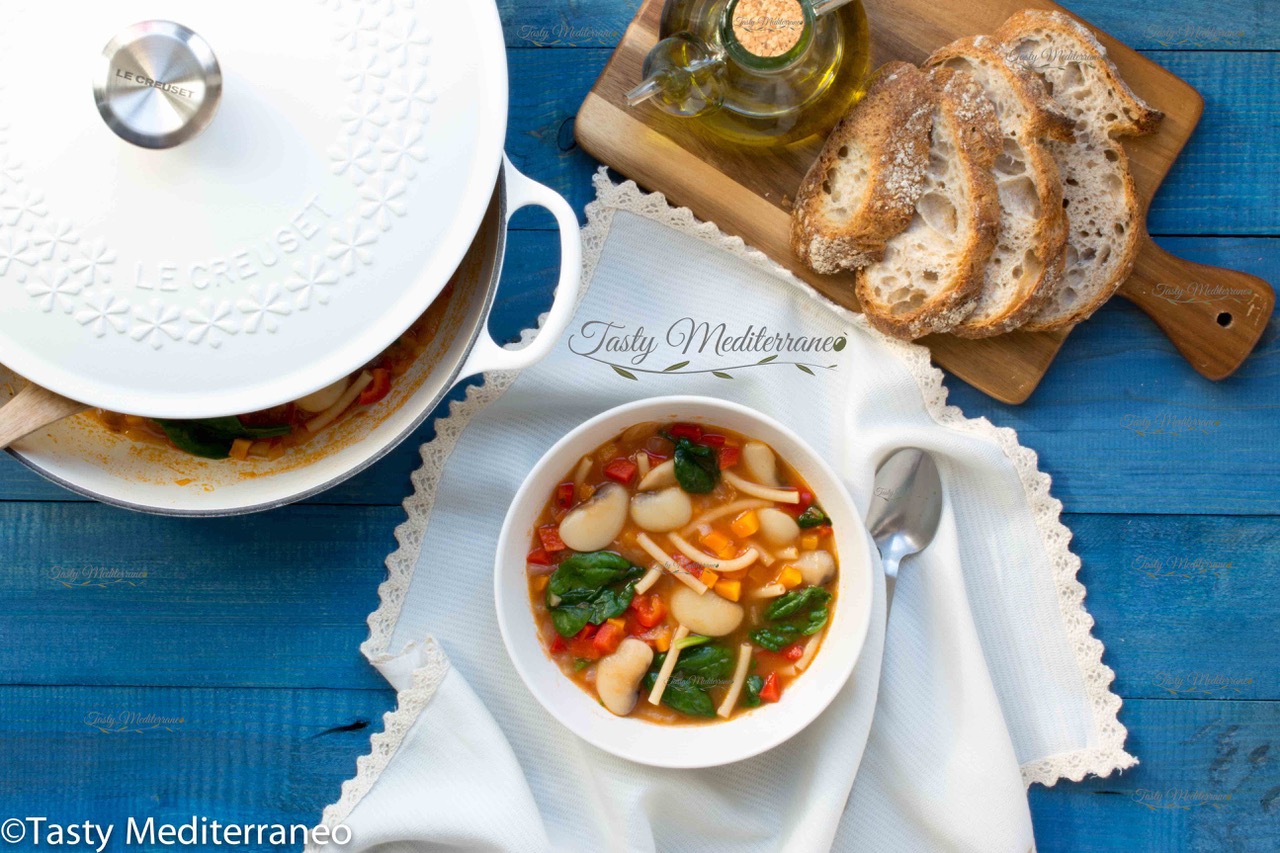 The United Nations General Assembly declared 2016 to be the International Year of Pulses (IYP) in order to highlight the importance of pulses in sustainable food production as well as their contribution to global nutrition.
For the IYP 2016 I shared 5 of Tasty Mediterraneo pulses recipes with the FAO of United Nations.
Also back in 2016 I became a Gourmet Guru of the Global Pulse Confederation representing both Ireland and Spain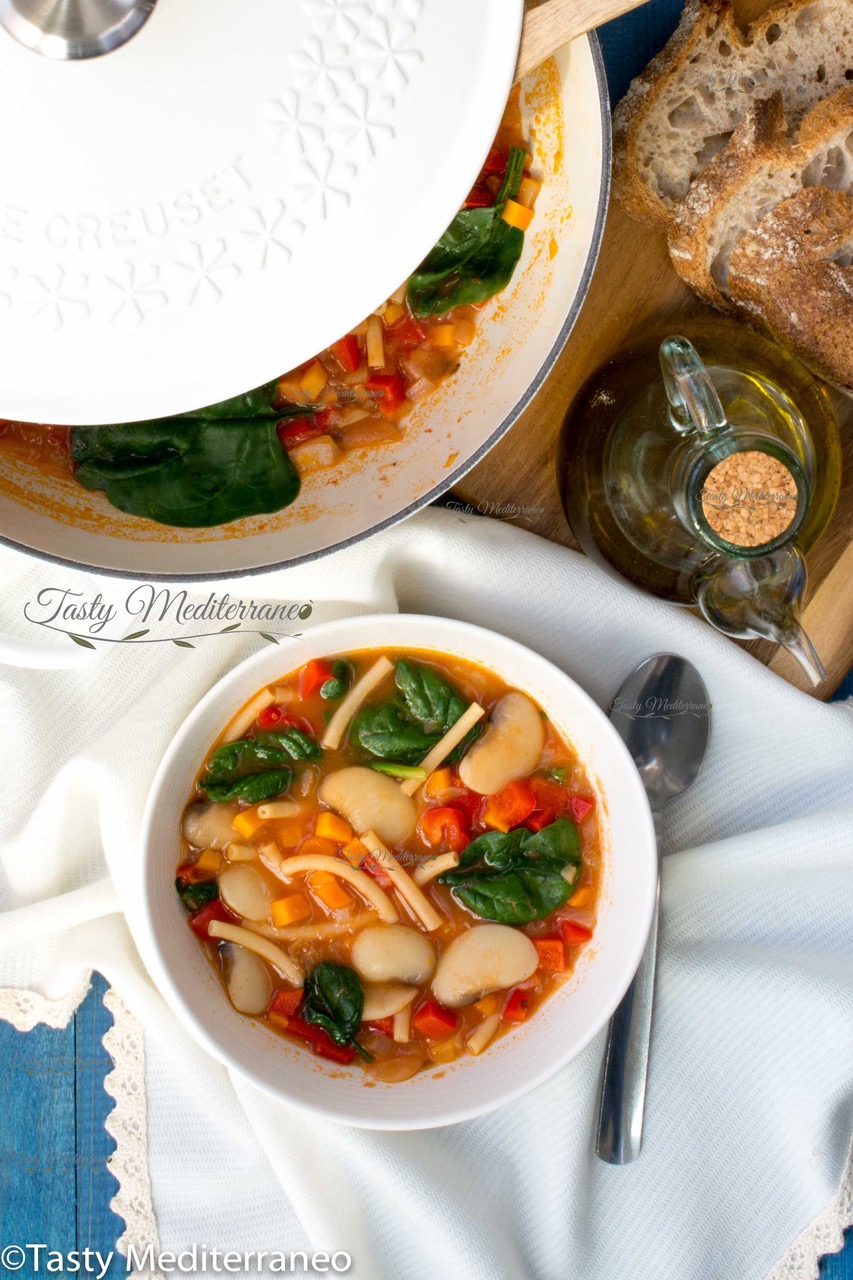 After the success of the IYP, Member States at the FAO decided to create a legacy for pulses, and they adopted a resolution calling for the establishment of an annual World Pulses Day to be celebrated on 10 February annually.
I have the honour to be invited to attend the first World Pulses Day celebration at UN Headquarters in New York.
Just to name a few of the benefits related to pulses:
– Pulses are high in protein, fiber, vitamins, and they provide amino acids.
– Pulses contribute to soil quality by fixing nitrogen in the soil, and they have very low water and fertilizer requirements.
– Pulses are resilient in the face of climate change.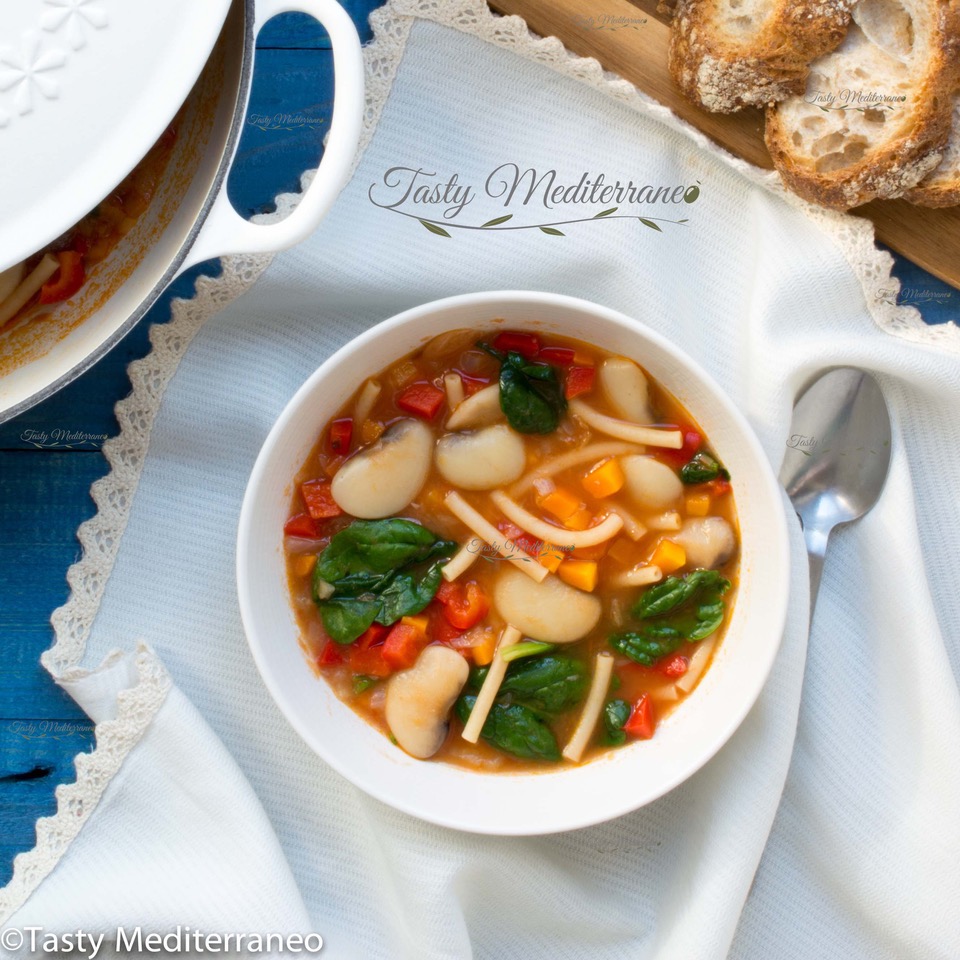 For more information on the benefits of pulses see this video that has been created by the Global Pulse Confederation for World Pulses Day:
In addition to their food security benefits, pulses are delicious and incredibly versatile as ingredients, as well as a very important part of the Mediterranean diet.
I invite you to celebrate World Pulses Day on 10 February by cooking a recipe with pulses. You can find plenty of nutritious Mediterranean diet recipes with pulses on Tasty Mediterraneo and here I leave you with yet another tasty recipe with pulses, my own version of the Italian dish "Pasta e fagioli" that I've called: "Mediterranean white beans and pasta soup".
If you happen to be in Madrid on February 10th, join us to celebrate World Pulses Day at "The Circle Food" restaurant.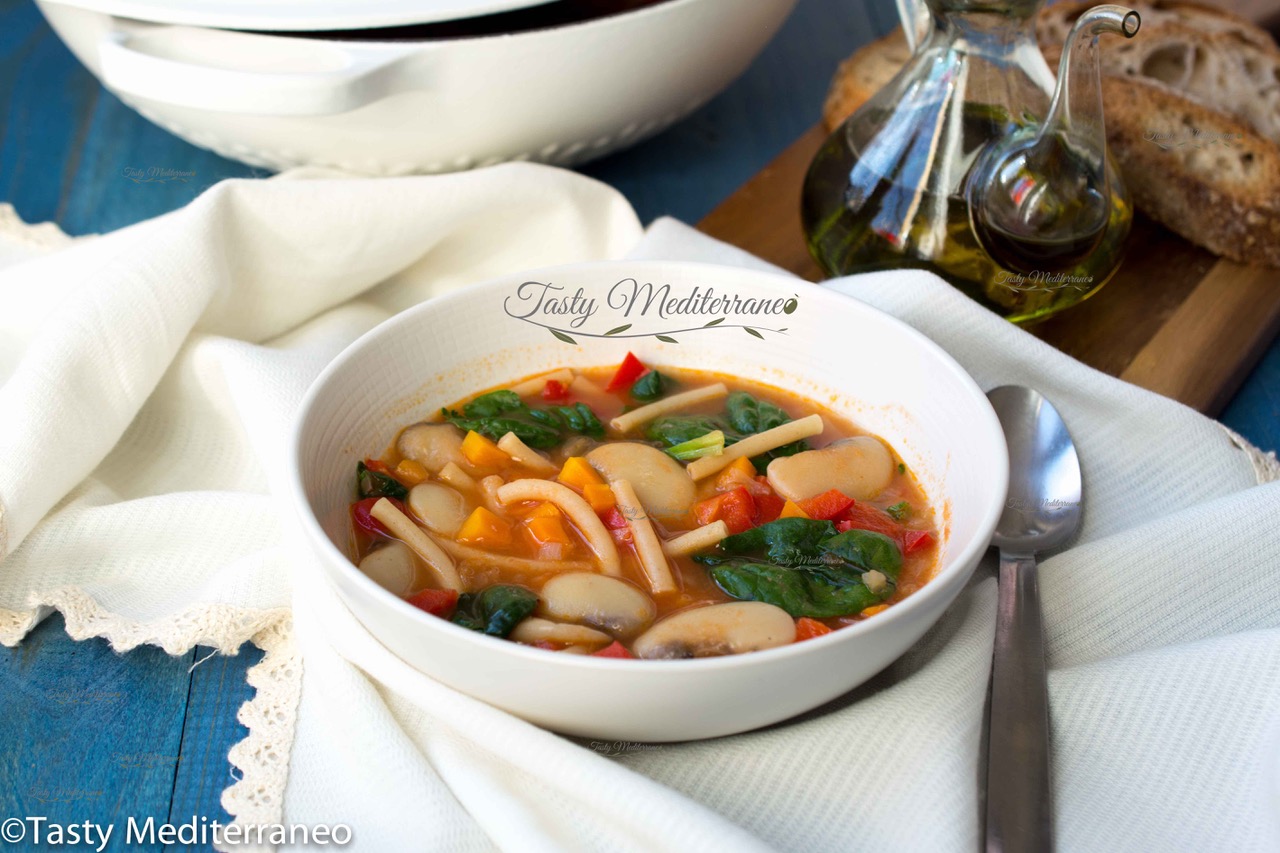 If you try this tasty and healthy vegan Mediterranean diet recipe of "Mediterranean white beans and pasta soup", please let me know, leave a comment and rate it. I would love to know what you come up with. And if you'd like to share what you cook on social media the hashtags for the World Pulses Day will be: #WorldPulsesDay and #LovePulses
Enjoy and happy healthy cooking!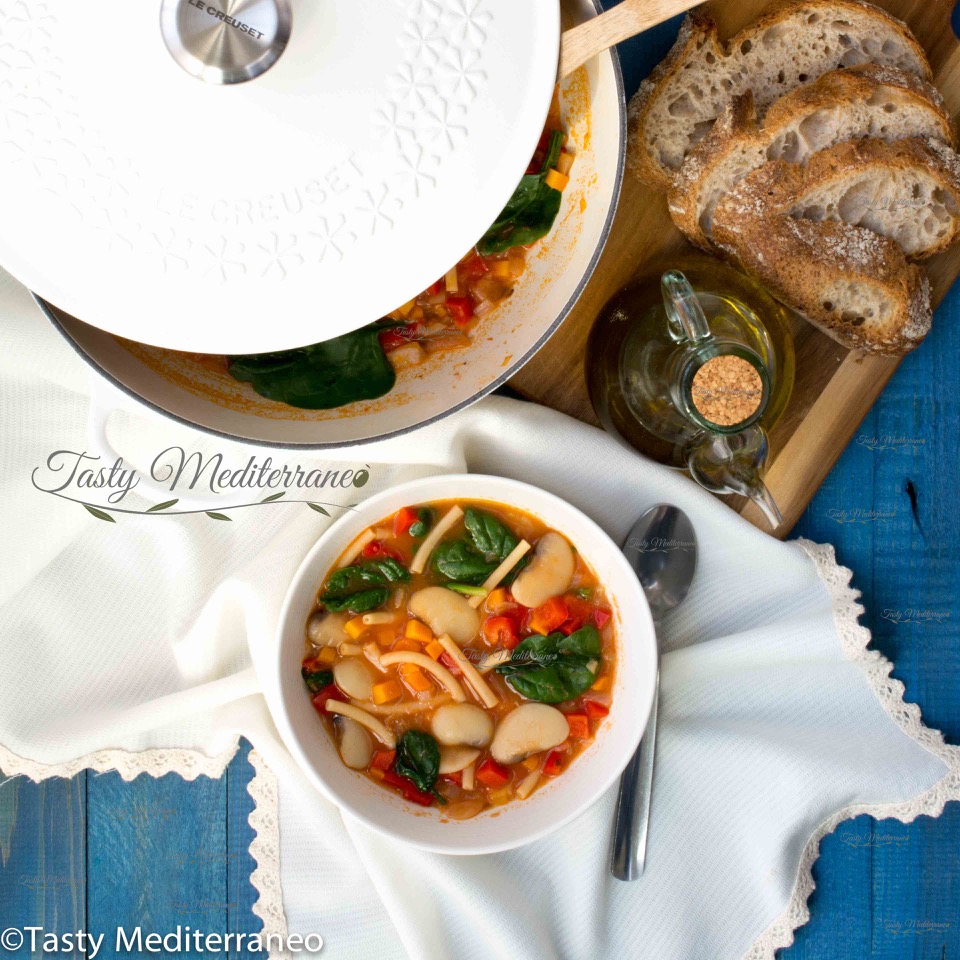 Pasta e Fagioli (Mediterranean white beans and pasta soup)
Author:
Margarita @ Tasty Mediterraneo
Cuisine:
Mediterranean Diet
Ingredients
2 Jars (250g net drained weight each jar) of organic white beans cooked in water with no added salt, drained
2 Tablespoons extra virgin olive oil (EVOO)
1 Garlic clove, peeled and thinly chopped
1 Onion, peeled and finely chopped
1 Red bell pepper, cored and diced
1 Carrot, peeled and diced
1 Potato, peeled and diced
5 Medium ripe tomatoes, thinly chopped. You could also use ½ l of tomato passata if tomatoes are not in season
250g (1 ¼ cups) Fresh spinach leaves, thinly chopped
100g (1 cup) Organic whole-wheat pasta
1 Teaspoon salt (or salt to taste)
1 ½ Litre (3 pints or 6 cups) water
Instructions
Have all the vegetables well washed and prepared as indicated in the ingredients description. Rinse the white beans well and drain.
Mash half of the cooked white beans either with a pestle and mortar or with a hand mixer until they become a puree.
Heat the olive oil in a large saucepan over moderate heat. Add the garlic and sauté for 1 minute until lightly golden. Add then the onion, the red pepper, the carrot, the potato and a pinch of salt and sauté over medium heat for around 5 minutes.
Reduce heat to low. Add the tomatoes, the pureed white beans and the rest of white beans, cover with cold water and leave to cook, covered with a lid, at a medium-low heat for approximately 25 minutes, stirring from time to time. Add a teaspoon salt (or salt to taste) and stir.
Add the thinly chopped spinach and the pasta. Cook the pasta as per the cooking instructions on the package. Remove from the heat and serve hot.
Notes
If you are using dried beans, to cook them: soak the dried beans in cold water for 12 hours (ideally leave them soaked overnight). Rinse them well and drain. Put them in a cooking pot and cover with water and cook over low to medium heat for about 1 hour or until tender. While cooking part of the water may evaporate, add one cup of cold water and continue boiling until they are tender. Remove them from the heat, drain and add them as indicated in step 4.